Why is My Mac Duplicating Files?
No matter which operating system you are using currently, at one point of time you are bound to run off space if you use it recklessly without paying attention to the issue of duplicate files. You would face the same consequential aspects on Mac computers. So what is duplicate file and why my Mac keeps duplicating files?
Simply put, a duplicate is a digital file that has other exact (or sometimes very similar) copies with the same content and size. There are several reasons for files being duplicated on your Mac. iTunes is notorious for harboring fugitive duplicate music files on your Mac. iCloud would sync multiple copies of photos on different iOS devics. The plethora of file-sharing utilities that we use everyday can be another reason. Sometimes, just transferring data from an external device to your Mac can cause duplicates to be generated. In addition, there are email attachments, files generated by macOS applications and other sources of duplication. Any one or all these channels could be responsible for cleaning up your Mac computer with duplicate files and photos.
How to Find and Remove Duplicate Files on Mac?
Manual Searching : The problem is, it's almost impossible to find and delete these space-hoggers unless you have the right tools for the job. Manually finding duplicate photos and files is certainly possible, but it's not the best use of your time. Besides, if the files have modified file names or they're in different directories, it's almost impossible to spot them manually.
Remove via Terminal . Alternatively, you could do some command line work create a list of duplicates, but you still have to delete them manually after referencing them with that list. It's either that or resorting to extensive command line work that average users won't have the skills to handle. It also gives room for human error, which means you might miss a lot of duplicate files or inadvertently change critical system settings. In short, it could "break" your computer.
Use Duplicate Finder App (Recommended). The third method is to use specific desktop applications that use complex algorithms to find and delete duplicates. The biggest advantage is that there is usually very little manual input required. The software will typically identify all duplicates and give you the option to delete them in bulk. If you're a busy person who needs the job done quickly and efficiently, this is the recommended way to do it.
So, what are the tools available to find and delete duplicate files, photos and other data? Below, we've reviewed six different software utilities that you can use for this purpose. Each of them has their own set of advantages and drawbacks, as you will see. We have tested all of these on various Mac devices running different versions of macOS, and we have given our expert views on how effective they are, and the pros and cons of each.
No.1 TunesBro CleanGeeker - Best Duplicate Finder and Remover for Mac
Developed by the talented team at TunesBro, CleanGeeker is by far one of the most efficient duplicate finding utilities we tested. The deep-scan and quick-scan functionalities are marginally faster than in the other tools we've reviewed here except for PhotoSweeper, but the best part is that it comes with several other utilities that are all aimed at keeping your Mac lean and mean. That means effective resource optimization at a very deep level, and you can try it for free.

10 X faster to find and removal all duplicates on Mac.
Clean hidden junk files and app caches to free up more storage.
Uninstall third-party apps that can't be deleted by normal means.
Permanently delete priviate information and files from Mac.
Disable backgound apps auto-starting at the login.
Release more memory to accelerate the overall performace.
How to CleanGeeker Duplicate Finder: One of the first things we noticed was that software is very intuitive even for first-time users. All you need to do is to go to the "Duplicates Finder" section and start the scan. A deep scan takes a few minutes, but we found that CleanGeeker does a very thorough job of rooting out duplicates that would be impossible to find manually. If you just want to scan individual folders, simple import them or drag and drop them into the interface, then click on "Quick Scan".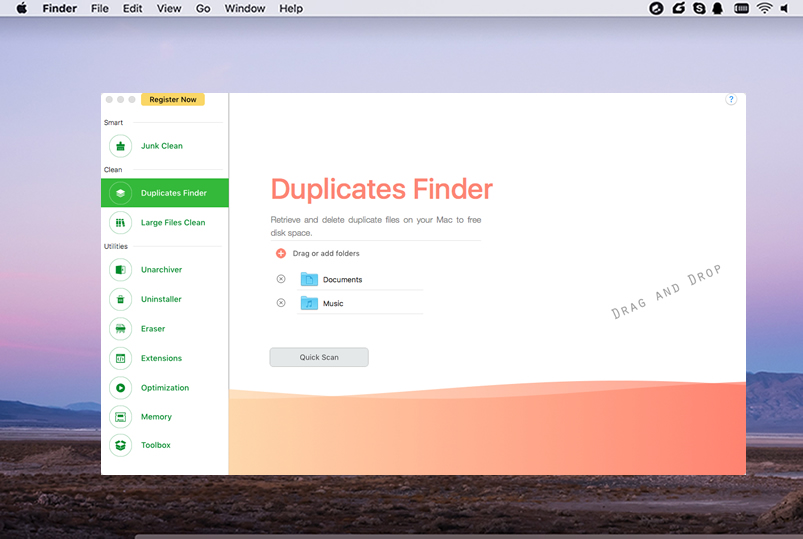 Once the scan is complete, the software segregates them by type so you can focus on just media, documents, music or another category, or you can simply delete all duplicates. The preview feature makes it easy to see what to keep and what to remove. The dupes are all selected by default, making it easy to just hit "Delete." The UI is clean and there aren't any complex settings to intimidate you. If you're a noob to such software, this is the ideal one for you.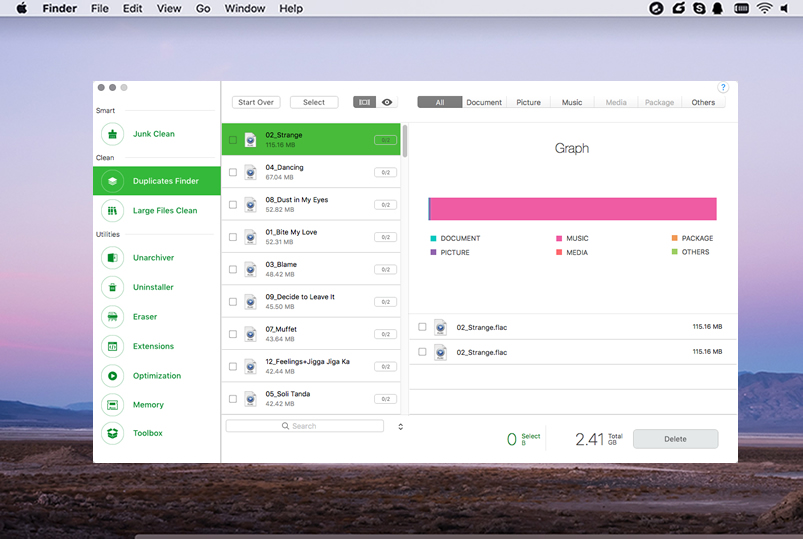 No.2 MacPaw Gemini 2 - Smart Duplicate File Finder on Mac
This is the second iteration of a hugely popular duplicate finding software, and it does justice to the fact that it's a sequel. You'll see lots of settings options, yet it is quite intuitive for new users. The intelligent algorithms not only find duplicates, but also files that are similar to each other, sort of like how Google Photos recognizes similars as well as duplicates. Developed by MacPaw, Inc. of CleanMyMac and The Unarchiver fame, Gemini 2 works especially well on old Macs where the hard drives are chock full of unnecessary files, many of them duplicates.
MacPaw obviously has access to some great UI and UX talent, and you'll see that in Gemini 2 as well as every product they've released in the past - even their website is pretty cool. Probably the best feature of Gemini 2 is that it recognizes file associations and retains the files that were generated by Mac applications. For example, if a song was in your iTunes library and duplicated in other locations, the original is kept while the others are selected for deletion.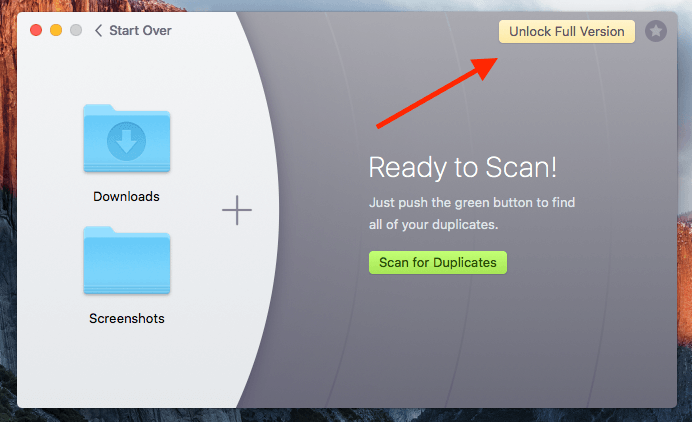 How to use Gemini 2 Duplicate Finder: The process of duplicate scanning and deletion involves three steps, although the many settings options can be unsettling to a newbie. Although the scanning part is fast, it was a smidgen slower than CleanGeeker on MacBook Pro 2015 laptops running El Capitan and Sierra. Once you complete the scan, the duplicates and similars will be shown by category so you can quickly review them. You need to be a little careful about similars because you don't want to delete the best file. The software leaves the decision to you, so take note of that. After reviewing everything, just click "Remove".
One useful feature is that you can undelete images, but only if you send them to the trash instead of permanently removing them. This can cause some confusion if you're not prepared for it. Moving to trash merely puts them in a different location, so it doesn't really help from a space saving perspective.
Cons:
Different types of deletion can be confusing for new users who aren't aware of the feature.
Expensive for just one functionality and no additional features presented.
Scanning is not as fast as some reviews claimed.
Heavy computing resource being used during scan.
The "Review Trashed" button at the end throws you off.
No.3 dupeGuru - Best Free Mac Duplicate File Finder and Remover
dupeGuru is advertised as free (donationware) duplicate finders for Mac. It is a lightweight duplicate finding tool that's great for not only finding duplicates with the same file names, but even those with variations. This is accomplished by its fuzzy matching algorithm. It also offers flexibility with settings so you can specify the kind of duplicate files or photos you're looking for. The Power Marker feature lets you spot the bad dupes, and you can even move files to another location instead of deleting them.
Another unique feature is the Match % column in the results page, which shows you whether it's an exact copy or a similar one. Aside from the Standard Edition, dupeGuru used to offer Music and Picture Editions that worked in much the same way, but now it's just different modes.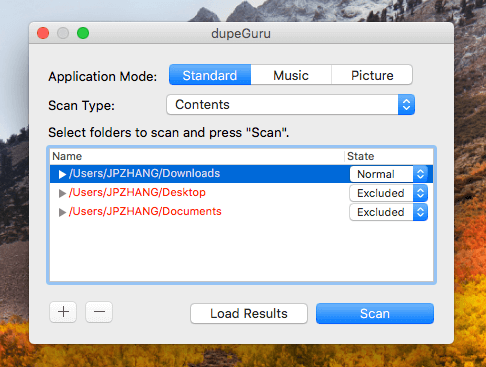 How to use dupeGuru Duplicate Finder: The interface is minimalistic, which makes sense for freeware like dupeGuru, but it doesn't take away from the functionality. Select the folders and then click "Scan" to put the fuzzy algorithms to work. Once the results show up, you can choose to check the "Dupes Only" box, which will hide all other non-100% matches. Then click on "Actions" and select the one you want. It can get a little confusing here, but the first one is what you'll be using most often "Send Marked To Recycle Bin…" .
You can also choose between sending dupes to the trash or directly removing them from the system. The confirmation window also has an option to link the deleted files to the originals with hardlinks or symlinks. This is useful when you know the location of a duplicate, but not the original. However, these links will break if the original gets deleted at a later time.
Cons:
Poor user interface without any polish or esthetics.
Not 100% freeware. Should donate $9.99 After 10 removing files.
Not maintained by the original developer.
Bad support for macOS High Sierra and Mojave.
Not very good at finding dupes with different filenames but identical content.
Preview is hidden in the Details Panel, not intuitive to access.
No.4 Tidy Up - Pricey & Fully Featured Duplicate File Remover for Mac
This duplicate finder from Hyperbolic Software offers several options, which is great if you want a custom solution. It's essentially a beefed up version of their DupeZap software. You can find and remove duplicates by almost any criteria, including date or age, time created, extension type or even owner. It also allows you to search by metadata and duration in the case of audio duplicates, and location and camera make and model for photos.
The directories are all pre-listed on the left side, and selecting them will allow you to search entire drives or just specific folders. It also looks for duplicate packages, which is great because these can really build up over time. We really liked the integration with iTunes because you can directly search all of your music and audio files in your database. Additional support for other libraries such as Adobe Lightroom, iPhoto, Aperture and Mail is provided. It also has an option to search for empty files. They don't take up space, but they tend to clutter your drives when you're viewing files in Finder.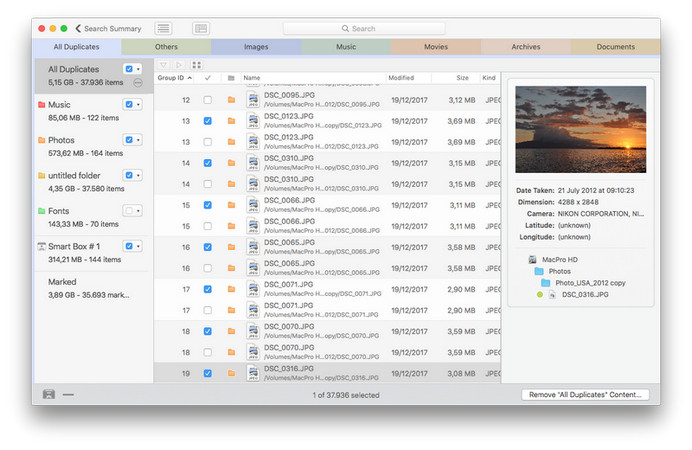 How to use Tidy Up Duplicate Finder: Most reviews will tell you that the interface is simple, but it won't be for a new user. For example, you have a "Strategy" button and a series of "Criteria Panes Visibility" buttons that might stump the average user. All you actually need is the "List to View" button on the top left, the directory and folder menu on the left panel and the "Search" button on the bottom right. The rest of it is mostly fluff, but we won't deny that it could be useful for some advanced users, like professional photographers, for instance.
Fortunately, Tidy Up 5 comes with "Simple" and "Advanced" modes, but you still have to pay the full price even if you only need basic functions. If you're using the first one, just select and search. In the next page you'll be shown the total size of all duplicates by type. Clicking on "Show Result" will let you preview all duplicates, and on the bottom right you'll see a button for deleting whatever you've chosen. There are also convenient tabs at the top for viewing specific content types. Finally, you can include hardlinks for duplicates, and even specify whether you want to trash a file when there is no "master" file found. Great safety feature, in our opinion.
Cons:
UI not very intuitive.
Most expensive among the apps reviewed in this post.
Promos for upgrading are persistent and invasive.
Apparently not enough beta testing before a release as major bugs were regularly reported.
No.5 PhotoSweeper - Best Duplicate Photo Finder for Mac
As the name suggests this utility is only for images, but it does a great job of removing duplicate photos on Mac, and the UI has been deliberately designed to give you the optimal viewing size when previewing dupes and similars. It does work with video files as well, but the scope is limited. Smart algorithms powering the Auto Mark feature help identify the best photo to retain, and the Auto Lock feature lets you exclude photos from being selected for deletion. Since this is a bit of a complex piece of software, the help section after installation and the quick start popup guides should be read carefully. They really help give you an overview before you dive into using the app.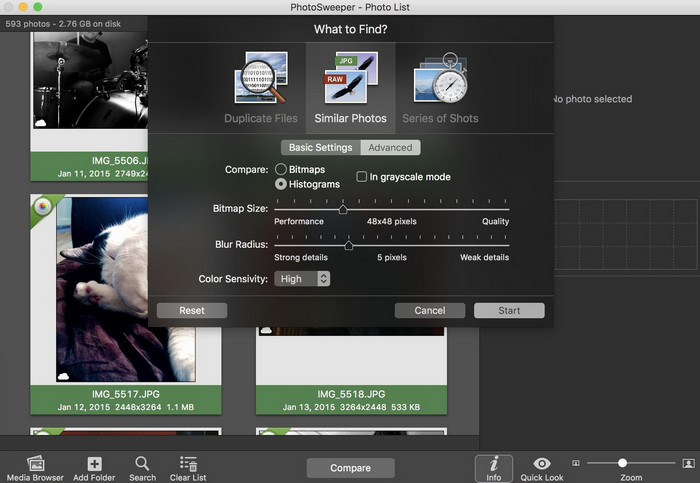 As a photo-centric utility, the flexible preview modes are great because let you see photos one at a time, face to face and everything together. It supports RAW formats, as well as PDF, WebP and DNG. Probably the best feature is the ability to find dupes that seem identical, but are created on different apps and have different dimensions, contrast or other aspects. If you're a pro photographer or even an enthusiastic amateur, this could be a very useful utility to save space on your Mac.
How to use PhotoSweeper Duplicate Finder: Before you start using this application, we recommend that you go into the Preferences section and setup how you want your image duplicates to be treated. You can choose to Auto Mark the best ones, compare settings, filter and sort preferences, cache location and so on. It'll save you a lot of back and forth time later on. That done, you can import specific folders or libraries into the interface and hit "Compare" to rapidly match the photos against the rest of the library or folder and find duplicates. Resource usage is surprisingly light, and you can scan more than 70 GB worth of images in under two minutes on a mid-2012 4GB MacBook Pro with Intel Core i5.
Once the duplicates have been found, you can choose to Auto Mark the best copies to retain. If not, you'll have to review them manually, which is where the multiple viewing modes come to the rescue. The metadata in the sidebar shows you elemental differences between similars. Or, you could just match duplicates by file name to simplify the process. The final step is to click on "Trash Marked", which sends all auto or manually marked photos to the Recycle Bin. Note that the bin needs to be emptied before the images are truly deleted.
Cons:
First-time setup can take a while since preferences are very important for this utility.
Only for finding and deleting photos and videos, and the latter is limited in scope.
Some users might not like the dark interface.
No.6 MacKeeper Duplicate File Finder- Repoarted as Malware (Not Recommended)
The reason why we put it in our list is that a lot of people would install the app due to massive adversting across the website, even include some famous ones to let you believe it is a pretty good app. The truth is that MacKeeper is widely thought to be some kind of malware, and in many ways it behaves like it. Unfortunately, that's due to the overly aggressive marketing techniques used by the German company that acquired Zeobit, the original development company. But there really is a very fine line between MacKeeper and the average malware because of auto-downloads, fear-oriented advertising and the fact that it's notoriously hard to get rid of MacKeeper once you install even the trial version. That being said, the software does have its good points, albeit overshadowed by negative reviews and genuine inconveniences.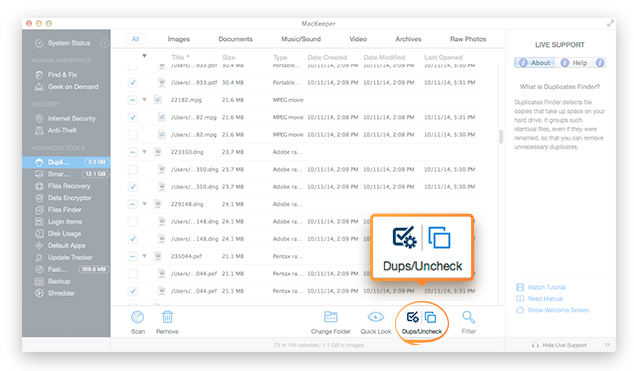 How to use MacKeeper Duplicate Finder: If you can get past all the noise, the software has six major and six minor modules for optimizing your Mac. The duplicate finder is one of the major functions, and is quite simple to use. You just select the "Duplicates Finder" option on the left panel, then select the media or file type from the tabs at the top, and hit "Scan". After a while, all the files identified as duplicates are listed in the main window. You now have a choice of removing them or relocating them to another folder. You can also preview them individually before choosing an action.
There are no complex settings to mess around with, but the software itself is an aggressive piece of code that distributes support files all over your system. That's one of the reasons it is considered to be malware rather than a genuine software utility. We've listed the cons below, but even if you're willing to handle that, we don't recommend installing this application. It does more harm than good in the end, and it's a headache you can certainly do without.
Cons:
Aggressive marketing, and intrusive and misleading advertising strategy.
Hard to uninstall, and usually leaves a lot of residual files that are difficult to remove.
Not much of an improvement even after the company was acquired.
The Bottom Line
It is not hard to find an app dedicated to duplicate file removal. The challenge is how to find the best on among a long list. You might also read other candidates from other blog posts but it is really not recommended trying them out one by one. The apps listed above are the ones shorten from 20+ nominees. So don't wast your time on it. Just download and install the ones you like. You will definitely like one of those bascause it is well crafted list from a great list of amazing apps for Mac.

---