Not many of us are organized enough to know exactly what songs or media we've downloaded to our Mac. Over time, we might have downloaded hundreds or even thousands of songs to our Mac computers, and there are likely to be many duplicates that are taking up unnecessary space. Such clutter can affect the performance of our computers so it's better to do a periodic clean-up so your machine runs at optimal levels. So what can you do? There are a few things you can try, and we've shown you those methods to remove your duplicate songs on your Mac computer.
Part 1. How to Remove Duplicate Songs on Mac from iTunes
Apple suggests this method as a way to delete duplicate songs on your Mac computer using iTunes. You will need to be running the latest iTunes version, which you can download here. Once you've done that, use the process described below to find and delete duplicate songs from your Mac.
Step 1. On the iTunes interface, click on the Library tab and then select "Songs" from the left panel.
Step 2. Now go to File >> Library >> Show Duplicate Items.
Tip: If you have different versions of the same song that you want to keep, like a live vs. studio version, then hold down the Alt or Option key when executing this step.
Step 3. Now sort the duplicates by name and then select the ones you want to delete. On the iTunes window, select "Song" and click on "Delete" to remove those tracks.

Cons:
Only find duplicates in iTunes music library.
Throw random errors on old iTunes versions.
Scanning incomplete for large library.
Part 2 : How to Find and Remove Duplicate Music on Mac via TunesBro CleanGeeker
An a great alternative to iTunes for finding duplicates on Mac is TunesBro CleanGeeker. It is one of the most comprehensive Mac optimization tools you'll find. It deep-scans your computer and finds junk files, duplicates and all other unnecessary files that are clogging up your memory and impacting system performance. It is compatible with all Mac OS X versions including the latest macOS High Sierra, and it's very simple to use even if you don't have any kind of technical expertise.
The software is ideal for periodic spring cleaning since it keeps your computer's performance at an optimal level by helping you clean unwanted stuff. It can even remove apps and large files, among other things.

Find all duplicate songs in seconds as well as other duplicate files.
Free up more memory to boost the overall performance.
No ads or malicious code included.
Clean junk and tmp files quickly and completely.
Step 1

Download and Run TunesBro CleanGeeker

Download the TunesBro CleanGeeker software from the official website and install it on your macOS machine.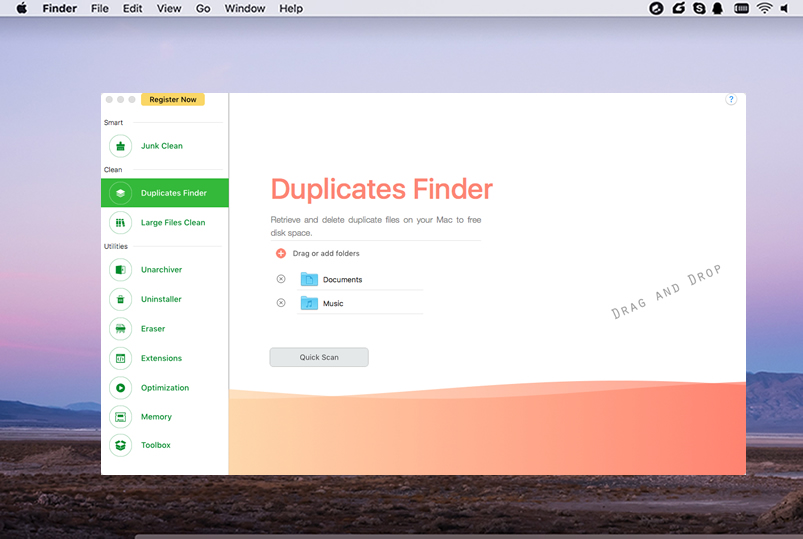 Step 2

Scan All Log Files on Mac

Open the program, and you will be able to run a full scan for duplicates and junk. Once scanned, select the "Duplicate Clean" option on the left.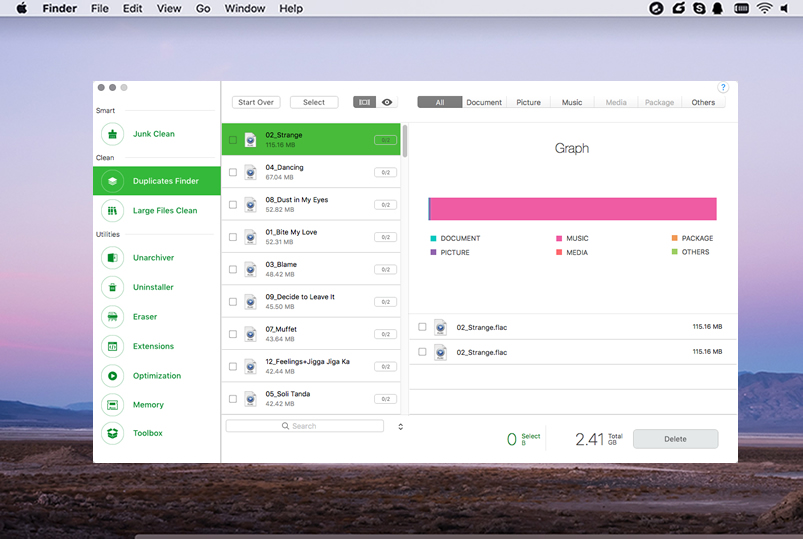 Step 3

Remove Duplicate Songs from Mac

Within that tab will be displayed all the categories of duplicate files, and clicking on any one of them will reveal the files inside, and this will be seen on the right-side window pane. Select all the duplicate songs that the software found on your computer, and then click "Delete" to remove them.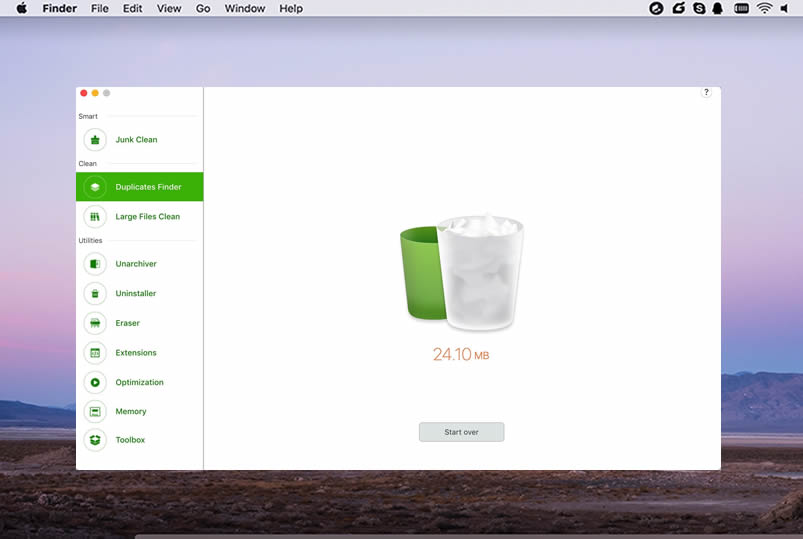 It's as simple as that. You can see why this software application is hugely popular. No expertise and no wasting time.
Part 3. How to Find and Delete Duplicates from Music Library Manually
Manually cleaning up and removing your duplicate song files is a hectic process. If you've got hundreds of songs like the average iTunes user does, then it's going to take a while. The advantage is that it's completely free, but the downside is the amount of time it will take. In fact, a lot of Mac users tend to put off cleaning their system of duplicates because of this. Here are the steps to do it manually.
Step 1. Open a Finder window and go to User >> [Your Username] >> Music
Step 2. Sort the data by the "Name" column and see what duplicates you find. Select them, right-click and click "Move to Trash".
Step 3. Now sort by file size and check if there are still any duplicates that may have a different file name. Identical file sizes doesn't always mean a duplicate, but it will help you spot similar files with different names. Select any duplicates that you find this way, right-click and click on "Move to Trash".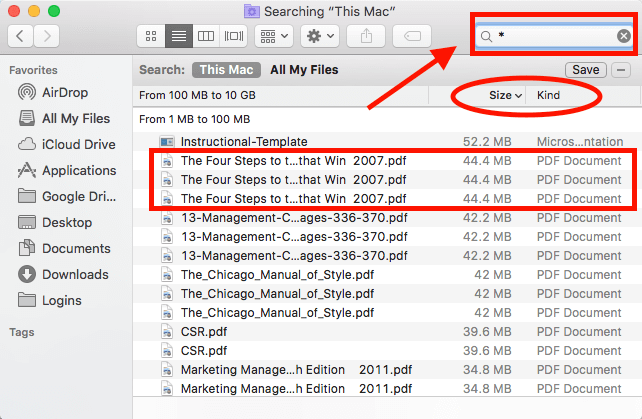 Cons:
Hard to find duplicate files.
Deleted music is still recoverable.
Can't find all duplicates on entire disk.
This method should help you remove most duplicates, but it's not 100% guaranteed. For example, if you have some songs in your Downloads folder, you'll miss them. Or if you accidentally saved them in Documents or your desktop, you will find them in the music folder. What you need in such cases is a software utility that will do the job for you better than iTunes can. That brings us to Method 2.
Summary
Manual methods are full of gaps, and iTunes won't always do what you want it to. In that type of situation, you'll save a lot of time and effort by using a purpose-built software that can also optimize your computer's memory with its versatile functionality.

---