No matter which operating system you are using currently, but if you use it recklessly without taking into note of the storage capacity, at one point of time you are bound to run of your space. Now riveting the locus of discussion to Mac computers, you would face the same consequential aspects here also. Now deciding as to what to discard from your storage to avail some space for necessary components is quite a challenging task. And this is exactly where Mac cleaning software is required at their utmost.
Searching for large sized files, faulty files, app cache, duplicated items manually one after another would take all your day, thus this attempt is of no use when you want the result in a minute. However, the Mac cleaner software can do the same job in an instant without much hassle. So if you wish to explore a best free Mac cleaner app, then you have to continue with your reading down the lane.
Best Free Mac Cleaner #1: TunesBro CleanGeeker
When it comes to cleaning up the junk files, removing duplicated files, and optimizing the Mac to deliver speedy performance, "CleanGeeker" can be a pretty good bet in optimizing macOS. Unlike every other Mac cleaning apps, it has got a stronghold of perfection which makes it more preferable than any everything else. There are many features built in it, such as remove duplicate files, junk files, large files, etc. It uses RAW algorithm which helps in deep scanning. You can uninstall apps and at the same time optimize or manage the system add-ons and extensions along with performance and CPU usage, etc. In fact the entire clean up is done in mere 3 steps which is hardly to be found with any other tools available on internet. Just download the tool and from the main tool screen, check out the tabs listed on the left hand side of the screen.
Take a look at : 4 Core Functions in CleanGeeker (Download it here)
Junk Clean:
The first core function that CleanGeeker offers is Junk Clean, this could clean up to 12 junk files or cache files on system and Apps. Including App cache, log files, language files, broken login items,Browser cache,Old backups,trash files and downloads, etc. CleanGeeker get rid of all the junk files and data that are slowing down you computer. With just one click, your PC will be cleaner and the performance of the system will be boosted.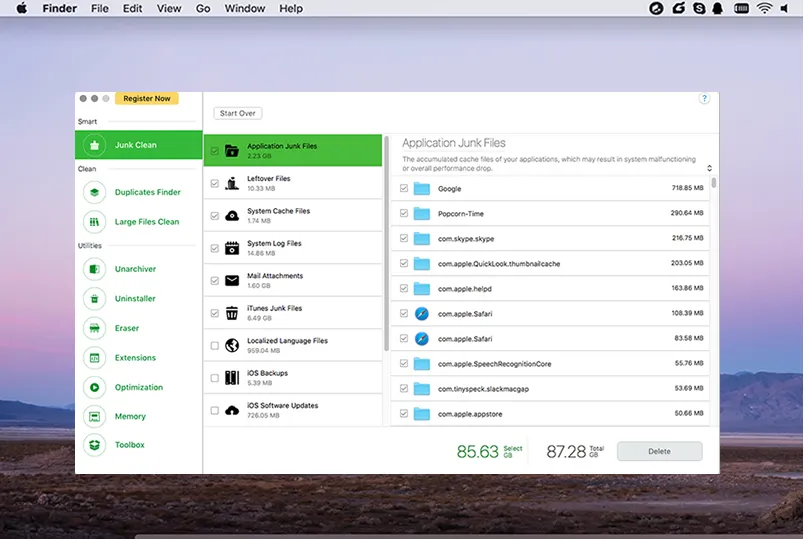 Duplicate Finder:
The second feature that's provided in CleanGeeker is the Duplicates Finder. This feature will scan your entire Mac system and iTunes and will find all the duplicate data including music, videos, files, etc. and will give you the option to review them. Let's see how it locates and remove duplicate files on Mac.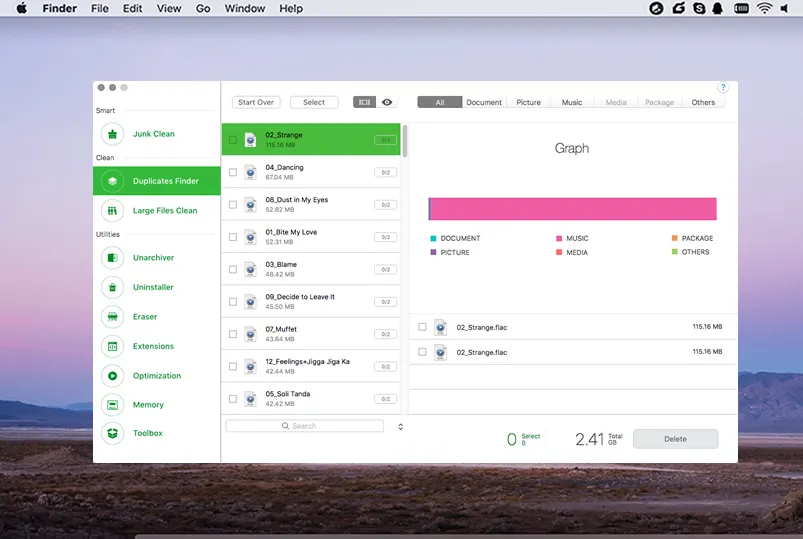 Large Files Clean:
The third feature that I really loved about this tool is to find the largest and most old files in the system. After doing a quick scan with the program, I was able to find 27 GB of unused large and old files. CleanGeeker categorized them in a very well-mannered and I could sort them by size and could preview them individually. This feature is really remarkable considering I don't really have to manually glance upon every folder one by one.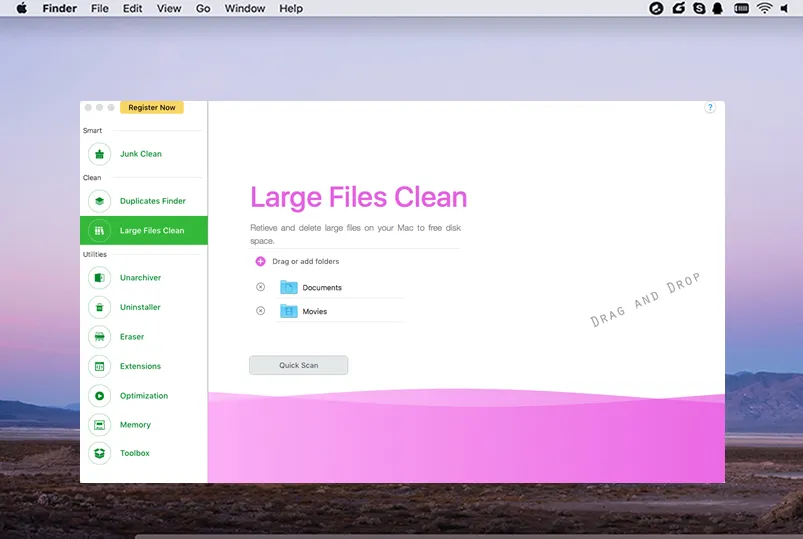 App Uninstaller:
Another powerful feature that makes this Mac cleaner great is the uninstaller, this could completely remove unwanted apps that won't uninstall. What's more, it also can remove all files, settings, preference, folders that associated with the application without damaging the system.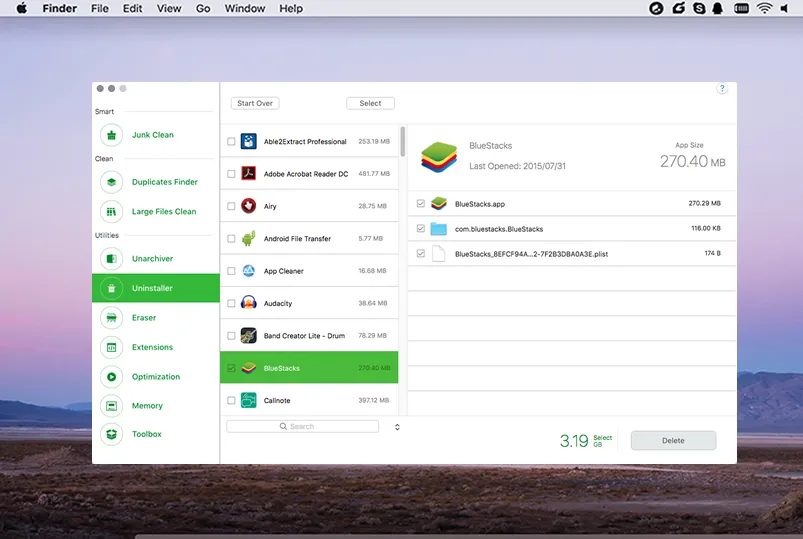 CleanGeeker has a free version that allows you to clean your disk space up to 500MB, and The full version allows you to access all advanced features including Smart Scan, Junk Clean, Duplicate Finder, App Remover, File erase and others.
Best Free Mac Clener #2: CleanMyMac X
When it comes to removing malwares, junk files, monitoring system performance, there is scarcely any other software that can replace the CleanMyMac X, one of the best Mac cleaner out there. Without a doubt it can search every corner of your system to trace out duplicate, junk files, outdated caches, so that you can eliminate them. Besides, it can manage applications and files, it always askes for your permission before deleting any file and offers a due of Uninstaller and Updater, the former one to uninstall outdated apps, and the latter one to update it.
Read more: How to Find and Delete Duplicate Photos on a Mac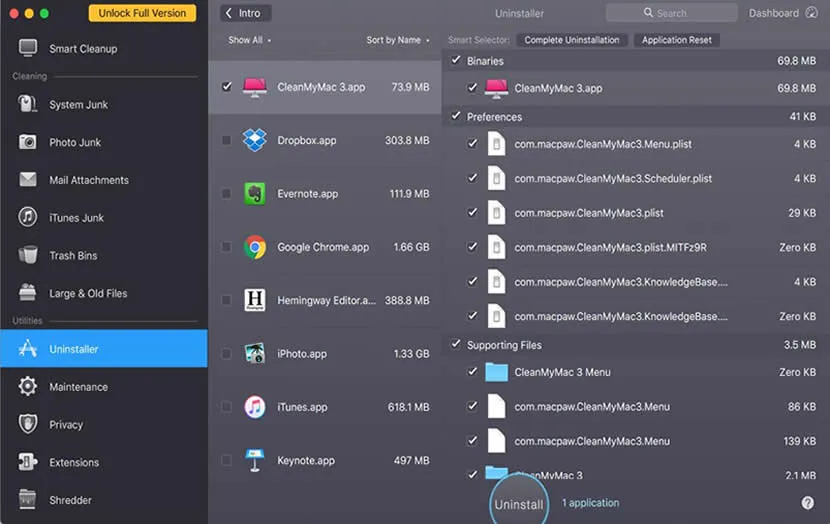 Price: $39.95
Best Free Mac Cleaner #3: Drive Genius
As the name suggests, this is really a genius Mac cleaning tool to all Mac related problems, especially the clearance of junk files. Have you ever wondered what impedes the usual system performance? Well with all the space occupied, what you are left for the MacOS to carry out operation is very minimal, which drags along all the troubles. Now Drive Genius is crafted by a company which is expert if data recovery. So how does it work exactly? It cleverly does a physical check within the drives to track the issues, like duplicate files and then move them to trash or replace them.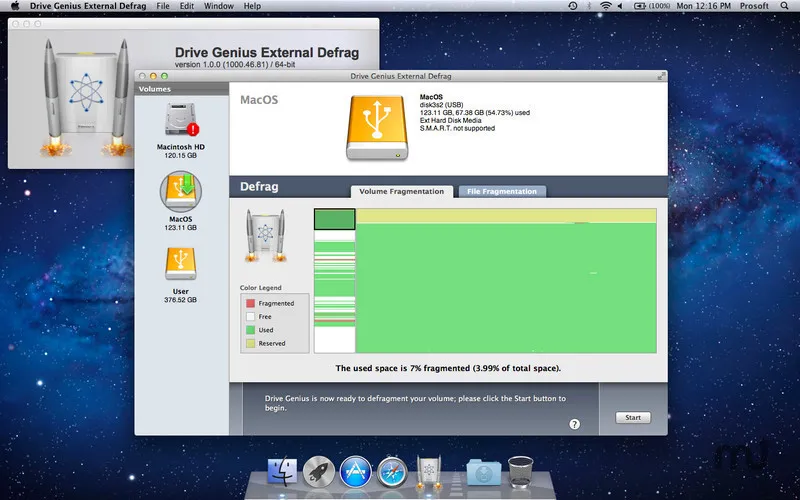 Price: Standard License: $79 and Professional License: $299
Also read: How to Clear System, Apps Caches on Macbook Pro/Air/iMac
Best Free Mac Cleaner #4: MacCleanse
If you are searching for an all-in-one solution, then go with MacCleanse. This free Mac cleaner program offers several files erasing options such as cleaning cookies, cache, browsing history, logs, etc. You will be surprised to see how much space you could get by erasing these files. MacCleanse also enable to preview all the contents generated by any app like if you play a game and it creates around 300MBs of cache data then you should be able to preview it and it will give you a better option to erase them. Moreover, this Mac cleaner software shows each and every information about any file before erasing. And let me remind you that erasing any data with this tool is permanent and even the best hackers won't be able to recover them ever.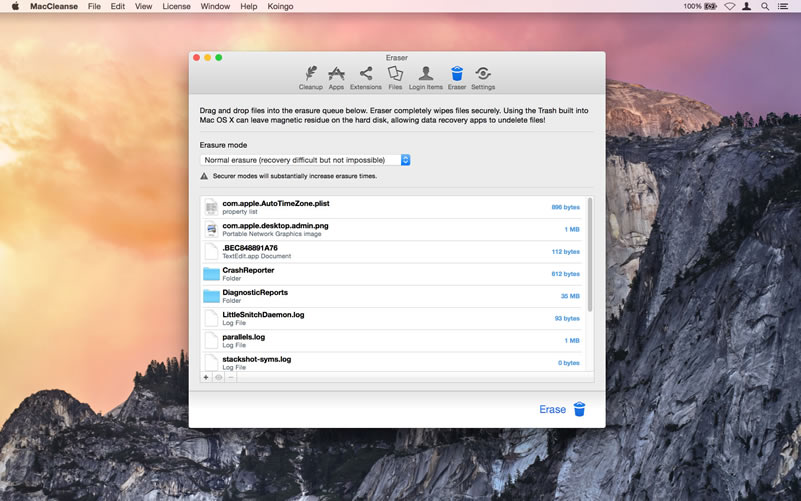 Price: $49.95
Best Free Mac Cleaner #5. AppCleaner
Well the easiest approach to delete a file is to move to the trash, but still few extra files are left behind, thus AppCleaner is the best option to follow up on such an occasion. Once installed, it can delete every such extra file that is unnecessarily taking a lot of space keeping only the useful one.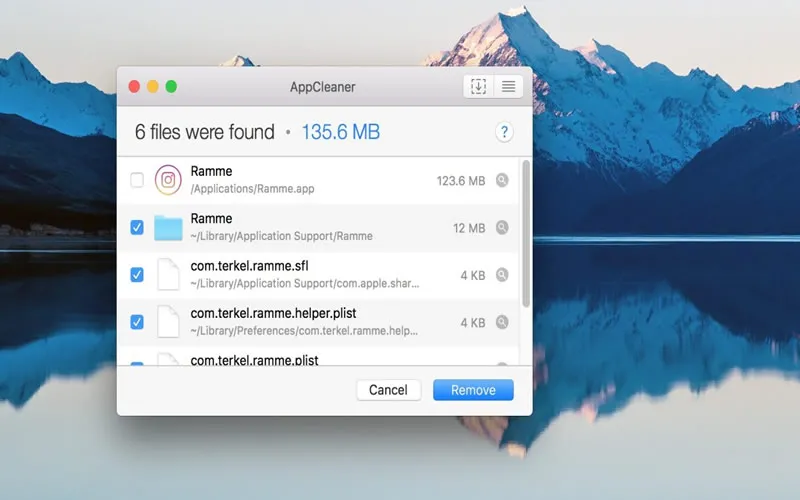 The usage of this Mac Cleaner app is very easy, simple drag the apps that you wish to uninstall into the window of AppCleaner and all the associated files will be automatically uninstalled. All the uninstalled files will be sent to the trash, and you can check them to be sure before deleting them permanently.
Price: Free
Best Free Mac Cleaner #6. AVG Cleaner for Mac
AVG Cleaner for Mac has 2 main functions with a cool user interface. Firstly, it can be used as a Disk Cleaner which means it can scan the entire system and remove all the garbage files from the PC. Even if any files or data or cache/cookies are detected by the software, you will have the option to diminish them from the system. You can simply preview all these data and clean them with one click.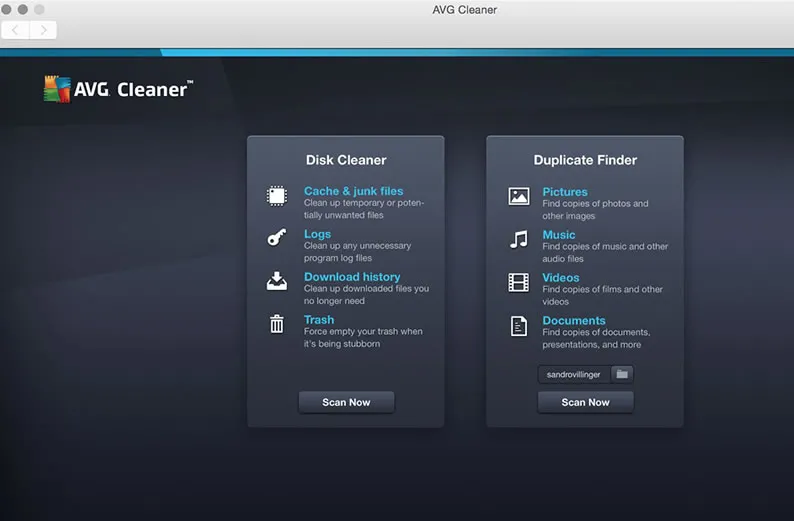 Secondly, this powerful Mac Cleaner has the Duplicate file finder facility which means you can scan the entire system and find out all the duplicate files and documents. Deleting duplicates could save hundreds of GBs especially if you have 2 identical large files. AVG cleaner is a very simple tool that does exactly what it supposed to.
Related reading: 3 Ways to Find and Remove Duplicate Photos on Mac Computer
Best Free Mac Cleaner #7. OnyX
OnyX is one of the best Mac cleaner apps available online. There are many features available with this program starting from disabling startup programs to finding duplicates and killing them. It even helps to optimize the hard disks and is able to clear browser cache, cookies, browsing histories and other unnecessary log files. Uninstalling apps and software is also possible along with indexing all the files in a single database index.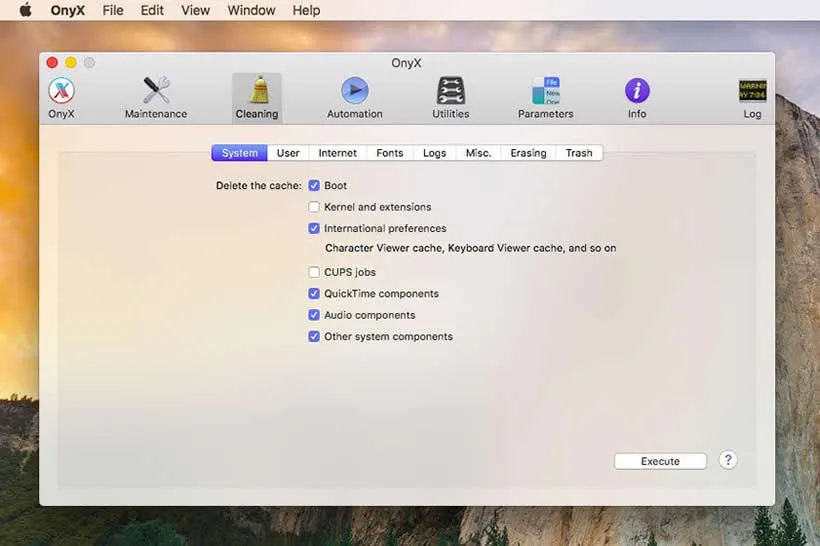 You must be thinking that you can do all these with Terminal. Well, you can but you would have to remember complex commands. With OnyX Mac Cleaner, you get to do all the above activities without having to remember a single command. However be careful not to delete files or features that are important unknowingly.
Conclusion
After a careful evaluation and testing + experimenting with 7 Mac cleaning apps, we have found that CleanGeeker is the best software among them, as it is offering a marvelous combination of essential specifications with an impressive user interface. It's the easiest tool to remove any kind of junk files from the system as well as those heavy unnecessary language files, which takes up a lot of space.
Moreover, uninstalling program and apps with this tool is phenomenal as it also erases every single data file generated by the app. But that's not all, it also enable to organize the startup programs that may slow down the PC by disabling them. It also helps to boost the browser speed by erasing cache, cookies, malicious extensions and plugins. Also, just like any other duplicate file finders, this program helps to locate and remove the duplicate items from the computer.
While using MacOS heavily, keeping a fre Mac Cleaner app installed in your system is not a bad idea. You can choose any of the aforementioned software as per your suitability and choice. But you need to flush your system with these software at least once in every week to keep the machine fit for better performance.

---