"My iPhone 6 was stuck on connect to iTunes screen and won't restore. What happened to my device". Our reader Susan asked me this question two days ago and I am working hard to find the solution to fix this issue. Gladly, a few amazing ways available to get it done. Please keep reading!
What Kind of Reason Why iPhone or iPad Was Stuck on Connect to iTunes?
An iPhone or iPad can get stuck on "Connect to iTunes Screen" for several reasons. One of the most popular ones is that the jailbreaking process didn't go smoothly as it was planned. The second reason is that the update process failed when you tried to update iOS to the latest version.
Now, it can be really very frustrating since you won't be able to use your iPhone like a normal device if it get stuck on "Connect to iTunes Screen". We will be discussing a few methods in this guide and we suggest to use all methods and see which one works for your device.
Part 1: Restart iPhone to Fix iPhone Stuck on iTunes Logo Issue
If the problem was not serious, then a quick reboot should get it fixed. This is the first method you should try out.
Step 1. Keep holding the sleep/wake button until you see the "Slide to power off" button.
Step 2. Swipe from left to right and turn off your device.
Step 3. Turn on your iPhone by holding the power button.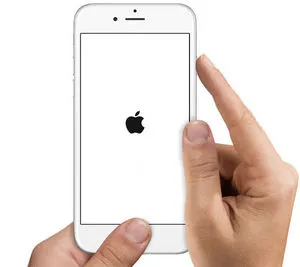 Now, if the error occurred by mistake or some minor software boot loader issue then it should work fine. But in 50% cases, this won't solve the problem so jump into the next method.
Part 2: Fix Stuck "Connect to iTunes Screen and Won't Restore" with iTunes
If the error happened after restoring iPhone with iTunes, then a reboot will definitely not fix the issue. This means the iPhone was entered into Recovery mode and you need to exit it in order to run the device as normal. Under such circumstances, you have to use iTunes software to solve the issue.
Step 1. Power on the computer which iTunes was installed and the issue iPhone was connected to it in the past. If you never did this, then find a computer and install the latest version of iTunes on it.
Step 2. Launch iTunes from your computer and connect your iPhone to PC using a USB data cable.
Step 3. You will see a message that will say "There's a problem with the iPhone that requires it to be updated or restored".
Step 4. Click on "Update" and it should reinstall the operating system on your iPhone. Turn on your iPhone and it should work normally.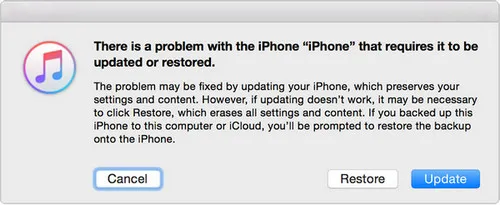 Part 3: Fix Stuck "Connect to iTunes Screen" By Using iOS System Recovery
What to do if the problem still exists after following the instructions above? Is there no way to fix it? The answer is No. You can use TunesBro iOS System Recovery to fix the issue. It is an amazing desktop software to fix many types of system recovery issues that may occur on Apple device. It is assured that no data loss will be occurred and you need no technical skills to use this software. In addition, I have used this program successfully fixing iPhone stuck on Apple logo and stuck in DFU mode issue.

Fix iOS system related issues like black/white screen, stuck on Apple logo, restart looping, etc.
No data loss will be occurred by using this software.
Works 50+ models of iOS devices including iPhone, iPad, iPod.
Easy and comfortable management for iOS devices.
Step 1

Install and Open iOS System Recovery

Firstly, you need to download iOS System Recovery software on your computer. After downloading the software, you should open the file and install the software on your computer. The installation process is very self-explanatory, just keep on clicking next until it is finished. Next, you should launch the software on your PC to see the main features of this tool.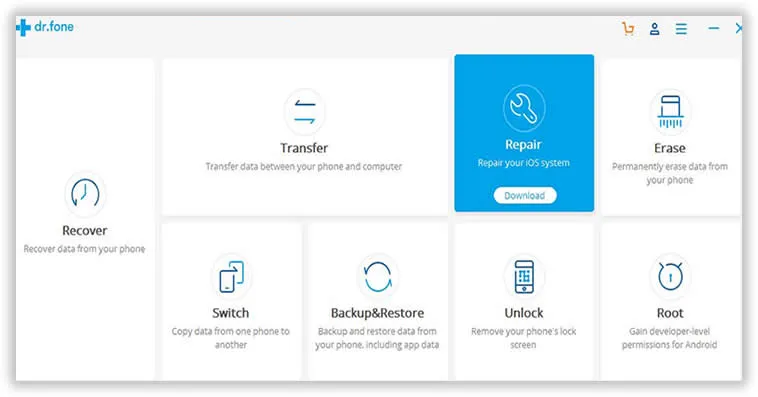 Step 2

Connect iPhone to PC or Mac

After opening the program, you should connect the iPhone to PC using a USB data cable. The software will automatically detect your device. Click on "Repiar" on the main window.
Step 3

Download Required Firmware for your Device

Next, you should turn on the iPhone by holding Power and Home button together until you see the Apple logo screen. This will let you enter into DFU mode. Next, you should fill in the details of your device on the software when it is asked correctly and click on "Download". This will start downloading the required firmware files and it may take several minutes depending on your internet speed.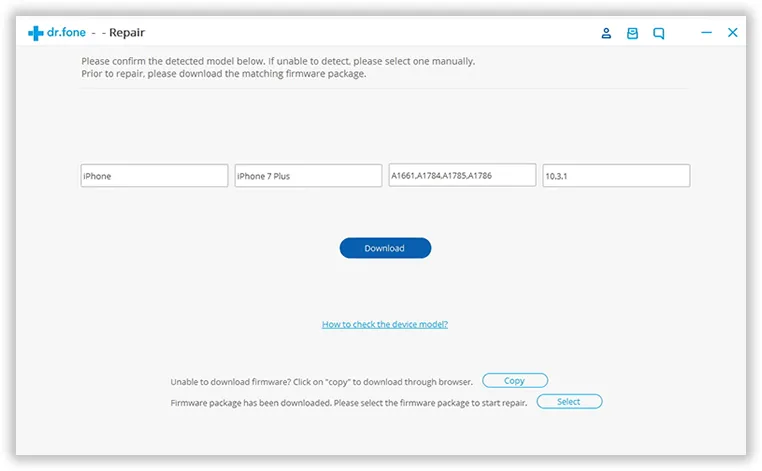 Step 4

Repairing iPhone or iPad "Connect to iTunes Screen" Error

Now as soon the file is downloaded, the software will attempt to fix the issue right away. You will be seeing the following screen and this process may take some while but meanwhile, you can sit back and relax while the software does all the work for you.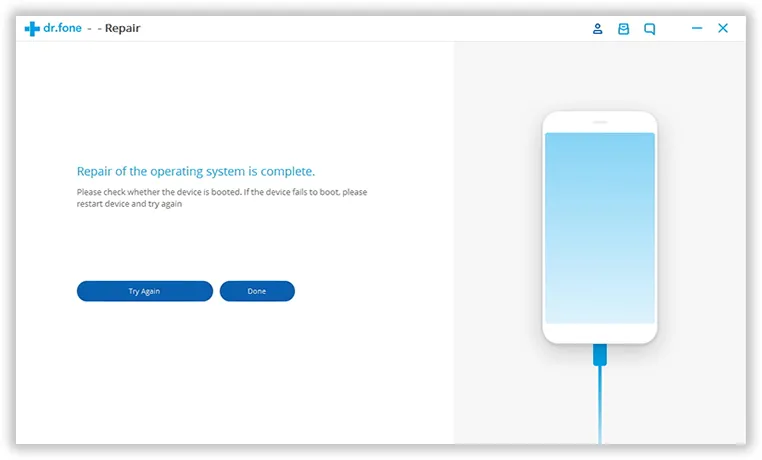 Please note: don't disconnect iPhone during the process and make sure Internet connection is in good condition.
Final thought :
In this guide, we showed you how to fix "Connect to iTunes" issue on iPhone. But if your iPad or iPod shows the same problem then you can use the same software to fix the same issue too. If you run into any trouble then contact the support and they will be glad to help you with any issue.

---