iPhone users often justify the high price of their hardware by citing the ease of use and absence of major problems when comparing to Android. However, it's undeniable that iPhone users also face issues regularly, as seen by the number of support threads during an iOS upgrade or even during normal use. One of the common problems annoyed iPhone users is the dreaded "iPhone Stuck on Black Screen with Spinning Wheel" problem. While this often occurs after a major iOS upgrade, such as from iOS 9 to iOS 10 or iOS 10 to iOS 11, it can strike at any moment. If you're facing that issue right now, there's at least three solutions that will work most of the time.
Method 1: Charge iPhone and Reboot
Sometimes, iPhone stuck on black screen spinning wheel during update is due to power cut or not enough memory to install the upgraded apps. If this was the case, then this can be easily fixed by a reboot. Kindly charge the iPhone for a while unless it reaches 50% of total battery. Then reboot the iPhone. This method has been proved on one of my iPhone 6S with iOS 10. So you should give it a try first.
Method 2: Restore iPhone from iTunes (Dangerous)
If you have backed up iPhone, then restore is a quite good solution fix iPhone stuck on spinning wheel issue. However, if you didn't do that, then skip this section and move to Method 3. Why? Becasue all content and settings on iPhone would be erased after this action.
Step 1. Download the latest version of iTunes on a computer and open it after installation.
Step 2. Connect iPhone to the same computer with USB cable.
Step 3. Boot iPhone into Recover mode. Then a pop-up window asks you if you would like to restore iPhone.
Step 4. Click "Restore" and all data will be removed from it. Now, the iPhone should be back to normal.
Step 5. Once iTunes detects the iPhone, you can restore iPhone from previous backup files.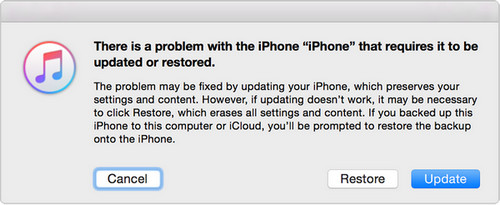 Method 3: Fix "iPhone Stuck on Black Screen Spinning While" via iOS Repair Software
Also known as BSOD or the Black Screen of Death, the "iPhone Stuck on Black Screen with Spinning Wheel" problem can be a real pain because if you take it to a non-authorized smartphone workshop, your phone's warranty could be voided. Worse, you might end up losing valuable data that you haven't backed up yet.
Wondershare is well aware of these issues, which is why they created TunesBro iOS Repair so users can quickly and easily fix almost any issue with just a few clicks of the mouse. Apart from repairing your iPhone that's stuck on the black screen, it also repairs numerous other iPhone problems that users typically face. Moreover, the toolkit contains other really useful components such as backup & restore, recovery, erase, etc.
Oh, and does it help to know that over 5 MILLION people are using this software in 195 countries around the world? Here's how iOS Repair utility works.

TunesBro - iOS System Recovery
Able to fix all kinds of system issues like stuck on Apple logo, white screen or connect to iTunes.
Backup and restore iPhone within a few clicks.
Recover deleted or lost data directly from iPhone.
Support 100+ iOS devices, including the latest iPhone, iPad and iPod
Step 1

Install iOS System Repair

Download and install the software on your Mac or PC. You can download the trial version first before purchasing the full lifetime license. That allows you to see what the software interface looks like, what functions it has and so on before you buy. Once the software is activated, you can launch it and click "Repair" tab.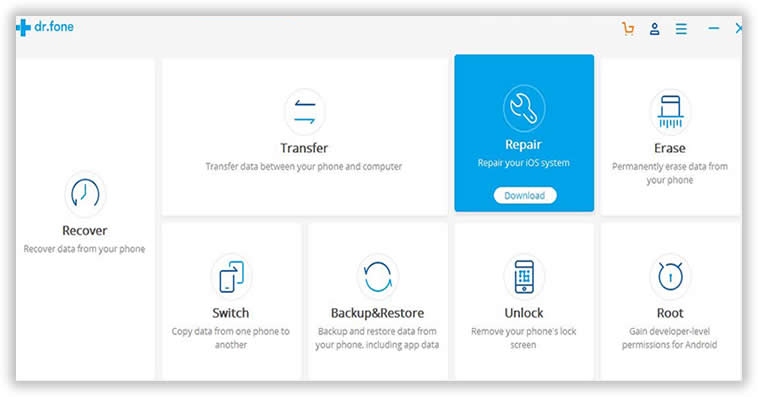 Step 2

Connect iPhone and Download iOS Firmware.

Once the device is detected, you'll see an option to "Start" the process. Click on that. The utility will analyze your device and display several bits of device information, such as the model, the iOS version, the base band version and even whether or not the device is jailbroken.

However, if your device is not functioning normally, the software will prompt you to boot the device in DFU mode. Power off your iPhone. Simultaneously hold down the power and volume down button for 10 seconds, after which you can release the power button. Keep holding the volume button until the phone enters DFU mode. Release the volume button. If your device is pre-iPhone 7, use the power and home buttons and follow the same steps above.

After this, you will need to select the right iPhone model and the firmware you want to recover the device to. Click "Download" button to save the file on the computer. If you can't detect the right firmware, click on "Copy" to download it with your browser from Apple's official website.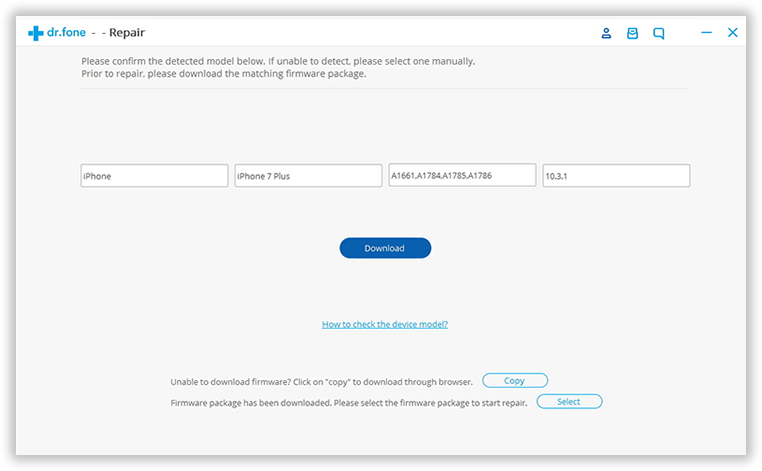 Step 3

Start to Fix iPhone Stuck in Apple Logo Screen

Once the firmware is downloaded, click on "Fix Now" to start the process. When the process is complete, click on "Done" and unplug your device.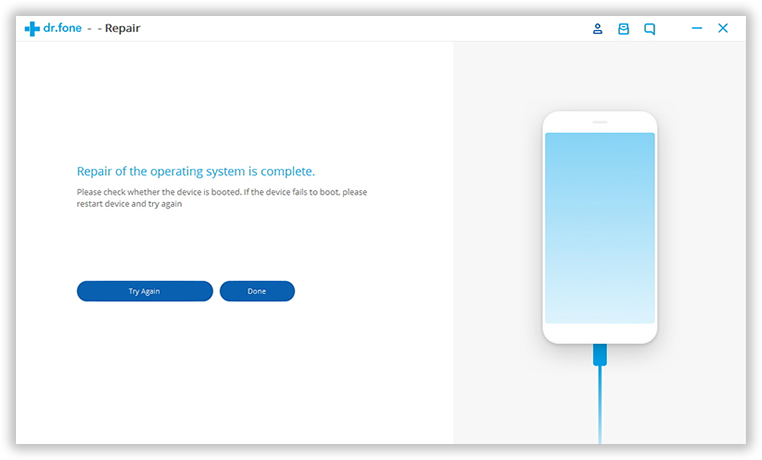 The description above might seem a bit long, but the software is intuitive enough to hand-hold you through the entire process. That is why it's so popular with so many iOS device users around the world.
The Verdict:
A final word of warning about free or pirated software. You might think you're saving a few bucks by searching for and downloading free utilities that claim to do what a premium software application can accomplish, but be honest with yourself. Do you really want to be saddled with a bunch of problems when one problem can be solved easily by buying the right utility? The risk of malware, lost data, legal problems and other issues should be enough to deter any sensible user from taking that approach. Do the right thing and buy properly licensed software. You'll sleep better and your iPhone will thank you for it!

---