As a main workforce, computer plays a very important role in our daily work. We manipulate and store all kinds of documents like Word, Spreadsheet, PPT and PDF on our computer to compete different tasks. The problem is that the chance is high for accidental file deletion. It may be done by yourself or someone else. When you found some file is missing, you are first recommended to search for the file on the computer as it would have been moved to another folder and it might have happened without your knowledge. So, it is better to check on other folders and also never forget to check in the recycle bin as well.
When you can't find the document file on the computer or it was deleted by Shift+Delete, it doesn't mean it was gone forever. The file is just hidden by operating system and the storage is marked available for new coming data. So when you encounter such a problem, the first thing yous should to do is stop using the Mac computer, especially for data copying and pasting. After this, then find a good data recovery software such as TunesBro DiskGeeker for Mac to help you retrieve the deleted document from hard drive. It will be a great assistant if you want to recover deleted files from computer hard drive, SSD, SD card or camera memory card. The program is able to recover all kinds of files and documents producted by programs, including photos, music, videos, Word, Spreadsheet, PowerPoint, HTML, TXT and others. You can check more details in product page.
User Guide : How to Retrieve Deleted Documents from Mac
Step 1

Download and Install TunesBro DiskGeeker for Mac

The first step is to download the setup file on a computer. Then follow the default installation guide to install it on Mac computer. Finally, open the program at the end of installation or from desktop shortcut.

Step 2

Select Target File Type and Drive Name before Recovery

From its main screen, you can see some of the most commonly used file types are displayed on it. In default, all file types are selected. However, if you want only recover certain types of file, for example Word document, then only select Document. The more types you select, the more time spent on data scanning. Click Start button now.

Next, select a drive name which the file was stored previously. If you don't know which is the right name, then select a whole hard drive as the option. However, this will take more time.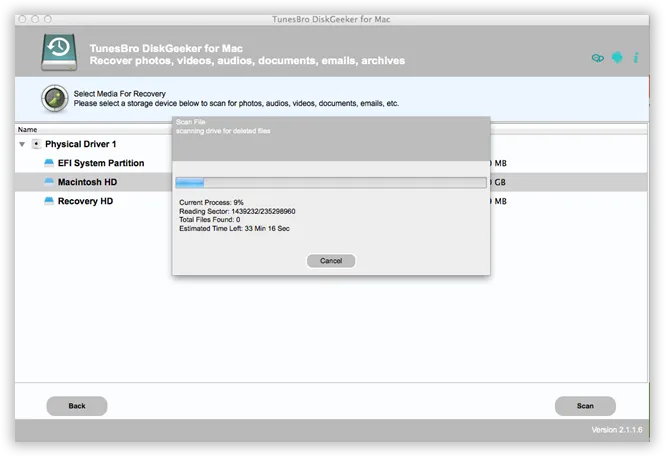 Step 3

Scan and Located Deleted Documents on Mac

After selection, click Start Scan button. TunesBro DiskGeeker for Mac will start to scan the selected drive to find the trace of deleted documents. There is a small pop-up window indicating how many percentage completed for the task and how many files being scanned. The takes 5-15 minutes, please be waited.
Step 4

Preview and Recover Deleted Documents

After the scanning process was finished, TunesBro DiskGeeker for Mac will list all the files into different categories. Click on the specific one to unfold the files. Then you can preview each file in that category. If the document was the one you are looking for, then mark it checked. At the end, click Recover button to save those deleted documents on computer again.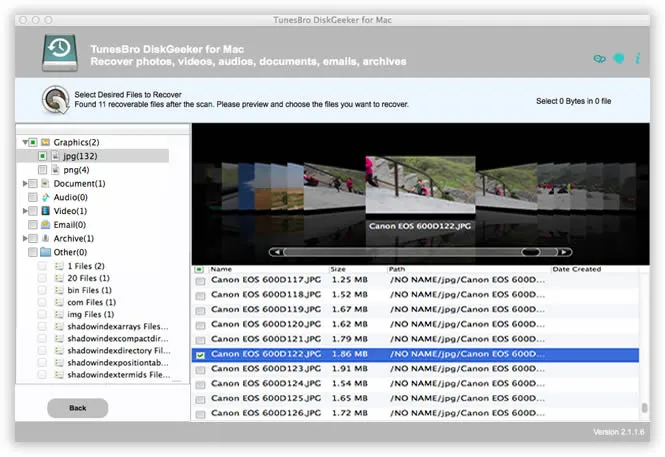 When you followed the steps listed above, you will find it is kind of easy to recover the lost files with the help of DiskGeeker. The powerful data recovery function plus the user-friendly interface makes the program standing out from its competitors. That is the reason we recommend TunesBro DiskGeeker for Mac in here. You can a lost of positive feedback from the users. In addition, when you look for any data recovery application, it would be better to opt for the one that will not just help in data recovery from your PC, but it should be helpful in data recovery from any storage device for that matter.

---
Related Articles & Tips
Recover Data from Dead or Broken Hard Drive