Contacts and text messages are the most important parts of our lives. Without contacts, we won't be able to call, text or connect with our dear families, friends and colleagues. Likewise, without any text messages, we won't be able to keep the record for our health reports, bank statements, credit card reports and won't be able to communicate with the necessary people daily.
Understanding the importance of contacts and text messages, it is pretty much assumable that this two information must be protected before any disaster happens. Data loss due to virus attacks, trojan and malware infections are quite common Huawei or other Android smartphones. Not to mention, these new smartphones are very fragile so even the slightest mis-touch can wipe out everything from your phone. So, it is better to take proper precaution before the unspoken things happens with your device. In this tutorial, we will use two third party software to transfer contacts and text messages from Huawei to computer.
Part 1: How to Use HiSuite to Transfer Contacts & SMS from Huawei Phone to Computer
HiSuite is an Android smartphone device manager that helps to backup and restore your Android data. In addition, you can keep the backup data on your PC or you can even upload them to your favorite cloud server like DropBox, Google Drive, etc. Moreover, it even helps you to update your device using the program considering you have an internet connection.
Wanring: Backup file generated by HiSuite can't be viewed or opened on computer. So if you really want to do this, then you can check Part 2, which is a more flexible data backup choice.
Step 1: Install the program on your computer and launch it as an administrator. It is freely available on the official HiSuite website, so you can download it for free.
Step 2: Connect your Huawei phone to PC and make sure to enable USB debugging mode on your phone.
Step 3 : Once the phone is connected with the program, click on "Contacts" and choose the contacts to backup on PC. After selecting the contacts list, simply click on Backup and save them on the output folder of your choice.
Step 4 : Similarly, to backup text messages, open the messages section and choose all the SMS that you want to back up first. Next, click on "Backup" and select an output folder to save the backup file. The backup progress takes a bit of a time depending on the size of your collection and once it is done, you can open the destination folder to view the backup files.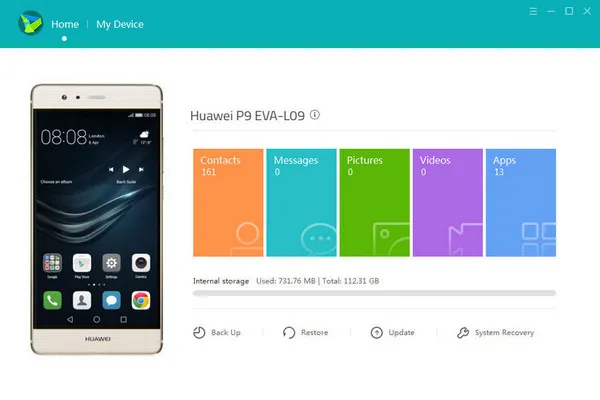 Cons:
1. Old Huawei devices not supported.
2. Partial backup not avaialble.
3. Bad lanaguage support.
Part 2 : Selectively Transfer Contacts/Photos/Text Messages from Huawei to PC
If you want to preview all the data on your computer before backing up and want to achieve the task without any internet connection or high spec requirements then you must check out TunesBro Android Manager. It is an outstanding and creative tool that has been helping Android users to backup their data on PC in no effort.
This program works well with both Windows and Mac computers. According to our test, it is 24X times faster than any other data transferring tools. It is compatible with over 5000+ Android brands including Huawei, Sony, Samsung, LG, Asus, Micromax, Nexus, Pixel and so on.
Supported Huawei Phone: Huawei P10/P9/P8/97, Mate 10/9/8/7/S, Honor 8/7X/6X/5X

Select and transfer personal data as desired.
Full backup and restore feature avaialble.
Install and uninstall apps from Computer
Directly download music or videos from Internet.
Step 1

Prepare

Go to the TunesBro official website and download the latest version of the tool. Run the program and install the software by accepting the terms of the tool. Now, click and Transfer -> Information.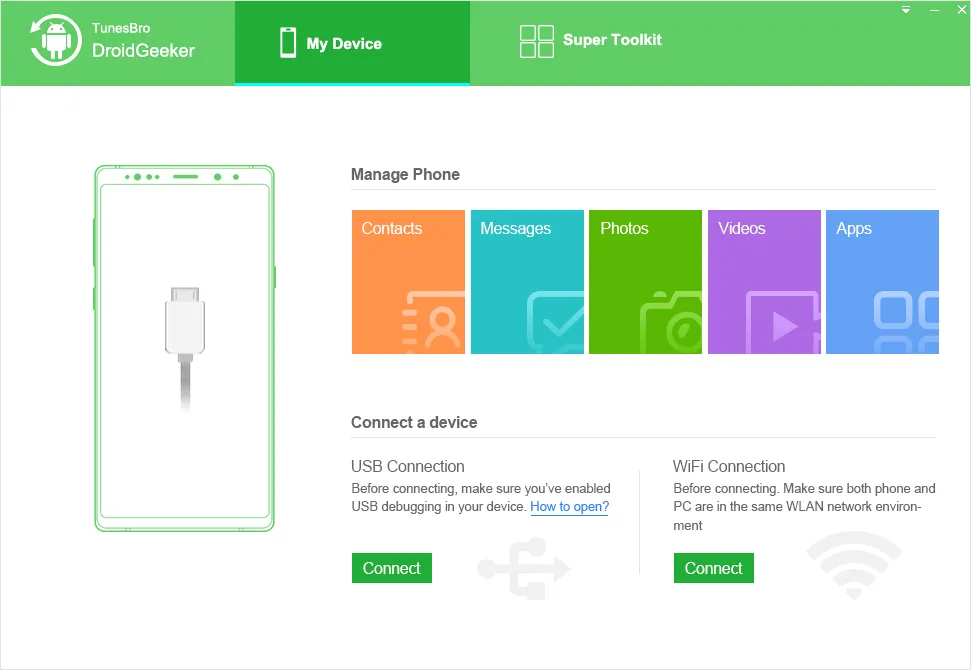 Step 2

Connect

The program will run automatically once the installation is finished but if it doesn't start then launch the program by double clicking on the shortcut icon located on your desktop. After the program starts running, connect your Huawei phone to PC with a USB data cable. Enable USB Debugging mode on your phone by going to Settings then Developers Options followed by USB Debugging.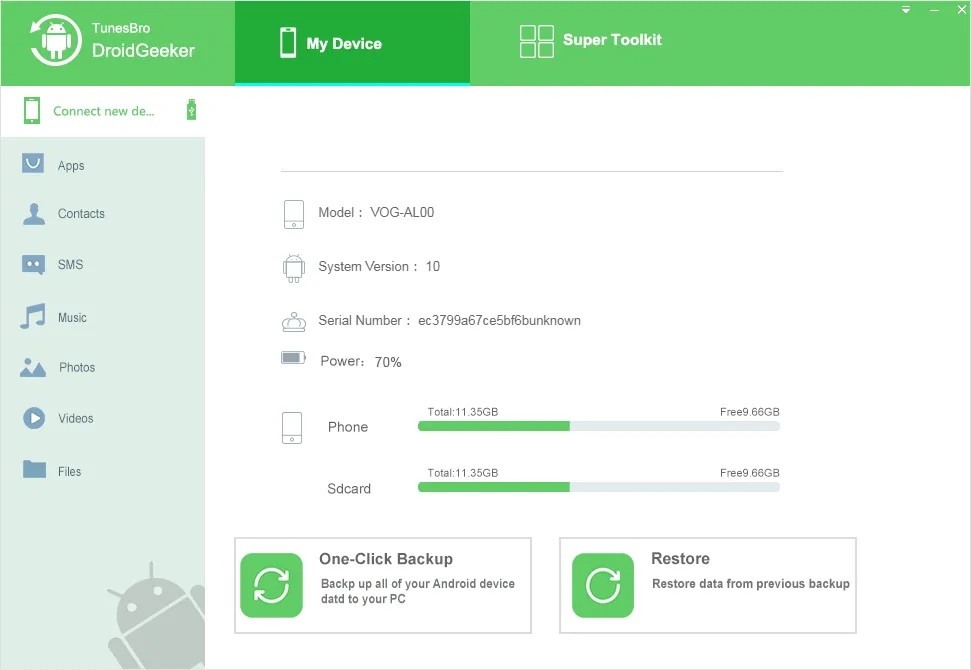 Step 3

Backup

Now, click on the items on the left sidebar and choose SMS and Contacts from the list. Choose a folder where you want to save the backup and click on "Export" button on the top to save the output file. That's all. You can track the progress in real-time and enjoy!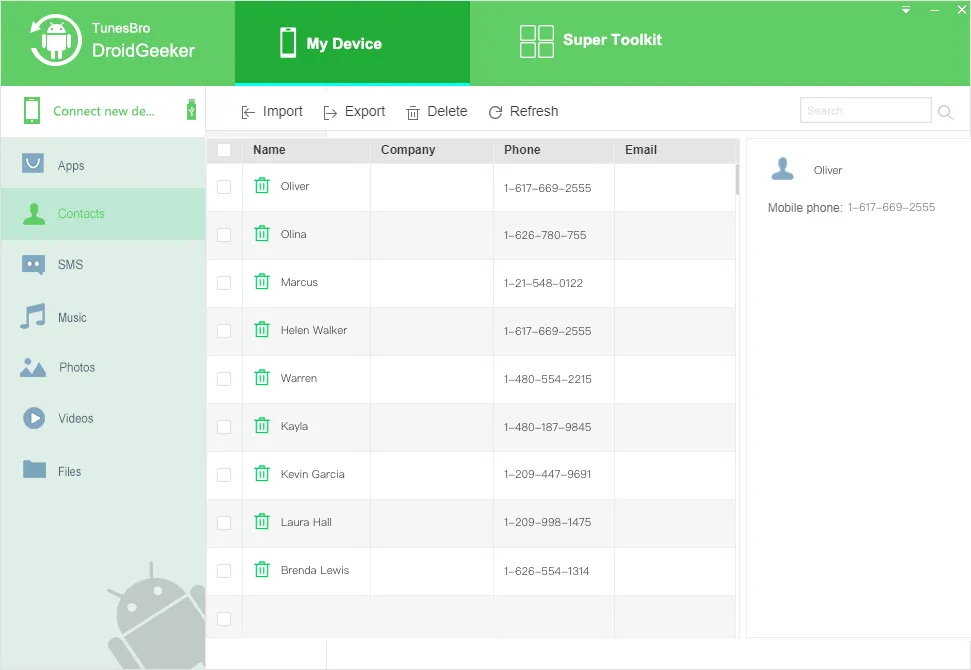 At the End:
Protecting your personal data should be a top priority considering the hack attempts and data loss chances has increased a lot. However, in this tutorial, we have shown how to transfer contacts and text messages from your phone to PC. Although, we have shown how to backup contacts and messages with Android Manager but you can even backup other types of data like music, videos, pictures, documents etc. using the same tool. If you encounter any issue then don't forget to contact the support staff immediately.

---