Are you planning to sell your current computer? Computer too much cluttered with junk files and want to learn the easiest way to clean? Giving away your computer and want to know how to permanently remove all data from your system?
Wiping data from your old computer is very crucial especially if your computer contains private and confidential documents, pictures, videos and other data that can be misused once they fall on the wrong hands. UNESCO suggested that most stolen data are obtained from abandoned computers or smartphones from which files and documents were not deleted permanently. So, unless and until you want to be on one of those statistics, you should take proper actions.
Wiping a computer clean in Windows 7/8/10 is not a difficult thing since Microsoft offers a convenient way to format the hard disk totally by using Windows installation CD/DVD. But did you know that these deleted data are not permanently erased from your computer but rather it only disappears from the computer so that you can't see it while the original file is still on your computer?
That's correct, a simple deletion or formatting never wipes the data permanently on Windows computer and that is why they can be easily recovered with the help of any free data recovery software. None the less, in this article, we will show you how to wipe your computer clean with installation disc and data erasing software..
Part 1: Wipe Computer Clean by Formatting Entire Hard Drive
Formatting the hard drive is by far the easiest way to delete all files on a computer as it is a default option on all Windows computers. However, it is not recommended if there were important files on it because the data can be recovered with free data recovery software. I just tested it on my Dell laptop and most of the files are still accessible after a data scan. This is a dangerous thing. However, you can still follow this method if there were not private or confidential files on it.
Step 1: Click "My Computer" icon on desktop and right click the drive name (Not C:\) this time.
Step 2: From the pop-up options, there is one called "Format". Click on it and confirm the operation. Then all the data on that drive will be deleted temporarily.
Step 3: Finally, do it on system drive and shown the computer. Now, the whole hard drive will be clean and the compuetr can't boot up unless you install a new OS on it.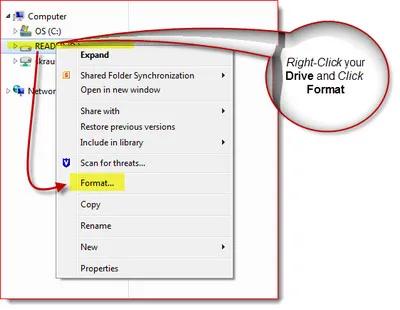 Part 2: Wipe Computer Clean Windows 10/8/7 with Data Erasing Software
Indeed, there are many tools available online that can be used to achieve this task but be very careful when downloading any software from the internet since most of them are viruses and can steal or infect your computer critically. Make sure to read the reviews of any program before downloading. After a careful evaluation, we will be recommending to use TunesBro Data Eraser on this guide to permanently remove every data from your Windows computer with a single click and within few minutes.
TunesBro Data Eraser is a professional data removing software that can wipe your Windows computer clean leaving no residue behind. What it means is that the data deletion method using this tool is permanent and these deleted data can never be restored using any data recovery software. So make sure to have a full backup of your computer in a safe place before implementing this software or else you will lose your precious data permanently.

Permanently delete all files and data from your Windows computer.
100% guaranteed that no data can be recovered after deleting them with this software.
Delete over 500+ file types including pictures, videos, PDF files, software, apps, music, emails, zipped files and so on.
Supported device includes computers, laptops, HDD, SDD, USB drives, memory cards, digital cameras, external hard disks.
Step 1

Download and Install Preparation

Install TunesBro Disk Eraser on a PC or laptop from which you want to erase everything. The program is very liter in size, so it should be done instantly.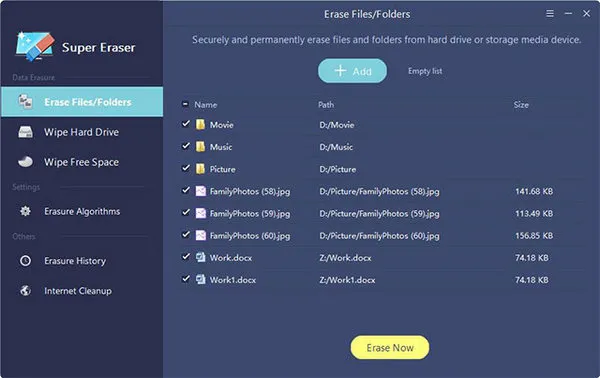 Step 2

Select Data Wiping Method and Algorithms

Launch the program and click on "Wipe Hard Drive" from the given options on the left sidebar. Check all the hard drive names from the list one by one and make sure to select only those hard disk names from which you want to erase the whole data permanently.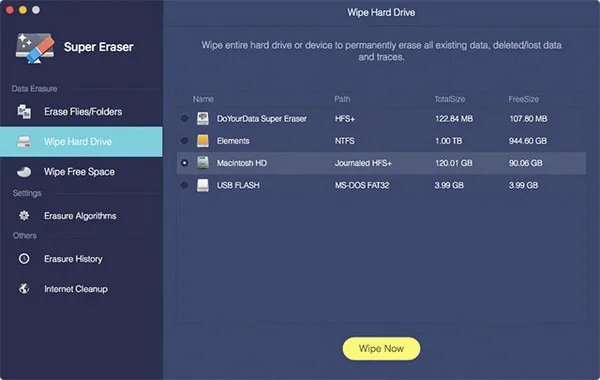 Step 3

Delete All Files from Computer

Finally, click "Wipe Now" and let the software magically erase everything from your computer within few minutes. Please note, the deletion time depends on the size of your hard drive. So, have a little patience while the program perform the task successfully.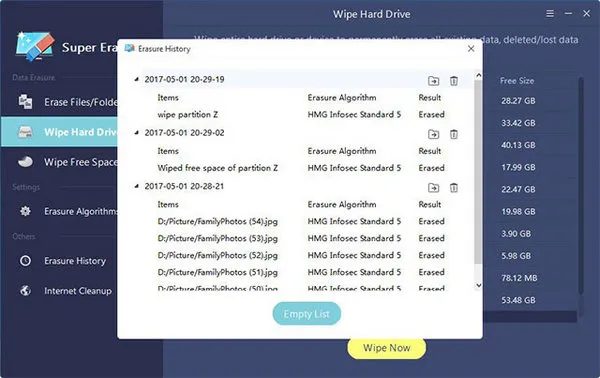 Summary:
TunesBro Disk Eraser is undoubtedly one of the best data erasing software on the internet market since it has been featured by many authority websites. Moreover, you can check and read the reviews from thousands of satisfied customers who are talking incredible things about this program. You can feel free to donate or sell computer after removing the data with his program. And thre is no fear of getting your data stolen from stranger any more.

---