Losing data on your Android phone is never a great experience, but a lot of users go through it for one reason or other. Data can be lost in a number of ways. It could be deleted from the device during a factory reset, or you may have accidentally formatted your micro SD card, or you may have manually deleted files by mistake. Fortunately, there are several desktop and mobile applications for Android data recovery. This article covers several of these apps that you can try using to recover various types of data that have been lost from your Android device.
Review 1: DigDeep Image Recovery (without Root)
As the name implies, DigDeep is primarily for recovering deleted images. As such, it is a powerful but highly limited application if you have multiple data types that need to be recovered from your device or SD card.
The app supports multiple image formats including .webp, .jpeg and .webp. The interface is fairly intuitive and the app itself is quite easy to use. Unfortunately, it only supports Android versions upto version 4.3, so if you have a newer device running a higher Android version, this app is not going to be of much use to you. However, on older devices where images have been deleted, this app can even recover images that were lost prior to the app being installed on the device. The scanning process is little slow, and you might even see recoverable images that have not been deleted in the first place, so you will need to be a little patient while using this app, and manually review and select images before restoring them so you avoid duplicates.
Once you download it and install the app from Google Play Store, it will automatically scan your device and your SD card and show you a list of recoverable image files. Carefully go through the list and select the ones that you know have been deleted from the phone, and then recover them to a location of your choice.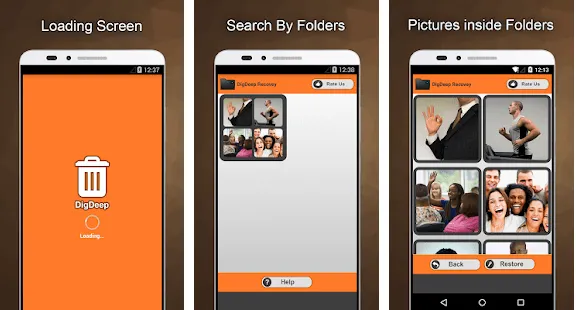 Pros:
Nice UI Design.
Scan SD card and Internal Storage automatically.
Fast and reliable.
Cons:
Only photo and image files supported.
Recovered photos might get damaged.
Not able to find all deleted photos.
Review 2: Undeleter Recover Files & Data
Undeleter is a fairly impressive Android mobile app that recovers a wide range of files and data. Unfortunately, you can only recover data and files from rooted Android devices. If your device is not rooted, you will only be able to see cached images.
If you are willing to grant superuser permission to this app, then you can take advantage of its full range of features. The deep scan looks for a wide variety of deleted files including audio, photos, video, documents and even EPUB files. This type of deep scan could take quite a while, but you don't have a choice but to wait for the entire scan to be completed. Once the scan is done, you'll see categorized lists of various file and data types that the app is able to recover from the device or card. You can now select the specific data and files you wish to recover, and save them to a desired location.

Pros:
Free with in-app purchase.
Automatically transfer messages to a desired Google account.
The moved text messages appear in your Gmail like a normal email.
Auto backups are configurable, so you can pick a schedule that works for you.
Cons:
Only work on rooted devices.
Low success rate.
Full of ads in free edition.
Less user friednly.
Review 3: GT Recovery (Root Required)
GTRecovery is a powerful Android mobile app that can recover more than 17 different types of data that have been deleted from your device or memory card. There is also a Windows version that supports various drive file systems such as FAT, FAT32, NTFS and so on, but here we will focus on the mobile app version. One of the great things about this app is that it allows you to preview your files prior to recovery.
Possibly the biggest disadvantage of using this app is that your phone must be rooted to take advantage of all the features. That means only basic functionality will be available for non-rooted Android devices, so if you are not very keen on rooting your phone just to recover data, then a different app might be more suitable for your purpose.
If you don't mind rooting your device, then this app can help you recover all deleted data from internal memory. Once you download it and install it to your Android device, it will remind you to root the phone. After superuser rights have been gained, the interface will show you the various types of files that you can recover. Once you make your selection, the app will scan your device and display all recoverable data. You can now select the data that you want to restore to the phone, click the Save button and select a destination folder.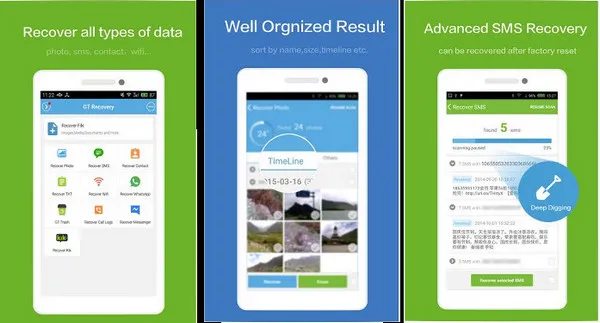 Pros:
Support 17+ Types of data.
Preview content before recovery.
Simple to use.
Auto backups are configurable, so you can pick a schedule that works for you.
Cons:
Need root the device .
Not support the latest Android 7.0 and above.
Review 4: Recover Deleted All Files Photos And Videos (No Root)
The Recover Deleted All files Photos and Videos mobile app for Android has a self-explanatory name. The great part about this Android app is that it does not require rooting, and the developers have openly invited users to suggest devices for which the app doesn't yet work. That's an important aspect to consider because it means the app's creators are still actively involved in the project.
This app works with multiple file types including media, files and other data. Once you download and install the app, launching it will initiate a deep heuristic scan. This could take awhile so if you are a little low on battery power make sure you plug it in before initiating the recovery process. Once the scan is complete, you will be shown all the files that are recoverable. Select the ones that you need to restore and specify the target location.
One particular issue found with this app is that some users complain that it requires a lot of unnecessary permissions, including details like Wi-Fi information. For this reason, you may not be comfortable using this app to retrieve your Android data even though it does not require rooting your device. If that is the case, then your best option will be the next desktop software described below.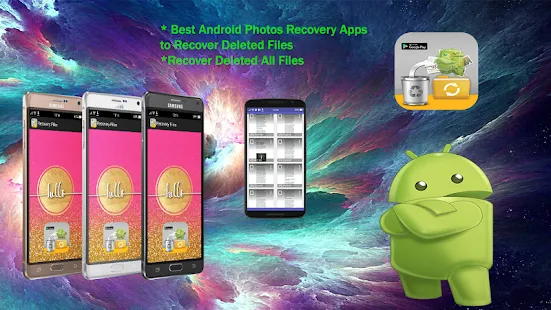 Pros:
Best for recovering deleted files.
Built-in with smart engines.
Deeply scan all deleted files on Android device.
Support 20+ file formats
Cons:
Can't recover contacts and text messages.
Ask 5 star rating before recovery.
Wi-Fi connection is required.
Review 5: Dr.Fone Android Data Recovery Software (Windows & Mac)
Dr.Fone Android Data Recovery is undoubtedly one of the most powerful desktop applications for Android data recovery. Not only does it work extremely well for all data types, but it is versatile enough to allow you to preview everything in detail before you decide which files you wish to restore to your device. In addition, this particular utility comes as part of a suite of Android system maintenance software modules called the Android Toolkit. The Android Toolkit contains modules for rooting, backup & restore, Android erase, switch, transfer, repair and a host of other maintenance tools that will be useful for any Android user.
This desktop application for Windows and Mac is extremely simple to use. All you need to do is download and install it on a Windows PC or a macOS computer and connect your Android device to the computer. The software will automatically detect the device and show you various modules including the recover module. Clicking on it will open a window with various data types that can be recovered. It will also let you choose where you want to recover the data from - your card or the internal device memory. Make your selections, and in the next window you can choose to either scan for deleted files only or to scan everything.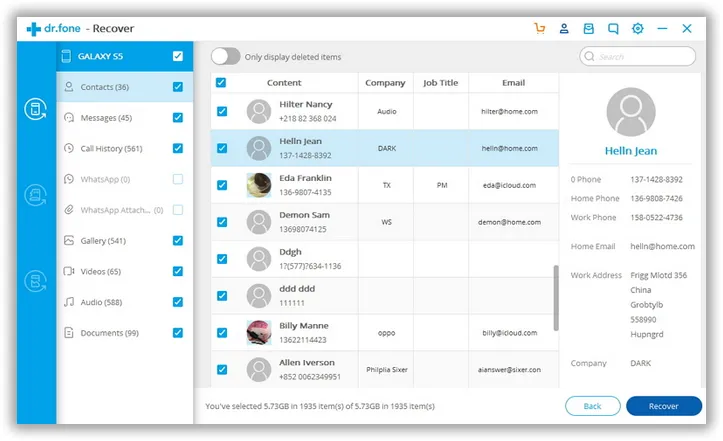 A quick deep scan of your device or memory card will be done, and all recoverable data will be displayed in an easy-to-view format with the categories on the left panel and the individual files in the middle. Once you have selected the data that you wish to restore, just click on the Recover button and all of your data will be recovered to the computer. You can then use the Transfer module to move data back to the phone if you wish.
Pros:
Higher success rate for data recovery.
Recover lost data from 15+ file types and databases.
Support 100+ Android brands and 2000+ Android devices.
Amazing toolkit for various tasks, including backup, transfer, repair and unlock.
Cons:
Has to root the device before recovery.
Not totally free.
Review 6: MiniTool Android Data Recovery Software (Windows Only)
MiniTool mobile recovery for Android is a free desktop application that can recover deleted or lost data from Android devices as well as SD cards. It supports a wide range of Windows versions ranging from Windows XP to Windows 10. It can also recover various types of media and text data. Recoverable media data includes audio, video, photos, app photos and even WhatsApp attachments. Recoverable text data includes contacts, call history, WhatsApp chat and document data.
One of the biggest disadvantages of MiniTool is that it doesn't work with all versions of Android. The software has been around for a while, but since this version is free, it hasn't been updated to support all the latest Android versions. That means you can only recover data on a device if it runs an old version of the Android OS prior to 4.0.
Using this tool is fairly simple. Simply connect your Android device to your computer after downloading the software. The interface will allow you to select either the device memory or the expandable storage, after which the corresponding memory will be scanned for recoverable data. Within the same interface you have an option to select the data that you want to recover and specify a destination folder. There are also several advanced parameters that you can set for the recovery process.
Pros:
Free for try.
Great design with intuitive graphics interface.
Support Windows 10 as well as Windows 8/7/Vista/XP.
Cons:
Rooting is needed.
No app or Mac version.
Pro license is required for advanced usage.
Summary:
As you can see, each of these Android and desktop applications have some really great features, but they come with their own set of disadvantages. If you are looking for something that is guaranteed to work for all types of Android data recovery, then the final option will be your logical choice.

---