HEIC is a great image format for iOS 11 devices because it saves a lot of space compared to PNG or JEPG. That's something iPhone users are always complaining about because memory is not expandable on iPhone in normal way. But the problem with HEIC is that it's not very user friendly when it comes to other devices, such as WIndows PCs or Android smartphones and tablets. There is no default program that can open or view it currently.
Actually, there are several online services as well as offline utilities that can do the job, but only a few that can maintain the quality of the images during the conversion process. The key to this is the conversion engine underlying the software's interface. That's what really matters. We've reviewed lots of free and premium options since HEIC was introduced alongside iOS 11 last year, but nothing beats TunesBro HEIC Converter, as you'll see.
Method 1: How to Convert HEIC to PNG Online (AConvert)
This first method is a free online tool that's convenient to use. You simply choose the file you want to convert, specific an output format and image size, and hit "Convert Now". It's done in a jiffy and the quality is fairly lossless.
The only problem is that if you have a large number of images to convert, then it's going to take you a long time to do it. There's no drag and drop option, either, which means for every image file you will need to manually select the file from its folder location.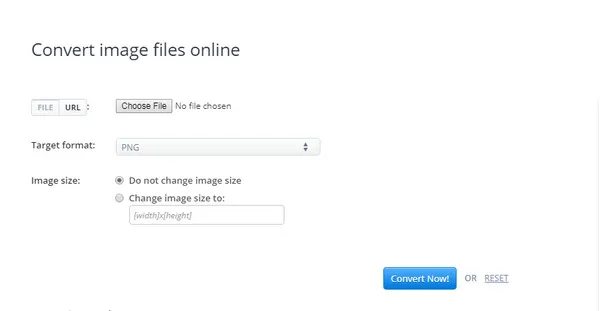 Method 2: Batch Convert HEIC to PNG on Windows or Mac
TunesBro HEIC Converter justifies its cost by being extremely versatile and easy to use. And it's not just us saying it. We have one of the highest independent review ratings of any software in this category, which is why millions of iPhone and iPad users come to us for their conversion needs.
The software is powered by a robust conversion engine that offers both single and batch mode for converting HEIC and HEIF into JPG or PNG. You can also control output quality if you want to, and it offers the option of keeping the Exif data for the images that you convert. The interface is highly intuitive and has been lauded by many professional reviewers. The pleasant green theme of the software's UI keeps your eyes relaxed even if you're converting hundreds of images into PNG or JPG formats.
Installing and using the software is also extremely easy; simply follow the steps outlined below and you'll have a powerful HEIC conversion tool in your hands in no time.

Retain original quality after conversation
Support converting multiple HEIC files at one time
Two output formats: JPG or PNG
Wok well on Windows and Mac computer
Step 1

Download TunesBro HEIC Converter on PC or Mac

Download and install the software on Windows PC or Mac. The software supports Windows 10 as well as older versions right back up to XP and Vista. Launch the utility on your computer. If you have images on your iPhone, connect the device at this point. If you've got them on your PC already, there's no need to do that.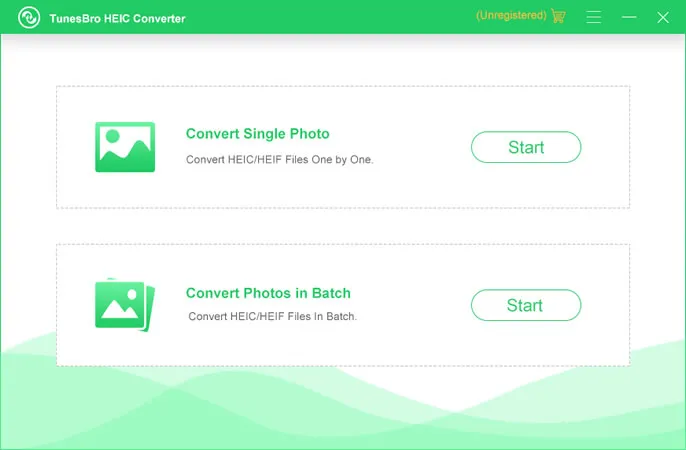 Step 2

Select Conversation Method

You'll see the single and batch conversion mode options on the interface. Choose the appropriate one and you'll be taken to another page where you'll be selecting the images for conversion. At this point, you'll also need to define other parameters, such as the output format (in this case, .webp), output quality, output destination and whether or not you want to retain Exif data.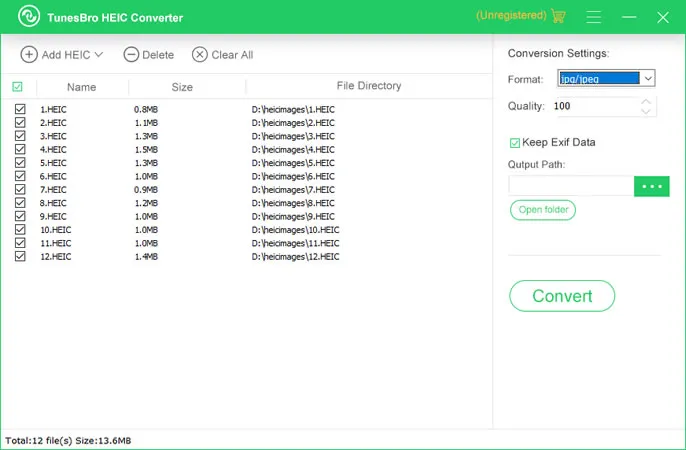 Step 3

Import HEIC Files and Adjust Output Quality

Once everything is set up, choose a folder to save the converted files. Then simple hit the "Convert" button and let the software take care of the rest.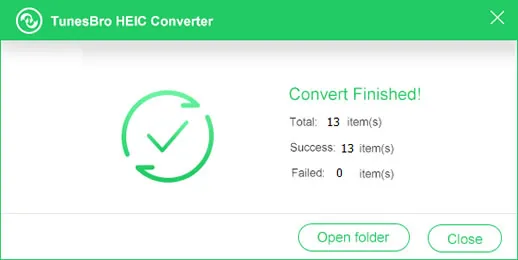 Conclusion
There are a couple of things you need to know about HEIC converters in general. First of all, not all of them are reliable. Even some of the so-called premium ones can degrade the quality of your image. You might not be able to spot the difference with the naked eye, but if you're using the imagery for other purposes, it may look grainy or the color aspects might be different from the original. After all, you wouldn't want that to happen if you're a professional visual designer or need the images for a client presentation, right?
If the answer is "no" to any of these questions, you might be better off looking elsewhere. At TunesBro, we only hire the best developers, customer service agents and other staff. We provide them with the most premium tools to do their job so our software can take care of you. Feel free to contact us for any questions prior to purchasing a license. We're always listening.

---
Related Articles & Tips
HOT ARTICLES

Converter HEIC to PDF
View HEIC Photos on Windows