Text Messaging experience has been improved a lot over the years on Android phone or tablet. With the advancement of Android, we can share pictures, music, videos and other private data via messaging apps nowadays. But, Android phones has a tendency to store messages on the internal memory and sooner or later you bound to run out of space and will be required to remove some messages from your inbox before you can receive new information.
Today, in our blog, we are about to distribute 3 crucial ways to erase messages from Android so that you can have some extra room to receive new texts. On the other hand, these tips are useful if you are selling or getting rid of your device because our inbox contains most intimate information of our lives such as credit card statements, net banking PIN, medical reports, notifications and other confidential texts from loved partners. You don't really want any unknown person to take sneak peek on them and thus, removing them permanently is the perfect choice.
Method 1: How to Manually Delete Messages from Android Phone
The first option comes in out mind for SMS deletion is the default way. We all know how to delete items on Android and there is no exception to text messages. However, this would be in great trouble (phone freeze or message app freeze during the deletion) if the count of messages become large. I heard a lot of similar cases from friends or colleagues. If there was any problem with this method, please move to Method 2.
Step 1. Tap on Menu and open the messaging app.
Step 2. Long tap on any conversation and select "Delete Thread" to remove that particular chat from your inbox.
Step 3. If you wish to erase all messages then tap on "Select All" and press the trash icon to remove the messages from your inbox.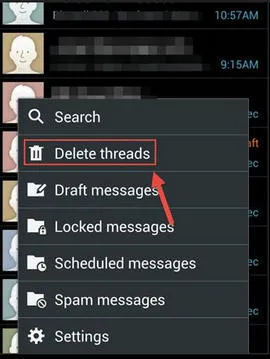 This is how easy it is to erase messages from Android phones. Please note, that different brands will have different options to delete the messages. However, they will be more or less same as we mentioned above.
Cons:
Another drawback about this method is that the deleted messages can be recovered. If there were sensitive information on the phone and you were going to sell the device, then it is not recommended following the above steps. Method 2 is more flexiable and secure in regards of this. Here is a screenshot that deleted data being scanned by TunesBro Android Data Recovery software.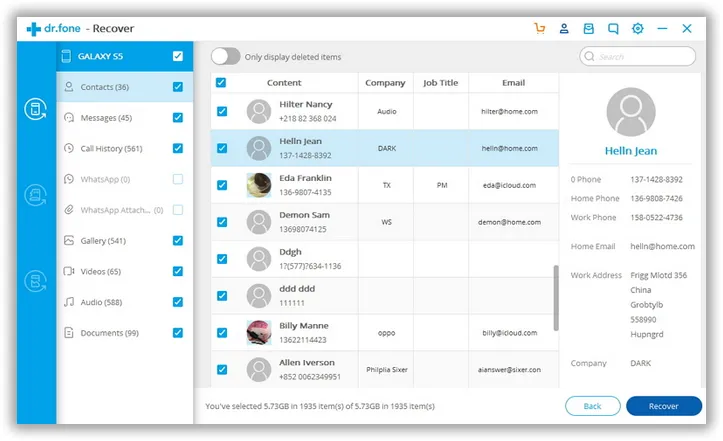 Method 2: How to Massively Erase Android SMS in One Click
The above method is viable only for personal use. But if you were selling your old Android device to buy a new one then you must erase the messages permanently from your phone. A simple deletion is never safe because it has loopholes and any hacker or computer skilled programmer can restore your messages to use it against you.
That's why we are going to use TunesBro DroidWiper, which is a reliable and effective Android content erasing tool to permanently delete information from your Android device. It is a wonderful program to keep your phone organized by erasing selective data types from your phone according to your requirement. It has endless potential features and uses really very strong algorithms to erase data from your phone so that no data recovery tool can restore them back under any condition.

Provide 3 awesome ways to delete data from your Android.
Over 20+ file types can be deleted – Messages, contacts, music, videos, app, app data, pictures, etc.
Compatible with Windows & Mac platform.
Attractive and easy user interface.
Support over 3000+ smartphone brands including Asus, Micromax, Sony, Samsung, Motorola, HTC, Nexus, LG, etc.
Step 1

Download and Open TunesBro DroidWiper on PC

Like any other desktop software, you will need to install the program on your computer and launch it to see the user interface of this tool for the first time.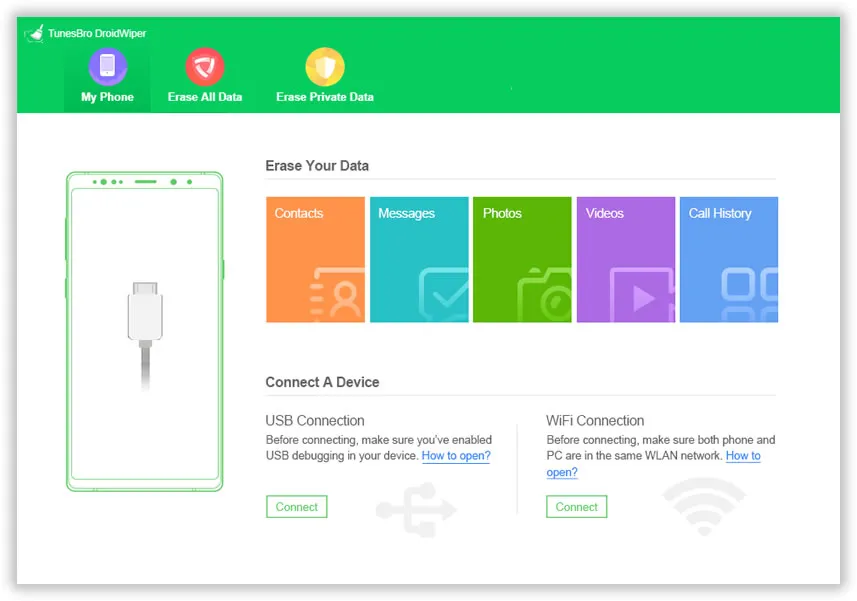 Step 2

Connect Android and Turn on USB Debugging

Connect your Android phone to PC and make sure that USB Debugging mode is turned on. If not, then follow this path on your Android to enable USB Debugging: Menu > Settings > Developer options > USB Debugging. If this still not fixing the issue, then you have to manually install Android USB driver for the phone.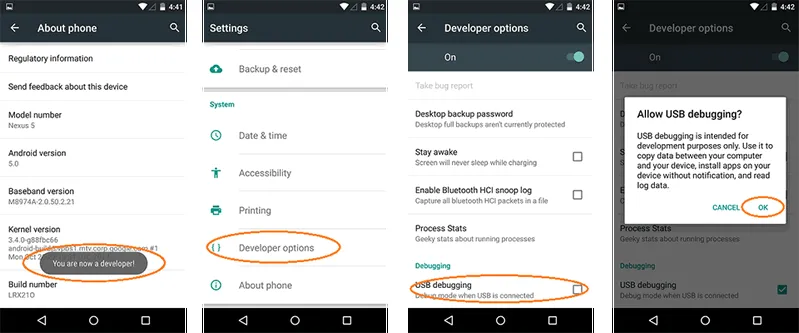 Step 3

Select "Erase Private Data"

Your phone will be successfully detected by DroidWiper and it will show all the necessary information about your Android phone on the home screen.

Click on "Erase Private Data" to scan the existing files on your Android. It may take few minutes to completely scanning process and after it is finished, you will be able to preview all the data from your phone in a well-categorized manner.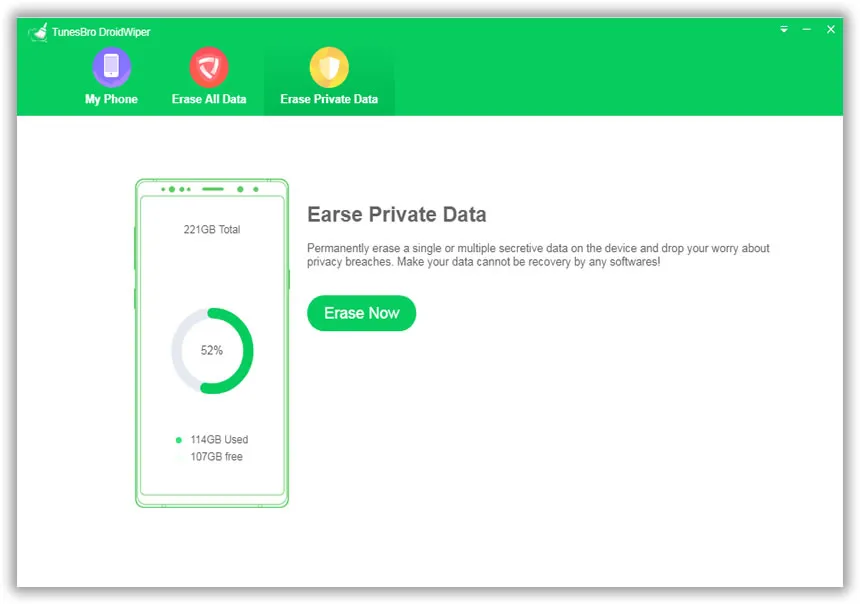 Step 4

Erase Selected or All Messages from Android Phone

Choose the "Messages" folder from the sidebar to see all the texts from your phone. Select them all and hit the "Erase" button to delete them. The process is permanet so you can't recover any of them after that. Make sure you already backed up the messages before erasing.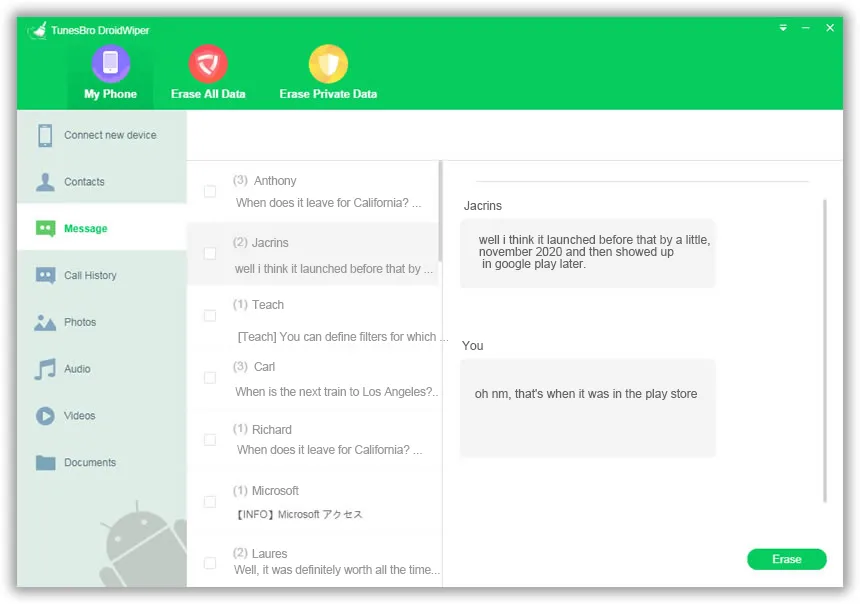 Method 3: Massively Delete Android Text Messages for Rooted Android
In theory, all text messages on Android on stored by an app called telephony. You can't see it in default. But you can find it on rooted Android phone, which has more advanced privileges to perform hidden tasks that can't be done on normal devices. This also applies to message deletion. However, the process is a bit complicated and more dangerous, especially for newbies.
Step 1. Backup Android messages with third-party software or apps.
Step 2. Download and install a file explorer app on Android.
Step 3. Go and find: /data/data/com.android.providers.telephony/databeses/mmssms.db
Step 4 . Delete "mmmssms.db" file and reboot the phone. After that, all tetx messages on the phone were removed completely.
Cons:
Our Verdict:
Maintaining the security and privacy of your identification should one of the top most priorities. Hackers are taking every single chance to expose your information and use it for their advantage. Thanks to TunesBro DroidWiper, no hacker has the potential to get back the data from your Android phone ever again. There's no way to recover any data from your device after they are removed with DroidWiper.

---