Huawei smartphone is really popular these days due to the amount of features and benefits it provides. However, the device can easily lag and the performance goes down as time goes on. That's why most Android users stop installing new apps or downloading new videos and pictures. This can be very inconvenient but at the same time it is common with every smartphones including Huawei phones.
Although, what most people doesn't realize is if you simply wipe the smartphone then most problems will go away. And this is much secure to sell the device after doing this. In this guide, we will show how to hard reset/soft reset and completely wipe a Huawei phone properly so that you can make some extra room on your phone and make it like a new & fast smartphone again.
P.S: Before getting started with any wiping method, please kind make sure to backup your phone completely so that you don't end up losing crucial data from your device.
Method 1: How to Wipe Huawei Honor/Mate Smartphone by Hard Reset
The first method that comes into our mind is factory reset when we need to delete all content on an smartphone or tablet. And hard reset is one of the most effective ways to wiple Android phone permanently in just few minutes. The following instruction is focused for Huawei phones but you can use the same instruction to hard reset any Android smartphone.
Step 1. Turn off your smartphone and reboot it by pressing Home, Power and Volume Up buttons together to start your phone in Recovery mode.
Step 2. You will be given a lot of options that you can perform but to hard reset your phone, simply select "wipe data/factory reset".
Tips: Use your volume up and down buttons to navigate through the options and Home button to select any option.
Step 3. Rest your phone for like 2-3 minutes while the hard reset progress is finished then simply select "Reboot system now" and your phone should be restarted automatically. It will show the slide to unlock screen and you can setup your phone again.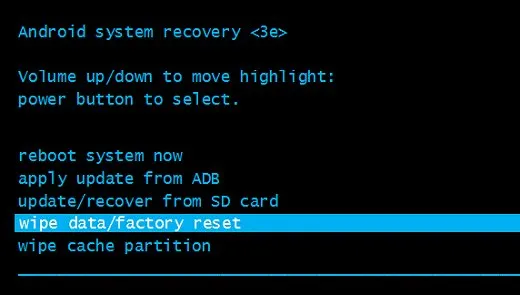 Warning: This is risky sometimes as we heard a few compiants about this. The device was completely bricked during the resetting process. So if you were not familiar with tech staff, then this way is not recommended. Please backup the device before taking any action. What is more, the data deleted by this method is still recoverable. If you cared about the information on the phone, then Method 2 is a much better choice.
Method 2: How to Totally Erase Everything on Huawei Phone in 1 Click
This solution is very helpful for those who are selling or donating their smartphone to a total stranger. Certainly, a soft or hard reset will wipe your phone but did you know these erased data can be still recoverable with any data recovery program? Thousands of identities are stolen each month from used smartphones just because Android users don't erase their personal data permanently.
We will be using an amazing and commercial data erasing tool called TunesBro DroidWiper in this part to totally destroy all sensitive data from your phone beyond recovery.

Permanently delete information from any Android phone in just 1 single click
Preview selected items before erasing.
Erase 19+ data types such as messages, contacts, videos, pictures, call history, apps, app data, etc.
Supports over 100+ Android brands, including Huawei, Sony, Samsung, Asus, Motorola, Google and so on.
Step 1

Lanuch TunesBro Android Data Eraser

Download & install TunesBro data erasing program on your Windows or Mac PC. Then, open the program to see its fantastic and simple user interface then move on to the step..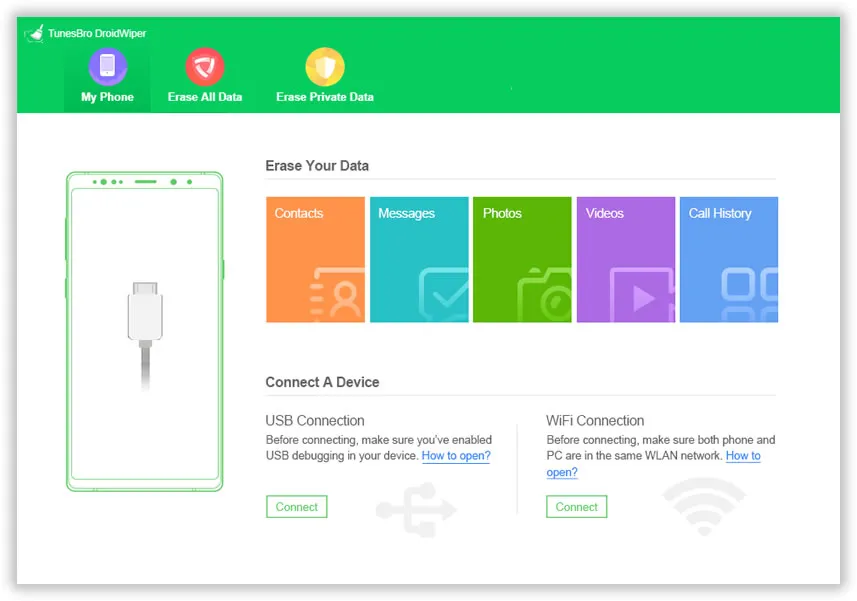 Step 2

Connect Huawei Phone to Computer

Connect your Huawei phone to PC and enable USB Debugging mode on your smartphone by going to Settings > Developers Option > USB Debugging Mode. If you didn't see the option on the phone, then kindly follow the tips in this guide to enable USB debugging on Android.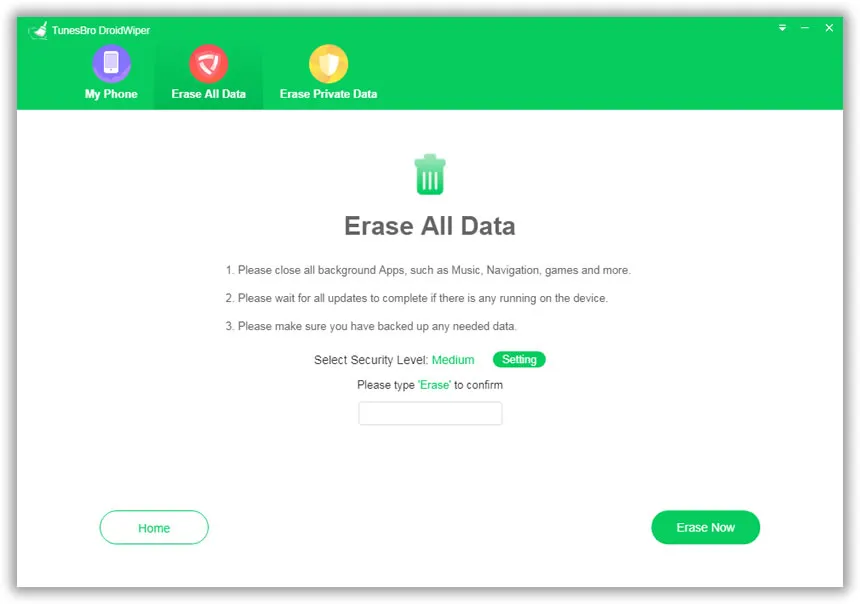 Step 3

Scan All Data on Huawei Smartphone and Start Deleting Data on it

Your phone should be successfully identified by the data removing program. Now, click on "Erase All Data" if you completely wipe out the phone or "Erase Private Data" to delete the existing data from your phone. On the other hand, if you wish to remove app data then tap on "Erase App Data" and continue with scanning your device.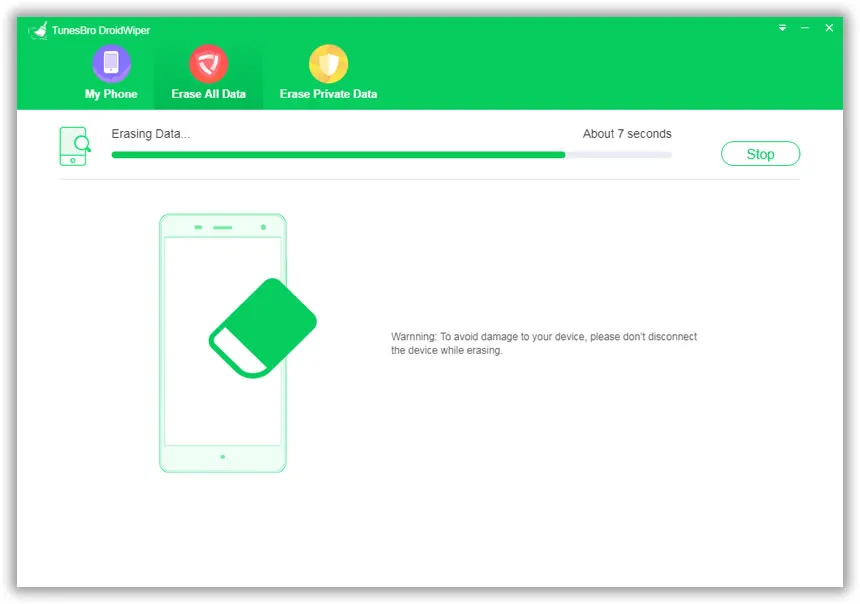 Scanning progress typically takes a few minutes and once it is done, you will be able to preview everything from your phone. Go through each folder to preview the data on your device and finally click on "Erase" to delete all the items from your device permanently. Done! You may now try to restore the erased data with any paid data recovery tool but it is assured you will fail horribly.
Method 3: How to Soft Reset Huawei Smartphone (Insecure)
Another way to reset your smartphone is to from the phone Settings. This is called Soft Reset. Many users find the above method a bit complicated and mess things up. Fortunately, soft reset is way simpler than a hard reset and can be performed from the main user interface of the device.
Step 1. Tap on Menu followed by Settings.
Step 2. Select "Backup & Reset" under Personal section. You will be required to enter the password if you are using any.
Step 3. Now, tap on "Factory Data Reset" and that's it. Your phone will be rebooted automatically after the process is finished and you will have a totally empty phone.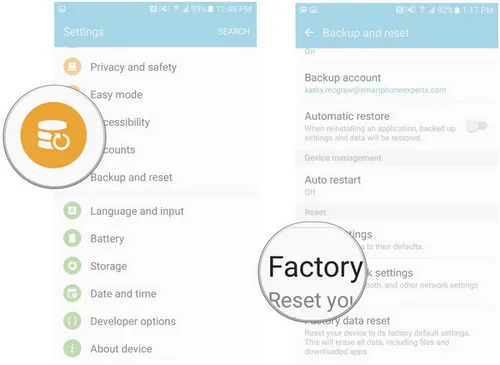 Warning: As the title says, this method is great to fix system issues like slow performance, app crashes. However, it is absolutely not a wise option if you were planning to sell or give away the device. The deleted information by this method can retrieved by free data recovery apps.
Final Review:
In this tutorial, we have demonstrated how to wipe a Huawei phone in 3 ways effortlessly. Remember, soft and hard reset are only recommended for personal purpose. If you were getting rid of your phone or giving it to any stranger then you must erase all personal and private data from your device permanently with a tool like TunesBro DroidWiper. Privacy and security of your personal items should be the top priority of your life so that you don't end up damaging your personal identification..

---