HEIC (High Efficiency Image Format) is an image format used by Apple on all its iOS devices running iOS 11 and later versions. This format takes less space without compromising the quality of the image. On the other hand, JPG (Joint Photographic Expert Group) is an image format compatible with all devices, including Windows, Linux, and Mac. Although HEIC has many positive points, its inability to run on other devices apart from iOS 11 and later versions cause a lot of problems for users as they can't open HEIC images through other devices. Hence we need to convert HEIC images to JPG for viewing or sharing. Below mentioned are the best HEIC to JPG converter tools for Windows, Mac and Linux users.
Best HEIC to JPG Converter #1:TunesBro HEIC Converter (For Windows 10/8/7)
TunesBro HEIC Converter is an amazing tool to convert HEIC images not only to JPG but also to PNG without losing the quality of original image. With the help of two outstanding conversion engines powered by artificial intelligence techniques, this software makes your life easier and converts HEIC files to JPG. If you have one image you can use the "single conversion mode" and if you have multiple images, you can choose "Batch Conversion Mode". Its drag and drop facility embedded in the interface is super user-friendly and time saving. It also gives you the option to set the output quality. Below are the steps to convert HEIC images to JPG using TunesBro HEIC Converter.

Convert HEIC to JPG or PNG Quickly.
Retain high quality for output image.
Convert up to 500 HEIC images at one time.
Support Windows 10, Windows 8/8.1, Windows 7, Windows Vista and Windows XP.
Step 1

Install TunesBro HEIC Converter on Windows PC

Click the download button to save the installation file on your computer. Then install the software and open it afterwards.
Step 2

Add HEIC Images

Select the Conversion mode (Convert Single Photo or Convert Photos in Batch). Choose the HEIC files by clicking on "Add HEIC" or you can simply drag and drop the images.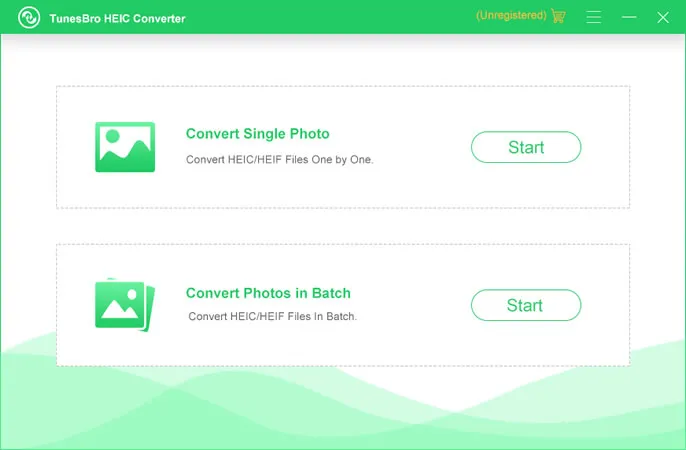 Step 3

Convert HEIC to JPG/JPEG

Now select the image format by choosing the drop down menu beneath "Conversion Settings" at the right upper corner; you can also set image quality (for best result keep it to 100). Now Pick up a folder where you want to save converted files. Finally, click "Convert" button to start converting .heic to .jpg, which is pretty fast with TunesBro software.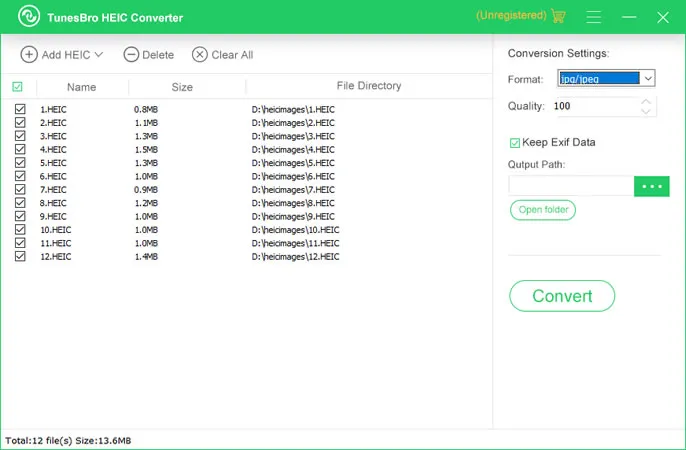 After conversion, a window will appear showing how many files were converted; you can see the converted files if you click on "Open folder".
TunesBro HEIC Converter is the swiftest and easiest manner to convert HEIC images to JPG without using any additional software. You can select up to 500+ HEIC files at one time. You don't have to worry about the quality as this software converts all HEIC images to JPG with the same picture quality. You can also convert heic to png as well with it. This award-winning software is trusted by millions around the globe.
Best HEIC to JPG Converter #2: HEIF Image Extension (Windows 10 Only)
HEIF Image Extension is a free plug-in offered by Microsoft to view HEIC extension images on systems running Windows 10. It is a light tool and can be used to directly open HEIC images to JPG. Unfortunately, it can only work on Windows 10. For other versions, please use TunesBro HEIC Converter instead.

First, open your browser on Windows 10 and go to Microsoft Store. Locate the search bar on the top of the website and search for "HEIF extension". Click on "Get" button. At this time, the browser will open Microsoft Store app on your Windows 10 and ask you to add this extenstion to your computer. Once it is installed on Windows 10, you can open heic image with Photo app.
Although this tool is not able to convert .heic to .jpg directly, it does help for viewing HEIC images on Windows 10. In addition, it lacks teeth when it comes to image quality as it is just an extension. It is good for casual conversion but if you want a professional result, then it has many limitations.
Best HEIC to JPG Converter #3: Preview on Mac
macOS is strictly tied with iOS as both of them are Apple product. Since macOS 10.13 High Serria, the heic image can be opened by default with Preview app, one of the best file viewing app on Mac. It is a stock app that comes shipped with macOS so there is no need to download Preview app in App Store. However, for lower macOS version, you should follow this guide to convert HEIC images to JPG on Mac.
Double click .heic images and it will be opened by Preview app automatically. Now select File -> Export... from the dropdown menu. You will be presented with a couple of options from pop-up window, where you can type name, format and quality for converted heic file. Select JPG as the output format and adjust the quality progress bar. After that, click on "Save" to exported converted jpg image to a desired folder.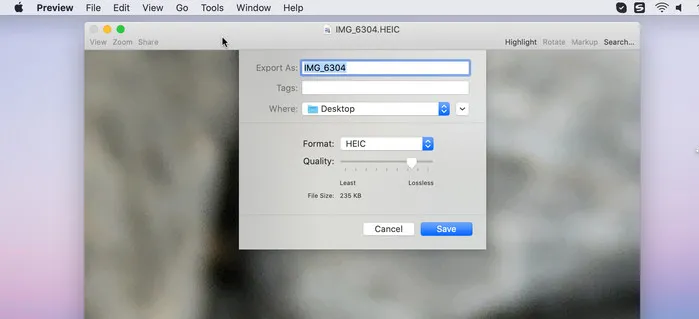 If you're looking for a quick fix solution, this is the perfect tool for you. Although the image quality is not retained at its finest, this App can do the job for you. This is the best HEIC to JPEG converter on Mac and most importantly it is totally free. The only problem is that you can only convert one heic file to jpg at one time.
Best HEIC to JPG Converter #4: Aiseesoft HEIC Converter for Mac
Why we need another software on Mac though we have the Preview app? Like we said previously, Preview app has no batch conversation mode. If you had hundreds of heic files to be converted, Preview is not the ideal solution. Instead, you can complete the task using Aiseesoft HEIC Converter for Mac. This software is another way to convert HEIC images to JPG on Mac. You can adjust the output quality of the images according to your preference. Check out the exact steps to use this HEIC to JPG Converter on Mac for batch task.
Step 1: Download and Install Aiseesoft HEIC Converter.
Step 2: Select "Add HEIC" and choose the HEIC files that you want to convert.
Step 3: Choose the image format and the path where you want to save the converted images. Now Click on "Convert". Then click on "Open folder" to access your converted HEIC images.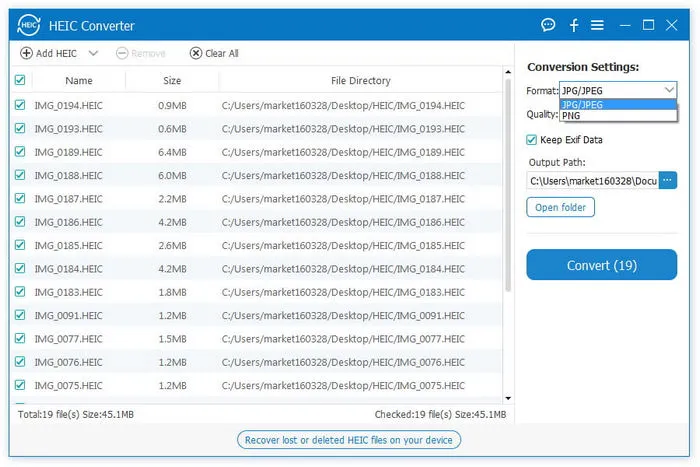 This software can do the job but lags when you choose a multiple number of images. But if you have a system that is fast and has the latest processor, go ahead and use this software.
Best HEIC to JPG Converter #5: Libheif for Linux
Linux is the most popular operating system for remote servers and it also has millions of users for desktop version. Unfortunately, there are no GUI app available on Linux for converting heic to jpg as far as I know. But don't worry. You can use the command line tool to get it done. And it is not challenging at all for an average Linux user. At here, we are using Ubuntu as example.
Step 1: Find and lanuch Terminal app on Ubuntu and type this command to install libheif, a 3rd-party app for converting heic images. The command is:
sudo apt-get install libheif-examples
Step 2: You need to add a new repository if the Ubuntu failed to find the library with this command:
sudo add-apt-repository ppa:strukturag/libheif
Step 3: After that, retype the command in Step 1 and update all packages: sudo apt-get update
Step 4: You will see a welcome message once it is sucessfully installed. Now you can convert heic to jpg using this command:
This is the most popular method to convert heic to jpg on Linux machine. However, it could take more time for converting more than 100 images.
Best HEIC to JPG Converter #6: Online HEIC Converter
Online HEIC to JPG Converter is an special type of service that converts the uploaded heic images into JPG on server side, which is an emerging technology in recent years. There are a few websites offering such kind of service and it is great for single file conversation. The routine is almost the same as desktop software but keep in mind. The original and converted file will be kept a copy on its server so don't use this kind of service for private photos to avoid future leaks or hacks.
Step 1: Open a web bowser and go to heictojpg.com.
Step 2: There is a small window shown upon the lefe side of entire screen. Click on the "+" button to load heic files from your computer.
Step 3: It will take some time to upload the selected photos to the server. Please be patient.
Step 4: Once it is finished, the server starts to handle and optimize the photos. You can see from a progress bar. When the conversation is completed, the download text appears at the left side of file name in red color. Click on it and download the converted jpg image onto your computer.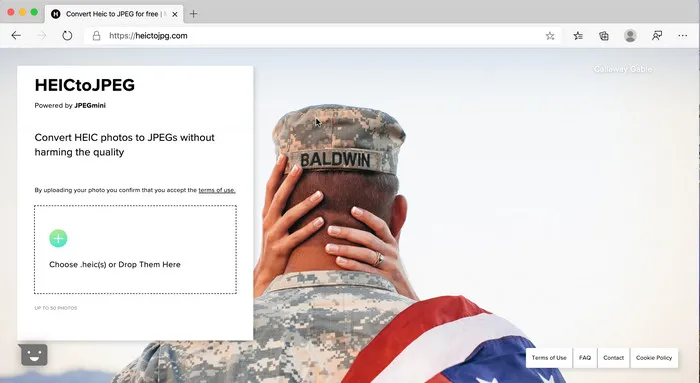 The service is free and you can convert many photos as you can. The biggest issue based on our testing is that it takes too much time for uploading the photos. You have to wait more time than the above methods. Please be aware of that.
Conclusion
It is hard to say which is the best HEIC to JPG converter. What we can do the best is to share solutions for different platforms, like Windows, Mac and Linux. All of the mentioned tools are totally free or free to try. We have tested all of the tools shared in above section and don't worry about that. They are currently the best heic to jpg converter you could find in 2020.

---
Related Articles & Tips
HOT ARTICLES

Converter HEIC to PDF
View HEIC Photos on Windows