iPhone offers some of the most advanced features in the smartphone world. What you pay for their premium devices largely goes into the engineering, technology and materials that goes into each finely-crafted iPhone. They do make a considerable profit on each phone, mind you, but they also spare no expense to make sure that the user's experience is second to none. Unfortunately, their iPhones are not always perfect. When you do iOS updates, for example, it could throw up one of many types of errors, known and unknown. Here, we talk about how to quickly fix the iPhone stuck in Boot Loop error.
Quickly Fix iPhone Stuck in Boot Loop (Applied to Not Jailbroken and Jailbroken iPhone)
If you don't have any sort of technical or software expertise, don't worry. This method is used by millions of happy Apple device owners around the world that can testify to its efficacy and simplicity. It's called iOS System Recovery from TunesBro, and it is one of the most robust and versatile iPhone system recovery and repair solutions you'll find on the market today. Literally thousands of hours have gone into the software package to make sure that you don't have to do any of the work. It even detects unknown errors automatically so you won't have to break your head over it. It can be used to fix iPhone stuck in DFU mode, iPhone stuck in Apple logo, etc.
The boot loop error, more accurately called the reboot loop error, typically happens when an external program is trying to change system-level or kernel level code. It could happen for a lot of reasons: malware, your iPhone is jailbroken, there was a bad update, an update was halted in the middle and so on. No matter the reason, TunesBro iOS system recovery software will take care of it effortlessly. Effortlessly for you, that is. Behind the scenes, the software works furiously to identify, isolate and fix the issue so you don't have to do much at all.
So, let's get to the nuts and bolts of how the iOS System Recover software actually works. Just follow the steps outlined below:

TunesBro - iOS System Recovery
Auto repairing iOS system issues.
User friendly and hassle free.
Able to fix all kinds of iPhone issues within a few click.
Built-in with other amazing features like data recovery, file backup and restore.
Step 1

Install iOS System Recovery

Get the official software download from TunesBRO website here, and install it on your PC. You'll see options for both Windows and Mac, as well as separate Toolkits for iOS and Android. The iOS one is the one you want. Once it's installed, launch the software and click on the "Repair" option in the main tiled menu. You'll see it right under the spanner icon.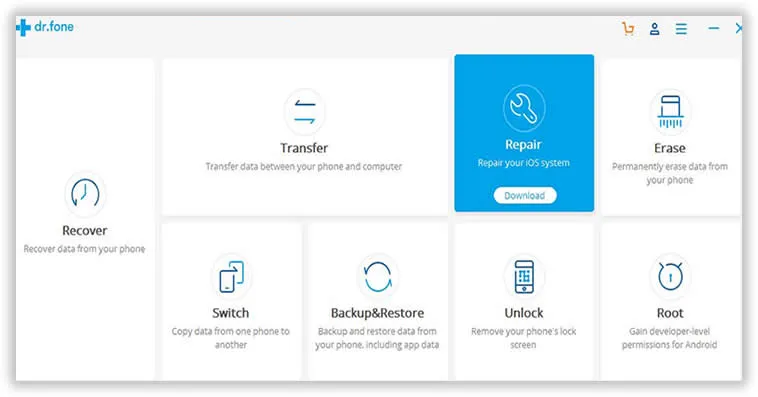 Step 2

Connect iPhone and Download iOS Firmware

Now connect your iPhone with a lightning USB cable; the software will automatically detect your device. Next, click on "Start". At this point, you need to put your device into DFU Mode. It's different on different iPhone models so simply follow the instructions on the screen against the correct device.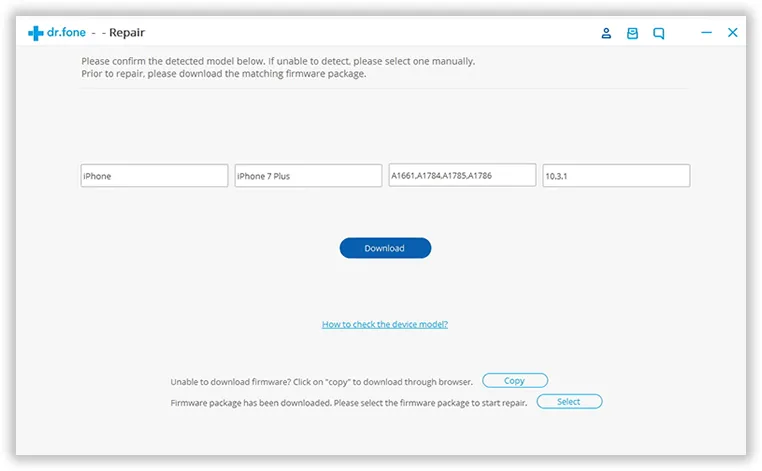 Step 3

Boot iPhone into DFU Mode

A new window will open, where you need to manually input your iPhone model and the iOS version you're currently on. This will help find the right firmware for your phone. If you don't know the model, there's a help link down below that will show you how to find out. Click on the "Download" button to get the firmware, and wait for the download to complete. This could take a while depending on your Internet connection speed.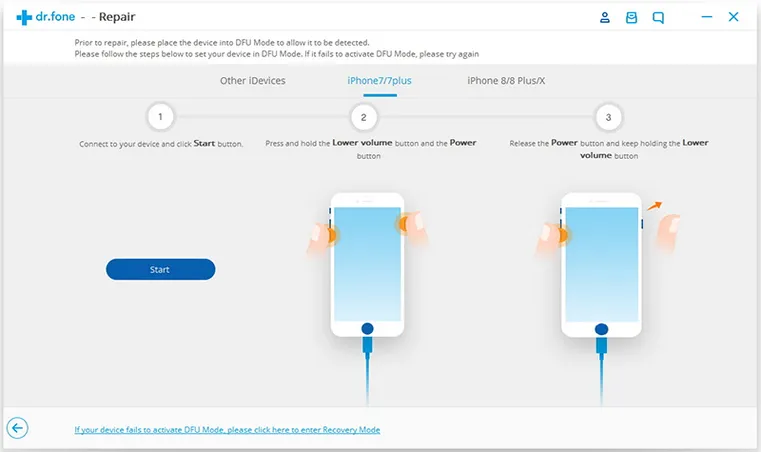 That done, click on the "Fix Now" button. The process of repairing your iPhone stuck on boot loop error will now begin. But before that, make sure the "Retain native data" box is checked. That will ensure that all the data that's already on your iPhone is preserved. It's very important that you do that before any kind of OS update. For normal updates, you can use the "Backup & Restore" option in main menu window of the dr. fone software.
Step 4

Fix iPhone Stuck in Bootloop Error

After the process is complete, you'll see a "Try Again" and a "Done" button. If your device has booted normally, just click "Done" and disconnect it. If not, click "Try Again" to run the repair process again. This happens in very rare instances, but a second run should fix your iPhone.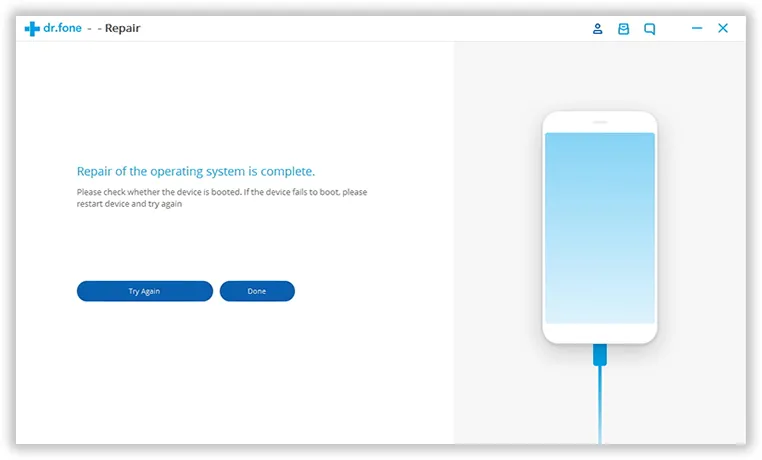 Conclusion
And that's about it. Even for a complex problem like the boot loop issue, this a simple solution for you to consider. The iOS Toolkit has a lot of other useful features as well, such as the Erase function when you want to wipe your device before selling it, the Switch option for secure data transfer between devices, Recover for full data recovery and so on.

---