HEIC is the format that Apple launched with iOS 11 to help control the memory space used by image files. Since Apple doesn't have expandable memory like most Android devices, memory is always a premium, as any iPhone or iPad user knows. The compression on HEIC files is better than traditional JPG or PNG, so you can store more images per GB of available memory space.
Since Apple also has Panorama and Live Photo options, this container format for images is ideal for iDevices. Sadly, you can't view these images natively on an Android device if someone shared your photos with .heic extension, which means you'll need a special app, a software utility or a conversion tool when viewing this particular image format. We've shown you three ways to do this.
Method 1: How to View HEIC on Android via Play Store Apps
After iOS 11 and the HEIC format came out, several Android apps have been made available by independent developers to help Android users view these images. Just browse through Google Play Store or search for "HEIC viewer" and you'll see several of them. Here's how to do it the right way:
Step 1: Open Google Play on your Android device and browse for "HEIC viewer". You'll see apps like "Luma: heic to jpg converter and viewer offline" that will let you open and view HEIC images on your Android smartphone or tablet.
Step 2: Read the reviews, check the number of downloads and the overall rating before you download an app. Also make sure it's not so big that it eats up your Android device's memory.
Step 3: Download the app and use it to open any HEIC file on your device. If it works, great!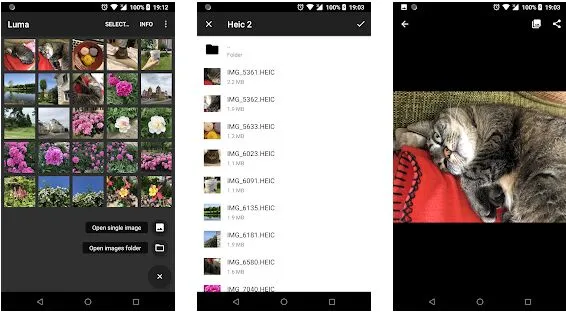 Cons:
Can't open HEIC images shot on latest iOS device.
Conversion failed for multiple files at one time.
Poor quality after conversion.
Low rating (3.7 star only) in Play Store .
Annoying pop-up ads on screen.
Method 2: How to Open HEIC Photos on Android by Converting to JPG
No app is perfect without any flaw. If you encounted issue with Android app and couldn't be fixed at your own, then the best suggestion is to convert HEIC images to JPG or PNG and view them on Android later. In here, we will take TunesBro HEIC Converter as a demo. This professional tool is popular because of its strong capability to convert them flawlessly into formats like JPG and PNG. You can also control the quality and size of the output images, so it helps you manage your device memory in a better way. The conversion itself is executed either in batches or singles, and you can choose what mode you want to do that in.
The software is very intuitive, and the learning curve for using it is a gentle slope rather than a steep climb. That's why it's hugely popular with iPhone users because it gives them the opportunity to share photos with Android users without compromising on image quality.
Step 1

Install TunesBro HEIC Converter on a Computer

Please download the steup file and install the application on a Windows PC or Mac computer.
Step 2

Add HEIC Image

Launch the program and select the conversion mode: Single or Batch. In both cases, once you click on "Start", you will be taken to a new window to add the files to be converted. Either click and drag them or add them through File Explorer.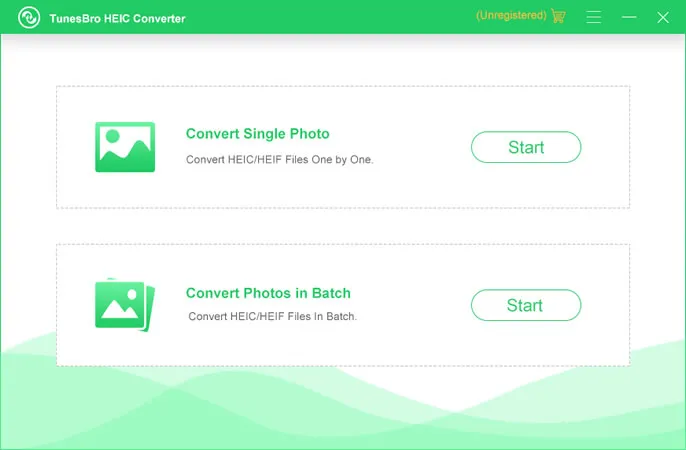 Step 3

Convert HEIC to JPG or PNG

Define the output format, quality settings located at the right upper corner. Then set the destination to save the converted files. Afer that, click on "Convert".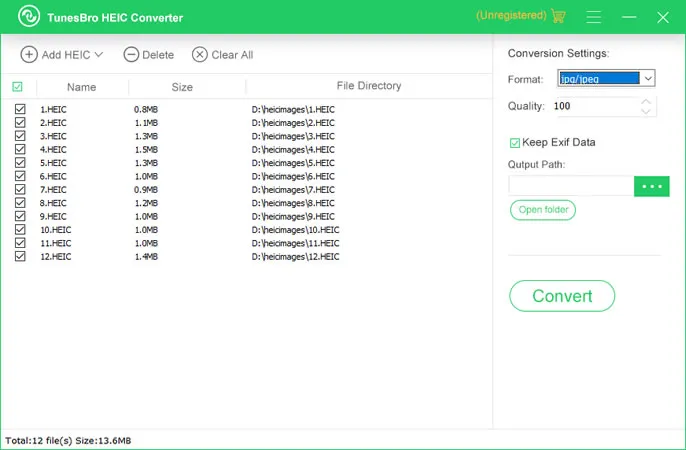 That's it. Depending on how many images you're converting, it will be done in a few minutes. Once they're converted, you can send them via email or transfer them to any Android device and view them without needing a special app.
Method 3: Convert HEIC to JPG Online and View it on Android Later
There are some decent online conversion tools that you can try using. Heictojpg.com is one of the more popular ones, but there are restrictions on how many images you can convert at a time. With certain other conversion tools you may not have the option to retain EXIM data or to choose the quality of the output.
In most cases, you'll see a marked difference between viewing the original HEIC image and the equivalent JPG image after conversion. That's because online conversion methods are limited in scope.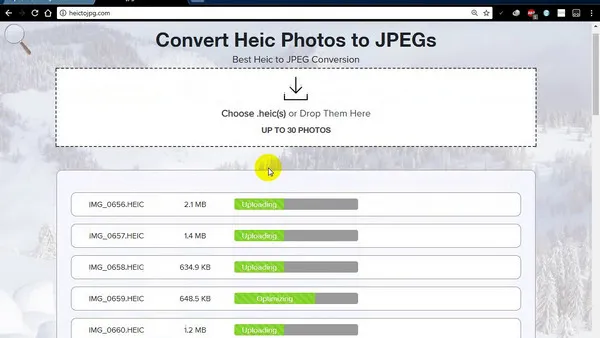 Summary
The most recommended method, of course, is the HEIC conversion software from TunesBro. The well-respected team of developers make sure that user experience is a priority at all times. That's why the interface is clean and the layout is easy to understand, and the software itself so easy to use even if you aren't a technical whiz.

---
Related Articles & Tips
HOT ARTICLES

Converter HEIC to PDF
View HEIC Photos on Windows