What is Winmail.dat File?
Did you ever get a strange email with an attachment that says "winmail.dat" and you didn't know what to do? Don't worry, this mysterious file type is actually a support file for the Microsoft Outlook Rich Text Format. Essentially, it contains the information required to render the email in the Rich Text Format in case your own email client doesn't support it. However, it's not a file you can easily open. You will need a "translator" program that will allow you to read the information in the file and show you all the color, text and font formatting of the original email message. There are a couple of ways to do this, so let's cover one method each for Windows and Mac computers.
Part 1 : How to Open/View/Read Winmail.dat File on Mac
On a Mac, reading winmail.dat files is as simple as installing a software like CleanGeeker. Although this is primarily a clean-up app that will keep your Mac's resources optimized, it has a lot of additional functionalities like being able to open and show you winmail.dat files.
CleanGeeker works by scanning your computer and identifying junk files, duplicates, large files, residual files from apps and so on. Extra functionality includes being able to view winmail.dat files, managing extensions and login items, digitally shredding private files and even removing apps. One of the best features is the app's ability to deep-scan your computer and optimize memory so your computer is kept running like new.

Easily open and view winmail.data on Mac .
Instantly clean junk files and caches.
Find and remove duplicate files.
1-click uninstall third-party apps on Mac.
Free up more memory for future running programs.
Step 1

Down and Open TunesBro CleanGeeker

Install CleanGeeker after downloading the installation file from the original source here.
Step 2

Import Winmail.dat to CleanGeeker

In the main window, select the "Unarchiver" option on the left panel. This will show you several modules within the software. Click on "Open Archiver".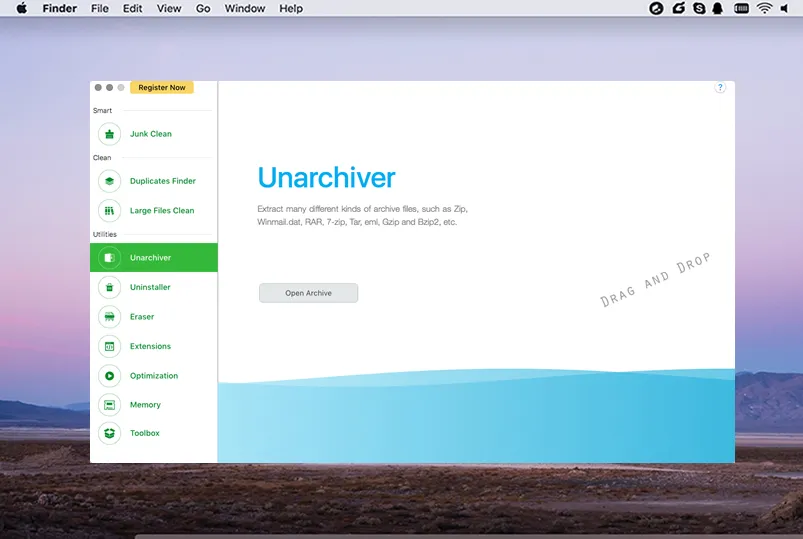 Step 3

Open Winmail.dat on Mac

From within the module, select any winmail.dat file on your Mac, and you'll instantly see the contents of the email along with formatting information, attachments, subject line, etc. You can also save a winmail.dat file, which is a neat feature that you're not likely to find in most winmail.dat reader apps.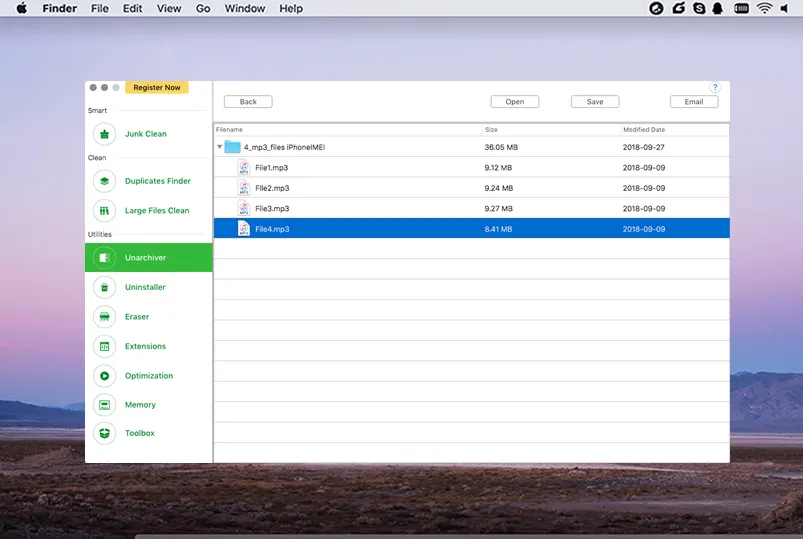 The software itself is extremely intuitive and has been designed with minimal user input in mind. It doesn't matter if you have zero experience dealing with winmail.dat files because the software will do it all for you. Each of its modules has gone through rigorous testing on the latest versions of the macOS operating system, and you won't come across compatibility and other errors the way you would on a freeware application. The product is fully supported by a team of tech experts, so you don't have to worry about being left hanging if you get stuck with something.
Part 2. How to View Winmail.dat on Windows PC
There are a few ways to do this in Windows. On older versions, you can probably open the doc with Word and then scroll down past all the garbled text to get to the body of the email. For Windows 10, there's a nice little tool called Winmail.dat Reader and Saver that you can get directly from Microsoft's website.
The software allows you to open, convert and save winmail.dat files that have been sent by Microsoft Exchange and Microsoft Outlook. Here's how to use the utility:
Step 1. Download the app from the Microsoft Store on your Windows 10 computer and launch it.
Step 2. Now download the winmail.dat file you want to open, and simply drag and drop it into the application window.
Step 3. The reader function will show you the contents of the email, as well as any attachments that came with the mail.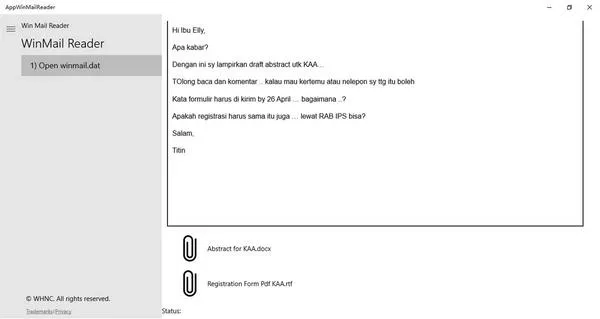 It's a great program for Windows, especially if your other email client doesn't support rich text format. Several other operating systems also do not support this particular format, so if you're on a Mac, this is what you can do
Conclusion:
There are millions of Outlook and Exchange users, and if you're in the world of business, a lot of emails will be sent from these systems. If you get winmail.dat files on a regular basis because your own email client doesn't support that format, then the CleanGeeker software utility is an ideal tool to help you bridge that compatibility gap. Since macOS doesn't have the native ability to handle these files, you need a tool to open and read them anyway, so why not get a robust software application that does this as well as nearly a dozen other tasks for you?

---