Transferring SMS list from Android phone to PC is often an important need. You may want to view all the messages on the big screen of your computer. However, it has now become easy to do with the help of SMS transfer app. First, you have to transfer the SMS and then read them in your PC. It also allows you to keep the important messages safe because if the SMS on your mobile gets destroyed, you may have it from computer.
TunesBro Android Manager, as most popular SMS transfer software, lets you easily view text messages on the computer by exporting them in to a text file. You can view the whole conversion or a single text message, which is dependent on your own situation. Viewing text messages on computer is only a tiny function offered by Android Manager, you can also use the app to root Android phone, backup Android SMS, recover deleted files, import data from computer, or erase data. In one word, it is one of the best apps you should have if you were an Android users. It will save you a lot of time on managing the device.
Supported Android smartphone: Samsung Galaxy, HTC One, Sony Xperia, LG, Lenovo, Moto, HUAWEI, Xiaomi, OPPO, Vivo and many more.
Tutorial : How to View/Read Android SMS on PC/Mac
Step 1

Installing TunesBro Android Manager on Computer

The first step is to install the program on a Windows or Mac computer. Click the above download link to save the installation file. Once the installation is completed, click the desktop shortcut to open it.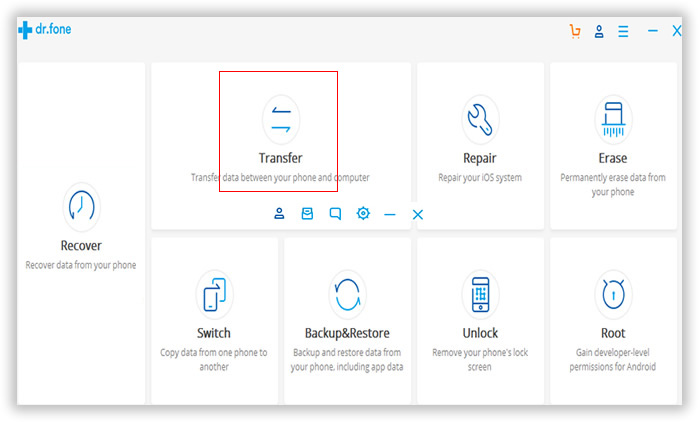 Step 2

Creating a connection Android handset and computer

The best feature of Android Manager is that it can work with Wi-Fi network or USB cable. So, when you need to develop a connection between your two devices- computer system and Android, you may make use of any of the two stated systems. Besides, it is also possible to analyze QR code in order to link your mobile with the use of Wi-Fi. The app will instantly be able to find out the device, and then you may see the notification in the main window..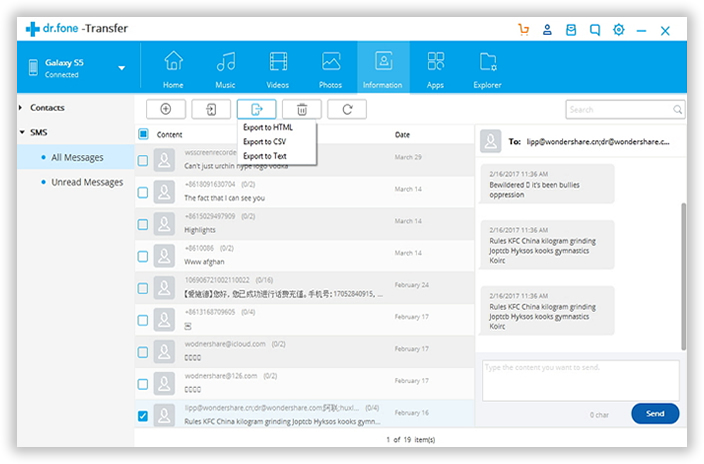 Step 3

 Choosing the SMS to be transferred

Now, you have to be ready for downloading your SMS from your mobile to the PC. To do it, you need to look at the left-hand side on the interface of your mobile app, and here, you can find the option "SMS". After clicking on this option, it will display a list, where you may see the chat details.

You need to hit the names of contact in order to have a glance at the chat record with a particular contact, at the right-hand side column. There is a checkbox, found before every conversation. You have to click on it for selecting the complete chat-related data with a person. If needed, you may also choose more than one SMS. Or, to choose all of the messages, just give a tick before the box, which is situated at the topmost site.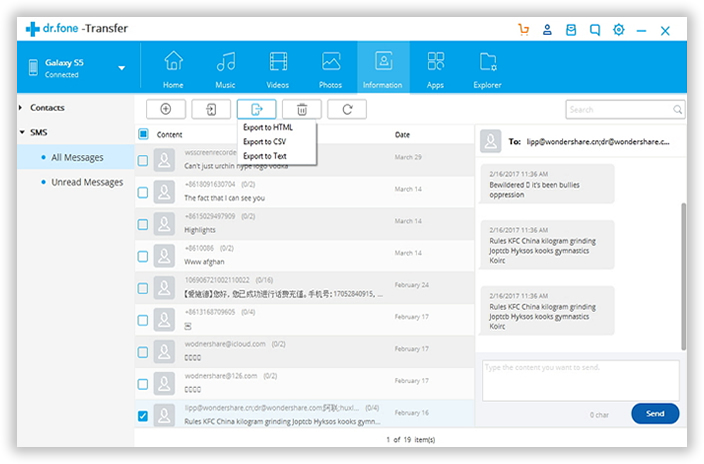 Step 4

Moving the SMS from Computer from Android

At the interface of Android Manager, you can find "Export" option. So, click on this button, placed on the toolbar. Here, you may get a menu, which provides you with 2 options. One of these options enables you to transfer only the chosen messages to your computer. Another one allows you to move all messages to your computer. As per your own needs, you can select any of these two options. After doing it, you can trace a sub-menu, which shows you three formats to save your file-HTML, XML and text format. Thus, when you are storing the messages in your PC, you may choose either text format or HTML. And by doing so, all the received or sent messages may be dragged to your PC.
Step 5

View Android Text Messages on the Computer

Find the location of the exported file. Now you are ready to open the messages with any text reading app such as notepad or web browse. Then view text messages on your computer. 

Final words : Android Manager has been designed to organize all the messages in your computer. Keep your mobile in pocket because you can go through all the exported SMS from the computer. Reading the messages from the interface on your computer is very easy. Thus, store your messages in computer system, and read them at any time. If you have erased or lost your message file in mobile, you may also import them again from computer to phone. 

---
Related Articles & Tips
How to Recover Deleted Messages from Samsung S