After using your LG phone for sometime, it's not a surprise that it has accumulated all types of information from the photos you take, contacts you saved, and text messages you received. Every move with the smartphone is recorded. So If you are thinking of giving away your phone, sell it, or throw it away, one of the first things you have to do is delete sensitive data from your device. And it is also a good practice to protect personal privacy.
One of the reasons why it is essential to delete all your data from your phone is for privacy. It has been a growing concern over the years as people use their smartphone as a one-stop device for a lot of their personal information and assets. No one wants to give easy access to their personal data to unauthorized parties, hence, the reason to permanently wipe out all the information on your LG phone. This process will also boost phone performance by removing unnecessary or junk data from the phone.
Because of that, we have made step-by-step information on how to delete the messages, the contacts, as well as the call logs on your LG phone like it's brand new again.
Part 1: How to Delete Contacts/SMS/Call History Manually (Not Safe)
The simplest way to delete contacts, text messages or call log is to tap the 'Delete' button on corresponding field. This is the default action from any smartphone. Obviously, LG is in this scope. However, this is cool for single item deletion. It would be much harder for deleting multiple items. That is why we introuce Part 2 in our article.
Another simple method provided by LG when it comes to wiping out all the accumulated information is through factory reset. It is not like the simple delete button you usually do for your messages or unwanted contacts. This method will return the software into its original state. Please backup your data before this.
How to Factory Reset LG Smartphone
Step 1. To start wiping LG phone from any information it has saved over the years, go to your device's "Home" button. It is usually located beneath the LCD of the phone. Clicking the button will then bring you to the Home screen; then go to the menu button and click.
Step 2. At the small menu window that appears, scroll to "Settings" and click the button. Then, under the "Settings" menu, find the "Privacy" button and click.
Step 3. Under the "Privacy" options, you can find various choices. Find the "Factory Data Reset" on the screen and click the button. It will delete all the information on your device. If you want to wipe out the information saved on your SD card as well, it also allow you to do that by checking the box on "Erase SD Card".
Step 4. Once you have checked the options boxes on what information you want to delete, click "Reset Phone" button. You can usually find it at the bottom part of the screen. If your device has a password, it will prompt you to type it in. Once done, an "Erase Everything" button will appear to confirm if you want to wipe out your device; click the button. These simple steps can work on most LG smartphones if you want to make the software good as new and free from your information.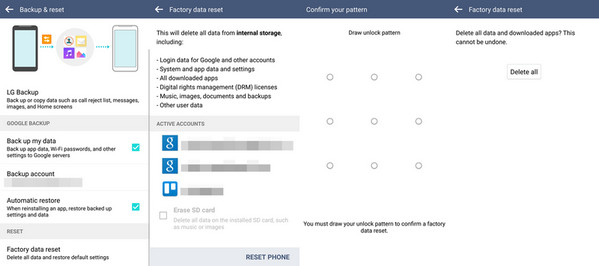 Warning: The biggest problem with this method is that the deleted items can be recovered throught third-party programs. So it is risky if you saved important data on the phone. If you cared about this, then Part 2 is the best choice.
Part 2: How to Erase LG Phone Personal Data Permanently
Most often than not, data wiped out from a phone can still be recovered by using data recovery applications. It won't be something you want especially if you don't know who has access to your personal information. It is where using TunesBro DroidWiper, an solid Android data erasing app, can come in handy. It wipes out 100% of the information on your device permanently.
It is compatible with all the brands available on the market including Google Pixel, Nexus, Sony, Samsung Galaxy, LG, Asus and so on. You can run the program in both Mac and Windows computer and the interface of this program makes its usage extremely easy.
Step 1

Run DroidWiper and Connect LG Phone to Computer

To prepare in erasing LG phone completely, connect the device to a computer using a USB cable. Make sure that you have downloaded and launched the program on your PC. When you see that the device connection failed, enable USB debugging on your smartphone. You can find this in the "Settings". Under "Developer options", please check the box on USB debugging.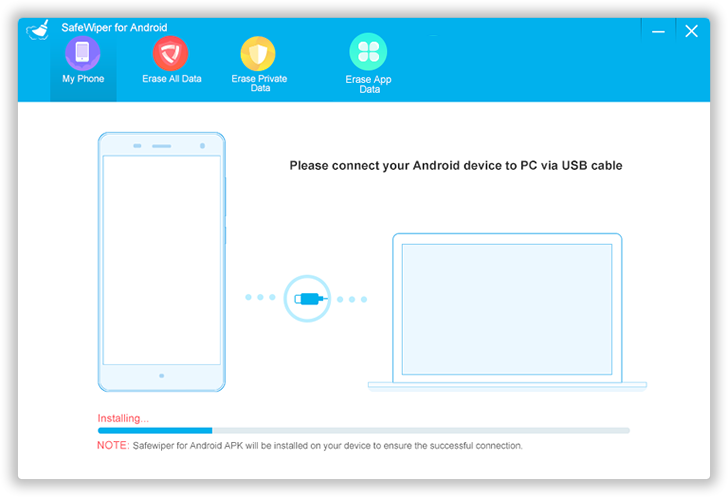 Step 2

Install DroidWiper App on LG Phone

Once your device is connected, the program will now begin installing an APK file on your phone. Don't worry as it is entirely safe and will only help identify your device. Click the confirmation for installing on your phone to complete the process.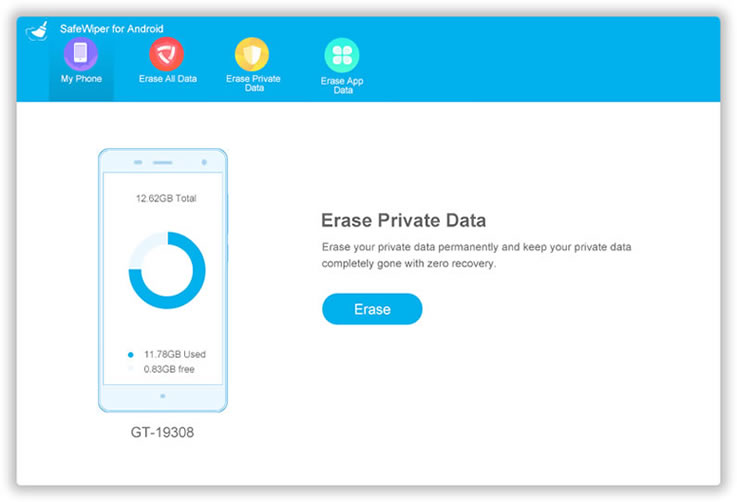 Step 3

Start Erasing Content from LG Phone

Once the installation is done, you will find options to delete your phone's data. You can choose to delete all data, wipe out private data, or erase app data. Click on the option you want and confirm by clicking on "Erase Now" button. Once it is deleted, there is no chance to recover the data no matter how powerful the data recovery software is.

Note: Keep your phone connected to the PC throughout the process.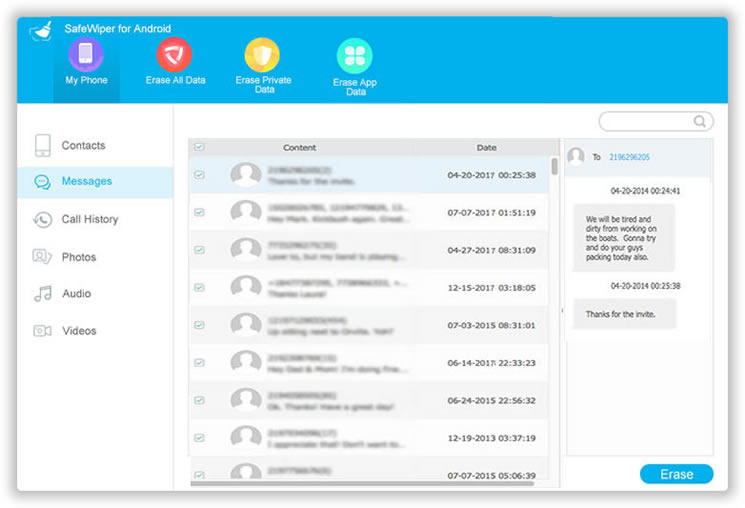 Summary:
Wiping out sensitive information saved throughout the years is necessary to protect your privacy if you want to give away or sell your phone. You can use third-party data erasing applications to wipe out 100% of data from your LG phone. It is your choice to decide which method to go with. Each has it own pros and cons.

---