LG smartphone is still a popular choice in nowadays. There are millions of users who buy new models each year such as LG G5/G6/V20/V30. If you were an LG phone user and planned to switch to a new device, then it will be a great time to make the switch right now. But what to do with your old LG smartphone? Simple. Sell it!
Craigslist and other shopping websites are great places to find a potential buyer but you have to be careful because selling your smartphone to strangers requires special preparations. For example, you need to sign out from email accounts and social profiles. Erasing all content and settings off the phone so that the new buyer gets a fresh new phone and at the same time you are maintaining the privacy and security of your personal identity.
In this tutorial, we will show two incredible ways to wipe everything off LG phone and make as brand new as you first bought it. We will also show you how to take proper precaution before selling the phone so that the next owner can't even recover any of the data from the device.
Method 1: How to Erase LG G3/G4/G5/G6/V20/V30/K10 via Hard Reset
Generally speaking, there are two ways to factory reset LG phone: software reset and hard reset. A hard reset will erase all data from LG phone in Recovery mode, which is more secure than software reset (via Settings -> Backup & reset). It will sign out from social profiles and delete all personal data. In short, it will take your phone back to the state when you first bought it. Here is how to perform a hard reset on LG phones.
Step 1. Turn off your smartphone and reboot it by pressing Home + Power + Volume Down buttons together.
Step 2. Release the Power and Volume down buttons when the light turns up on your phone but keep pressing the Home button until the recovery mode is loaded.
Step 3. A ton of options will appear on the screen, use your Volume up and down buttons to navigate through the options and choose "Wipe data/Factory Reset".
Step 4. Tap the home button to select the option and wait for your phone to automatically reset it.
Step 5. It will take few minutes and once the progress is finished, your phone will be restarted automatically and you can setup the phone as brand new.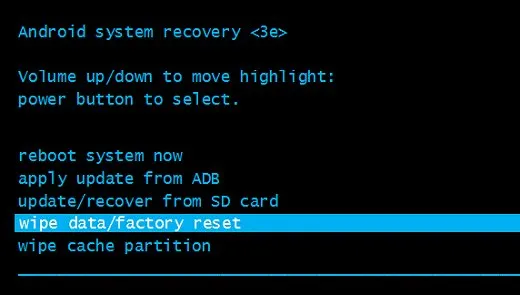 Warning: Some of the data is still accessible even after hard reset. This will be a great danger for your privacy. Here is a screenshot of the photos scanned by TunesBro DiskLab for Android. You won't want those private staff seen by others, right? If yes, then you should follow the steps in Method 2, which makes sure all the data being deleted completely from the phone.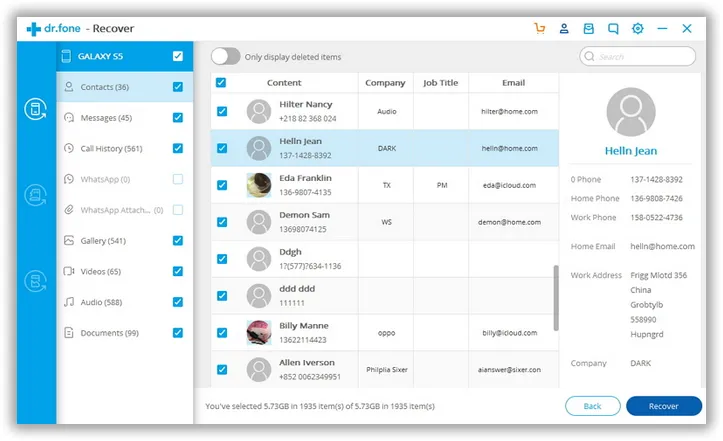 Method 2: How to Wipe Everything from LG Permanently
The above method can certainly erase all data from your phone but did you know that those erased data can be easily restored with the help of a professional data recovery tool? That's right, even if you delete the data from your phone, they are actually stored in the cache memory and are still presented in a physical state form that do not appear like normal files. Hackers take advantage of this and recover them easily to exploit personal data such as pictures, credit card details, banking information, etc. and misuse them horribly.
No one should compromise with the privacy and security of their identities, so the best way to erase all data permanently is to do it with a professional data erasing software. TunesBro Android Data Eraser is the amiable data erasing tool that can destroy any data on your smartphone from the root. Meaning, any data deleted by this data erasing tool is permanent and nothing can be recovered ever again. So, be very careful before you use this program and make sure to have a full backup of your phone before erasing any data with this tool or else you will regret later.

Completely erase all content and settings from Android device.
Wipe private data individually, includign contacts, sms, call history, music and video.
Able to clear all sensive and junk data from apps like Facebook, Twitter, WhatsApp and Skype.
Over 1000+ Android models supported by the program.
Step 1

Install and Open TunesBro Android Data Eraser

Install and run the program on your computer. It is free to try, so everyone can use it for free but with certain limitations. If you want to avail full benefits of this program then you can register the program and enjoy to its full extend.

Note: Please backup LG phone first because all data will be gone forever after data erasing.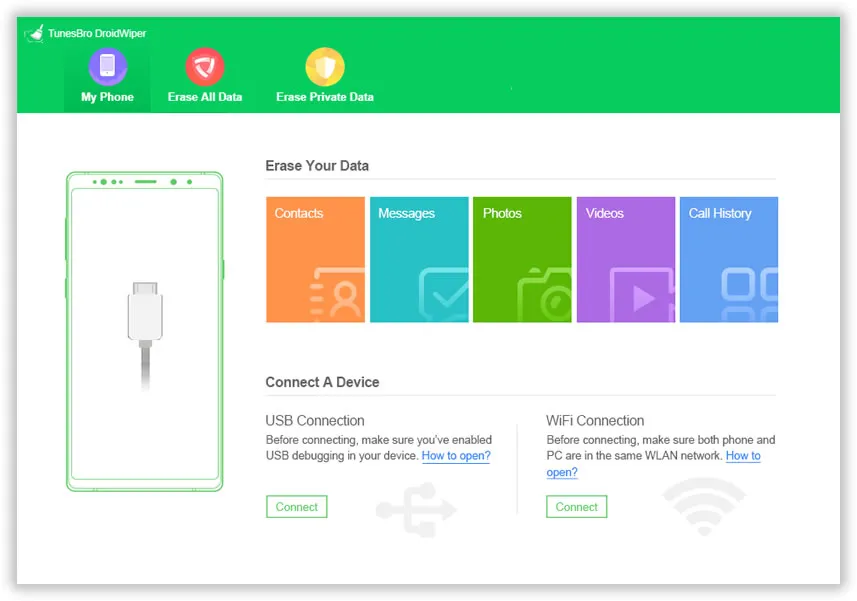 Step 2

Turn on USB Debugging on LG Phone and Attach it to Computer

In this step, you need to turn on USB debugging feature on LG phone so the program would freely communicate with the phone via USB cable. If you don't know how to do it, you can take a look at this guide. After that, take out the USB cable and connect the phone to the computer.

A few seconds later, the program detects the phone and list brief information about the phone. If not, then you need to manually download LG Mobile phone driver from here and install it on the computer.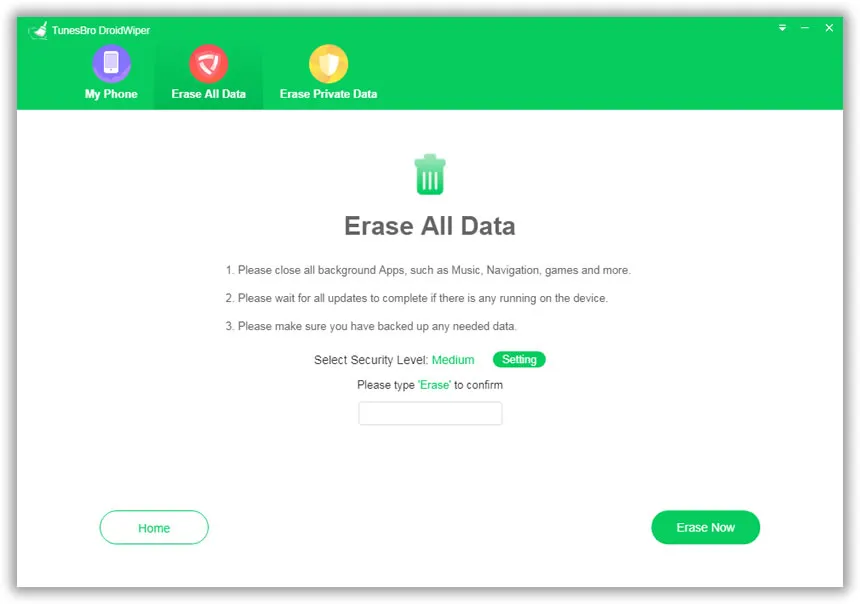 Step 3

Wipe Everything Off LG Phone

Once the phone recognized by the program, please click "Erase All Data" tab on the top menu bar. Then click "Erase" button to start the scanning process. It will take around 10 minutes.

When the scanning is finished, type 'Erase' on the central box to confirm the opertion. After that, all data on the phone will be permanently erased. You can't get anything from the phone even with the most sophisticated data recovery software. That is why TunesBro Android Data Eraser plays a vital role in protecting your privacy.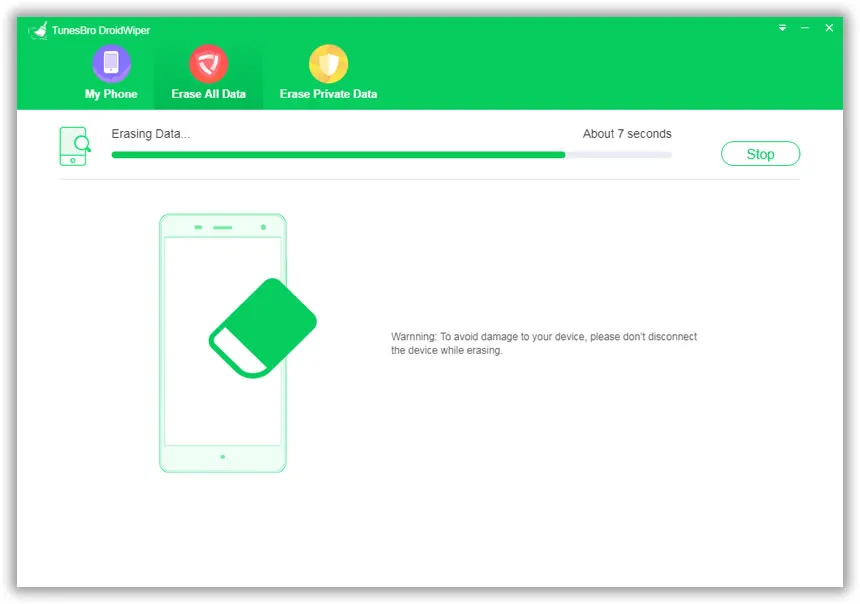 Conclusion:
It is always a wise idea to remove everything from your phone before selling it to any stranger. But again, if your phone has private and confidential data, then you should take a step further and erase everything permanently with TunesBro Android Data Eraser. It is reviewed and rated by countless satisfied customers. And again, backup your data before using any data erasing tool to avoid any data loss during the process.

---