If you are one of those who are indelibly having issue for forgetting iTunes backup password. Then let us assure you that you are not the only one. 76 out of 100 people who use iOS devices forget their iTunes password every day. And the issue is exponentially rising every now and then as you can see queries regarding the iTunes password recovery flooding the internet forums and social networking sites. But don't worry you don't have to go through all those hectic tasks as we would present you the prepared material here to sort out your issue.
Wonder how? Well then go through the methods mentioned below to know the solutions which can easily reset or recover your iTunes password in the blink of an eye without any external technical support.
Method #1 : Reset iTunes Backup Password with iTunes
if you forgot iTunes backup password, you can find easy solution in this method, we would simply try to create a new iTunes backup which would automatically remove old iTunes backup password. Previously it was not possible, but with the advent of latest iOS 11, you can create a new backup which would in turn reset your old password. Follow the steps outlined below to know the method in length:
Step 1. Firstly on your device, go to Settings> General> Reset.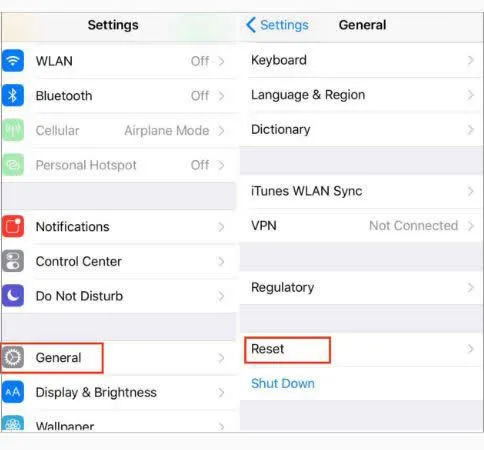 Step 2. Now; tap on "Reset All Settings". It will prompt you to enter your iOS Passcode. Confirm it to rest all settings.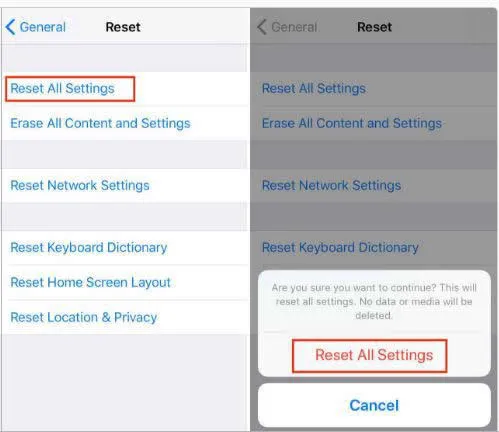 Step 3. Connect your iPhone to iTunes again via PC and create a new password to create new encrypted backup.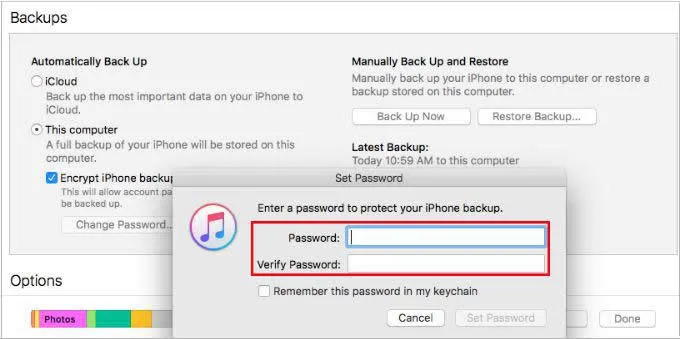 Cons
You won't be able to use the previously encrypted backup.
You can't recover the previous password rather it can only be reset. All of your data will be erased.
In case this method too does not seem to work and definitely switch over to the next method for support.
Method #2 : Recover iTunes Backup Password with TunesGeeker
Now, Focus came! TunesGeeker is another magnificent password recovery tool which recovers your lost iTunes backup password with comparatively much better efficiency than the last tool. There are two newly-added attack feature "Mask-Attack  and Brute-Force Attack "could flexibly recover your password without wiping original data. In fact, it operates on a simple principle. It can be able to quickly try all possible characters combination to find your lost iTunes backup password. From a technical point of view, this is very easy because TunesGeeker simply utilizes advanced cryptography analysis to render the security breaches insecure by using brute force attack and mask attack. This make it easy to decrypt the password within a shot time.

By far, recover your iTunes backup password with up to 86% success rate, no data lost!
Rrecognize your backup file automatically, and analyze it with advanced cryptography algorithms.
Support GPU acceleration which accelerate password decryption speed to 30X faster.
No data is lost during the process of recovery. No internet connection is required.
Why not give it a try? Download it below.
Step 1

Download and Install Program On Your Computer

Firstly you will be required to install the program in your computer. Simply, go to the official website and download the appropriate installation file. Next, install the trial version by accepting the terms and conditions of the program and launch it. The trial version will have limited access and can only recover passwords less than 3 characters. If your password is longer than that then go ahead and register the program to enjoy the full benefits of this tool.
Step 2

Automatically Detect the Backup File or Import Manually

Choose the open button to browse your local drivers and select the iTunes backup file that needs to be unlocked.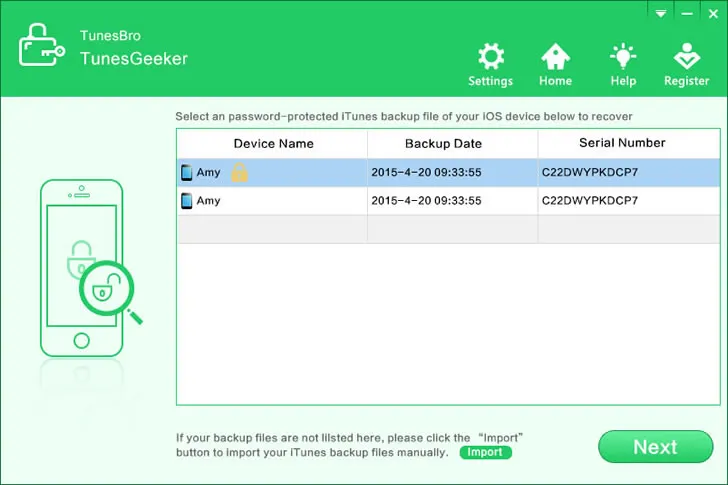 The program will automatically detect the backup file but if you are having trouble finding the encrypted file then go to the following location -
Windows 10:  C:\Users\USER\AppData\Roaming\Apple Computer\MobileSync\Backup
Windows 8/8.1/7/Vista: C:\Users\~\AppData\Roaming\Apple Computer\MobileSync\Backup
Mac user: ~/Library/Application Support/MobileSync/Backup/
Step 3

Choose the Right Attack Types

This program offers 2 ways to recover the iTunes backup password. Kindly, choose the most appropriate attack type to fasten the decryption process. Let us inform you a little about these attack types so that you can choose the correct one.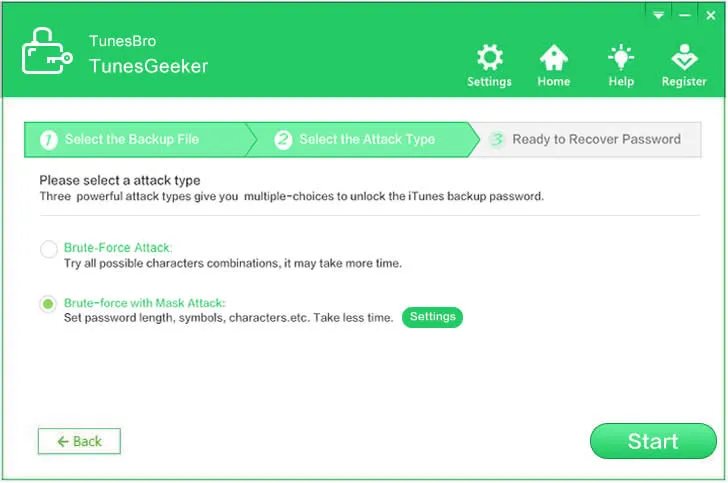 Brute-Force Attack:  Select this attack type when you are totally blank on what your password was. Basically, Brute-force attack will try every single possible password that is possible to unlock your iTunes backup file. You can customize the settings and let the program know the range and size of the password and it will try every combination of passwords that are humanly possible. If your password is long then it can take very long time, so keep your computer on and let the program do its work.
Mask Attack: Mask attack type is helpful when you can remember a little part of the password. You can type in the remembered password, set the range of the password, customize character, and specify prefix or suffix. The software will find the rest of the missing words as soon as possible.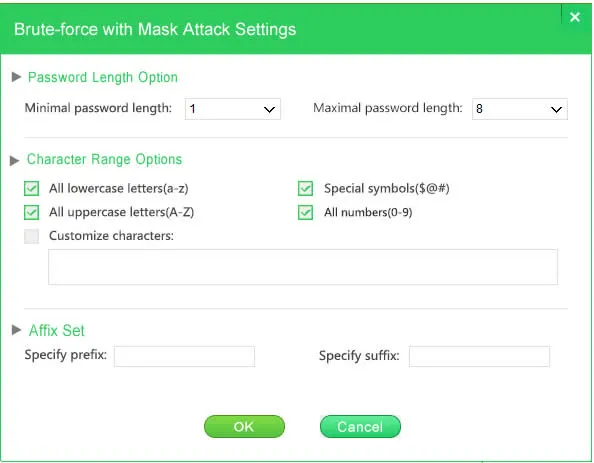 You can also set the CPUs, GPU and save location in the Settings. If your computer has 4 or more CPUs, then you can check 2 - 3 CPU to run the password recovery or choose GPU if your computer has. This will boot the password cracking speed 10X faster.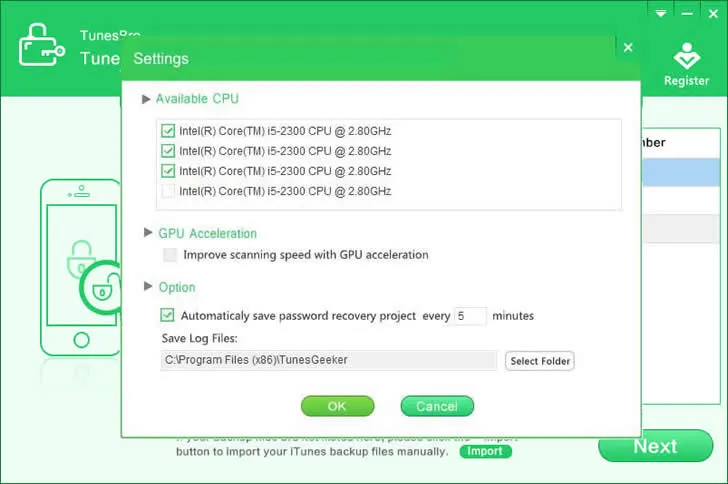 Step 4

Start to Recover Your iTunes Backup Password

Time to recover your iTunes Backup file password. Simply tap the "Start" button and let the program starts its magic. If the settings and attack type chosen is appropriate and accurate then literally your password will be recovered within seconds. Moreover, it works even faster if you have iOS 10 back up file.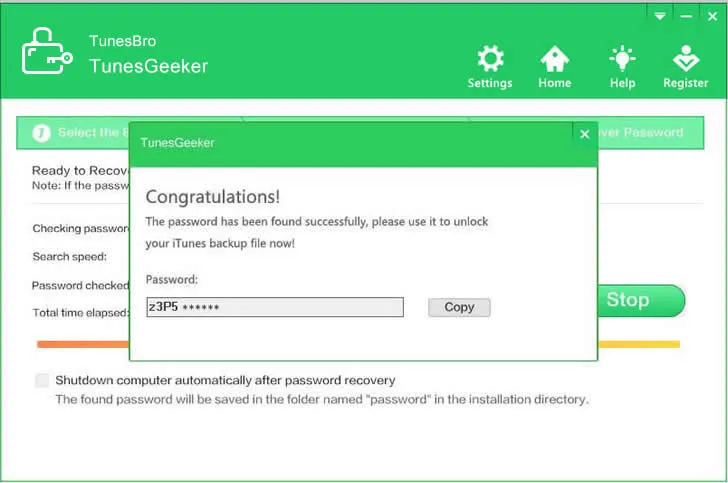 As soon the password is recovered, a pop up screen will appear within seconds showing you the correct password of the file under iTunes File Password section. You can either write it down on a paper or click on copy to paste it on a notepad in the computer.
So, what are you waiting for? You can already see the true of power of this TunesBro TunesGeeker and it can easily crack the password of all iTunes backup file including the backups created from iPod, iPad or iPhone. Basically, you will be required to install the program, import the backup file and the program will be happier to serve you.
Also read: How To Extract iPhone, iPad and iPod Data From iTunes Backup?
Method #3 : Search iTunes Password on Notepad/ Apps
It does happen to us that we preferably save our passwords somewhere in our favorite apps and notepads for future use. If that so being the condition, then that can help you recover your password in no time. Go through the steps below to have a basic idea regarding the idea:

Step 1. Go to your Finder app and type "passwords" files to find out the passwords.

Step 2. If you are using an app like Password Manager, LastPass, Dash, etc. which usually helps to manage passwords, then open those apps and provide your credentials to extract the password.

Step 3. In iTunes app click on "Show Password" option to reveal the password and note it down somewhere safely.

Cons

If you have not noted down the password previously then this method would not work.
t is a tedious method and might take a lot of time.

Don't miss: How to Fix When iPhone Stucks in Recovery Mode?

Method #4 : Find iTunes Backup Password on Keychain Access on Mac

Like other Mac user, You might be used to saving your password in Mac OS keychain, so I'd like to recommend you to look for the backup password ni the Mac Keychain.

Step 1. Launch the Keychain Access app from your Utilities. Also you can find the program by searching the Keychina in the spotlight.

Step 2. Select "All Items" in the Categories. Then enter iPhone to search i the upper-right corner.

Step 4. It will pop up a Windows named iPhone Backup, in the Attributes tab. Just click Show Password option. All of your password will be shown in the list. Note. You will bed asked to type the Mac OS password to get the full permission to see the backup password.

Conclusion:
Forgetting iTunes passwords is a very common issue with most of the iPhone users. And they mostly freak out due to insufficient resources and information regarding the recovery. The methods mentioned above in the article are very easier to put to use. All that you need to have is a bit of vigilance, and computer handling experiences. Moreover the first methods might not work all the time so the second method of TunesGeeker program is the only viable and dependable method to follow up if you are seeking genuine result. The tool has been tested with various brands of computers and laptops, so you can remain assured of its authenticity.

---
Related Articles & Tips
• Fix "Enter the Password to Unlock Your iPhone Backup" in iTunes

• How to Recover iPhone Screen Lock Passcode

How to Unlock iPhone, iPad and iPod Backup Password
---