Duplicity of files is one of those cumbersome which takes a lot of space of your system memory. But when the files are stored in a server, duplicate files can take the space for which you have to unnecessarily pay, whether it is iCloud or iTunes.
Now duplicate files stored in iTunes can be a real headache, and you seriously need to do something about it as quickly as possible. The duplicate files are mostly the music, video and image files, which the iTunes synced with your Mac might be saving them from your Mac memory directly without your knowing. When you have enabled auto backup feature, it syncs any device to your iTunes, it starts to back up any content it finds fresh enough in the device. Now if you have duplicate files of the many items within your very Mac, then all those duplicate files shall be carried over to the iTunes storage and would start to create the issues of less space availability, server freezing issues, etc.
Here in this article we would show you two methods to delete duplicates songs in iTunes, one will involve no utility whereas the second one will involve utility. Since users can prefer to clean their iTunes with or without any software, the article has been provided with both the ways to do so.
Part 1. Delete Duplicate Songs in iTunes Manually
Duplicate files are often created by the users unknowingly but mostly created by the spywares or malwares hidden within the system, which keeps on creating copies of the same file to damage the storage mechanism in the backdrop, and it is something of an unavoidable situation. Here we can guide you on the path which can help you to get rid of the duplicate files already stored in the iTunes.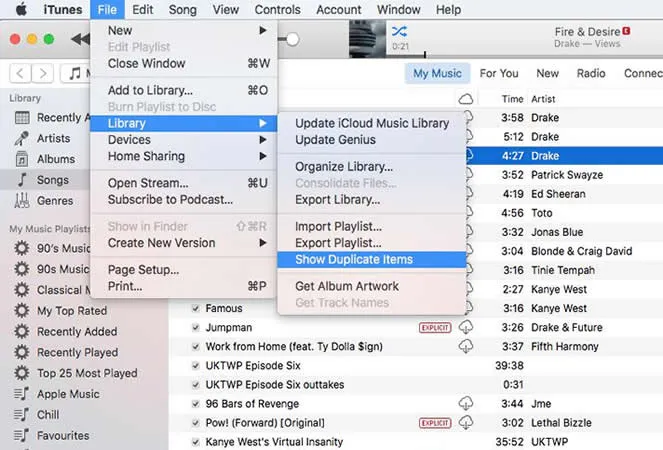 Step 1. First of all open the iTunes App in your Mac.
Step 2. Click on "File" and then "My Library" button.
Step 3. In the "My Library" section click on "Show Duplicates".
Step 4. Click on "All" to check out the duplicate track listed up there, and then click on "Same Album" to trace the duplicate songs.
Step 5. Next; click on the "Name" column to behold the duplicate files all next to each other. The iTunes uses the Artist, genre, matches to display the duplicate songs enlisted.
Step 6. Now one by one select the files and press "Delete" button to get rid of them. It might take some time, but it's worth it.
Part 2 : How to Delete Duplicates on iTunes All at Once
No more failures will be there if you extend your hand towards TunesBro CleanGeeker. This is a newly popular Mac Cleaner Utility which can clean your Mac off all the unnecessary junk files, delete duplicate files, app cache. etc. Since the article is concerned all about duplicate files, we would discuss the topic of only that zone.
"iTunes duplicate remover" function of the program is especially developed to take down any duplicate files that could take up extra space on your iTunes. This feature not only works with music tracks but it will also tackle duplicates on videos, text files, executable software, word files, excel and so on. It literally scans the entire system and the internal/external hard drive to check the duplicates and not only that, it also takes a further step and scans the cloud accounts as well to report duplicates.

Be able to clear App Cache, Junk file, Duplicate Files, Large sized files, corrupted files login details, mail attachments, etc on your Mac.
Improve your Mac general speed, get faster boot time and more responsive apps.
Locate and remove the duplicate files on your Mac and iTunes quickly.
Smart junk scan: iTunes junk files, incl. old iOS device backup, iOS software update files, iTunes downloads, etc.
Step 1

Download and Run TunesBro CleanGeeker on Your Mac

Download CleanGeeker of the right version to your Mac and install it properly. Open the tool interface and from the main screen, Now just below the column of "Home" button on the left side, click on "Duplicate Finder".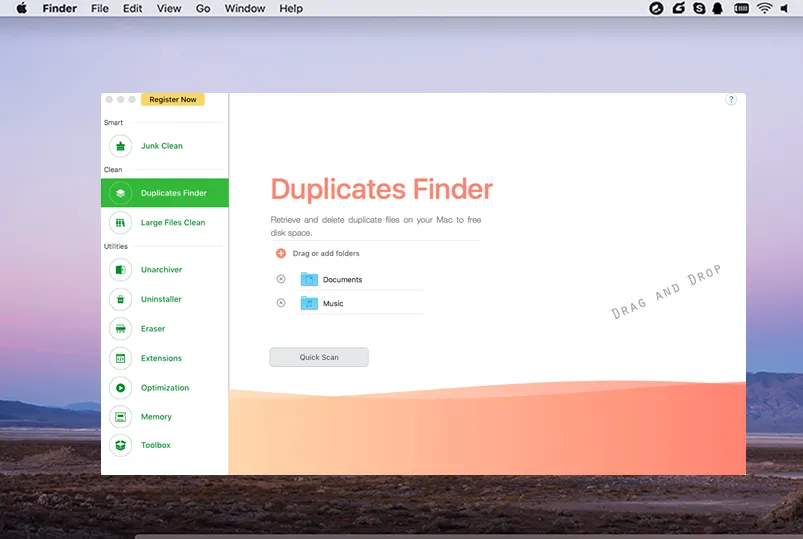 Step 2

Find "Duplicate Files " in iTunes

You can see all the duplicate files in your system and iTunes will be scanned and will be represented right in front of you. It not only scan and remove duplicate songs in iTunes but also remove duplicate files, photos, documents, media, package, app and others that stored in your Mac OS X.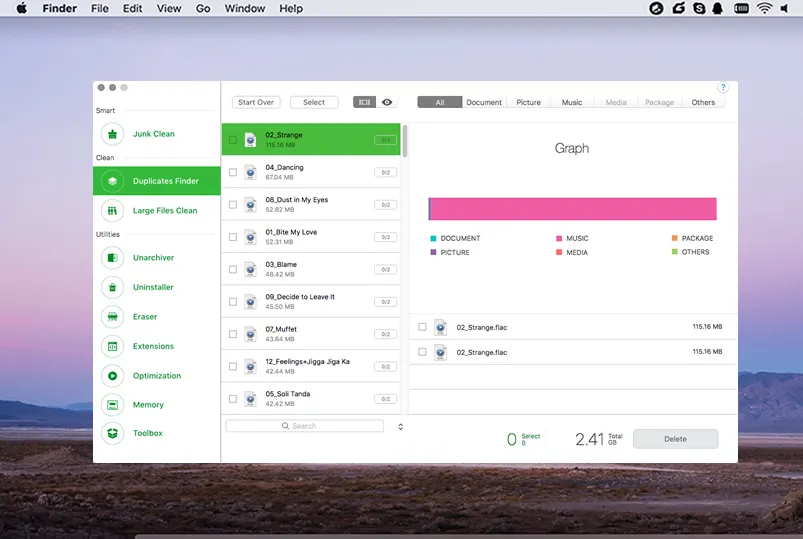 Step 2

Start to Delete "Duplicate Songs " in iTunes Now

Choose the files one by one or all at once, and click "Delete" at the right corner of the screen. And that's it! It will take seconds or minutes to finish the process.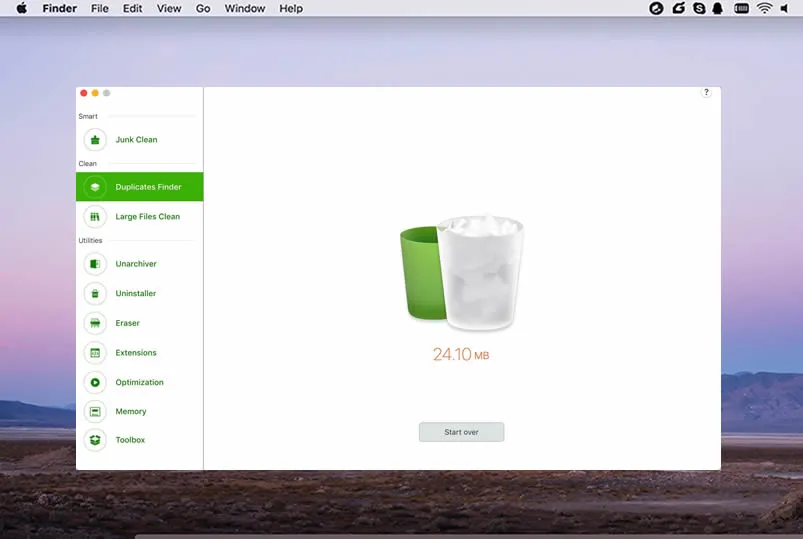 When you have finished click Start Over button to return to homepage of the software, and check your iTunes in your normal view mode. You will see all the duplicated files was gone. (hopefully)
Part 3. How Do I Import Music Into iTunes Without Duplicates?
We love to increase our music playlist items but as we progress, there's a huge chance that we could be downloading duplicates over and over again in iTunes library collections. Fortunately, iTunes is smart enough to find those duplicate tracks from your playlist but it will be much better not to have those duplicates in the first place so that you have a well-organized iTunes library. If you enable that option then whenever a duplicate file is coped, you will get the notification of it and can cancel the performed action.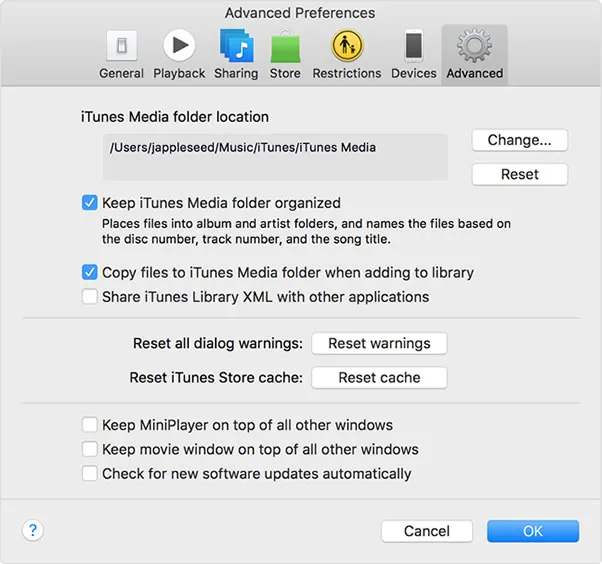 Step 1. In Windows computers - click the "Start" button followed by "All Programs" then "Apple iTunes" to launch the program. If you are using Mac, then simply open the "Applications" and click on the iTunes icon to start it.
Step 2. Click on "Preferences" to see the option from Mac. Similarly, click on "Edit" then "Preferences" on Windows computers to see more options.
Step 3. Now, choose the "Advanced" option and make sure to check these boxes:
- "Keep iTunes Music folder organized".
- "Copy files to iTunes Music folder when adding to library".
Conclusion
The second method can delete all the duplicate files presently stored in your Mac, and this will prevent the iTunes from saving the duplicate files in the server. Later on if you wish you can use the first method to delete manually all the files stored in your iTunes, but prefer to clean your very own system with CleanGeeker, and none else. Keep the software installed for further use and make the system neat and active without any useless items.

---