The case is rate when people add a password to the Word document but it does exist in real word. If there were condidential information in Word, the best practice is to password protect it. Unfortuantely, you might forget the original password if the doc was not opened for a long time.
If this was the case, don't worry too much as there are several ways out there to recover or bypass forgotten password from Word document. As long as you are legitimately allowed to view the contents of the file as an authorized user, you can try one of the following methods to recover a Word password and access the file again.
Part 1. Recover Word Password by Renaming to ZIP
One workaround method to access a locked Word file when you don't know the password is to manipulate the XML content of the file. This can be applied to any read-only file, so if the Word doc is encrypted, this method won't work for you. However, if all you need is to edit the file or modify its contents in some way, try the steps shown below:
Step 1. In Windows Explorer, locate the Word file and right-click on it.
Step 2. You'll see an option called Rename in the contextual menu that appears. Click on it and change the file extension to .zip.
Step 3. Unpack the file with an archive tool like WinZIP or WinRAR and view the contents. You'll see several folders and .xml files inside. Look for Settings.xml and change w:enforcement from 1 to 0.
Step 4. Choose Yes to update the archive file when you are prompted to. Go back to Explorer and right-click the .zip file, and change the file extension back to what it originally was.
When you open the doc in MS Word, you'll see that it is no longer a read-only file, and you can make whatever edits you need to. Obviously, this requires a little bit of knowledge of how to change file extensions and so on, so if you're not confident about it, try the next method, which is a failsafe way to unlock not only edit restrictions but also recover the encryption password.
Cons:
Not working for Word document later than 2010 Edition.
Open password can not be removed.
The file could be damaged after renaming.
Part 2. Recover Forgotten Password from Word Document on Windows PC
For open password, the only way is to crack it if you could not remember the password. Hence, a password recovery tool is required. Fortunately, there are a few good ones out there but many of them have not been updated for years except for TunesBro Word Password Recovery, a recent update was carried on May 2019.
TunesBro Word Password Recovery is a powerful password cracking tool for Word documents. It can recover the Open password no matter how complex it is, and instantly remove any edit password as well. It is purpose-built to unlock Word files and works with all recent versions of MS Word. The slick interface and user-friendly controls make it one of the most popular utilities in this category. Let's take a look at how both password types can be recovered or removed by this amazingly versatile tool.

Powered by 3 password recovery engines.
Remove restrict editing from Word in one click.
Support latest Word 2019 as well as 2016/2013/2010/2007.
Superb user interface with clean design.
Step 1

Get Ready for Downoad and Insallation

After downloading and installing Word Password Recovery on your PC or Mac, launch the program and select the option you want. Let's first look at the password recovery process for the Open password. That means you need to select the first option you see in the software window.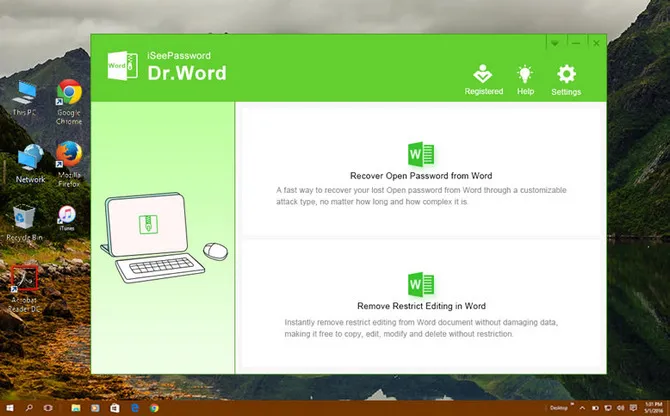 Step 2

Import MS Word Document

In the next window, import the locked Word file using the Add File option.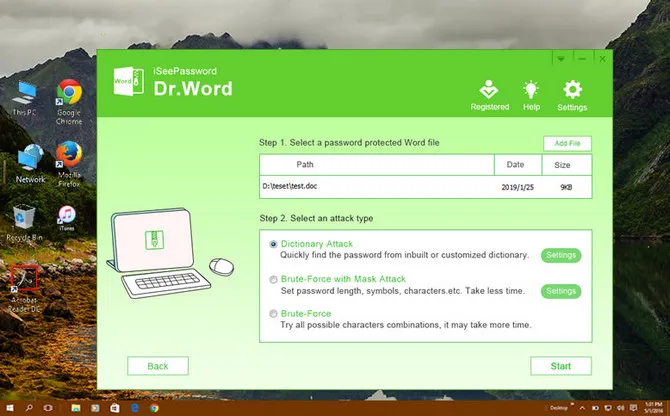 Step 3

Choose Password Recovery Attack Type

After the file being added, the next move is to choose a password recovery attack type, as described below:

Dictionary: This uses built-in or uploaded wordlists that contain several thousand password combinations and is ideal for those who tend to use predictable passwords. It won't always work for very complex passwords.

Brute Force: All character combinations are attempted in this attack type.

Brute Force with Mask (Recommended): If you know the length of the password or any other attributes, you can enter it here to save time during the recovery process. Below is the setting panel for this method.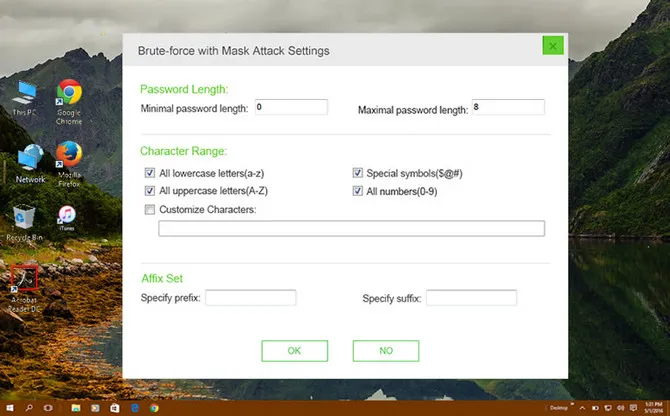 4

Start Recovering Password from MS Word Document

Finally, click the Start button to begin the recovery process. When successful, the password will be displayed on your screen. Copy it and use it to open the Word file.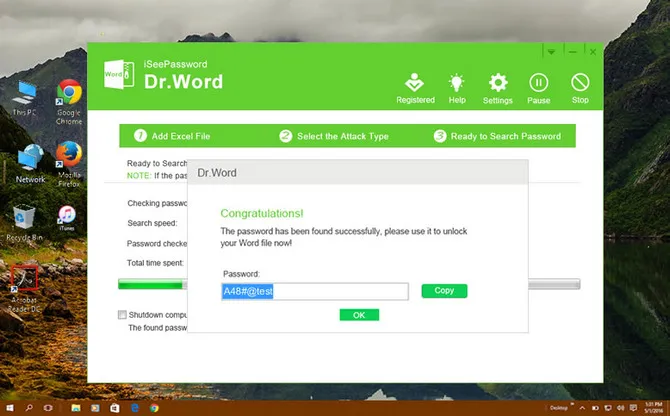 This is the easiest way to remove any kind of password or restriction on a Word doc. This versatile and powerful tool can handle all levels of passwords, from the simplest to the most complex, and the best part is that you don't need any sort of experience with password cracking to enjoy the full power of this utility.
Cons:
Free version can only recover password less than 3 characters.
Not available on Mac.
Part 3. Word Password Recovery Online
Another quick way to recover your Word password is an online service called PasswordNow.com. It's been around since 2002, and the site owners say that it is guaranteed to work. The service will fully unlock your Word file from both types of restrictions. It's pretty simple to use as well.
To use the service, head over to the website and click on Start Recovering. In the next page, click on Agree to accept their terms and conditions of use. After that, you upload your locked file and wait for the recovery to complete. Finally, you can download the unlocked file and open as well as edit it as you please.
The only problem with this service is that if you're using Google Chrome, it won't work. That's because it works using Microsoft Silverlight and NPAPI, both of which aren't supported on Chrome since version 45. It will suggest an allied service, but that site is not https and therefore not as secure. We don't recommend that option..

Cons:
Install additional package to make it working.
Set Bing as default seach engine and MSN.Com as homepage.
Start Recovery button not showing on some browsers, e.g IE 11.
Part 4. Crackit! Free Word Password Recovery
Crackit! is a simple program that doesn't require any installation on your computer. All you do is download the executable and run it directly. The tool has been around for a while so it only supports MS Office versions prior to 2007, and no updates are available for the latest versions of Microsoft's word processor program. However, if you're in a pinch and don't have any other option, you can try this tool. Here's how to use it:
Step 1. Download the .exe file and double-click it to run the application.
Step 2. In the interface window, click Browse to look for and add your file.
Step 3. You can choose the character set to be used for the attack, which uses brute force as the only available option.
Step 4. Click the Crack It! Button to start the recovery process.
When the password has been recovered, it will be displayed on your screen. Use it to open the file. Unfortunately, you can't remove read-only restrictions using this tool. The best option for that is to use Word Password Recovery or use the ZIP workaround.
Cons:
Can not add .docx file.
Only Support brute-force cracking.
Summary
You can find a lot of suggestions about recovering lost password from Word document. Actually, many of them are out of date. Hence, it is not working at all for new version of Word. For open password, TunesBro Word Password Recovery is the best bet to help you successfully recover forgotten password from all versions of Word documents.

---