Laptops like Lenovo, is quite a handy device to use especially if you are bound to stay outdoors most of the time. Take out your Lenovo Laptop, and get your work done anywhere, anytime. Now creating password is a nice choice only with one exception that is forgetting the password. Yes, there is no greater calamity than to lose hold of your laptop password in times of dire extremities. What if you are a media person, and in the middle of an important footage covering, you immediately need to open your laptop to carry out your necessary work, but you can't recall your laptop password!
YOU FORGOT IT! Sit back, relax, and take a deep breath. There is no need to topple your eye balls out as we are here to help you with the best possible measures we can provide. We would direct you with 3 simply solutions to help you reset Lenovo password without reinstalling system.
Method 1: Reset Lenovo Laptop Password with TRK
Trinity Rescue Kit is an old but powerful password recovery tool which can be used here to reset your Lenovo laptop. All that is needed is a separate working computer to create the password reset disk which you can use to unlock your locked Lenovo Laptop. Steps for the procedure are given as follows:
Step 1. Download the TRK program file on an accessible computer and burn the ISO image file into a flash drive or CD/DVD.
Step 2. Now insert your bootable disk into your locked Lenovo laptop and reboot your laptop. Your laptop should automatically read your bootable disk and a new TRK menu would appear on the screen like the one shown below: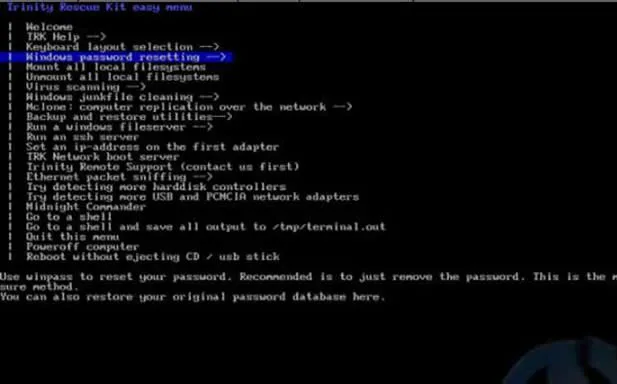 Step 3. Select "Windows Password Resetting" from the available options and press "Enter" to proceed.
Step 4. Choose "Winpass with prompt for username first" option and provide your user profile name which is currently locked in your laptop.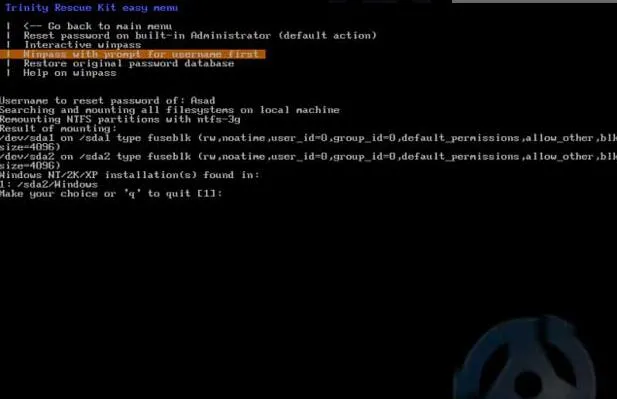 Step 5. The loaded program will automatically fetch the operating system details on your screen and you have got to press 1 to clear the password protection feature from your computer.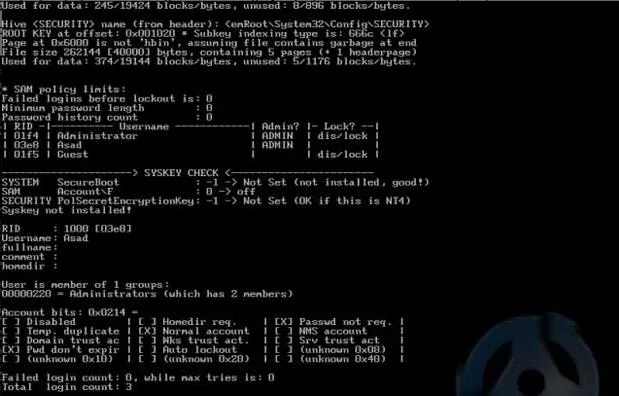 Now restart your laptop once again and it will not ask for password this time anymore as it has been bypassed by the tool.
Cons –
1) Complex method – not recommended for novice users.
2) It only works with local accounts.
3) It doesn't work with Windows 64-bit OS versions.
Don't miss: 3 Ways to Reset Windows 10 Login or Administrator Password If Forgot
Method 2: Unlock Lenovo Laptop with WinGeeker Ultimate
While trying to reset your laptops password, you shouldn't take any risks as even a minor mistake can cause fatal calamities of losing data and system collapses in the absence of necessary softwares and system files. Thus as per the dependence on any particular software is concerned, the best choice would be the WinGeeker Ultimate. It is an amazing tool to bypass lock screen password altogether without losing hold of any data off your device. It is 1000% efficient as it has been tested with laptop brands, like HP, Dell, Samsung, ASUS, Sony, etc.

100% resetting any Windows password without formatting and reinstaling system.
2 ways to Make a bootable reset disk: USB, DVD and CD.
Support reseting administrator, Mirosoft account and Windows server password.
It works on UEFI, BIOS boot, DSI legacy mode.
Directly download the program here.
Step 1

Download and Intall Program.

On a another working computer, download the program file and install with all the necessary instructions. Launch the program with admin privileges and select "USB or CD/DVD" option as your media type from the interface screen.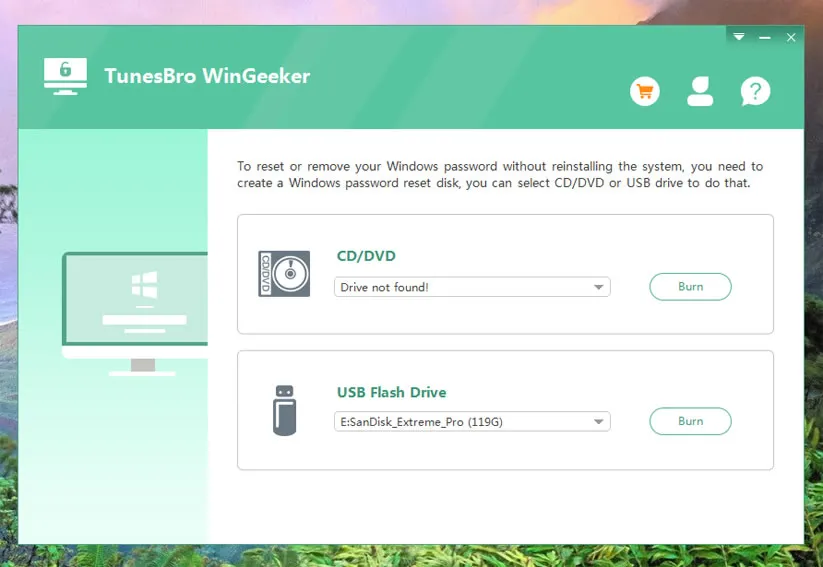 Step 2

Insert USB Drive or CD/DVD (USB for Example)

WinGeeker offers two ways to burn a reset disk - USB and DVD/CD. Now, insert your USB stick and choose "USB or CD/DVD" as media type from the main UI of the utility. Then select the USB driver name by clicking on the drop-down arrow followed by clicking "Burn USB". When the burning is completed, it pops-up notification as "Burning successfully!". Click "Ok" to proceed.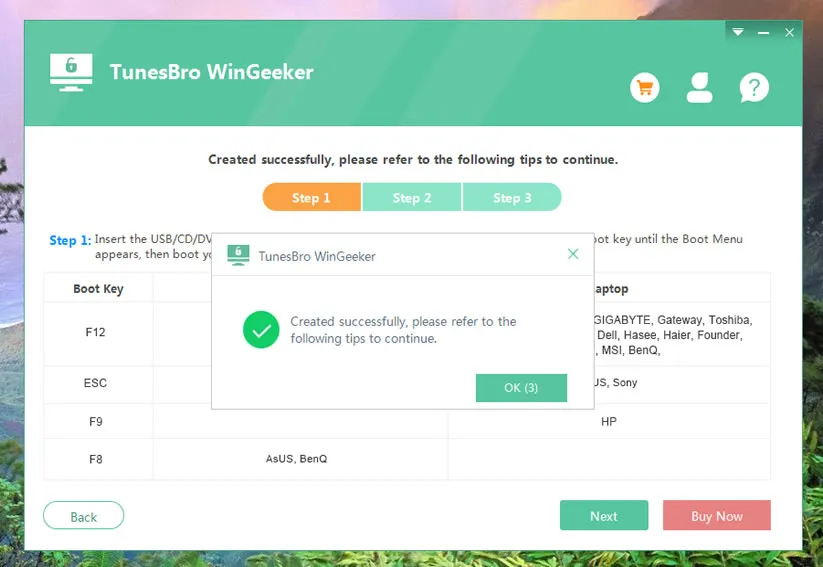 Step 3

Boot from USB Drive on Your Locked Lenovo

Eject the USB and insert it into the inaccessible Lenovo Laptop which is locked down. To make windows boot from USB drive, you need to enter the boot menu and set the USB as the fisrt boot order in the BISO. Try to press F2, F8, F12 or Del key on your keyboard continuously till the Boot menu appears.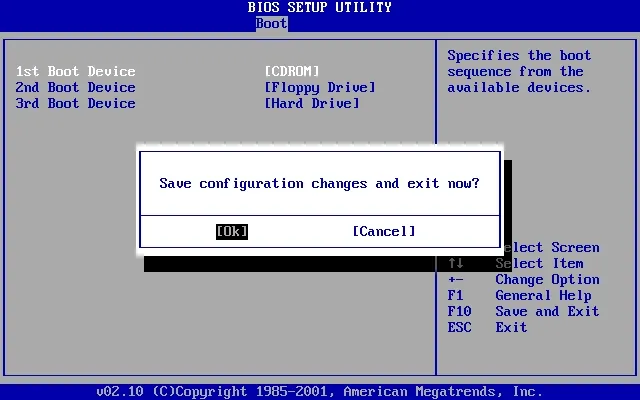 Step 4

Start to Reset Forgotten Login Password on Lenovo Laptop

Once the program file has been loaded, it will shows systems and users in your computer. Select the users you want to reset, then click "Reset Password" and "Reboot" options consecutively to finish the recovery process.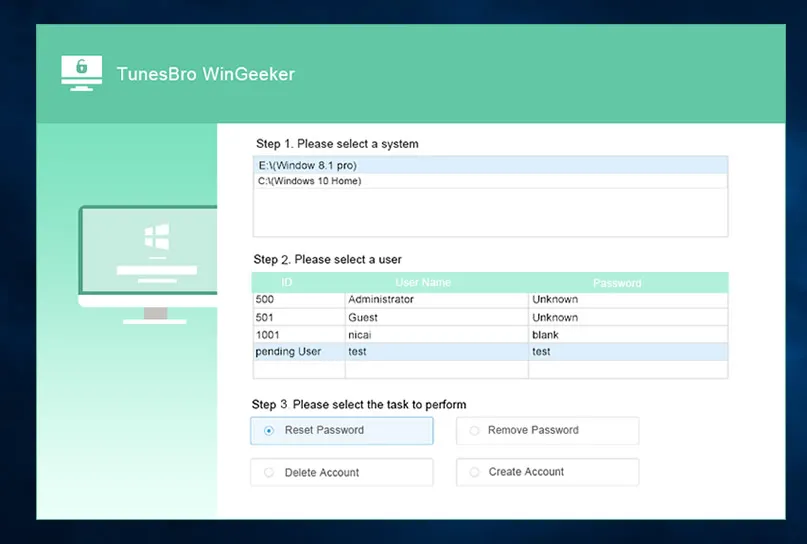 After you are done with all the above mentioned steps, your system would be restarted and you won't get to see the password request on your Lenovo lock screen any longer.
Also read:
Locked out of Windows 10/8/7/Vista/XP, How to Unlock the Computer?
Method 3: Reset Lenovo Laptop Password with Ultimate Boot CD Tool
Ultimate Boot CD or shortly UBCD is a very commonly used password recovery tool which runs simulations on your computer to reset your password for the locked account. The steps are notified in the following manner:
Step 1. Firstly download the UBCD ISO image file on any working computer and burn the program file into a bootable CD/DVD or USB disc.
Step 2. Now; insert the loaded bootable disc into your locked laptop and boot from it.
Step 3. The UBCD menu will appear on the screen. Select "Parted image" and hit "Enter" to continue.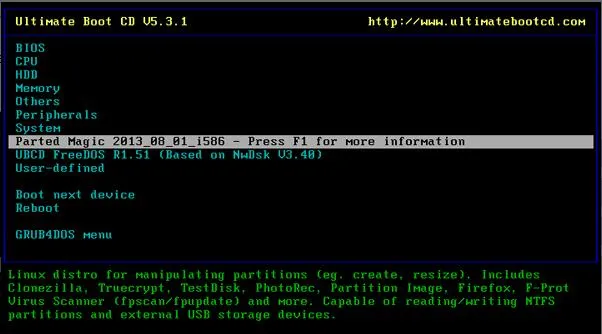 Step 4. On the following next page, select the "Default setting" by pressing "1" and then proceed.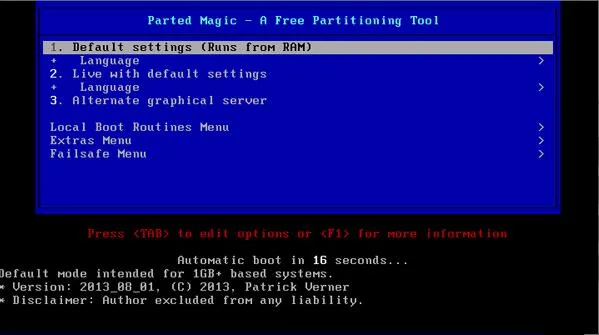 Step 5. Once the UBCD program file is loaded, follow the designated path: Start> System Tools > Change Windows Password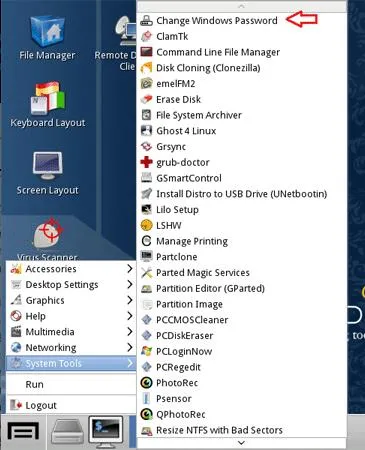 Step 6. Setup a new password and apply the changes.
Step 7. Now; eject the disc, reboot your computer and enter your laptop using the recently created password.
Conclusion
Thus sometimes, it is best to take a step back and to re-think in a casual manner. If you do so, then consulting the nearest Lenovo service centre would be the finest solution that can come up in your mind at first. Service centers are the hub where experts can actually diagnose the problem with your Laptop properly without any personal reckless attempts and can rectify the issue in no time. Thus resetting your password or bypassing the password protection wouldn't be that difficult for the experts to handle. They have special equipments and necessary software tool kits to resolve your issue in few minutes.
From the above article you must have been able to decipher that WinGeeker Ultimate is the best recovery tool. It has been serving many users with its magnificent services for many years over the internet. So, if you are stuck with your Lenovo laptop in the same way because of forgetting login password, try out this mind-blowing utility to resolve your issue.

---