Admin Password is the only password in your Operating system which are mostly compromised due to several mischief, whether you forget or lose the password, or your admin account has been invaded by any unknown intruder. The resulting consequence is that you become unable to access any of the Windows server system contents, files, folders, media files, etc. In most of the cases, user who forget or lose their admin password prefer to call a computer expert or take the system to the service centre to unlock their locked computer, but that creates a lot of hassle with unnecessary money expenditure.
Thus here in this article we would demonstrate you few basic methods or trickeries which will definitely help you to reset local administrator password on Windows server 2012 R2 without any external help.
Method #1: Reset Windows Server 2012 Admin Password with Command Prompt
Command Prompt is truly an excellent command line interpreter which can be used to interpret various tasks at the cost of certain code lines in short span of time. Here we would implement cmd to remove the forgotten password. Read the steps carefully to perform the method:
Step 1. Firstly, create a bootable disk using CD/DVD or USB and insert it into the locked computer.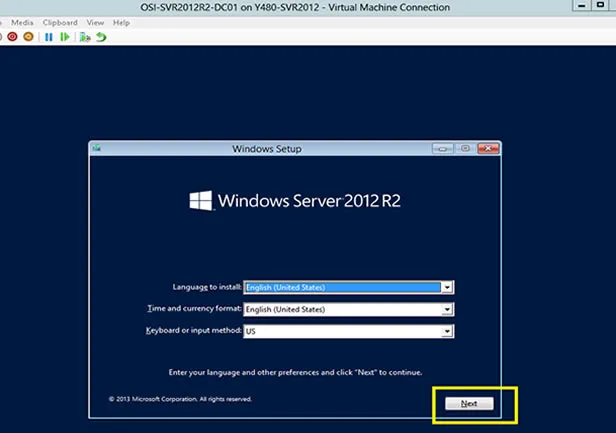 Step 2. Choose your language and click on "Troubleshoot" option.
Step 3. Click on "Command Prompt" button to start it on an advanced mode and type the command scribbled below when the black dialog box turns up:
d: cd windows\system32
ren Utilman.exe Utilman.exe.old
copy cmd.exe Utilman.exe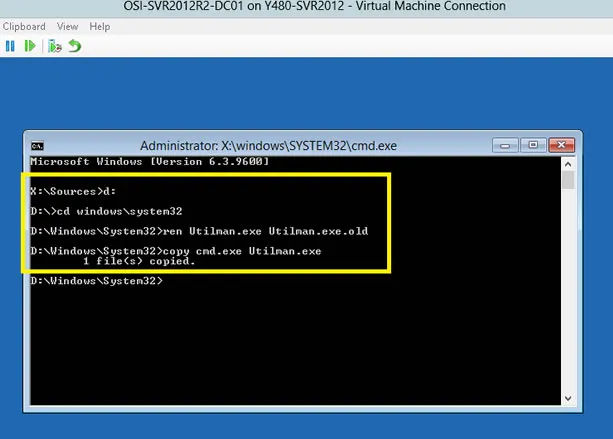 Step 5. Exit your command prompt and then click "Continue". Your Windows server 2016 computer will re boot and go to the logon screen. Here click Windows Key + U to oepn command prompt again, then type command:
net user administrator Pa$$w0rd2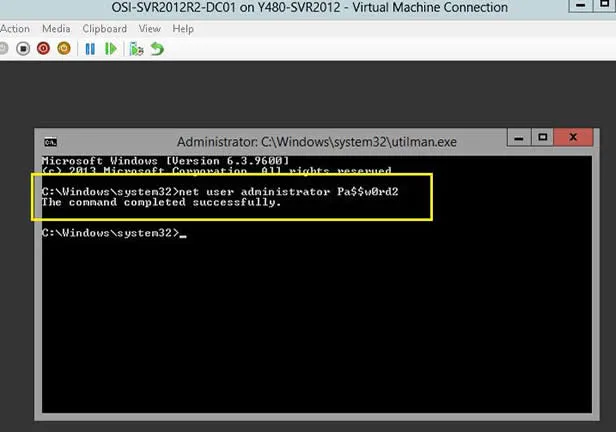 Write the actual username and the newly created password in place of USERNAME and PASSWORD option. Pa$$w0rd2 will be set to password for the Administrator user (case sensitive).
Now your job is done! You can enter the locked account with the newly set password.
Note:
1) In case you enter any wrong command mistakenly, it can cause serious damage to the system.
2) If the user is not familiar with the cmd, better not use it .
Method 2. Reset Windows Server 2012 Password with WinGeeker
If you have tried out all the possible resetting your Widnows Server 2012 administrator password measure with third party tools and methods, and none of them has lived up to your expectation, then you must try out Tunesbro WinGeeker Ultimate for once in order to get the guaranteed result. It is a wonderful tool which can actually bypass the login screen by manipulating the registry files without actually re-installing the Windows Server OS. As a result, your data is not lost off the system hard disk.

100% resetting any Windows password without formatting and reinstaling system.
Create bootable disk in two ways- CD/DVD and USB.
Works with Windows Server OS, such as 2000/2003/2008/2012/2016/NT.and Windows 10/7/8/XP
It is perfectly compatible with legacy and UEFI BIOS based computers as well.
Pre-Requisities to use Tunesbro WinGeeker Ultimate:
1) An accessible computer CPU: 1GHz (32 bit or 64 bit).
3) The Tunesbro WinGeeker Ultimate program file.
4) Empty optical disk (CD/DVD or USB).
Step 1

Get another Windows Computer and Install WinGeeker On It

Firstly download the software ISO image files and install it correctly on any one of your working computer.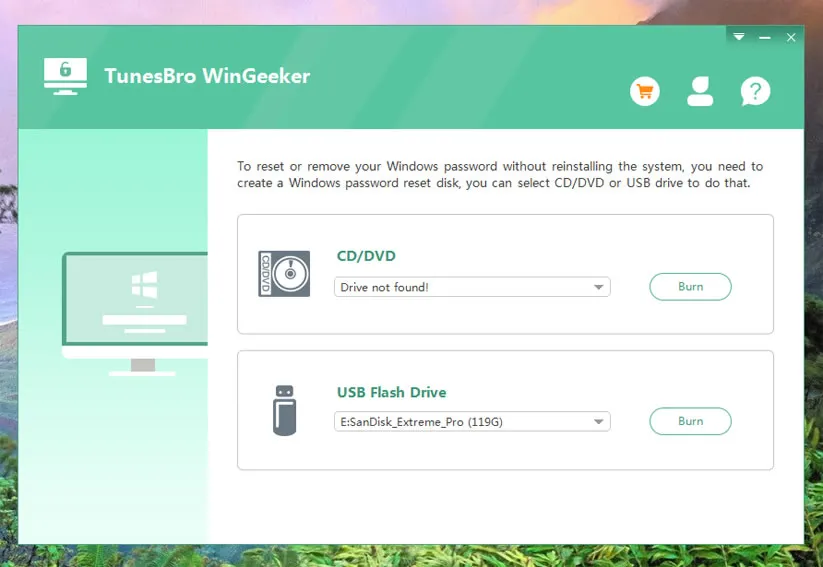 Step 2

Insert USB or DVD/CD to Create A Reset Disk

Insert your optical disk into the working computer and launch the program. Click on "Burn USB" or "Burn CD/DVD" as per the disk specification. Once the ISO image files of the program get burnt on the optical disk, eject the disk.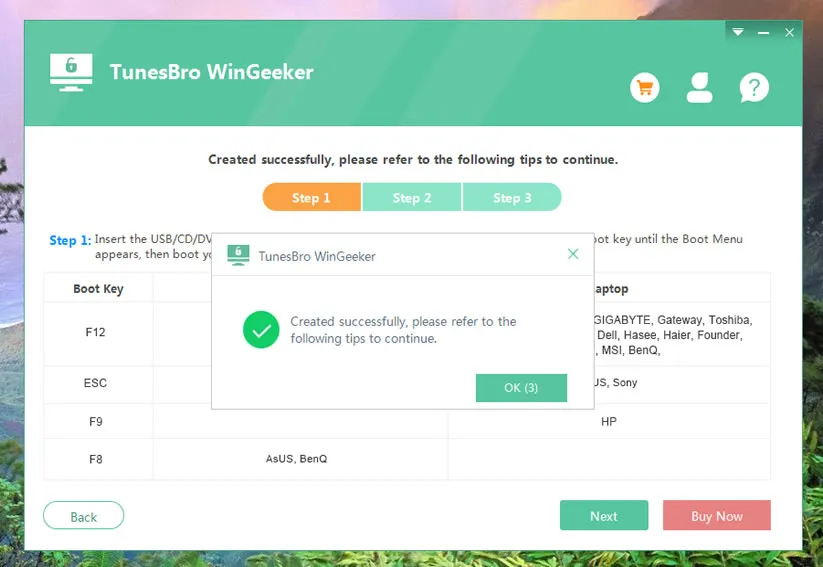 Step 3

Boot from USB Drive on Locked Windows Server 12 Computer

Now re-insert it into the locked down computer and boot from it to load the program files into the locked computer. The boot order might need to be changed to load the files from "Device Priority" menu in BIOS settings. To do so, just press F2, F8, F12 or Del key on your keyboard continuously till the Boot menu appears. Then choose the USB or DVD name to boot from.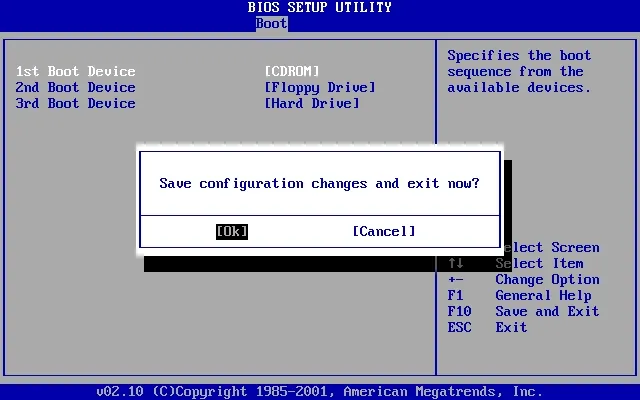 Step 4

Reset Local Administrator Password Instantly

When booting your Server 2012, it will open TunesBro WinGeeker program and shows system and user in the list. Now just select the users and click on "Reset Password" and "Reboot" buttons one after another to start the resetting process.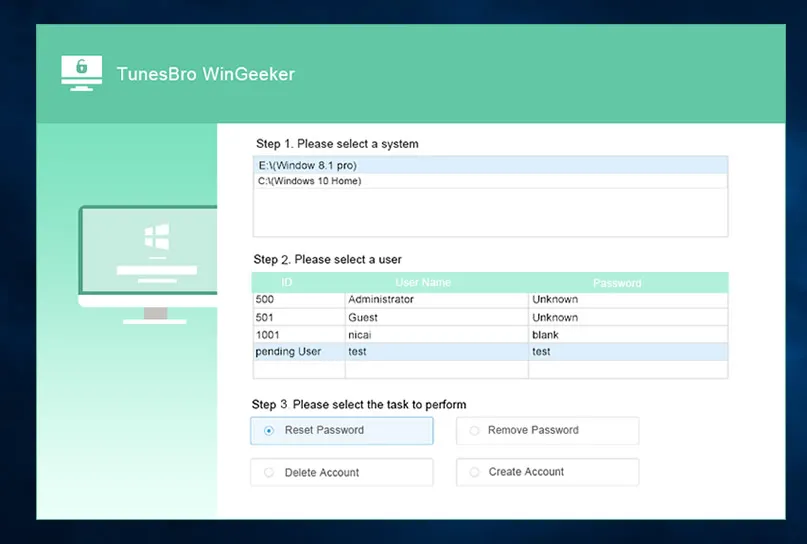 The computer will get a restart and when it turns up, there will be no password inquiry.
Part 3. Reset Administrator Password on Windows 2012 R2 with Reset Disk
If you had already created a password reset disk in your computer prior to forgetting your Server 2012 admin password, then this is the right time to implement it to unlock your system. Go through the guideline mentioned below to execute the method: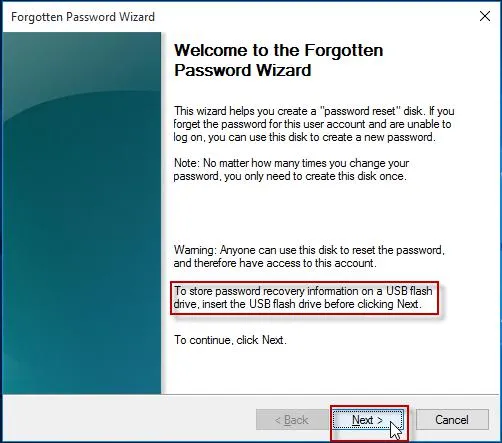 Step 1. Insert the USB stick containing the password reset files and restart your computer.
Step 2. Under the "Username" field click the "Reset Password" option.
Step 3. Once the forgotten password wizard turns up, click on "Next" button to proceed.
Step 4. Choose your drive name, where the password reset disk is stored and go to the next page. Now enter the password for the computer and save the changes.
And you are done! Now reboot your computer to apply for the changes and input the newly created password to access the locked down computer.
Also read: 4 Ways to Remove A Password from Laptop Windows 10/8/7
Conclusion
Since admin account is the only accessible account which gives you full authority upon all the system data, unable to access that particular account would surely bring a lot of serious predicaments if you are heavily dependent upon your computer. The aforementioned methods are fully operational and effective and you can choose any one of the methods described above. But if you are looking for a guaranteed result, better rely on the third method of TunesBro WinGeeker. Since the other two methods have got a lot of downsides, thus the third method is the only viable option to heed at last.

---