If you have never done this before, you are probably wondering why someone might need to erase everything from their iPad or iPod. This could be required in a variety of situations. For example, if you were selling your device to someone, you wouldn't want any of your personal or private information getting into the wrong hands, would you? Another scenario might be when you are looking to refresh your old device by wiping everything clean so that memory and other resources are restored to their original state.
Whatever the case may be, before you erase everything from your iPad, it is recommended that you take a full backup of all the data and media files contained in it. You can do this using any number of methods, including with iTunes. To use iTunes to backup all of your data, simply connect your device to a PC running the latest version of iTunes. Then go to the "Summary tab" of your device and click on the "Back Up Now" option that you see in the middle of the page.
Once you have done the backup, you can now proceed with wiping all data from your iPad or iPod.
Method 1: Erase All Content and Settings From Your Device (Factory Reset)
This is a very simple process that allows you to erase all content and settings from your iPad. However, you will need to have your passcode and you may have to enter it more than once to confirm a full wipe.
Step 1: In your iPad Settings go to General >> Reset >> Erase All Content and Settings.
Step 2: When you tap on the Erase iPad option, you will be prompted to enter your passcode. Enter the passcode and tap on the Erase button once again.
Step 3: You may be asked to re-confirm whether or not you want to wipe your device. So confirm it at the next step as well.
Once you have done this, all of your device settings and content will be wiped out from your iPad.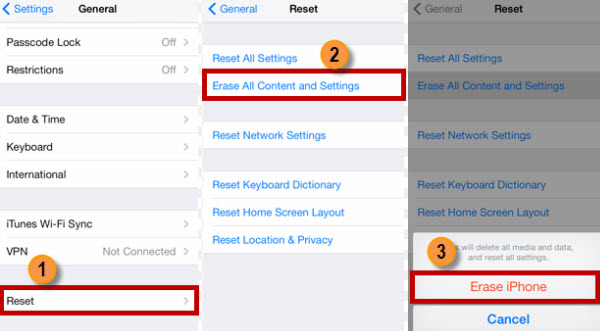 Method 2: Wipe Your iPad or iPod by Using iTunes (Without Apple ID)
Another way to wipe your data if you remember your passcode is to use iTunes. As long as you have synced your device with iTunes in the past, you will be able to use this method.
First thing you need to do is to connect your iPad to a computer running iTunes, and go to the Summary section where you can sync your device to create a backup. Once the backup has been created, you can click on the button that says Restore iPad. Essentially, this is very similar to doing a factory reset and will wipe all your data and settings.

Method 3: Permanently Erase Everything on iPad or iPod via TunesBro Software
You have to input the correct Apple ID or passcode in order to reset the device with the above methods. However, if you didn't have both of them, then the only choice left is to use third-party programs. TunesBro iOS Data Wiper is one of the most thorough data erasing utilities that you could ever find. You can do a lot more than just erase all your data such as freeing up space on iOS device, but for the purpose of wiping your tablet, that particular functionality will suffice. Follow these steps to erase all your data from your iPad.

Completely erase all data on any iOS devcie without additional information.
One-click solution to free up more space on iPad, iPhone or iPod.
Able to Find and permanently remove all deleted files.
Built-in feature to clean junk and tmp files on iOS devices.
Step 1

Installation and Connection

Download and install the software on a PC or Mac, then connect your device to the same computer using a USB cable. Make sure iTunes is installed on the computer, too.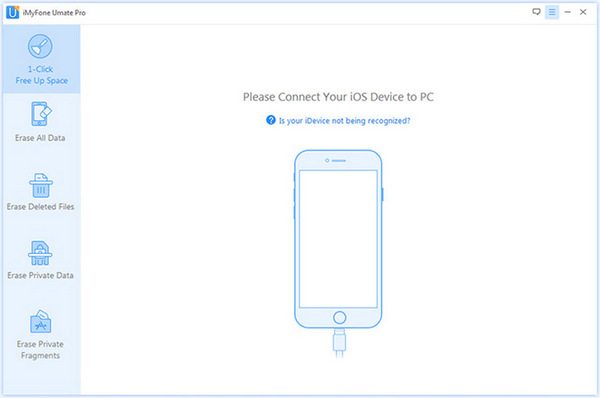 Step 2

Select Data Erasing Method

Launch the software, and you will see your device has been automatically identified. At this point, you will need to select the erase method that you want. Click on "Erase All Data".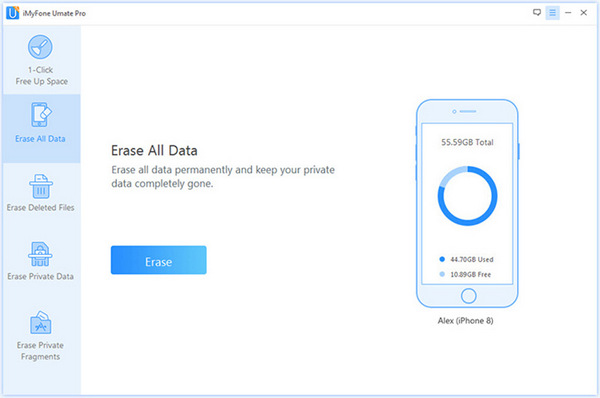 Step 3

Wipe All Data from iPad or iPod

You will now see a button that says "Erase". Click on that. On the next page, you will need to select an appropriate security level. The options are Low, Medium and High. The highest level is the one recommended for you if you have saved sensitive or private information on your device, such as banking and other details.

You will now need to confirm your choice by typing in the word "delete" in the box shown. This feature is to ensure that your data is not accidentally deleted. Finally, click on "Erase Now" Then the device will be permanently wiped in less than 20 minutes.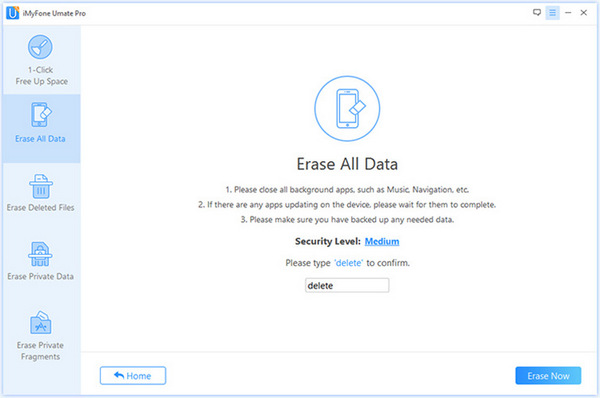 Please note that the above process is irreversible, so you cannot undo it. Before you proceed with any data wipe methods for your iPad, do ensure that a backup is taken right before the erasure. You want to make sure that the device is clean at the end of the process, but you don't want to be left without a way to access all of your old data.
Conclusion:
As you can see these methods are all fairly straightforward and simple to execute. If you have trouble using the first two methods, then the third method is strongly advised. Over 2 million people currently use this software, and that is a huge validation of its reliability and popularity, so you can be sure that you and your iPad are in good hands.

---
---