The Access Database files are vulnerable to file corruption and damage. When a corruption occurs or you forget database password, you end up losing the precious data. If you are in such situation, you are going to need help from a password recovery tool out there.
There are actually tons of password recovery providers that can easily repair your MDB files and recover Access open passwords. However, like any other services out there, not all of them are the same, as some have bad customer support while others are just scams to take your money. With that in mind, we've compiled a list of the best Access Database password recovery tools.
Part 1. Access PassView - Free Access Password Recovery Tool
This is one of the most popular password recovery tools for Windows Access database. With AccessPassView, you can quickly retrieve the database passwords for password-protected MDB files on your computer. The coolest part is that it is completely free to download and does not provide any installation file. In other words, it acts as a portable tool on your computer.
However, one major drawback is that it supports only older Microsoft Access versions (2003 or earlier), which is a little bit disappointing. Another downside is that it cannot recover a MDB file with a long password (longer than 8 characters).
To recover your Access Database password with Access PassView, you first need to download it and unzip the downloaded file. After that, double-click the accesspv.exe file and click Get Password button. From here, select the Microsoft Access file you wish to recover password for and click Open.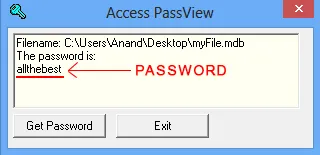 Cons:
Lack of support for modern Access versions.
Can not recover long passwords.
Part 2. Fastly Recover Forgotten Access Password with Premium Software
For newer Access database files, PassView is unable to recover the password as it only supports old version of Access. And many free software are out of date, too. Hence, we are going to share a premium software at here, which has good support for latest Access versions and faster password cracking speed.
TunesBro AccessGeeker is a reliable password recovery tool for Access MDB files. Unlike Access PassView, it supports modern Access versions (2016 or earlier), thus offering an effective method to remove password protection from a MDB file. In addition, there are 3 built-in engines you can choose from to recover the lost or forgotten password. Each of them are well suitabled for certain cases. Lastly, it also support recovering password from Excel and Word.
Step 1

Install Access Password Recovery and Add MDB File

Like usual, you need first download the .exe file and follow the instructions to install the program on a Windows PC. Open the program and click Open icon on left upper corner to locate the Microsoft Access file you want to recover password for.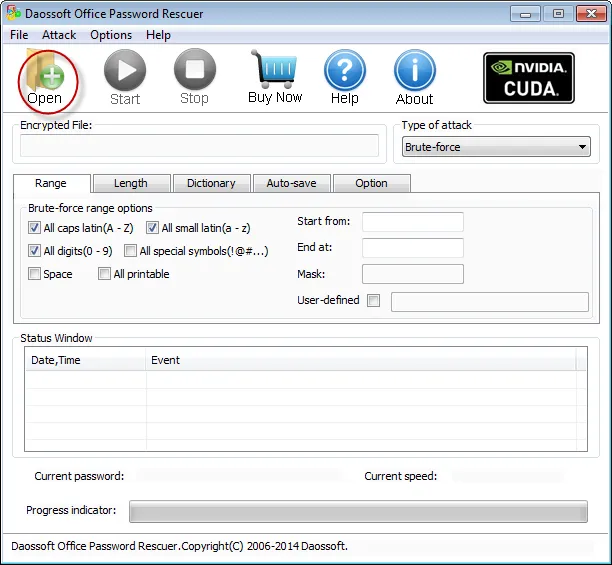 Step 2

Password Recovery Settings

After file import, you need to choose a password recovery engine from the given list under Type of Attack section. Each attack type comes with a couple of settings, such as password length, password type, mask ,etc... The more you fill, the faster password to be recovered.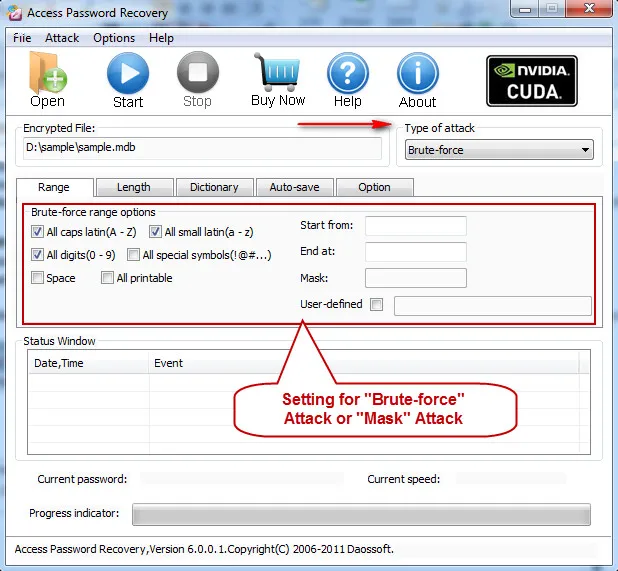 Step 3

Start Recovering Lost Password from Access Database File

Now, hit the Start button at the top menu bar to decrypt the forgotten password for Access file. Once the password has been successfully recovered, it will be shown on the screen and you now can access your file with that password.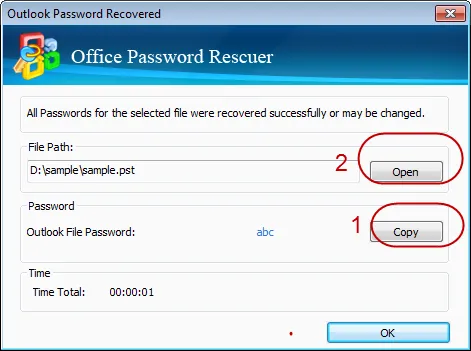 This Easy-to-use software has a much faster password recovery engine. So the success rate is impressived no matter how long the password is. You have to be patient for strong password, which needs more time to crack.
Part 3. How to Recover Access Open Password Online
If you don't want to install a third-party app on your computer, then you can use an online password recovery tool. Password-online.com is willing to recover your lost or forgotten Microsoft Access passwords with a few clicks.
Step 1. At first, you need to go to password-online.com and then click Upload your encrypted file.
Step 2. After that, provide your email address and proceed with hitting the Send button.
Step 3. Head to your email box and click on the link to confirm. Now, the decryption process will start and take several minutes.
Step 4. Once done, you will be taken to the checkout page where you will provide your billing information. Once your payment has been confirmed, you now can download the file.

Cons:
Decryption process is slow.
Expensive.
Risky for exposing the file to hackers.
Final Words
Forgetting Access password is no longer a big deal as you can rely on third-party recovery tools out there. However, not all of them are trusted. Falling for a scam, you end up losing your money and time. If you are looking for a reliable recovery tool, then you have come to the right place.

---