If you have heard of NT Password then you may also have heard about Trinity Rescue Kit. Let me tell you a little about Trinity Rescue Kit first. It is a Windows password bypassing program that uses the Linux Live CD technology to erase the password from a computer. In reality, TRK uses the same winpass script that is used in the Offline NT Password & Registry Editor "chntpw" script. Basically, it allows a person to remove login password from any Windows computer but only limited to local accounts.
Part 1. How to Use TRK to Bypass Computer Password?
Step 1. You need to download the Trinity Rescue Kit ISO file and then burn it on a DVD or CD with a free ISO burner. Latest Windows 8 and Windows 10 has in-built burners but if you are using an older Windows version then download ImgBurn to complete this step.
Step 2. When you insert the disc on the password locked computer, it should boot from the compact disc instead of the local hard drive. But if you need to change the settings then go to BIOS and change the boot priority.
Step 3. On the display screen, you should see an image like below where TRK will offer numerous options. Choose "Windows Password Resetting" options with the help of the arrow buttons on the keyboard then press Enter.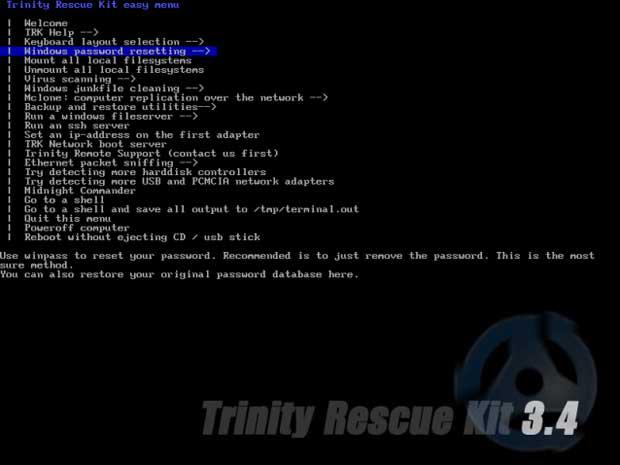 Step 4. On the next page, choose "Winpass prompts for username first" then type in the username of your computer.
Step 5. Now type "1" on the keyboard to clear the password from the computer and quit from TRK.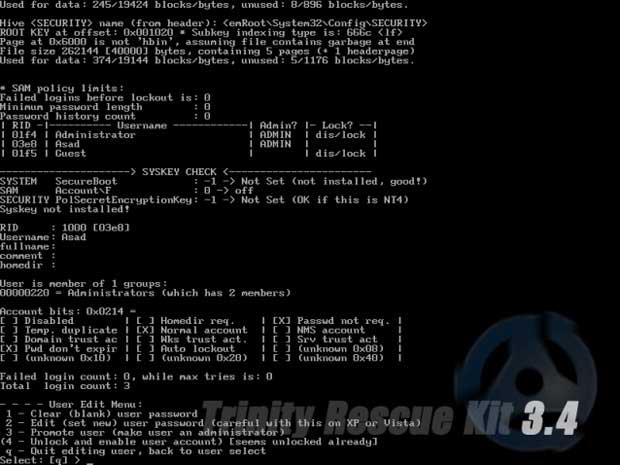 You will see the message that says "Password is cleared" indicating the password is removed from the computer.
PRO –
Free and fast recovery tool.
No acknowledgement of the old password is needed.
SO image file is very smaller in size. Just few MBs.
No installation of any software required.
CON –
Uses the old command prompt technique to remove the password from the computer.
Not compatible with 64-bit computers.
Need to download the ISO image on a different computer.
Won't work UEFI-based computer
Don't miss: How to Reset Forgotten HP Laptop Password on Windows 10/8/7 without Disk
Part 2. TunesBro WinGeeker – Alternative to Trinity Rescue Kit
In many cases, TRK shows unexpected errors that cannot be resolved. Moreover, it often malfunctions when one tries to crack Windows 64-bit computers. In that case, you will require a reliable Windows Password Recovery tool like TunesBro WinGeeker. TunesBro WinGeeker is a popular and fabulous Windows Password Recovery software that can overcome all the cons that other password recovery tools have. The built-in ISO file makes it very easy to detect SAM location then modify the user name and password in SAM file, once the SAM file was removed , means the password also was removed. Simply unlock the password on Windows 10/8/7/XP/Vista/Windows server without losing data.
It is very easy to use and you do not need to remember any of your old passwords to continue. It has successfully cracked over 1 million user computer passwords and there's no stopping to it. Using this software is so simple that any non-technical person can use this software without any instruction.
You need to Prepare:
Another working computer Windows computer
The WinGeeker program, download it here.
An empty bootable CD/DVD or USB drive.
Do I have to be a programmer to reset password with WinGeeker? Not at all. With just a few clicks on your mouse can reset the co mputer password. Even a child can operate this program.
Step 1

Make a Password Reset Disk

Install WinGeeker on any Windows laptop or computer. (A different system because you cannot access your own). Our next aim is to make a bootable disc with WinGeeker so that you can load it on the locked computer and unlock it. WinGeeker made it extremely simple to make the bootable disc. Just launch the software, insert an optical disc or removable USB drive then click on "Burn USB" if you inserted pen drive or "Burn CD/DVD" if you inserted an optical disc.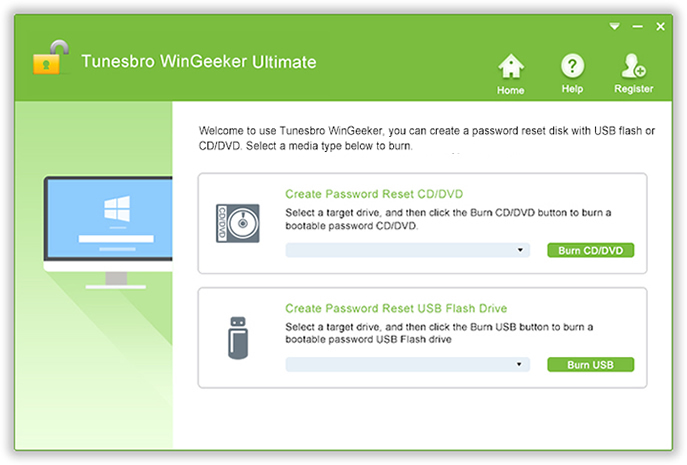 Step 3

Change The Boot Order in the BIOS Setup

Within few moments the bootable disc should be ready. Now, insert it back on the computer that belongs to you and turn the computer on. Then change the boot order to make the Windows boot from USB or DVD. Just press F2 or F8 or F12 or Del key on your keyboard repeatedly till the Boot menu appears, here you need to select the USB flash drive name to boot from.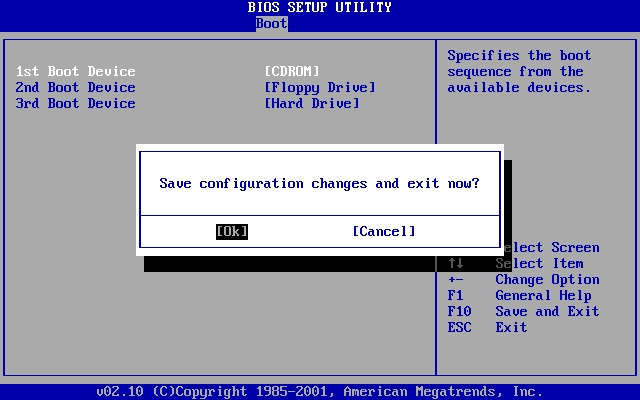 Step 4

Reset Your Password to Blank

The computer should automatically load the WinGeeker files and you will see the username of the computer. You just need to click on it once followed by clicking on "Reset Password".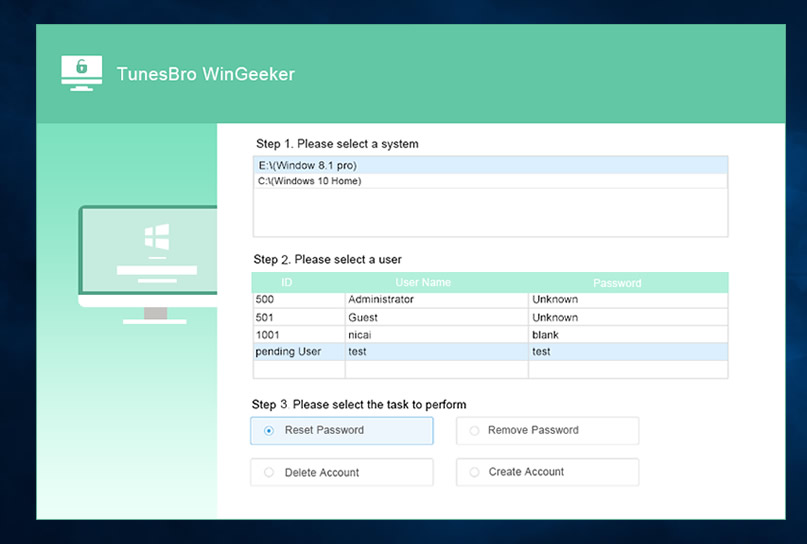 Yes! It was that simple and what's even better is that you do not need to enter any password when you reboot the computer next time.
What are thoughts on TunesBro WinGeeker?
Truthfully, we never experienced such a smooth operation before with any Windows password recovery tool whether its Trinity Rescue Kit, Ophcrack, John the ripper or NT Password. WinGeeker definitely is very easy to use and powerful enough to diminish any kind of password from Windows computer. We have always recommended our users to take uttermost precautions when it comes to protect the privacy of your computer or laptops. Even if you access your computer again, don't forget to protect it again with a lengthy password but this time write it down on a mobile app or save it in your main email ID. And always remember when you have no option to reset computer password, TunesBro WinGeeker can help you to recover it.

---