Text messages are crucial to our digital social presence. They keep a record of conversations, and can be very valuable when trying to trace a thread with one or more of your contacts. That is why it is important to backup your Android text messages on a regular basis. It keeps your data safe if something should happen to your device or it gets lost. This article outlines three different ways to transfer your SMS text messages to a computer or the cloud. Based on your specific need and preference, please choose the appropriate method for you.
Part 1 : How to Backup Android Text Messages to Google Drive
Google puts everything on the cloud, named Google Drive. All your Gmail conversations, documents, photos, etc. are stored in the company's cloud servers. You can also backup your messages to Google Cloud using a similar approach. The best part is that you don't need to hook up your device to a computer. The process is explained in the next paragraph.
If you have a smartphone or tablet running Android 8.0 Oreo or higher, you'll know that there's a built-in SMS backup feature. You can find this in Settings > Backup. On that inside page, you'll see an option to backup SMS text messages. The backups are automatic so if it hasn't been done already, you can do so now by tapping on the option.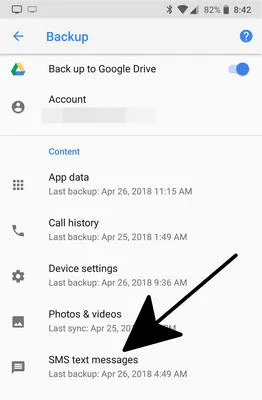 These messages will be stored in your Google Drive associated with that particular Google account. Newer Android devices will automatically restore the data to a new phone, but only if you choose that option during the setup. If you're running an older Android version, you can try the next method described below. Another major issue with this backup method is that messages can't be opened or previewed from Google Drive so you are not able to print the messages if needed.
Part 2 : How to Save Text Messages to Computer from Android
Google Drive is awesome but it is not perfect for some case. If you want to export and print text message, then Google Drive can't do that. In addition, transferring messages to computer is more safe to protect your privacy. No one could access without permission. So how to achive that? The anwser is TunesBro DroidGeeker, a comprehensive toolkit for managing Android device data. Aside from the transfer utility, you also have modules to Recover, Backup & Restore, Switch and several more. If you're tired of using manual methods to copy text messages from smartphone to PC, then this is the software for you. Millions of Android users all over the world trust this mobile data management toolkit.
The easy preview-and-transfer feature is probably the most attractive one. Your data is kept secure at all times, and you can transfer data effortlessly between devices or between a computer and your mobile device without having to worry about complex settings or needing additional tools. The process of how to backup Android text messages is outlined below in details.

Flexible option for SMS backup.
Preview text message before restore.
Support contacts, photos, music, video and app as well.
Work on latest Android 9.0 device.
Install or uninstall apps on computer in 1-click.
Step 1

Install TunesBro DroidGeeker and Connect Android to PC

Install the application on a desktop computer after downloading the file from the official website. Next, connect your device to the PC and launch the software.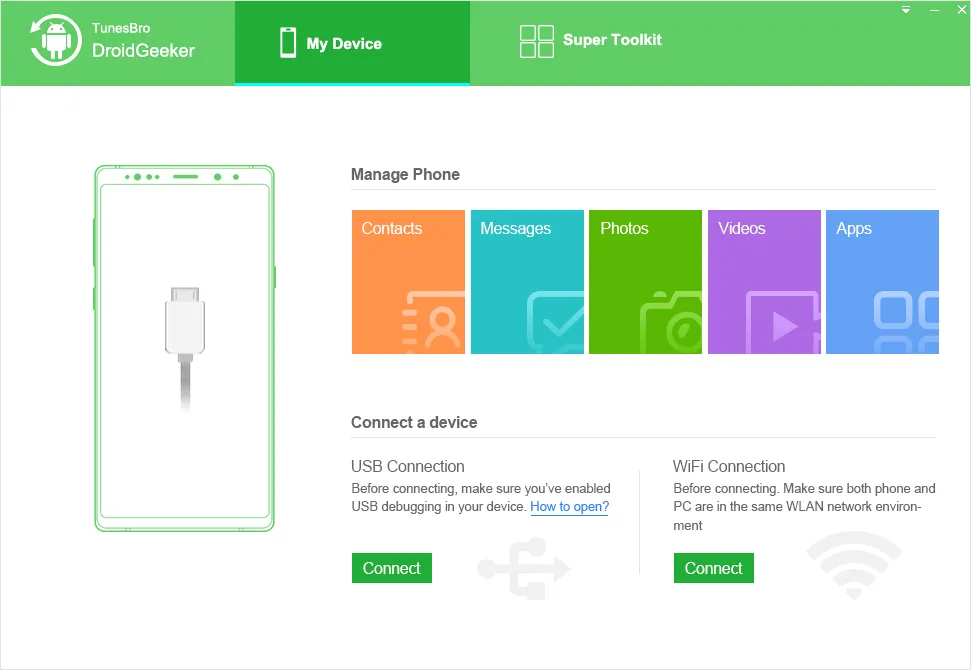 Step 2

Connect Android Phone to Computer

Click on the "Transfer" module in the main interface, and then choose the "Transfer Device Photos to PC" option. This will take you to a new window, where you can click on the "Information" tab at the top. On the left panel, click on "SMS" to preview all text messages saved on Android.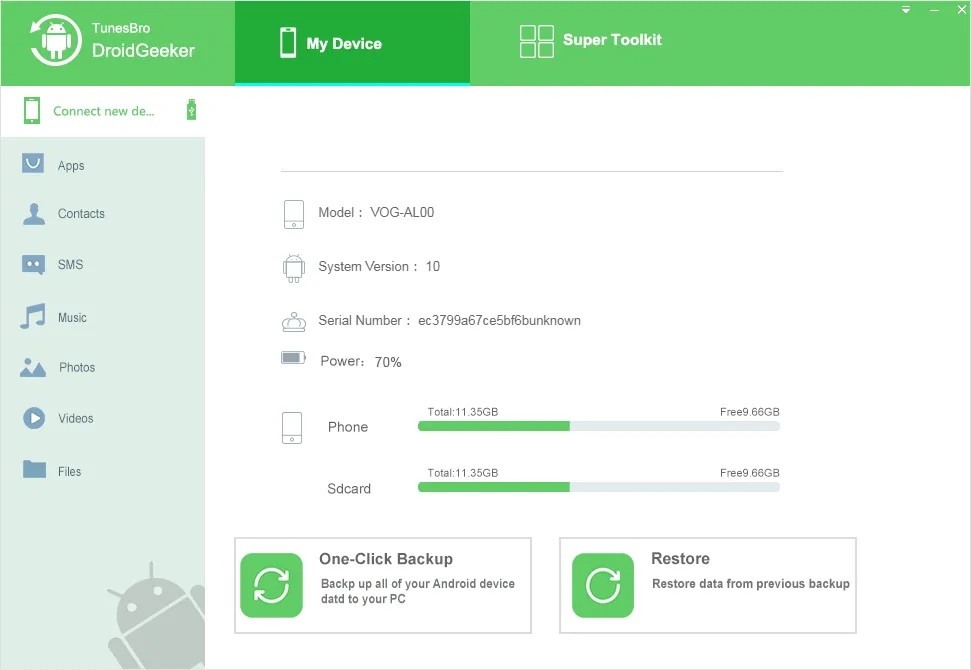 Step 3

Backup Text Messages on Android to Computer

All messages will be selected by default. If you need to backup all of them, leave the default setting, otherwise deselect the ones you don't want to transfer to your PC. You now have the option of exporting your Android text messages in xlsx, csv and txt formats. Choose the appropriate one, and your data will be exported to a desired location on your computer.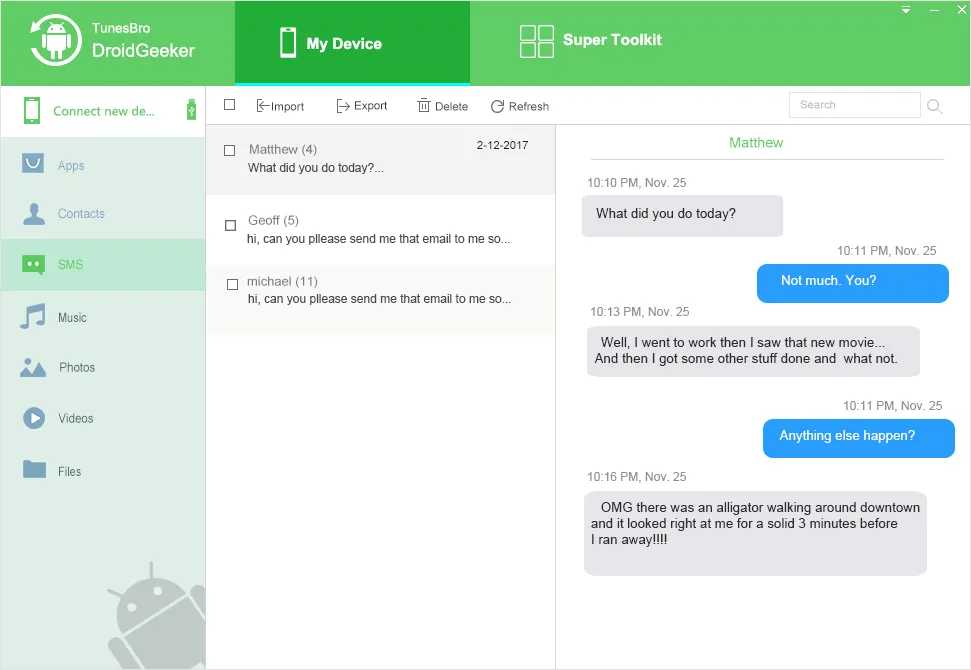 It is also recommended that you backup your other data to your PC. For this, you can use the Backup & Restore module that you saw on the software's home screen. Other tools like Switch can help move all data, including apps, from one device to another. You can even gain root access to your device with the Root function.
Part 3 : How to Backup Text Messages on Android without App
The third option we are covering here today is to manually export Android text messages as a database. SMS and MMS messages are generally stored in a common *.db format with SQLite. They may vary from device to device, but it is typically the same format. These files can be accessed using a software called adb, which you will need to install on your computer. Once installed, follow the steps described in the next section to export text messages to your computer as a database file.
First, connect your phone to the computer and enable USB Debugging on your device by going to Settings > About Phone and tapping on Build Number seven times. When you go back one step, you'll see Developer options, where you can turn on USB Debugging. Once this is done, open Command Prompt on your Windows PC. You can also use Powershell or the command line interface (CLI) in Linux Terminal. Run the following commands in the sequence shown.
adb root
adb shell
find / -name "*mmssms*"
exit
adb pull /PATH/TO/mmssms.db /PATH/TO/DESTINATION/FOLDER

Executing these commands will create a copy of your database file on your computer in the destination folder you specify in the last command. If you're not comfortable with command line work, then the recommended approach is using TunesBro DroidGeeker. No technical expertise is required, and your text messages can be exported in a readable format for future reference.

---