Switching to iPhone 8? Upgrading your Android device? Trying to make extra space on your Moto phone? In any of those mentioned cases, the first thing you will need to know is to how to wipe out the old phone. Resetting Moto phone will keep your device up to date and the performance will never go slower than before. On the other hand, if you were selling your device then wiping it completely should be your top priority.
In this tutorial, we will teach how to erase a Moto phone that can be used for both personal and commercial purpose. Basically, if you factory reset the phone then surely, it will delete all content on the phone but it should be used only for personal purpose because the deleted files are still on the phone. If you were donating or selling your phone then you should make sure wipe the phone clean so that no one could recover it ever again. We will demonstrate all the ways to remove everything from Moto phone in the below sections.
Method 1: How to Factory Reset Moto G/X/E
Factory reset simply means that your phone will be reset to the factory state like when you first bought it. It will certainly remove every single data from your phone so make sure to have a backup before proceeding with the following steps.
Step 1. Press 'Settings' from your phones Home menu.
Step 2. Then go to 'Privacy' followed by 'Factory Data Reset'.
Step 3. Now, touch Reset Phone and wait for the device to reset everything.
Step 4. Make sure to eject the SD card from your phone too if you are not giving it to the new owner.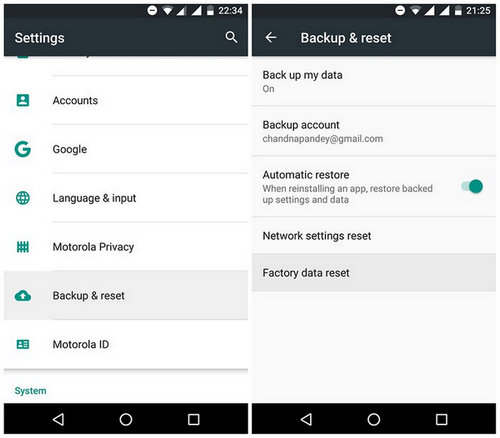 Warning: According to the latest tech report, the data being deleted after factory is still recoverable with the help of professional data recovery tools. So this is not an secure method for protecting your privacy. In such a case, Method 2 is the best way to delete all data on the phone completely.
Method 2: How to Completely Erase All Content and Settings on Moto Phone
If you are selling or giving away your phone then obviously the above methods are not safe because if your phone falls on any hackers hand then they can easily recover your personal pictures and documents and destroy your credibility and reputation. In that scenario, you must erase everything from your phone permanently with 0% recovery possibility.
Unfortunately, there is no in-built feature on Android or Moto phones that could accomplish this task. However, you can take assistance from TunesBro DroidWiper to destroy everything from your phone permanently. It is a well-known Android data erasing software that can delete sensitive information from your phone in minutes. It can erase over 40+ data types that includes photos, videos, messages, documents, apps, and app data and so on. It is guaranteed that no data can be recovered after being deleted by TunesBro DroidWiper, so it is highly recommended to make a full backup of your phone before even thinking to use this program.
Step 1

Install and Open TunesBro DroidWiper

First, download the program from the official website and install it like a regular software. Next, launch the tool and follow these steps to wipe out your device.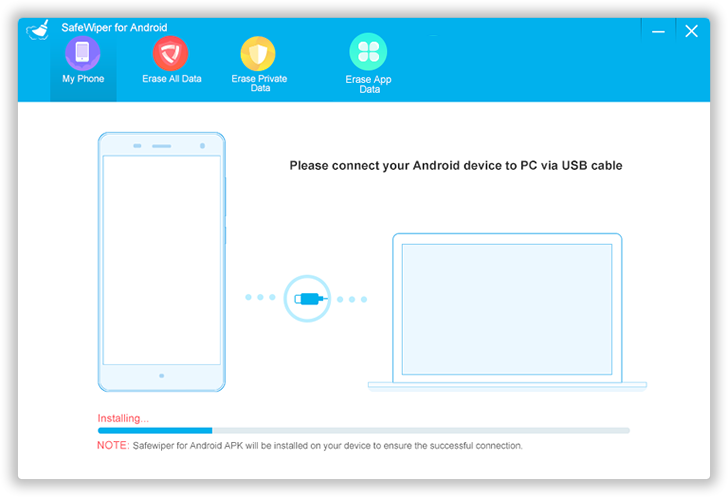 Step 2

Turn on USB Debugging on Moto Phone

Connect your phone to PC and enable USB debugging mode by going to Settings > Developer Options > Enable USB Debugging.

Note: If your phone is still not detected; then download and install the latest Android USB driver on that computer.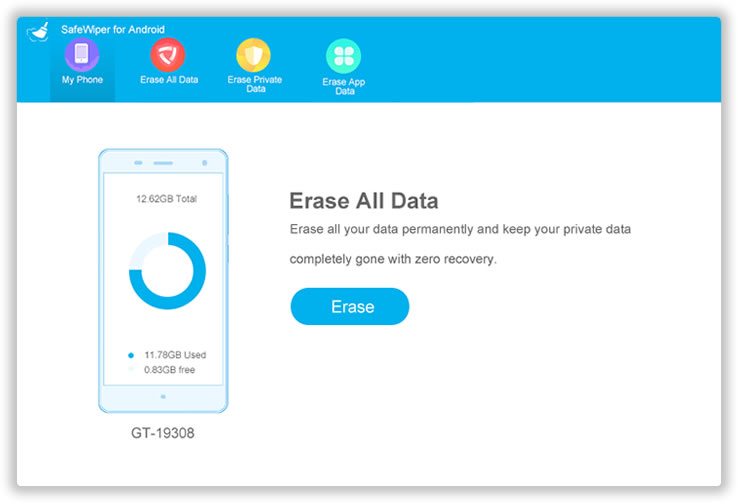 Step 3

Wipe All Data from Moto Phone

DroiWiper offers 3 innovative ways to erase data from your phone. If you wish to wipe out your phone completely then choose "Erase All Data" and if you want to erase app data then choose "Erase App Data".

Now let the program scan your entire device and once it is finished, the program will let you preview all data before deleting them permanently. Select all the data that you wish to remove and hit the "Erase" button. All Done! Watch your phone's data go out of your device forever.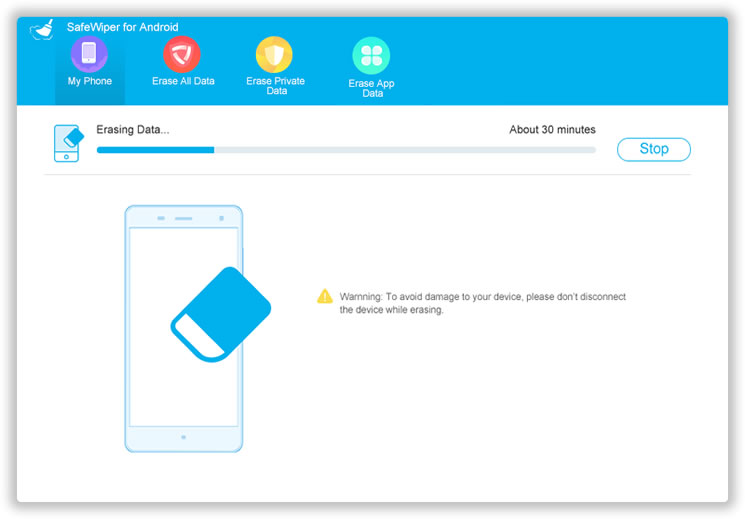 Method 3: How to Hard Reset Moto Phone in Recovery Model
Another way is to hard reset your phone from recovery mode. Every Android smartphone has this feature by default but it needs special combination of pressing keys to activate the option. Please follow the below steps to hard reset your Moto phone in recovery mode.
Step 1. Turn off your phone and reboot it by pressing "Volume Up + Volume Down + Power" buttons together.
Step 2. As soon the phone enters into recovery mode, you should be able to see series of options to choose from. Use the volume up and down buttons to navigate through the options.
Step 3. Select 'wipe data/factory reset' option and press the home button to select it.
Step 4. That's all. Wait for few minutes to finish the resetting process and after it is finished, your phone will be restarted with the Welcome screen.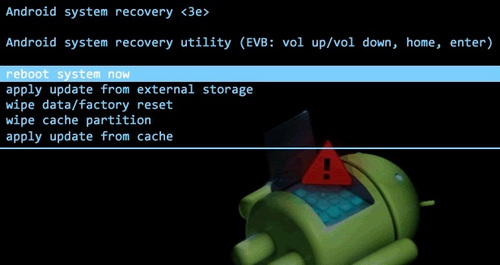 Final Words:
We always recommended not to compromise with the privacy and security of your personal data. Millions of identities are stolen every year that are recovered from used phones. You can never trust anyone these days and thus, you must erase your phone permanently before handing out to anyone. TunesBro DroidWiper does a lot of help to achieve that task effortlessly. It is assured that no one can restore any data once they are deleted with this data erasing tool.

---
Related Articles & Tips
How to Erase All Data on Android