I can dare to say that Samsung smartphone users just hate having to go through all the files on your phone. In today's modern standards, it has just become quite a chore to many of us. One simple solution is to backup the data to PC so that we will have a secure place to store the data and we can delete unimportant ones on the phone to make it faster and easy to use.
With the amount of methods and information out on the Internet right now, how could any of us possibly cycle through all of it? But fear not, here we have the solution to all your problems. In fact, we not only have one but three Samsung backup software that will surely save your life. Backing up all of your files and information has never been easier. With a magic tool like any of these by your side, in a click of a button you'll save yourself so much stress! So here they are right before you, the best Samsung backup software the world can offer.
Samsung Backup Software Option 1: Smart Switch for PC
First up on our list is Samsung Smart Switch. If you've never heard of this yet you'll be happy we told you. Got a new phone and don't want to go through your files one by one to transfer them? Then this is the application for you.
Samsung Smart Switch allows users to easily move all their files from ANY phone, and that includes IOS to their new phone. And we don't mean just the necessities; it literally moves your entire phone into the new one. From alarms to messages and even the end of your photo gallery. This Samsung backup software does it all!
Using a nifty gadget known as Wi-Fi direct, which is like a Superman version of Bluetooth, you can easily do this anywhere you desire. And if that's not that way you roll, Samsung Smart Switch has got you covered. Not only can you do it wirelessly, you may also back up your files using a USB cable or you may link it to your PC or Mac.
So why wait? Grab this application and see the magic for yourself. Transfer your files in no time, with just a few clicks. Heck you might even fancy yourself the name of being tech savvy after doing this.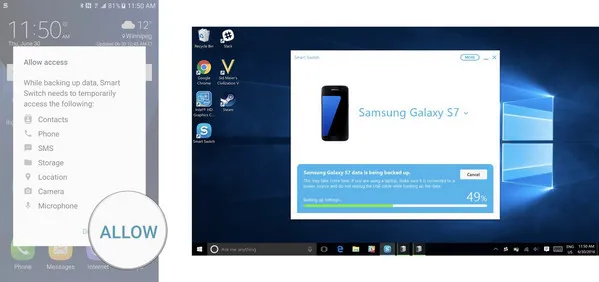 However, I had no luck with Smart Switch when I was using it to backup my Galaxy S7. It keeps saying internal memory is not enough on the phone and the backup process was stuck around 60%. I have tried in on both Windows 10 and Mac. The problem still exists. So for the users who had the same experience as me, don't be afraid. There are better choices out there.
Samsung Backup Software Option 2: Android Manager
In the age of digital world, I can say most of people have a computer in office or at home. When it comes to data backup, computer is still our preferred chocie because of efficiency. It would take hours to upload files to cloud storage for backup. So our first suggestion in here is to backup phone data to PC.
Next on our list is Android Manager, an application for those who wish to integrate their mobile lifestyle into one easy-to-reach place. Just like the Samsung Smart Switch, this will allow you to back up your files and send them into your other phone. Now you might be thinking "So, how does this differ from the first app?" They keyword here is integration, and this Samsung backup software does more than just backup. Android Manager is designed as a multi-file manager, with features that range from rooting your device to data recovery. After setting up the app, you will be greeted with a friendly user interface where you will be able to modify anything to your heart's content. If there's an all-in-one application that we would recommend, Android Manager clearly takes the number one spot.

Flexible backup option: whole backup or selectively backup
Able to view or print backup file from a computer
Directly install and uninstall apps from computer
Remove duplicate contacts and send sms via desktop
If you value your mobile lifestyle like we do, then this Samsung backup software and file manager tool is the one for you. Just download and it will welcome you into a world you'll wish you would have known sooner. Please check this guide to see how easily to backup Samsung device.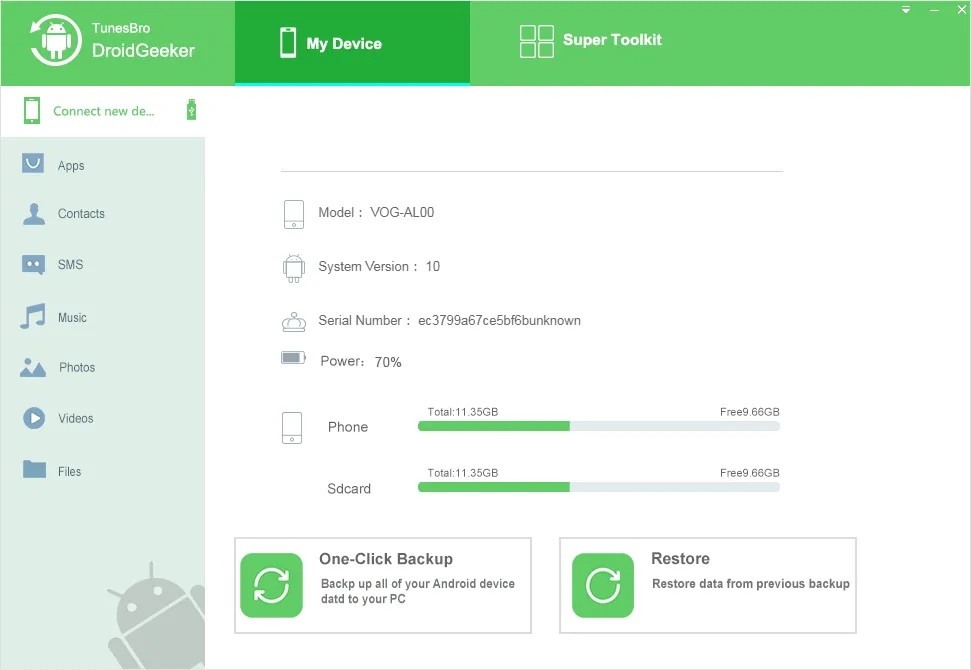 Samsung Backup Software Option 3: Phone Transfer
Last, but definitely not the least, we present to you Phone Transfer. We've kept our promise so far by providing you with Samsung backup software that are equally as good and different in their strengths. What makes PhoneTransfer different from the previous applications.
The beauty of this program lies within its compatibility—it is network agnostic. By being network agnostic, it allows you to connect to several big networks like Verizon and Sprint, just to name a few. It is also compatible with over 6,000 different mobile devices! The best part is that your can transfer all kinds of data—SMS, photos, and other file types—between devices directly and without any loss.
For data backup, simply download and install the program on a PC or Mac computer. Open the program and you will see the backup option on the first screen. Now click on it and connect Samsung device to the computer. Once it is detected by this program, you can choose the data to backup it up. One thing to note is that you can't view backup file under this method. However, the second method is able to do that.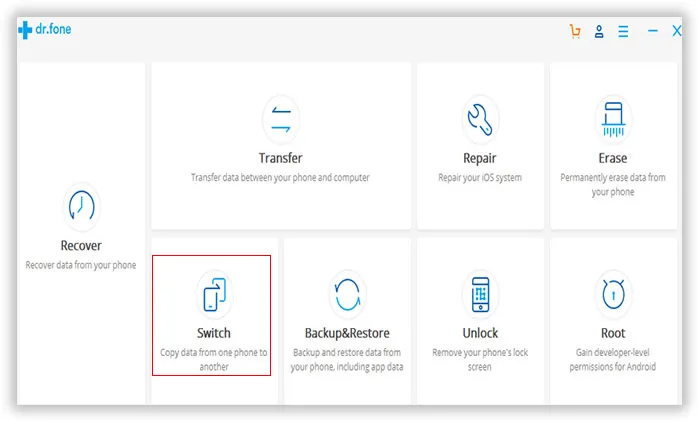 The Bottom Line
We hope we have provided you with all you need to know which Samsung backup software is for you. Always remember the key to choosing the one that's right for you is which one you're most comfortable with. So, don't hold back and give all of them a try, because your experience with each app will determine which suits your way of life the most. We hope that these three Samsung backup softwares will be your go-to tools.

---