Your messages is precious to you as you try and pick up pieces of information from SMS exchanges with friends, family or colleagues. The problem is, when you change your device, unless you've planned for it, you won't have access to any of your SMS or MMS messages from your older Android phone. The best solution is to plan ahead, and install a trusted backup and restore software on your PC so you can take regular backups for restoring later if you need to. In addition, if there were too many messages on the phone, it is recommended cleaning it up and making a local backup instead.
For Android message backup, SMS Backup & Restore used to be a great consideration. However, we heard a few users reported that this app won't work on latest Android 8.0 smartphone. So we need to look for other choices to replace this app for message backup. Actually, there are some great software utilities out there for this purpose. Some of them are free and fairly useful for basic tasks, but the premium ones are where the real action is. Often, they'll have a ton of other useful features that you'll need down the road. Here's a quick look at three of the most popular SMS backup and restore apps for Android.
SMS Backup & Restore Alternative 1: SMS Backup+
One of the most straightforward ways is to backup everything to your Google account. It's free upto the 15GB limit that Google provides per individual user account, and it's stored on the cloud in perpetuity for whenever you need it. But if you specifically want to backup your text messages for restoring later on to another device, then you can use SMS Backup+ app from Google Play.
The app is meant expressly for backing up SMS and call log records and you'll be able to access it via a unique label in Gmail. It doesn't support MMS messages restoring yet, but it for basic message backup and restore functionality this is the perfect app. It's free, it's super-simple to use and the settings offer some amount of flexibility. However, you can view or print exported messages on a computer within this app.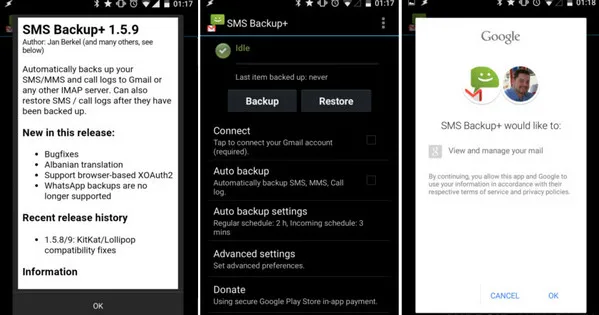 SMS Backup & Restore Alternative 2: TunesBro Android Manager
This premium utility comes as a suite of tools for Android and iOS devices. The various modules alllow you to accomplish various tasks such as backup & restore, transfer, switch, root, erase and other essential phone management activities. The one we're discussing here is TunesBro Android Manager. You can easily transfer text messages back to computer as well as photos, contacts, music and call logs. The backup feature is much more flexible than SMS Backup +. And it should be the must-have app if you owned an Android device.

Backup SMS to computer in 3 formats: CSV, XLSX and TXT
Import and export data easily between Android and computer
Directly delete contacts on computer
Uninstall and install Android apps from computer.
Step 1

Download and Install This Program

Download and install Android Manager to your Mac or PC. Open the utility and connect your device using a USB cable. You should be able to see your device on the main interface.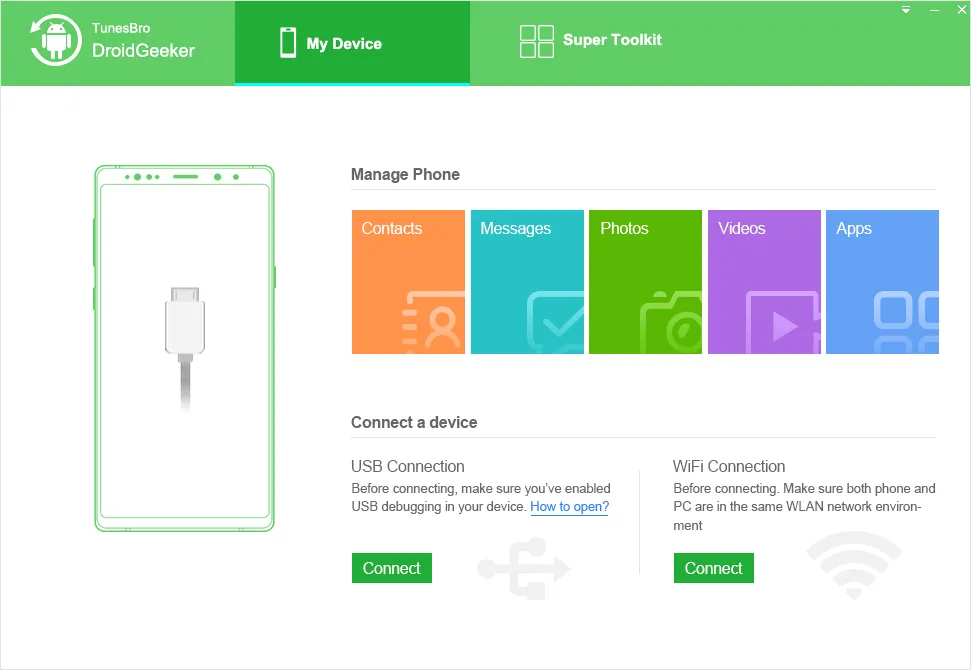 Step 2

Click "Information" Tab

At the top, select the tab that says "Information", then on the left side, click on the "SMS" option. You'll see two more options: All and Unread Messages. Choose the category you want to transfer.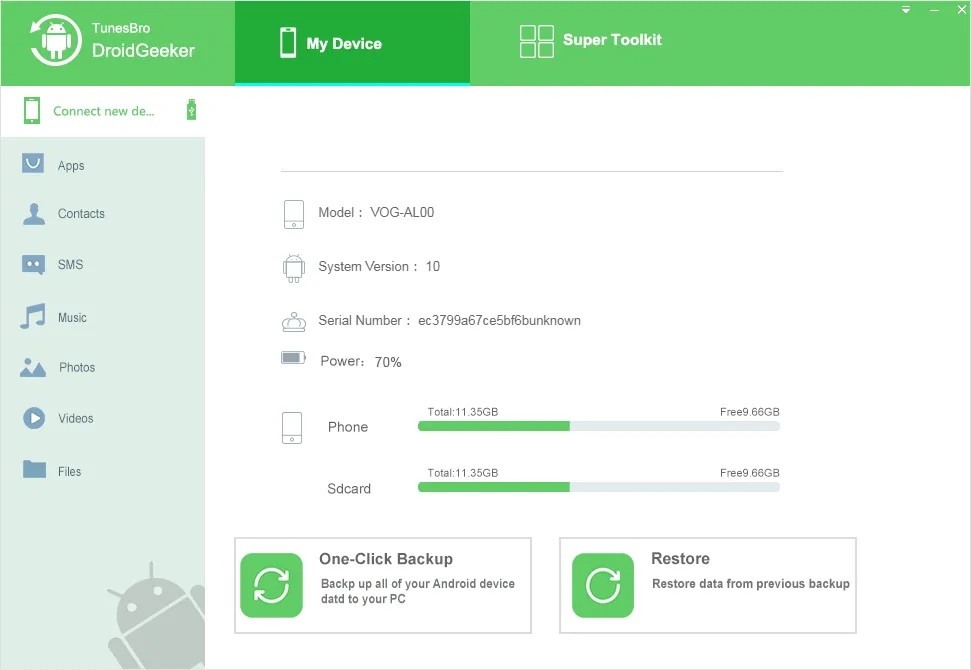 Step 3

Select Data Type for Backup

On this page, you'll also see an option to "Export" from there and select the export format - .xlsx, .csv or .txt. Once you select the option, the utility will rapidly transfer everything to a location of your choice on your PC or Mac.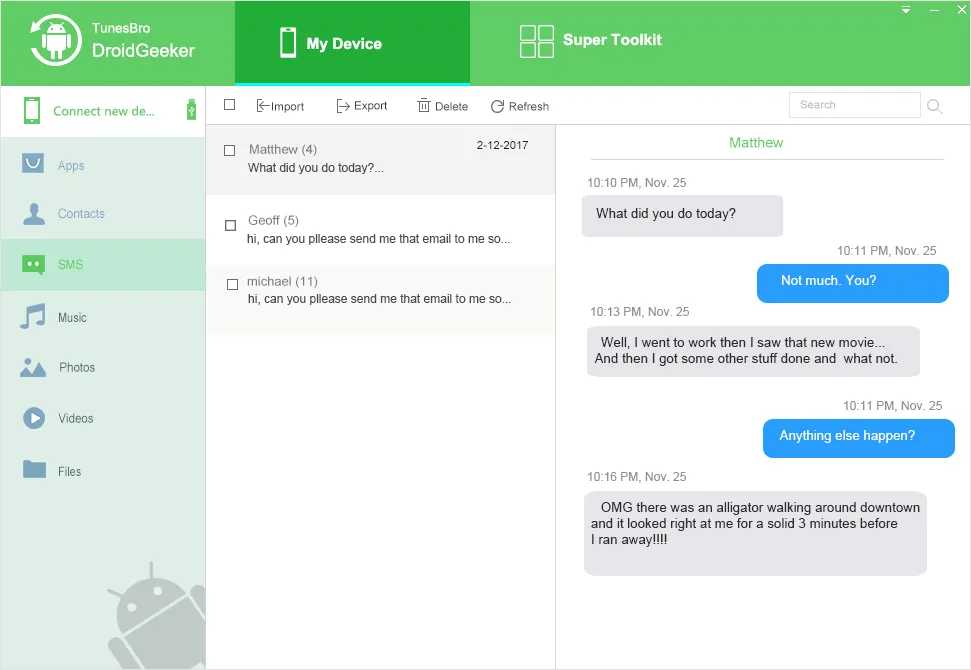 And you're done with the backup! Now, when you want to restore your messages to another device, you can use Backup & Restore module, select the backup file from your computer and everything will be transferred to the device.
SMS Backup & Restore Alternative 3: Super Backup & Restore
This mobile app backs up your messages to phone's memory card. Essentially, you can use your SD card as your memory device for restoring your messages to another device. Simply do the backup on one device, then mount the card on another device, download the same app and restore all your messages to the new device.
It's a quick way to transfer SMS threads in that you don't need a PC. You also have the option to backup apps, contacts, calendars and other utilities.
One word of warning, though: since this app needs to run in the background during scheduled backups, if you're running a task killer or other device management app you'll need to add this app to the whitelist so it doesn't get prevented from running.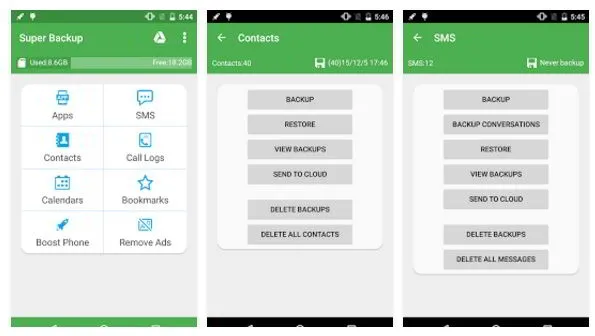 Summary:
All of these methods are very simple to use because developers today know the value of the user experience and the need for intuitive interfaces. The only thing left for you to decide is whether you want a simple SMS transfer application or whether you need a more robust solution that can handle any situation you come across on your Android device.

---