As a LG user, when you received the new Samsung Galaxy phone such as Galaxy S10 or Note 9, the very first thing you should do is to transfer content from old device to Samsung. This would be a nightmare if the old phone was filled with photos, music, videos, apps, contacts, etc. becuase you have to take a lot of time to move them to the new phone. Time is money is nowadays and people are preferring convenient way to get this done.
Before you took the phone to computer expert who will charge hundreds of dollars just to transfer data from one smartphone to another; we would like to share a few useful tricks on this topic. All of them have been tested by our editor and it is your own choice to select the right one from the list. The transfer is mutal in Method 1 and Method 2, which means the steps are the same for any Android to Android migration.
Method 1: Transfer Photos/Music/Video from LG to Galaxy S9/S8/Note 8 via Google Drive
Google Drive is a popular and trusted Android app developed by Google. It allows you to upload up to 2 GB of data on their cloud server that could be accessed anywhere in the world by using the same Gmail account. Here's how to use Google Drive to send data from LG to Samsung Galaxy phone.
Step 1: Go to Google Play Store and install Google Drive app on both phones.
Step 2: Open the app on LG smartphone and tap on the "+" icon to upload all the data from your phone to Google Drive.
Step 3: Login to the same Google Drive account on your Samsung device and download the files on your device.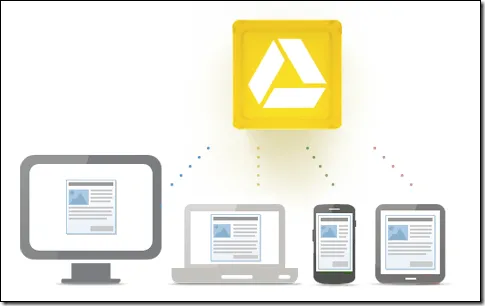 Cons:
1. Time consuming since all files needs to be uploaded one by one.
2. Can't transfer messages, apps and app data.
Method 2: Transfer SMS from iPhone to Samsung Galaxy or Samsung Galaxy to iPhone
If you want to transfer everything from LG to Samsung with just one click then the best program to conquer this task is TunesBro Phone Transfer. It is a third-party tool to transfer data between two smartphones via USB connections. You are free to select what kind of data you wish to transfer and finish the task just within minutes. Simple and effective!
Currently it is available on both Windows and Mac platform and it supports over 5000+ Android devices. Moreover, it supports other mobile os like iPhone, Blackberry, Symbian and Windows smartphones. It is totally an all-in-one solution when it comes to transfer data from one phone to another.
Supported Device: Samsung Galaxy S8/S9/S9+/S10/S10+, Galaxy Note 8, LG G7/G6/G5/G4, LG V30/V20/V10, LG K30/K20/K10 and 2000+ more.
Step 1

Prepare: Download & Install

Download and install the software on a Windows or Mac computer. Run the program and click on "Switch" from the main screen of the tool.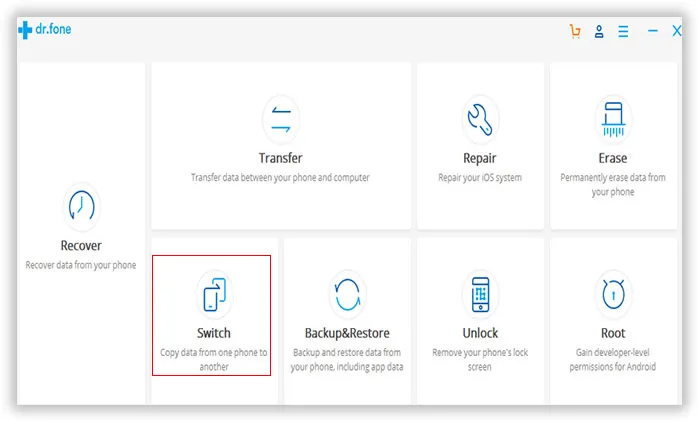 Step 2

Turn on USB Debugging and Connect Phone to Computer

Connect both Samsung and LG smartphones on your PC using 2 different USB data cables. And don't forget to enable USB debugging on both phones. A few seconds later, you should see the two phones are scanned by the program. Make sure the source is set to LG smartphone and the destination is set to Samsung phone.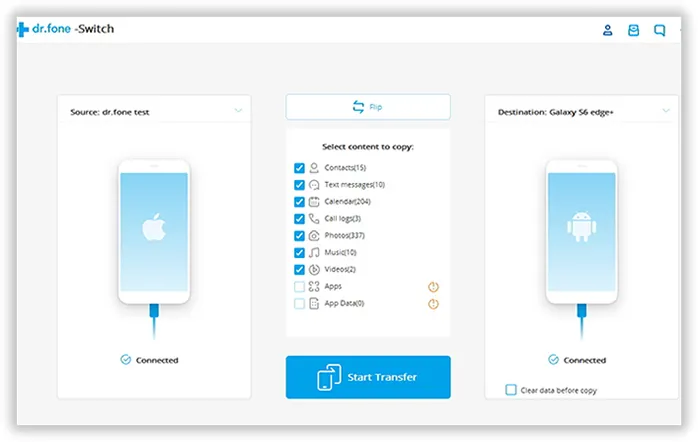 Step 3

Move Selected Contacts/SMS/Photos/Music/Videos/Apps to Samsung Galaxy Phone

Choose the data from the "Select content to copy" menu and hit "Start Transfer" button. Done! You can track the transferring process and once it is completed, you can remove the USB data cables and your Samsung phone should have all the data from LG phone.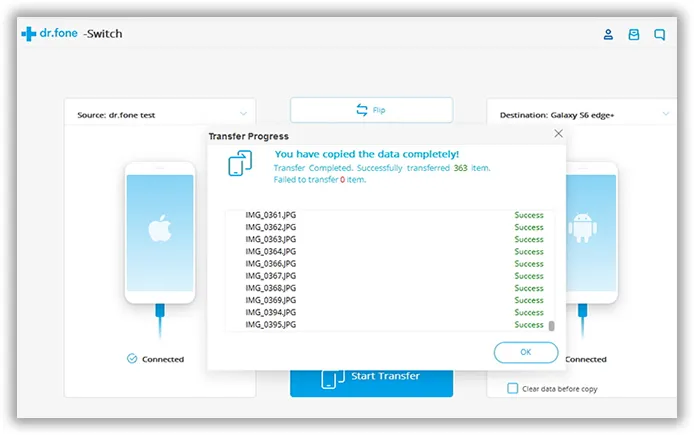 This method takes the less time and able to move all kinds of personal data to a new phone. So it is highly recommedned. Still not decide? Why not just give it a try?
Method 3: Send Data from LG to Samsung with Smart Switch App
Another useful app to transfer content from LG to Samsung is called Smart Switch Mobile. It is an intuitive app exclusively developed by Samsung to help users to send information from other device to Samsung smartphone. It is freely available on Google Play Store but the steps are more complicated than the above two methods.
Step 1: Install Smart Switch Mobile on both phones and open the app at the same time.
Step 2: From your LG phone tap on "Start". On the following page, tap "Wireless".
Step 3: From LG phone tap on "Send" and from Samsung tap "Receive". Then, choose "Android" from the next page.
Step 4: Next, select all the file types that you wish to move and tap on "Send".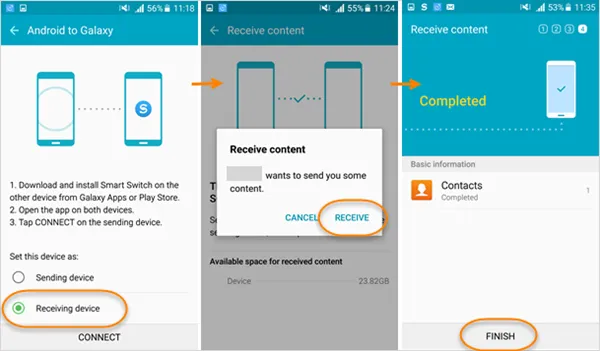 Cons:
1. Old LG or Samsung devices not supported.
2. Can't transfer app or app data.
3. Connection breaks frequently and time consuming.
Conclusion:
As long people are buying smartphones, this tutorial is really helpful because you never really want to leave your old data behind especially contacts, messages, pictures and videos. However, we will recommend using a professional tool like TunesBro to send all data from Android to Android. On the other hand, you can even exchange data between Android to iPhone, iPhone to BlackBerry, Blackberry to Windows and vice versa. Hope you guys liked this article and don't forget to hit the share button.

---