If you have bought a brand new HTC U11 then undoubtedly, you have realized it is way better than the best Android smartphones these days. But, let's get down to the business and talk about the main concern of this topic. How to switch smartphones and at the same time keep all the data from your old phones?
Well, this tutorial is solely based on transferring content such as photos, videos, contacts, messages, notes, apps from different phone to HTC U 11. Nowadays, people mostly use Android, iPhone or Blackberry. So, if you are using any of these and want to learn how to transfer data from them to HTC U 11 then this guide will be a perfect place for you are looking.
Firstly, you must know that Blackberry, Android and Apple use different operating systems and that's why there's no way to interconnect them and transfer data directly. Either you will have to take help from a third party app or desktop software. So, embrace yourself and have a cup of tea and keep reading this guide to know how to accomplish this task successfully.
Method 1: How to Transfer Messages from Android to iPhone with Move to iOS App
Like we said, there is no way to connect these phones directly but we can connect them with the help of a third party app. For this part, we will use Shareit app because it is available on both iPhone and HTC U11. Here's how to transfer data from iPhone to HTC U11 with Shareit app.
Step 1: First install Shareit app on Android and iPhone. Then open the app on both phones.
Step 2: From the iPhone, tap on "Send" and from HTC U11, tap on "Receive" and connect both phones.
Step 3: Choose all the music, pictures, apps and games from iPhone and tap on "Send" again to transfer them from iPhone to HTC U11.
Step 4: You will need to install the apps manually on your HTC U11 but rest of the multimedia files can be played directly without any problem.
Cons:
1. Contacts, messages and other database file types cannot be transferred.
2. Mess up the device for centain models and can't connect phone.
3. Install bloatware silently on your phone.
Method 2: How to Transfer Content from Android to HTC U11
Since both Android and HTC U11 uses Android platform, it is easier to connect them with Xender. Xender is a file sharing app available on Google Play Store for free and can transfer over 20+ data types from one Android phone to another. It is very easy to use and super fast to transfer files.
Step 1: Go to Google play store and install Xender on old Android phne and HTC U11.
Step 2: Open the apps on both phones and from the Android phone tap on "Send" and from HTC U11, choose the receive option.
Step 3: Establish a connection between two and both phones should be ready to send and receive data now.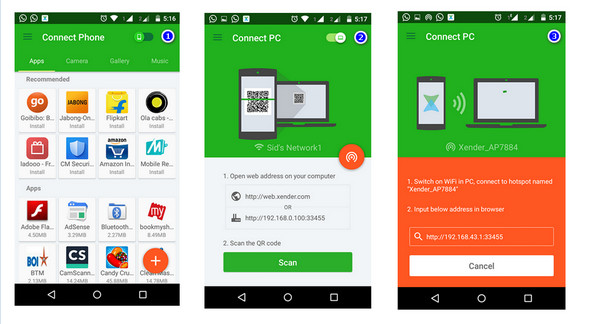 Step 4: Choose the pictures, videos, documents and other desirable data from the Android phone and tap "Send" to transfer them to your new HTC U11.
Cons:
1. Can't transfer contacts and messages.
2. Ad-hungry app with a lot of pop-up ads.
3. Ugly UI that is not up to date.
4. May send private information to unkown sources.
Method 3: How to Move Contacts/Photos/Music from Blackberry to HTC U11
Blackberry phones are a little tricky to handle and unfortunately there are no apps available on blackberry that is supported with HTC U11. So, to transfer data from Blackberry to HTC U11, we will have to go back to the old school method and use Bluetooth to transfer files.
Step 1: First, activate Bluetooth on your HTC U11 by going to Settings and toggle on the Bluetooth option. Make sure to enable the visibility option to receive files from other smartphones via Bluetooth.
Step 2: Then, turn on the Bluetooth option on your Blackberry phone and tap on "Add a New Device" option and pair your HTC U11 and Blackberry phone.
Step 3: Now that both phones are connected, you can send any files from your Blackberry to HTC U11 one by one.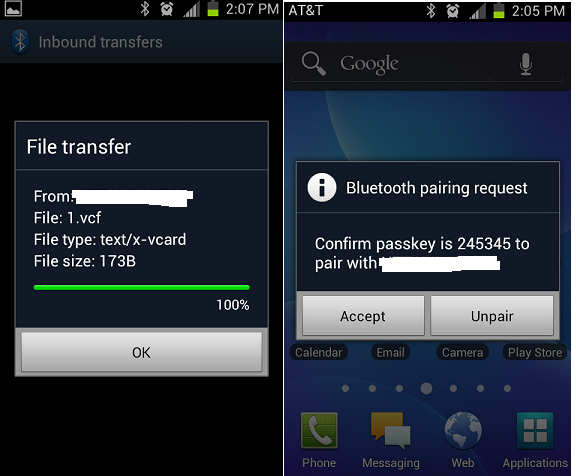 Cons:
1. Incredibly time consuming methods and will take you hours to send and receive data.
2. Cannot send all files at once and must be done one by one which is very inconvenient.
3. Text messages, call logs, notes can't be transferred.
Method 4: How to Transfer Data from Other Phone to HTC U11 with a Single Click
Now, that we have discussed all the possibilities to send and receive data using other apps and Bluetooth, it is time to introduce you guys to a much simpler way to send and receive data. What if we told you that you can actually send all the data from your Android, Blackberry, Apple or Windows phone to HTC U11 with a single click? Sounds unbelievable, right? Well then buckle up because TunesBro Phone Transfer is here to make that dream come true.
TunesBro Phone Transfer is a fabulous and efficient data transferring desktop software that can move different types of data from other smartphones to HTC U11 with just 1 click. The transferring speed is much faster than Bluetooth or data transferring app. The program is also built with a great UI so there is no challenge in using it. As far as I know, this is the most popular data transfer solution in 2017.

No data quality will be compromised and no data loss will occur.
500 times faster than Bluetooth or any other data transferring app.
Over 50+ data types can be transferred including contacts, messages, notes, reminders, pictures, music, videos, etc.
Restore backups from iCloud, Kies and other cloud services.
Support over 2000+ devices, including iPhone 8/7/6S/6/5S, HTC U11/M10, LG G5/G4/G3, Samsung Galaxy S8/S7/S6/S5, Sony XA/XZ, Moto Z/X/G, OnePlus, Lenovo, Xiaomi and other 2000+ model.
Step 1

Download and Installation

Install the latest version of MobileTrans on your Windows or Mac computer and open it after finishing the installation.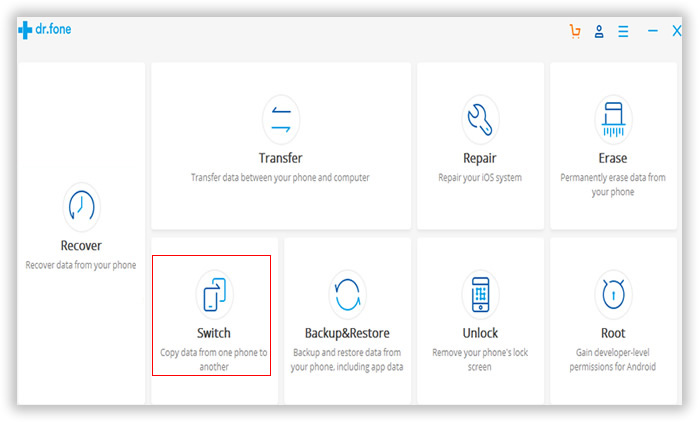 Step 2

Connect Old Phone and HTC U11 to PC or Mac

Connect both phones to PC using 2 different USB data cables. One phone will be your new HTC U11 and another phone can be Android, Blackberry, iPhone or any other model.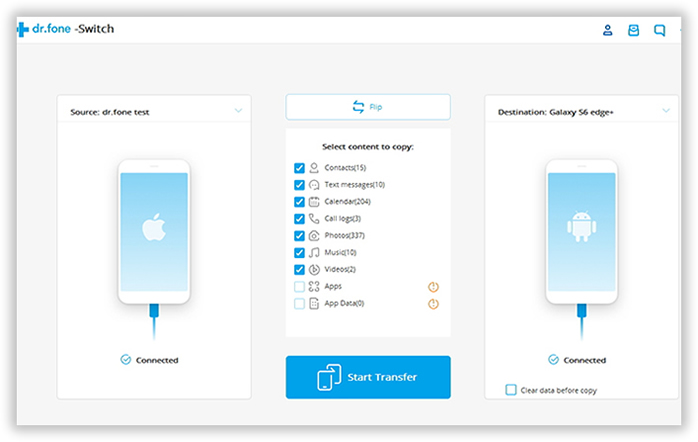 Step 3

Select Content Types and Prepare for Transfer

Choose "Switch" button from the main interface of the program and on the next window, make sure the source phone shows the old smartphone and destination shows your HTC U11.

Choose the data types that you wish to transfer such as contacts, pictures, videos, music, apps, etc. and hit "Start Transfer". The data transferring process will initiate and at this point leave your phones alone and keep them connected to your PC unless and until the transferring process is successfully finished.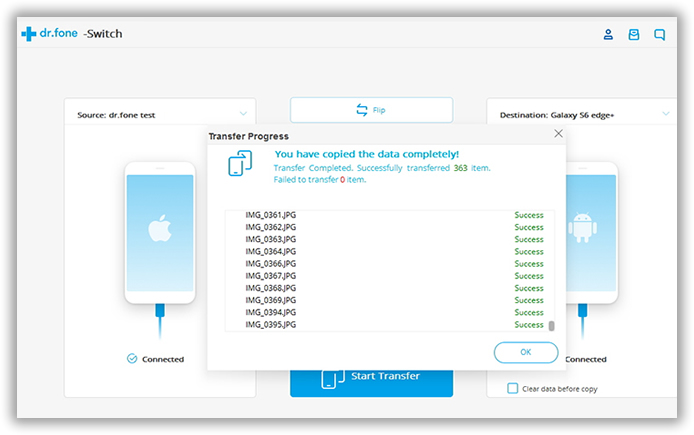 You may check your HTC U11 now and it should appear all the data from your old smartphone.
So, this was a long detailed guide explaining how to transfer items from different types of smartphones to HTC U11. If the platforms and operating systems are different then transferring data can be challenging but fortunately, we have lured around the internet and found the best solutions to transfer data from one phone to another. But, if you want to make this process easy and hassle free then you can of course use TunesBro Phone Transfer to finish this process quickly. It is an extremely fast and reliable tool for data transfer between smartphones.

---