One of the main purposes of buying high tech quality smartphones like iPhone X and Samsung Galaxy S9 is to take astonishing photos and listen to music with the new stereo settings. Not to mention, these smartphones can take so much high quality pictures that you don't even want to buy any digital cameras. And if you are using iPhone or Samsung Galaxy then you have already noticed that with 64 GB of storage space you can fill as many items as you want, such as photos, music, videos.
But if you are switching from iPhone to Samsung Galaxy S9/S8 or vice versa then you might want to transfer the photos and music from one smartphone to another. Unfortunately, there is no in-built tool provided by Apple or Android that can directly send pictures and music from one phone to another due to their distinct operating systems. But, we will show you how you can transfer photos and music between iPhone and Galaxy without losing any data.
Method 1: How to Transfer Files between iPhone and Galaxy by Using Send Anywhere App
Send Anywhere is a free app available for both Android and iPhone users. The basic function of this app is to transfer audio, videos and pictures from your iPhone to Galaxy S6/S5 and vice versa. The app is a little complex to use but we will show you how to implement this app to exchange files between smartphones.
Step 1: Download Send Anywhere app on your iPhone as well as Galaxy S6/S5 and install it on both smartphones.
Step 2: Tap "Send" from the source smartphone and select the photos and music items that you want to send to the other smartphone.
Step 3: Again tap on "Send" from the bottom of the screen and the app will provide a one-time PIN and a QR code to authorize the transferring process on the other smartphone.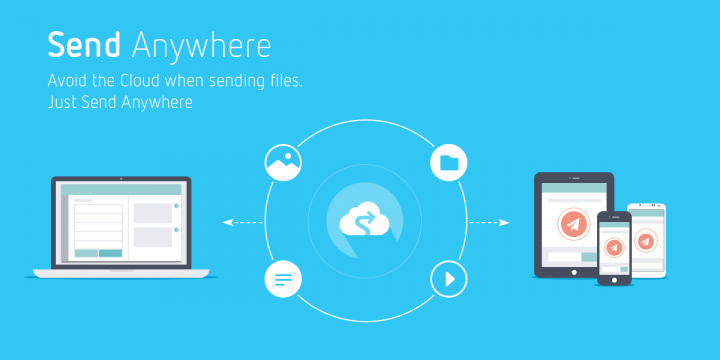 Step 4: From your destination smartphone, tap on "Receive" and enter the PIN or scan the QR code to receive all the photos and music that you sent from the source smartphone.
Cons:
1. Ad supported and probably install malware or viruses on your smartphone.
2. Can't transfer DRM protected music.
3. Transferring process often disturbed for unknown reasons.
Method 2: Transfer Music & Photo between iPhone and Samsung Galaxy with PhoneTransfer
If you are looking for a way to transfer music or photos between iPhone and Galaxy in a single click, then you should really give it a try on TunesBro Phone Transfer. It is an amazing and authentic third party program that not only can transfer pictures and music from one smartphone to another but also it can transfer messages, contacts, apps, calendar, call logs, videos from iPhone to Android and vice versa. It is very liter in size and works very fast. It works for iPhone, Android , Blackberry and Symbian phones. You can run this program from both Mac and Windows computers and it is guaranteed that no data loss will ever occur using this program.
Supported Samsung Device: Galaxy S9/S9+, Galaxy S8/S8+, Galaxy S7/S7 Edge, Galaxy S6/S6 Edge, Galaxy S5/S4/S3, Galaxy Note 7/5/4/3 and more.
Supported iPhone Model: iPhone X, iPhone 8/8 Plus, iPhone 7/7Plus, iPhone 6S/6S Plus, iPhone 6/6 Plus and iPhone 5S/5/4S.
Step 1

Install TunesBro PhoneTransfer on PC or Mac

TunesBro PhoneTransfer is a desktop software, so you will have to first install it on your desktop computer or laptop and run the program to see the main design and interface of this tool. It does offers a lot of features to choose from but for this particular task, we will be selecting "Switch" option.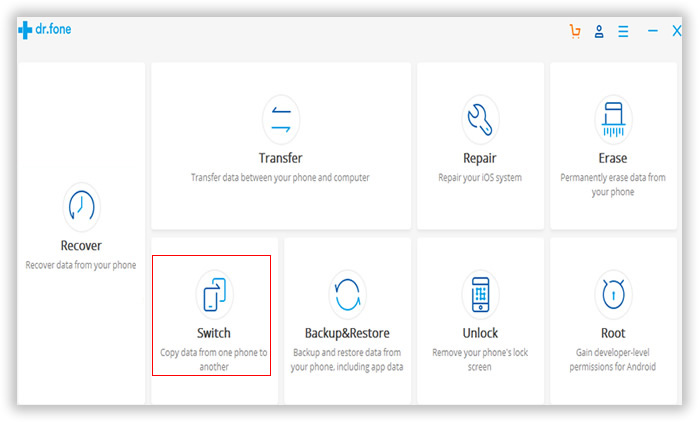 Step 2

Plug iPhone and Samsung Galaxy Phone to Computer

After installing and running the program on your PC, it is time to connect your iPhone to PC using a thunderbolt and your Samsung Galaxy S5/S6 with a USB data cable. It is recommended to enable USB Debugging mode on your Samsung Galaxy smartphone to finish the transferring process smoothly.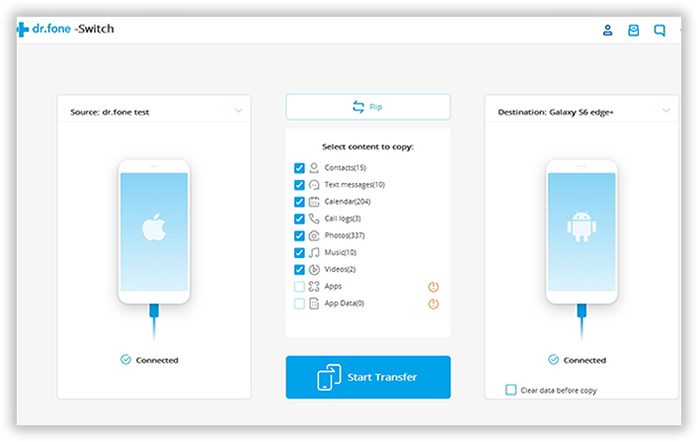 Step 3

Transfer Photos & Music from iPhone to Samsung Galaxy or from Samsung Galaxy to iPhone

Both smartphones should be detected the software automatically and both phones should appear on the main interface of the program. Make sure the source should show the smartphone from which you are transferring the files and destination should show the smartphone in which you are transferring the files to. For example, in the following screenshot we transferring files from iPhone to Samsung Galaxy smartphone.

Tip: If the phones position doesn't appear correctly then click on "Flip" button to switch the positions.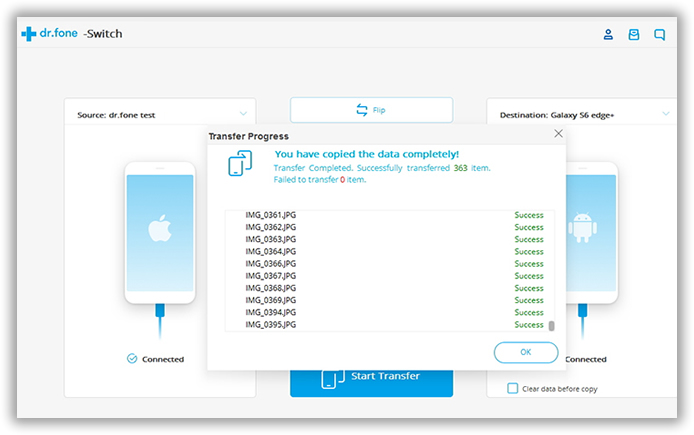 Now, simply select music and photos from the middle column and click on "Start Transfer". The tool will automatically start transferring the music and photos from your iPhone to Galaxy S6/S5 or vice versa.
Conclusion:
Transferring files from one phone to another will never stop as people have a tendency to upgrade their smartphones regularly. And whenever you buy a new smartphone, you will obviously would like to keep all the files from your old smartphone. In this guide, we have shown you how to use TunesBro PhoneTransfer to copy files from one smartphone to another with a single click. It is really handy and everyone should have it so that you can transfer the files easily without losing any file. For more information, do visit the official website and check all the details by yourself.

---