A lot of iPhone users are often scared of moving to Android due to compatibility issues. Obviously, there are many apps data on iPhone that are not supported by Android and vice versa. But that's not bothering, what really bothers us is our WhatsApp conversations and its media files. Certainly, it will be a huge worrisome moment if we have to buy a new Samsung device and figure out no way to transfer WhatsApp from iPhone to Samsung.
And that's exactly the main motto of this tutorial. In this guide, we are going to show you two methods to transfer WhatsApp messages and media files from iPhone to Samsung seamlessly. So, let's see how you can transfer What from iPhone to Samsung without losing any data at all.
Method 1: Transfer WhatsApp History from iPhone to Samsung Galaxy S9/S8/Note in 1 Click
If you want to move all WhatsApp chats and media attachments to new phone then adopting a third-party program like TunesBro WhatsApp Transfer is the most recommended option. It is a premium software that helps to move all data of WhatsApp from one device to another. It is just like copy pasting files from one phone to another except you will be performing it with WhatsApp. The mechanism is very simply, install the program on your PC, connect both phones and transfer WhatsApp information from iPhone to Samsung or vice versa.

Simple and effective for WhatsApp data transfer.
Support 2000+ Android devices and latest iPhone X, iPhone 8.
Easily backup WhatsApp messages to PC or Mac.
Print WhatsApp conversations with built-in functions.
Step 1

Download TunesBro WhatsApp Transfer

This program is supported by Windows and macOS. So simply download and install the program on your machine. Launch it to see the main screen of the program.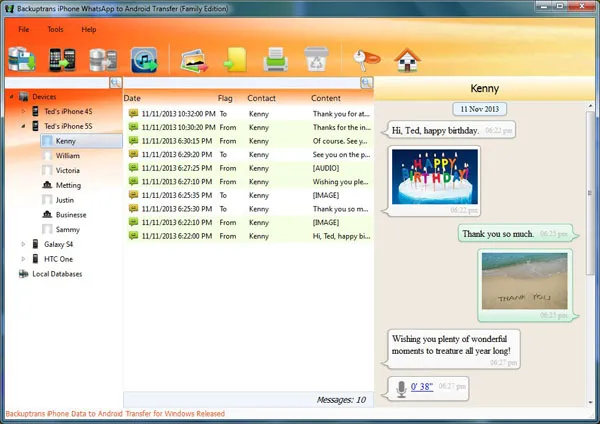 Step 2

Connect iPhone and Samsung Galaxy Phone to the Same Computer

Connect the iPhone and Samsung smartphone to PC with 2 separate USB data cables and wait for the program to detect them automatically. Please note iTunes is required to be installed on the computer too. Also you should turn on USB debugging feature on Android device.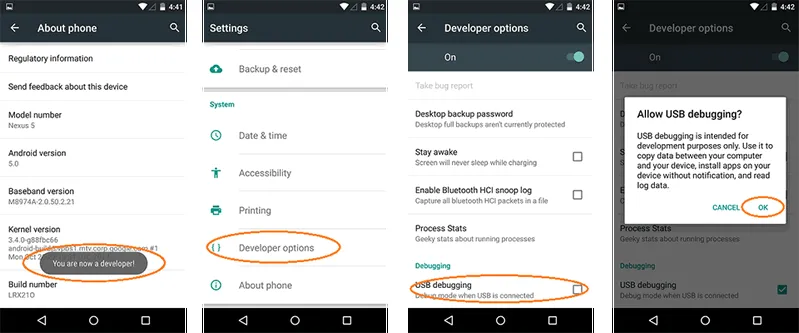 Step 3

Transfer WhatsApp Messages and Attachment from iPhone to Samsung

All the WhatsApp threads will be visible from your iPhone. Now, you can either transfer all the messages at once or you can move them one by one selectively. Simply right-click on the iPhone and click on "Transfer Messages from iPhone to Android". This will enable the software to send all the messages from your iPhone to Samsung within few minutes.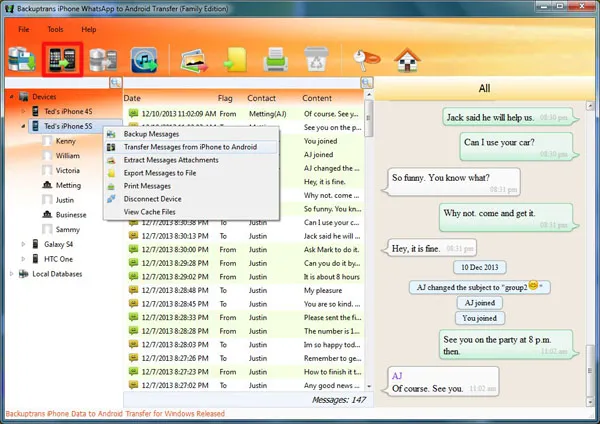 Once the transferring process is finished, you can unplug the USB data cables and check your Samsung phone to discover all the previous WhatsApp chats, photos, audios and its videos. No hassle, no wastage of time, pure smooth experience.
Method 2: How to Transfer WhatsApp Messages and History via Email
If you have a Gmail or any other email account online then you can utilize those email servers to move WhatsApp chats. The process is very simply granted you already have an email account with you. If not, go ahead to Gmail.com and create a free one right now then follow these steps.
Step 1: Unlock iPhone and go to WhatsApp then open "Settings".
Step 2: Select "Chat Settings" and choose "Email Chat" from the given options.
Step 3: Gently, hover through the chat history and choose which chat thread you want to move from iPhone to Samsung smartphone. You can only move chats, media files are not possible via Email unless you are using a private email server.
Step 4: Select "Without media" and enter the email ID where you want to send the chat and click on "Send" to finish the task.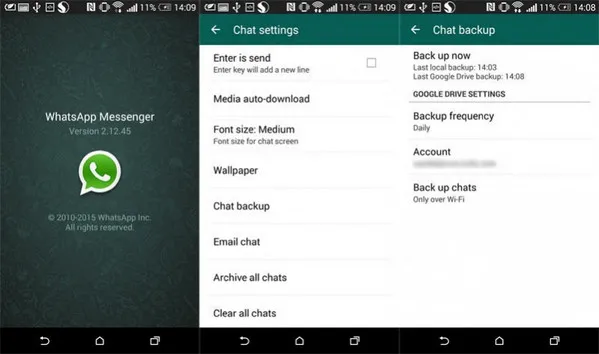 Step 5: Open your Samsung Galaxy phone and sign in to the same email ID. Download the WhatsApp chat from your email and read them on your Android phone.
Step 6: Now obviously, you have to repeat the process again and again with all contact names given in your WhatsApp. It is very time consuming certainly and moreover, you can't even move the pictures and audios from the chats. That's why using a third-party program to move all the chats and media attachments is the best option.
Cons:
1. Slow and hard to operate.
2. Messages and attachment can't be viewed.
Conclusion:
So, as you can conclude, transferring WhatsApp messages from one phone to another has become extremely easier than anything. So, whenever you switch smartphone platforms or buy a new phone, you can make sure no WhatsApp messages are left behind. We hope, you have found this tutorial reliable and don't forget to share it with your friends and families.

---