Have you bought all the all new iPhone X and excited to enjoy the new features of your device? Well, iPhone X has been a blast and it has pre-installed all the necessary apps and tools by default. For example, Siri is modified and WhatsApp will be pre-installed when you buy the device. But unfortunately, all the messages from your WhatsApp will not be available with your new device.
Transferring WhatsApp messages from Android to iPhone is a bit tricky considering both devices are based on two different operating systems. The apps and data formats are very distinct and thus migrating WhatsApp messages is not an easy task. However, we have come up with a couple of solutions that could help to transfer WhatsApp Messages from Android to iPhone with easement.
Method 1: Transfer WhatsApp Messages & Chats from Android to iPhone in One Click
If you find the below method too complicated then there's an easier way to transfer WhatsApp messages from Android to iPhone. In this part, we will be using TunesBro WhatsApp Transfer program to migrate all the messages from your Android device to iPhone. It is an easy to use desktop program solely used to copy messages from Android to iPhone or vice versa. You literally need to connect your devices and transfer the messages from one phone to another like you copy and paste data from Android to PC.

Transfer WhatsApp messages between Android and iPhone.
Backup WhatsApp conversations to PC and restore them later on any smartphone.
Restore messages from iTunes backup.
Export WhatsApp messages in different readable formats such as Word, TXT, XML, HTML, PDF, etc.
Support the latest Android and iOS devices, such as Galaxy S8, LG G6, Xperia XZ, iPhone X, iPhone 8.
Step 1

Install TunesBro WhatsApp Transfer

Please download and install the program on a Windows PC or Mac computer. However, you should first unzip the file and select the correct version to be installed.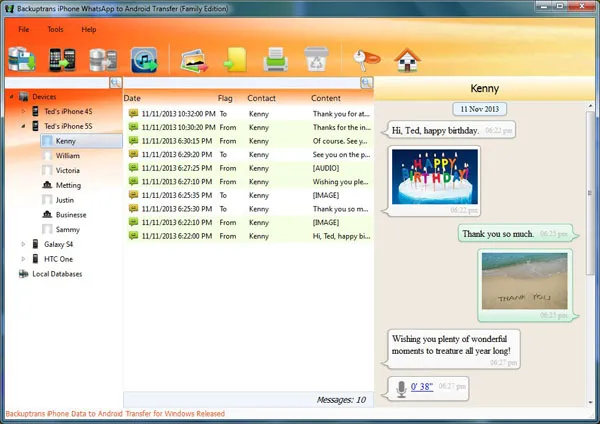 Step 2

Connect iPhone and Android Phone to a Computer

Now, take out the USB cable and connect the two devices to the same computer. If everything goes fine, then the program should detect the two phones. If not, then you shoudl check if iTunes was installed properly on the phone or USB debugging is enabled on the Android phone. To save your time on this matter, here is a detailed guide to tell you how to do that.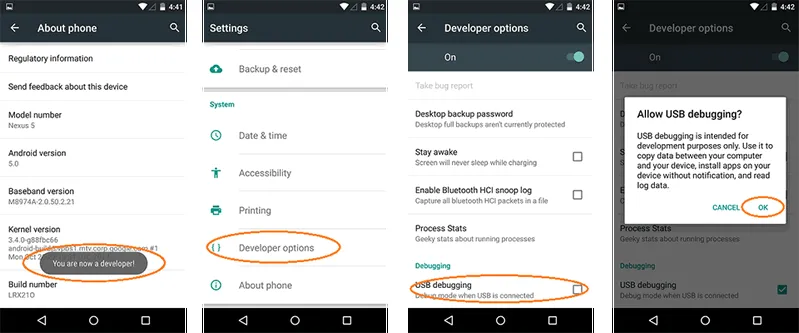 Step 3

Transfer WhatsApp Messages and Media from Android to iPhone X/8/7

If you want to transfer all the messages from Android to iPhone then simply right click Android device name and select "Transfer Messages from Android to iPhone" and all the chats from your Android will be migrated to iPhone including the multimedia files.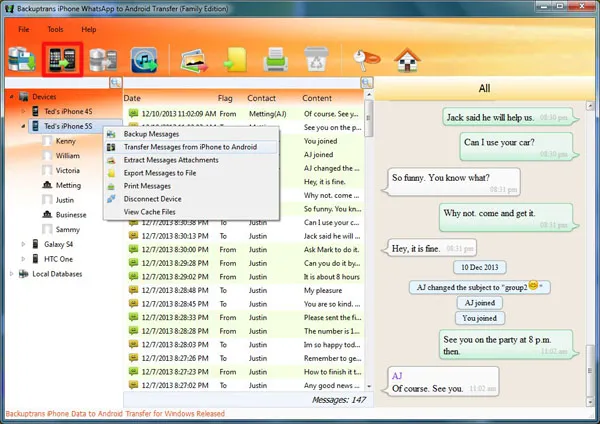 However i f you wish to transfer a single chat thread then simply right click on the name of the contact and click "Transfer Messages with this contact to iPhone".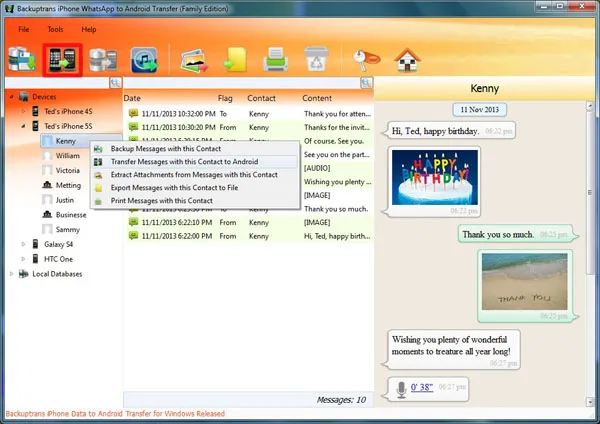 Success! You may now check your iPhone and all the messages from your Android WhatsApp should appear perfectly.
Method 2: How to Transfer WhatsApp Messages from Android to iPhone via Google Drive
WhatsApp has an in-built feature to backup the messages using your Google Drive account. You simply need to associate your Gmail account with WhatsApp and keep the backup of your entire conversation on your Google Drive account. Later you can sign on to the same account with your iPhone and restore the chats. Follow these steps to accomplish this task successfully.
Step 1: Launch WhatsApp Messenger on your Android and tap on the menu from the top right corner then choose Settings.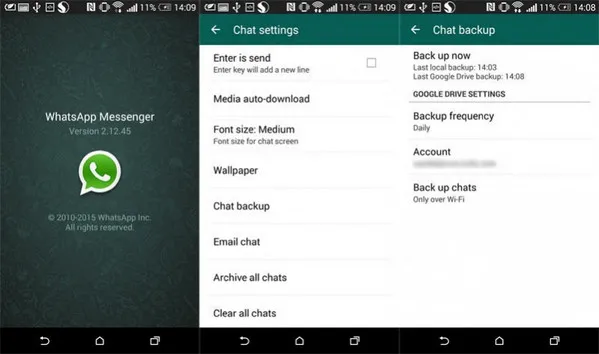 Step 2: Then go to Chats and Calls > Chat Backup > Backup. Make sure to link your Gmail account with your WhatsApp in order to successfully upload the backup of your conversation.
Step 3: Next, select Backup over Wi-Fi because cellular data will eat up a ton of your bandwidth and it may charge you extra without your knowledge. So, make sure to have a good Wi-Fi signal.
Step 4: Re-install WhatsApp on your iPhone and verify the account with your phone number. The backup file should appear automatically upon starting the app and simply tap on "Restore" to retrieve all the messages from your Android. Done! Your WhatsApp messages are now successfully migrated from Android to iPhone.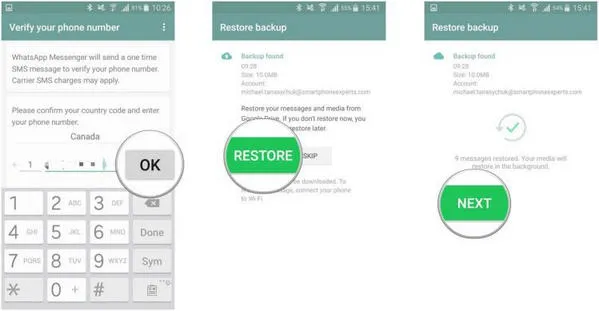 Cons:
1. High speed internet is required.
2. Can not preview the chats before backing up.
3. No way to transfer single chats.
Conclusion:
Transferring WhatsApp messages from one device to another is very easy if you apply the methods shared in this tutorial. No one likes an empty WhatsApp inbox and thus, it is very important to keep the chats from your old device as it may contain most precious chats of your life. Thankfully, you can easily transfer all the chats from your Android to iPhone with TunesBro program and make sure to regularly backup your WhatsApp messages in order to avoid any data loss.

---