Creating regular backups for your Samsung smartphone might not seem like an essential thing to do, but if you're a rooting enthusiast, like to load app apk's on a regular basis or even if you have a lot of media stored on your device, then backups are absolutely required. Unfortunately, most users either neglect to do it, or don't think that it's all that important.
Why do a backup of your data and media? Even if you're not an Android aficionado, there's always a chance that your Samsung smartphone may get lost or stolen. In such cases, you need to be well-prepared. Not only must you secure your data so nobody else can access it on your device, but you also need to schedule regular backups so you don't lose any data if something untoward happens.
Which backup app or software should I choose?
Generally, you can backup the data on the smartphone with apps, or backup the data to PC through third-party software. Another option is to backup the data to cloud. It is really up to you. Actually, a lot of people prefer premium software applications for backup because it's usually safer and more reliable. In addition, free software may not be updated on a regular basis so there could be security risks when using them. Here are a couple of free apps that you can try, as well as a premium utility that is used by millions of Android users all over the world.
Option 1: Dropbox Cloud Backup App for Samsung Smartphone
Not many people think of Dropbox as a backup utility for smartphone data, but if you're purpose is only to keep your photos, music and other media safe rather than contacts or SMS text messages, then Dropbox is an ideal free utility. You'll have to pay for additional storage space but most users find that the free quota is more than enough to hold all their data.
The downside to using Dropbox is that you can only store media files, documents and so on. That means you can't restore a device to its previous state using this method. However, it's very useful as a storage bin for your large media files because you can access them anywhere over an Internet connection.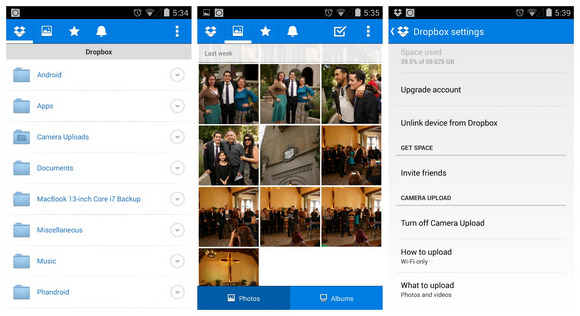 Option 2: Backup All Data to PC with TunesBro Backup & Restore Software
Sometimes, a premium utility is the best option because it gives you a lot more functionality and is usually updated on regular basis for bugs, performance and new features. TunesBro Backup & Restore is one such software application. It's available as a free trial so you can view your files as they would be backed up, and you can purchase a lifetime license once you're convinced that the utility is powerful enough for your needs.
With this program, not only can you create regular backups, but also preview your backups before you restore them. Apart from Samsung's many premium, mid-range and budget smartphone models, the software supports over 8000 models of Android devices.
Step 1

Download and Open Backup & Restore Software

First of all, download and install the software on your PC. Once you have completed the first step, you can launch the software on your PC. Select the option "Backup & Restore" on the main interface.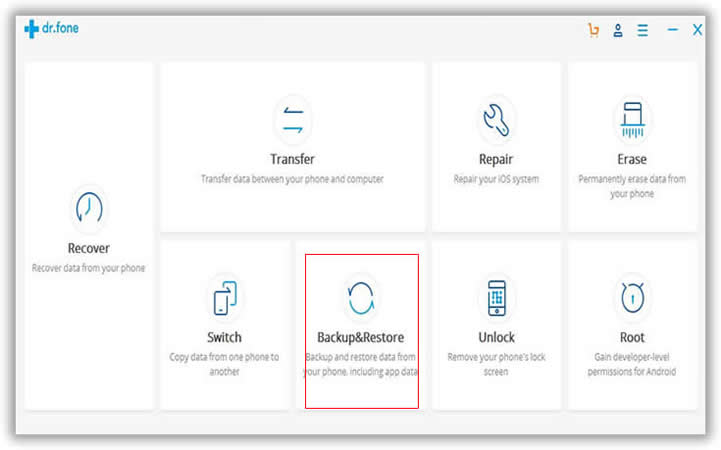 Step 2

Plug Samsung Smartphone to Computer

Now, connect your Samsung smartphone to your PC using a USB cable. Before you do this make sure you have debugging mode on your phone. If you are using Android OS 4.2.2 or later, you should get a pop-up window asking you to enable the feature. When you see that, tap on OK.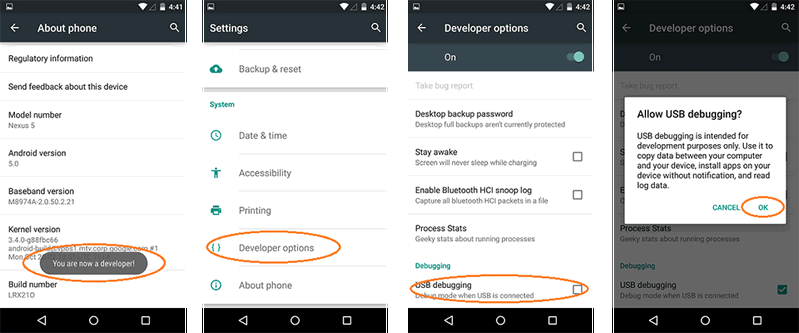 Step 3

File Selection

With your phone connected, you should be able to see a menu of different file types that you can backup. you can either select all, or just the data you want to backup.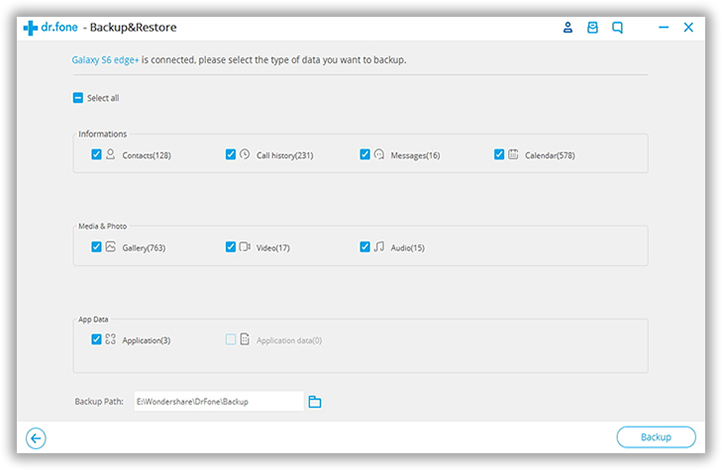 Step 4

Back up Samsung Smartphone Data to PC

Once you have done that, simply click on the backup button. The process will be completed automatically. After the process is done, you have the option to preview the backup. To do this, simply click "View this backup".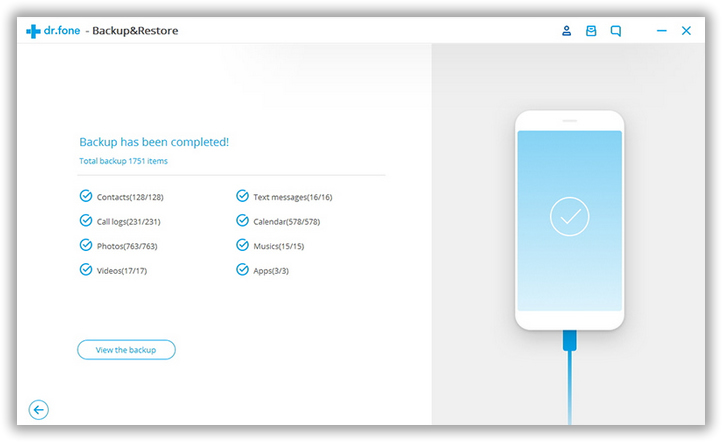 For data backup and restore, you can't find any software that would beat TunesBro Backup & Restore in regards of user friendly and functions.
Option 3: Super Backup App for Samsung
This essentially a free utility, but you can go ad-free with a $1.99 purchase. Super Backup is meant for backup creation as well as restoring devices using those backups. You can also automate your backup schedule so your backup file is always up to date.
The backups that you create can be saved on your SD card, but we don't recommend that you do that. If your device is badly damaged or lost and you can't access the card, it's of no use. In addition, the backup also eats up the storage sharply. So it's better to do your backups to Google Drive or your PC.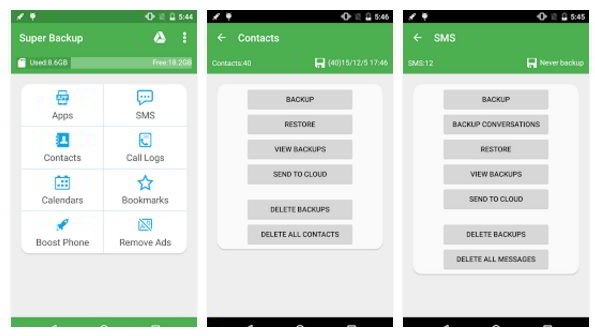 Sumarry
As you can see from the steps above, process is extremely simple and quick to implement. The software essentially does everything for you and all you need to do is click a couple of buttons, which is much better than Samsung Smart Switch. In fact, the backup process only takes one click from the user.
As a gentle reminder from us to you, please note that doing regular backups of your data will save you a whole lot of trouble down the road. If your device is stolen or damaged in any way you need something can quickly restore all your information and media to a new device. You may be able to do that which free software, but it may not be as safe as using a software application that is being actively managed and kept up to date by an entire team of engineers and technical experts.

---