You might be thinking what is a big deal to delete call history on Samsung smartphone? The fact is if you thought a basic deletion would permanently remove the call log from the phone then you get it wrong. Surely, if you deleted the call logs from the phone, it won't appear on the screen any more. But in reality, they are still stored on your phone's cached memory.If you were selling the phone to a total stranger then he/she can easily expose those call history.
Spammers and scammers are looking for those opportunities so that they can ruin the credibility and privacy of contact information. So, if you really want to delete some of the logs, then you should follow the tips in this tutorial. We will show 2 marvelous ways to permanently erase call history on any Android device that can be used for both personal and business purposes.
Solution 1: How to Delete Phone Calls from Samsung Phone Directly (Fast But Unsafe)
If you wish to remove single or multiple or all call logs from Samsung phone, then just follow the steps listed in below section. Remember, this solution is only for personal purpose. It would be a bad ideal if you are selling or donating the phone. In that case, jump into the next solution instead.
Step 1. Open the call logs and tap on the Delete button from top right corner.
Step 2. Check on "All" option to select all the call logs and if you want to delete selective call logs then tap on those call log entries and delete them.
Step 3. The delete button may be on different places on different devices. But more or less the procedure will be the very same.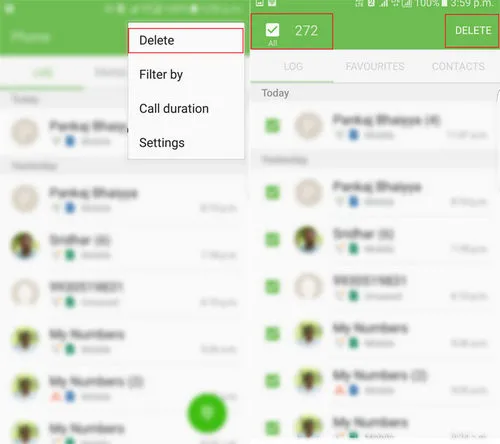 Cons:
1. Calls logs are not deleted permanently and can be recovered by data recovery software.
2. Not a safe method if you prepared selling the phone.
Solution 2: How to Completely Delete Call Log on Samsung Phone within 2 Clicks
Obviously, if you are selling or giving away old Samsung Galaxy phone to stranger who could be a possible hacker, then you must seek for a way to permanently erase the call history from your phone. The best way to securely delete content from Samsung device is to do it with a professional Android Data Eraser.
TunesBro DroidWiper is a commercial and magnificent Android Data Erasing program that can permanently delete all data from your Android phone with 0% chance to be recovered. It uses the most ppowerful algorithms that continuously delete data from your phone over and over again so that they can never be retrieved even with paid data recovery solutions. Certainly, it can erase call logs from your phone but it can also help to erase other 17+ types of data such as videos, pictures, music, messages, contacts, app, app data and so on. It is supported in over 3500+ smartphone models including Samsung, LG, Motorola, OnePlus, Asus, Huawei, etc.

Secure and complete data erasing algorithms.
Three data erasing options available.
Support 2000+ Android smartphone and tablets.
Impossible to get any information from the device after erasing.
Step 1

Download the Program and Install it on a Computer

Download the latest version of TunesBro DroidWiper and follow the instructions to install it on a computer. The below screen shot is the first winow you will see after installation.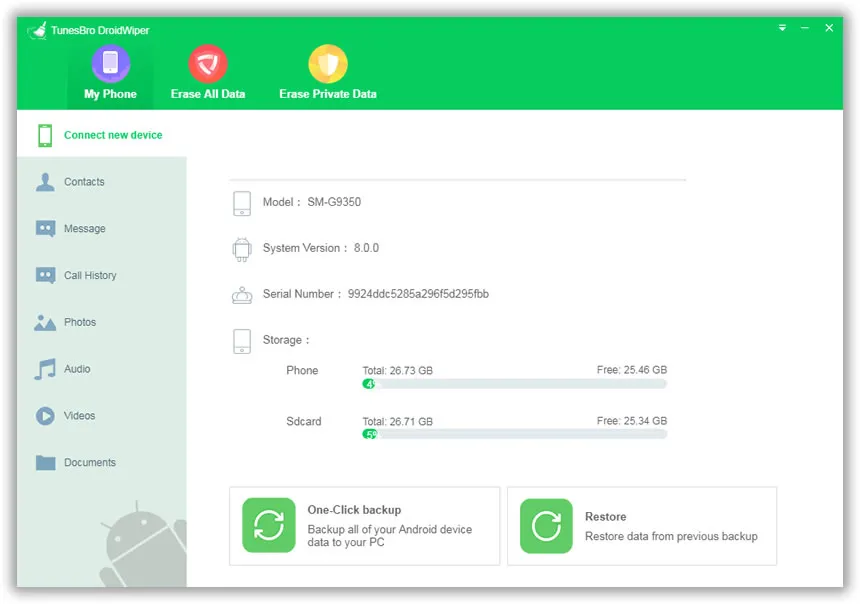 Step 2

Turn on USB Debugging on the Phone and Connect it to Computer

Launch the program and connect your Android device to PC. Make sure to enable the USB debugging mode by going to Settings > Developer Options > Debugging mode. If the phone can't be detected by the program, then you need to check whether Android usb driver is properly installed.
Step 3

Choose 'Erase Private Data'

Your phone should be identified by the program now. Click on "Erase Private Data" and wait for the program to scan your phone thoroughly. In addition, if you are erasing everything from your phone then click on "Erase All Data" and if you are deleting app data from your device then choose "Erase App Data".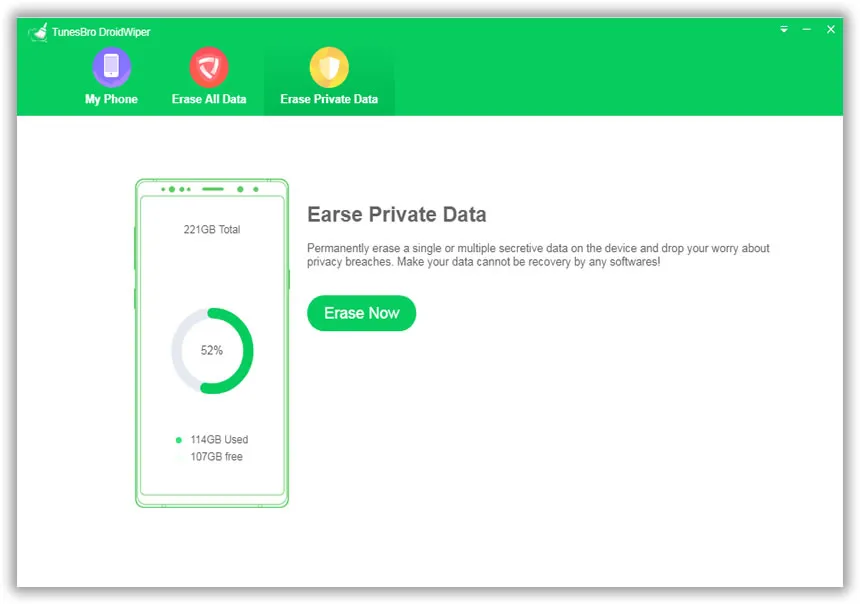 Step 4

Start Erasing Call History from Samsung Phone

Once the scanning progress is finished, the program will let you preview every single item from your phone. Choose "Call History" from the left sidebar to check the latest call logs on your phone. Select all the call entries and tap on "Erase" to permanently remove them from your phone.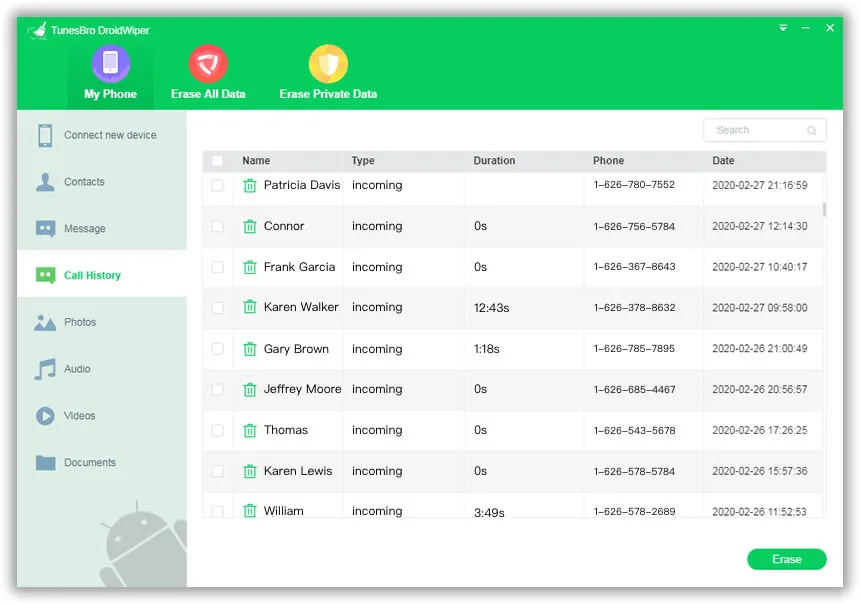 That's it. You may now try to recover these call log entries from your phone with any data recovery tool but you will surely fail.
Conclusion:
As you can see, erasing call logs is not that difficult. But of course use the basic deletion technique only for personal purpose. On the other hand, if you are getting rid of your device then make sure to delete all data from your phone especially call logs, messages, contacts and other private stuff permanently so that no one can recover it to use it against you. TunesBro DroidWiper surely takes care of that issue and it is assured that it is best tool to organize your phone and make some extra space to boost the speed of your device.

---
Related Articles & Tips
How to Erase All Data on Android