There are a lot of Android users switching to iPhone because of the bad performance on Android. Taking me for example, I recently moved to iPhone 8 as my Samsung Galaxy S7 becomes slowly and the battery drops really quickly. I have to chage it twice a day, which is very inconvenient. So when you got a new iPhone, it would be iPhone 8/8P, iPhone X or iPhone 7, the first problem you probably meet is how to transfer old content to new iPhone. Now, this is not a big issue with the help of recently released Apple Move to iOS app.
Move to iOS basically hooks Android device with iPhone at the whim of a Wi-fi connection. Once the connection is established, then you can transfer all your Android data to iPhone in just a few steps. This app is able to transfer contacts, camera photos, mail accounts, web bookmarks, and calendars, etc. Now, it is time to learn how to use this app for content transfer.
Method 1: How to Use Move to iOS for Content Transfer
Step 1: When you set up iPhone for the first time, you need to choose a method to restore data during the process. Press "Move Data from Android" option from the list.
Tips: If the iPhone was already running, then you have to factory reset iPhone in order to use Move to iOS app as you can't find such an app on iPhone.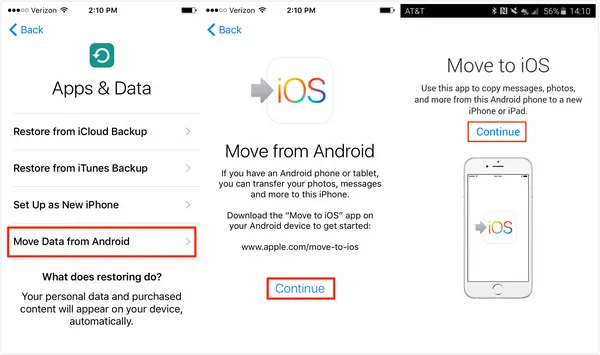 Step 2: Now, power on Android phone and open Google Play Store. Then search for "Move to iOS". Open the app listing and install the app on your Android Device. Or you can directly download Move to iOS APK if Play Store failed.
Step 3: Tap "Open" after it is installed and then "Continue" on both the devices. Press "Agree" and then "Next" on the Android device.
Step 4: There is 6-digit code displayed on iPhone at this time and enter it on Android Phone. After the code is entered, Android device will connect to iPhone with Wi-fi connection and figures out what to be transferred between the two devices.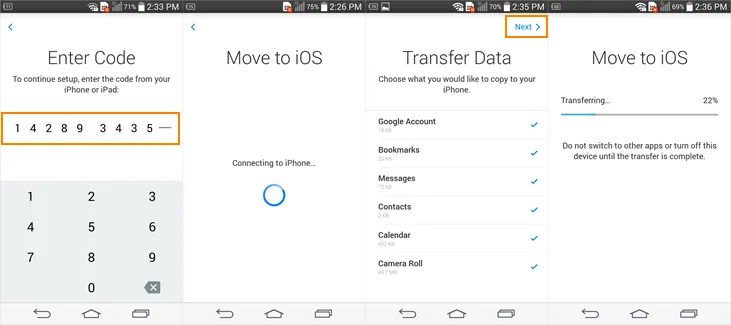 Step 5: It will ask of you whether you wish to transfer Gmail account , Messages, Bookmarks, Contacts, Photos. You can select exactly what you want to transfer to initiate the transfer protocol and it's done!
Part 2: Move to iOS Troubleshooting If Not Working
As you can see from the above screenshot, Move to iOS can't transfer items such as music, WhatsApp, apps or games. If you really want to do this, then you have to use other software instead, one nice candidate is TunesBro PhoneTrans.
Problem 1 : Not receive code or the code is wrong. Reboot iPhone and start it over.
Problem 2 : Stuck on transfer process. This is mostly due to bad internet connection.
Step 3: Data missing after transfer. This is common bug for Move to iOS, there is no way out unless you use other app.
If the problem was not listed in here or the suggestion still not work, then you should probably give it a try on other solutions instead. We will discuss a very good alternative in next section.
Part 3: Best Alternative to Move to iOS App
With all its downsides mentioned above, Move to iOS has lost the good grades. This propells many users to look out for a better alternative. Indeed, you could get a lot of suggestions online but you absolutely have no clue which one is the best to use. After done hours of researching, we found out TunesBro PhoneTrans is the best choice currently.

Transfers all kinds of data, like text messages, photos, videos, contacts, WhatsApp, music, etc.
Restore data from previous backup files, such as iTunes, iCloud, Smart Switch, Google, OneDrive.
Backup phone data to PC or Mac.
Erase all data on old phone to prevennt your privacy.
Step 1: Download and install the program. Then double click desktop shortcut to open PhoneTrans software.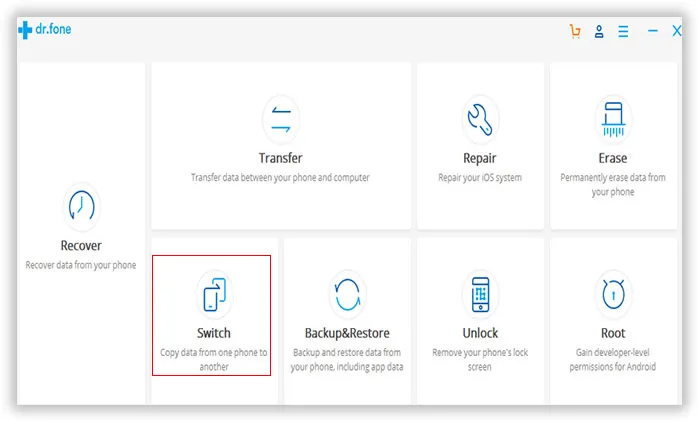 Step 2: Click on "Switch" and get both devices connected to computer. Make sure USB debugging is opened on Android and iTuens is installed on the computer. Click "Flip" button to change postion if it was wrong.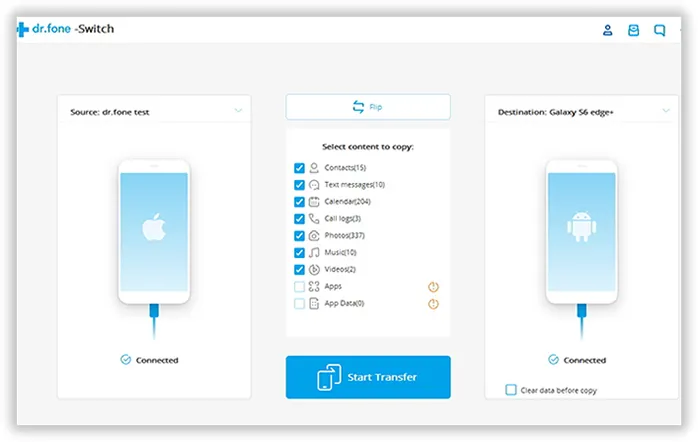 Step 3: Check the files that you wish to transfer between the two devices. After selecting, click on "Start Transfer" to initiate the transferring process. Usually, it will take about 10 minutes to complete the transfer.
Summary:
As you have noticed that Move to iOS has various downsides due to its phenomenal success; users still prefer to use other alternatives, like we mentioned one in here called PhoneTrans. It not only transfers your data from Android to iPhone but also provides you the platform to restore your backup thus helping you to secure your old device data as well. The guidelines are very simple to implement even by beginners so don't waste your time and make a try.

---