Did you buy the brand new iPhone X? Well, if you have then congrats to you, it is really a wise decision. iPhone X is so far the best iOS device launched by Apple this year. Tons of new features being added and endless entertainment assets are ready to change your life. However, no one likes an empty phone and that brings up the question: how to transfer content from your old iPhone to iPhone X?
Transferring data from iPhone to iPhone is not really that hard if you knew how to accomplish it. We will share four amazing methods in this tutorial and will make sure that no data is left behind on your old iPhone 4/5/6/7/8. Using the tricks shared in this guide will definitely help you to transfer all kinds of stuffs such as iMessages, contacts, videos, pictures, music, documents, notes, app, app data and other contents as well.
Method 1: Transfer Contacts from Old iPhone to New iPhone with Gmail
If you only needed to transfer contacts to the new iPhone, then Gmail is the easiest way to go with. As we know, Gmail is the most popular free email service under Google wings. There are millions of iPhone users using it for email and contacts sync. However, Google just terminated the contacts exchange to iPhone in 2012 because of the dispute with Apple. The truth is that you can still use the Gmail account to export the contacts directly from iPhone and the contacts will be synced automatically. It's a bit tricky but here's how to perform this task:
Step 1: Unlock the old iPhone and go to Settings.
Step 2: Tap on Mails, Contacts, Calendars followed by "Add Account".
Step 3: Enter your Gmail account details and login to your Google account. Now, click on My Contacts > More > Import.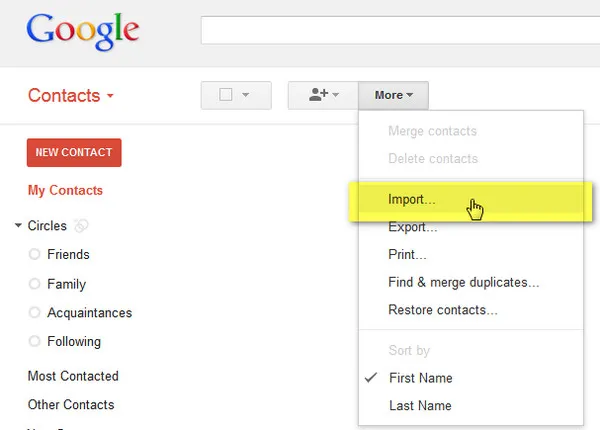 Step 4: Select all the contacts from your iPhone and directly upload them to your Gmail account. Unlock your iPhone X and login to the same Gmail account.
Step 5: Download the contacts as vCard format and unpack them on your iPhone. That's all. Open the contacts app and all the contacts list from your old iPhone should appear now.
Method 2: Transfer All Data from iPhone to iPhone X/8/7 in 3 Clicks
The effortlessly way to transfer content from iPhone to iPhone X is by using a file transfer software. In this tutorial, we will be using TunesBro PhoneTrans to copy all data from iPhone to iPhone X. This program does a great help to create a wireless connection between the two phones and transfer the data without copying them to your PC. In short, you just need to install the program and connect both phones, then all the content on old iPhone will be moved to new iPhone seamlessly.
Additionally, it supports all types of smartphones like Apple, BlackBerry, Symbian, Windows and Android phones. It works perfectly with both Mac and Windows operating system and is supported by over 3500+ smartphone and tablet models.

3 clicks away to copy content from one device to another.
10+ file types supported, including contacts, photos, messages, music, WhatsApp, etc.
Backup and restore iPhone from iTunes or iCloud in less than 10 minutes.
Able to remove all data on old iPhone before selling.
Support Devices: iPhone X/8/7/6S/6/5S, New iPad, iPad Pro, iPad Mini, iPod Touch and 3500+ more.
Step 1

Download & Install TunesBro PhoneTrans

TunesBro PhoneTrans is a desktop program so it requires to be installed on your PC first. Simply download the executable file from the official website and install by completing the setup process. Next, launch the program to see its home screen and move on to the next step.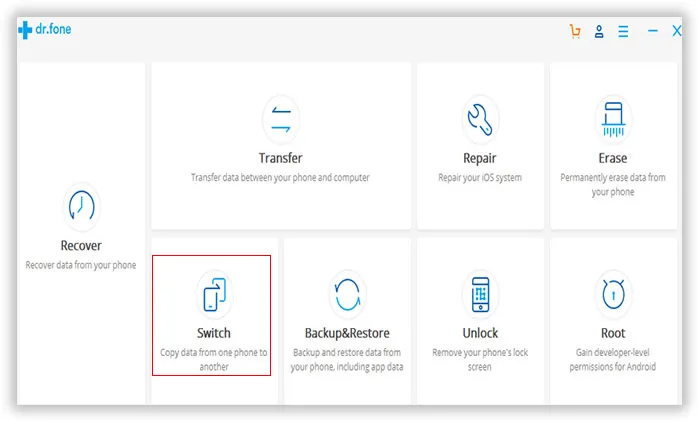 Step 2

Connect Old iPhone and New iPhone

Take out the USB data cables to connect the iPhones to PC. Both iPhones should be recognized automatically by the program. If not then simply unlock both iPhones by entering the passcode and it should resolve the issue.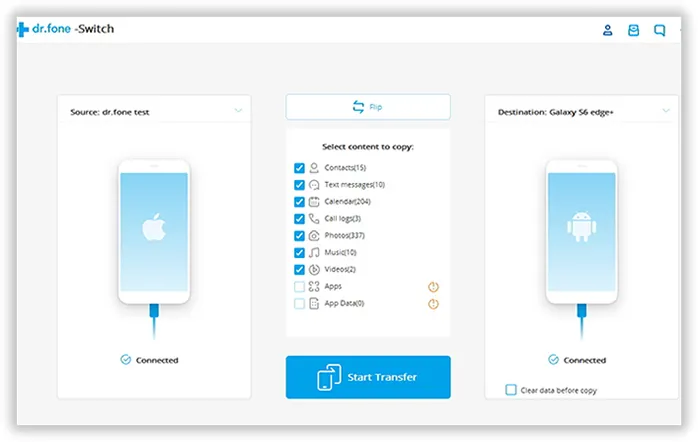 Step 3

Transfer All content from iPhone to iPhone X/8/7

Click on "Switch" from the main screen of the tool and on the next page both iPhones should side appear side by side. The left side should show the old iPhone and the right side should show the iPhone X. If the positions are not correct then simply click on "Flip" to switch the positions.

Now, choose the file types that you want to move and click on "Start Transfer" to migrate the data from iPhone to iPhone X. It will takes a 5-30 minutes to complete the task.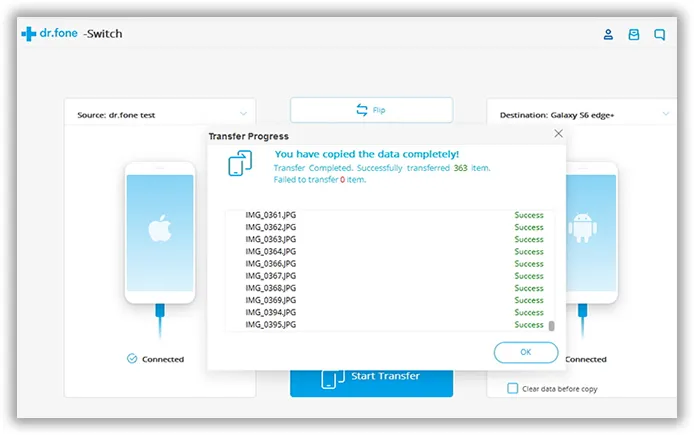 Method 3: How to Use iCloud to Transfer Data from One iPhone to Another
If you are using iCloud to sync all data from your old iPhone then you can easily restore all the files from that backup file to your new iPhone X. Before proceeding with the steps, make sure to sync your old iPhone with iCloud first then follow the below instructions.
Warning: It would take hours or days to download the data stored on the iCloud. So it is not recommended if the Internet connect was slow.
Step 1: Turn on your iPhone X and it should welcome you with Hello screen. You must reset your phone if you don't see the Hello screen.
Step 2: Tap on "Restore from iCloud Backup" when asked and sign in to iCloud account.
Step 3: Find the recent backup file from the given list and tap on it. Your iPhone should be updated with the latest iOS version in order to successfully restore from iCloud.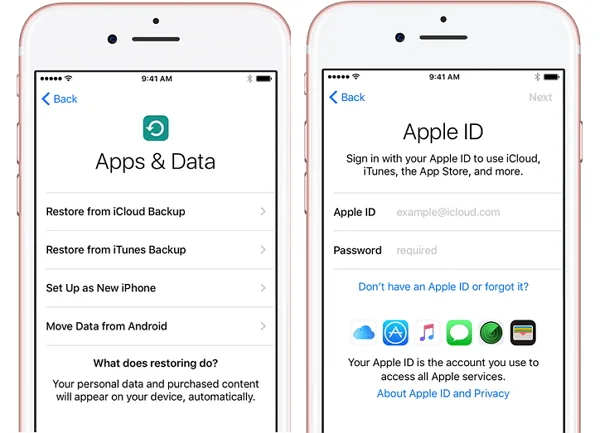 Step 4 : Stay connected with your internet while the restoration process takes place. It may take several minutes depending on the size of the backup file and your internet speed.
Method 4: How to Transfer Data from One iPhone to iPhone X/8/7 with iTunes
iTunes is the official tool to backup and restore iOS device. First, you should backup the old iPhone with iTunes, then restore the whole data from iTunes backup to new iPhone by using a computer. So, make sure to install the latest version of the iTunes on your computer and then proceed with the following steps:
Warning: The iOS version should be the same on old and new iPhone. Otherwise, iTunes will fail to do so. Plus, it would take a lot of time to backup and restore the device if the content was large.
Step 1: Connect your iPhone X to computer and launch the iTunes software if not opened automatically. If the backup file was protected, you need to first input the passcode to unlock it.
Step 2: Click on the device name and go to Summary section.
Step 3: Choose "Restore Backup" and select the recent iTunes backup file.
Step 4 : Click on the name of your device and click on "Restore" again to extract all the files from iTunes to your iPhone X. Success! Keep your device connected with PC unless the restoration process is finished.
The Verdict:
We hope this guide helped you to transfer all the contents from iPhone to iPhone X and now your new iPhone X should have all the stuffs from your older device. Remember, PhoneTrans can be used to transfer data between any smartphones and you can even exchange data between different phones like Android to iPhone, iPhone to Windows, Windows to BlackBerry and so on. It is extremely helpful tool and every person who upgrades their phones frequently must have it on their PC.

---