Did you buy a brand new LG G6 and excited to use it to its full extend? Well, you should be thrilled because LG G6 has tons of features that are not provided in other Android smartphones. With 64 GB internal memory and 4 GB RAM, LG G6 can load as much data as you want without any chance of slowing down.
Although, getting a new smartphone is exciting but what about the data on your old smartphone? Obviously, you can't leave behind the personal and lovely memorable pictures and what about the contacts and messages that you have collected over the years? There is no way you can start from the scratch again.
Well, certainly you are not leaving behind any data on your old smartphone because in this comprehensive chapter, we will show some amusing ways to transfer important data from old smartphone to new LG G6 so that you can feel relieved that nothing is changed on your phone.
Method 1: Transfer Data from Android/iPhone/Blackberry/Windows Mobile to LG in 1-Click
Transferring data from old smartphones to LG G6 could be a lot challenging because transferring contacts, messages, notes and other types of files are not easy and varies from OS to OS. If you had an iPhone or Blackberry phone, they are not compatible with Android. Thus, it becomes extremely difficult to copy the old data from your previous phone. But never fear, it is indeed possible to transfer everything from your old phone to your new LG G6 with the help of TunesBro Phone Transfer.
TunesBro Phone Transfer is the ultimate solution to transfer content from one phone to another. It is able to copy several types of data from old phone to the new one in a single click. The best part is that it supports multiple mobile os and can transfer files between different smartphones brands.

Transfer data between Android, iOS, Blackberry and Windows Mobile.
File type: photos, videos, contacts, music, messages, notes, documents, WhatsApp.
Restore from Kies, iCloud, OneDrive, Blackberry backup file.
Eligible smartphones Brands: Samsung, LG, Apple, Sony, HTC, Huawei, Xiaomi, OnePlus, Motorola, etc...
Backup smartphone in a comfortable way.
Step 1

Install TunesBro Phone Transfer and Open it

First, install the latest version of TunesBro Phone Transfer on a Windows PC or Mac. Then launch the program on your computer and follow below steps to transfer select data from your old phone to the new LG G6.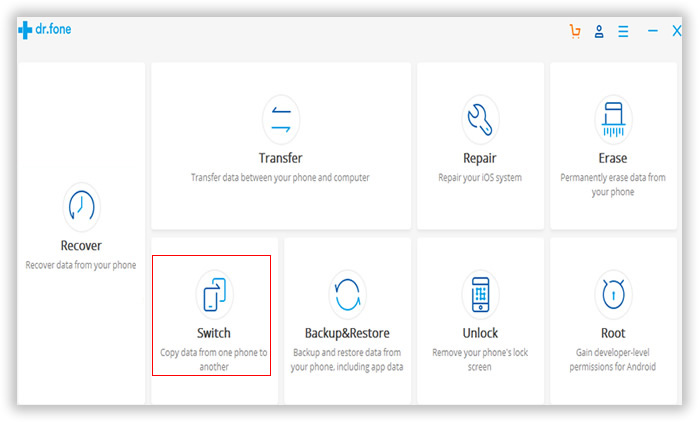 Step 2

Connect Old Phone and LG Phone to Computer

Please connect the two smartphones to the same PC with 2 different USB data cables. Choose "Phone to Phone Transfer" and on the next window both phones should appear side by side. If not, make sure Android USB dirver is installed.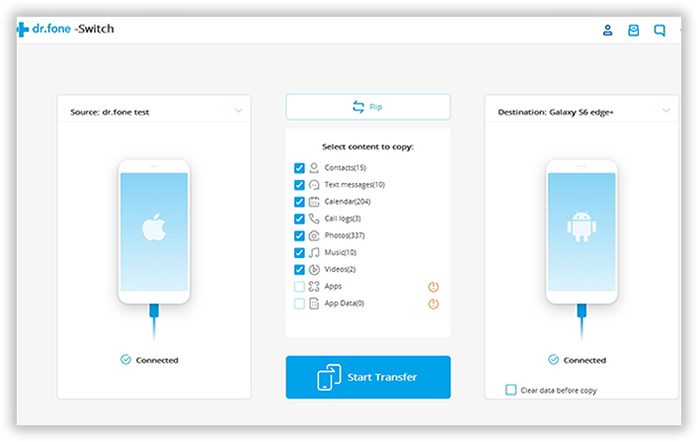 Step 3

Transfer Selected Content from Old Phone to LG Phone

Make sure the source phone shows your old smartphone and the destination shows your new LG phone, if not then click the flip button once to reset the positions.

Select the file types that you wish to transfer to your new phone by checking on them and click on "Start Transfer" to copy all the data to your LG G6. It will take few minutes depending on how data you are sending. But you will be able to track the copying status in real time by looking at the progress bar.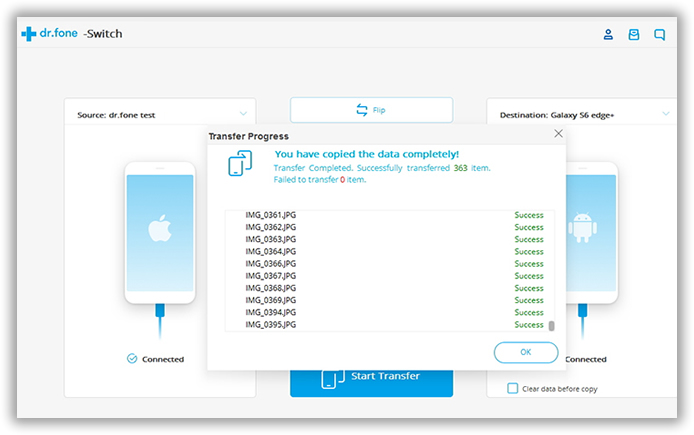 Pros:
1. Cost effective and extremely fast.
2. Additional features such as one click backup and erasing old data are also available.
Method 2: How to Transfer Contacts/SMS/Photos from iPhone 5S/6/6S/7 to LG Phone
Android is devolped and owned by Google, which makes a lot of changes and improvements to help people move to Android more easily. You can sync contacst, photos, music and videos with Google services (Gmail or Google Drive) from one device to another. So you can definitely utilize this method to transfer files from iPhone to LG phone.
Step 1: Unlock your iPhone and open your Google Drive account.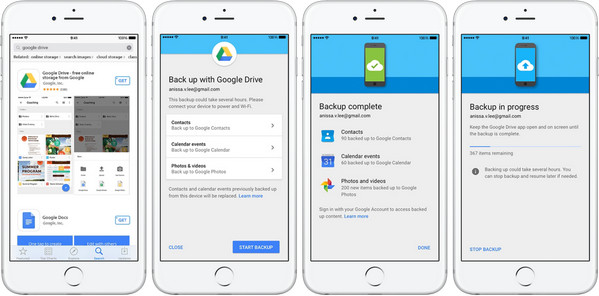 Step 2: Sign in to your Gmail account and hit the upload button.
Step 3: Select all the multimedia data that you wish to upload and open them one by one. Make sure to have a stable internet connection to successfully load them on your Google Drive account.
Step 4: Open Google Drive on your LG G6 and sign in to the same Gmail account. Now download all files from your cloud server to your LG G6 phone.
Cons:
1. Very slow and time consuming process especially if you have alot of data to upload.
2. Up to 1 GB data can be uploaded and all items will be deleted automatically after 30 days if untouched.
Method 3: How to Transfer Apps/Contacts/SMS/Photos from Android to LG Phone
Like other smartphone brands, LG has its own software for backup and restore called LG Bridge. It is a great piece of software to switch from old LG phone to a new one like LG G6 or V30. If you were coming from other Android brands, please follow the tips in Method 1 to get the content transferred to the new device. In below, you can learn how to move content to LG phone with LG Bridget.
Step 1: Download and install LG Bridge on your computer and launch it.
Step 2: Connect Old LG phone and click "LG Backup" on the top.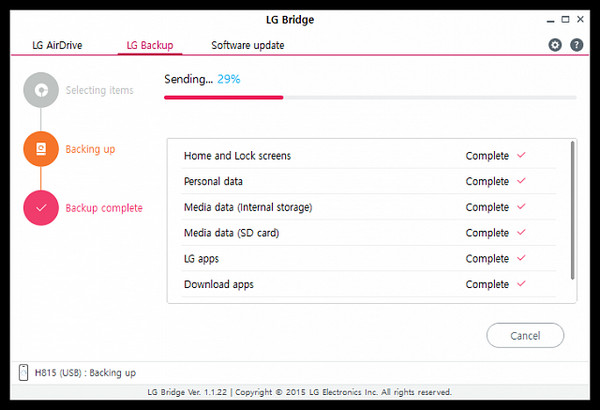 Step 3: Now, you need to select what kind of data you wish to backup. And click "Start" after selection. The data will be saved on your computer a few minutes later.
Step 4: Disconnect the old LG phone and connect the new one. Click "LG Backup" -> "Restore". Then select the backup file and click "Next".
Step 5: At this time, you need to select what types of data you want to restore. Once it is done, then click "Start" button to begin the restore process. After that, all data on old phone will be copied to new phone.
Cons:
1. Only works with LG smartphones and no other brand is supported.
2. Time consuming method since the process takes a lot of time to sync your data.
3. Doesn't work on old LG devcies, like G2, G3.
Summary:
In this guide, we have shared 3 amazing ways to transfer data from old phone to the new LG G6 and keep everything from your old device. But if you are looking for a hassle free solution then of course TunesBro PhoneTransfer is the best option to go with. It doesn't require any technical skills to use the program and it literally takes a single click to completely clone your old phone to the new one. Next time you are switching your smartphone, you really need not to worry about transferring your data because TunesBro is always at your service.

---