The frequency of switching smartphone shows how life is changing in nowadays. Nokia smartphone is out of data and it is great to have the latest Android smartphone, such as Samsung flagship Galaxy S9 or Note 8. You can explore new eatures and advanced functions on new device, like NFC, improved camera or amazing mobile payment. However, most people come across an issue once in a while and that's how to change your smartphone while keeping the contacts, messages, photos and other data from the old phone.
This particular issue could be problematic if we are totally changing the phone platforms like Nokia to Samsung or Android to iPhone, which are not supported by each other. But never worry, in this guide we are going to resolve this issue so that whenever you buy a new smartphone, you get to keep all the data from your old device.
Method 1: Transfer Contacts & Photos from Nokia to Samsung via Bluetooth
One of the classic ways to transfer video, contacts and photos from Nokia to Samsung is by using Bluetooth feature. Fortunately both smartphone platform supports Bluetooth feature and we will indeed take full advantage of this feature to transfer the required data from one phone to another by following these steps.
Step 1: Turn on the Bluetooth on phones and pair the devices together.
Step 2: When the phones are discoverable in both devices, simple tap on the phone name of yours and list it as paired.
Step 3: Select the photos or videos that you want to send from your Symbian phone and share it as Bluetooth.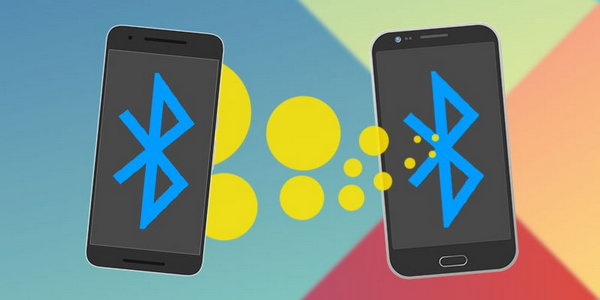 Step 4: Accept the files from your Samsung phone and wait for the device to receive the files in your Samsung phone.
Cons:
1. Transfer speed is very slow
2. Connection is not stable
3. Not able to transfer text messages, notes or call log.
Method 2: Transfer All Content from Nokia to Samsung Galaxy S9/S8/Note 8
No need to turn on Bluetooth and no need to download any app from anywhere because in this part, we will be using TunesBro PhoneTransfer to copy several types of data between two smartphones. It doesn't matter if you are using Android, iPhone, Symbian, Blackberry or any other smartphone because PhoneTransfer has good support for the devices powered by those mobile OS. It is 20X times faster any other software available on the internet and moreover, it is supported in both Windows and Mac platform.

Fast transfer speed
Easy to follow user interface
Support 1000+ mobile devices powered by Android and iOS
Built-in feature to back up and restore smartphone
Erase all content and settings on old phone permanently
Support Devices: Nokia 6, Nokia 7 and Nokia 8; Samsung Galaxy S9/S9+, Galaxy S8/S8+, Galaxy Note 8/7/5 and more.
Step 1

Download TunesBro PhoneTransfer on Computer

Install TunesBro PhoneTransfer on a Windows or Mac computer. Make sure to download the appropriate version and run the tool after that as an administrator.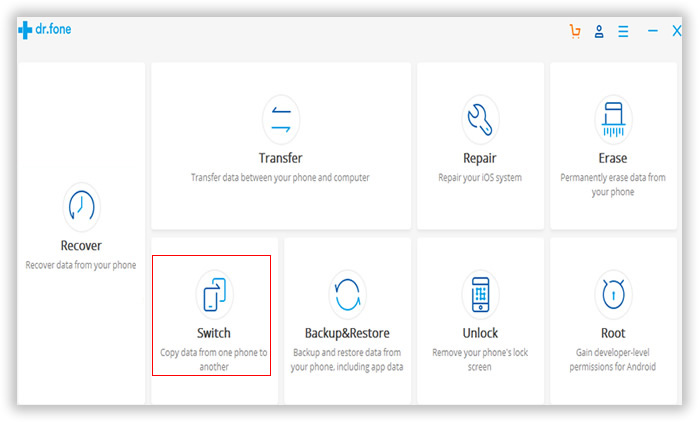 Step 2

Connect Nokia Phone and Samsung Phone to Computer

Connect both Nokia and Samsung phone to PC via USB data cable and the program will detect them both automatically. If the phone was not shown on the screen, please check if USB debugging is enabled on the phone.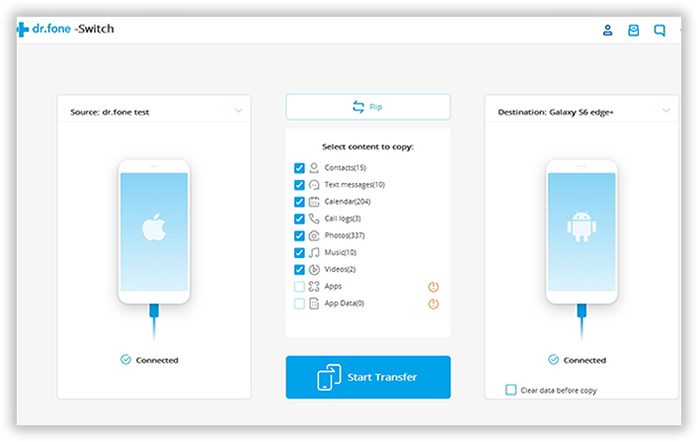 Step 3

Transfer Selected Content from Nokia to Samsung

Click on "Switch" from the home screen and on the next page, you should be able to select the data types that you wish to send like pictures, contacts, messages, documents, etc.

Once they are selected, simply click on "Start Transfer" and the program will send all the data types from your Symbian to Samsung within minutes depending on the size of the data.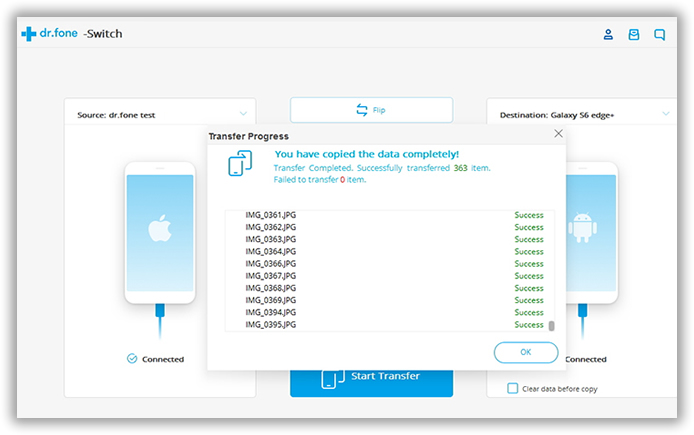 Method 3: Switch from Nokia to Samsung with Android App
Transferring data from Android to Android is a bit easier because they are both using the same operating system and as we know Google Play Store offers countless data transferring apps that will be handy to copy all the data from old phone to the new one. And in this article, we will be using Cloneit app to transfer all data from your old phone to the new one.
Step 1: Go to Google Play Store and download Cloneit app on both smartphones.
Step 2: Cloneit supports transferring over 12+ data types including multimedia files, contacts, messages, app data, etc.
Step 3: Launch the app on both phones and connect each other.
Step 4: Now choose the file types that you want to transfer like SMS, MMS, photos, videos, app data, etc. and when you are done with selecting, simply click on "Start" to transfer the data from your old Android to the new Samsung phone.
Please note, Cloneit is an ad supporting app that has the potential to install threatening viruses. Moreover, the speed of transferring is significantly slower than other tools.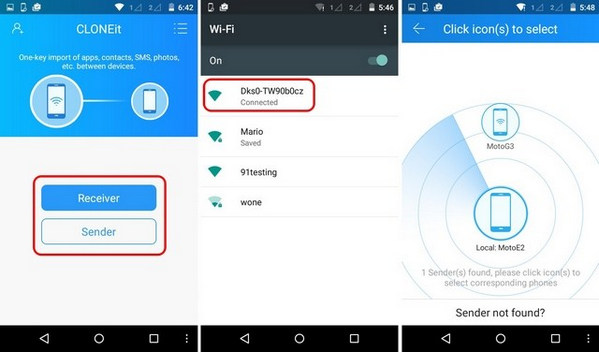 Summary:
Just like that, all the files and data are transferred successfully. Hopefully, you guys were able to get the best knowledge from this guide on how to transfer contacts, messages, pictures and other data from one smartphone to another. But we will still recommend using TunesBro software as it is super easy to use and very effective. Additionally, you can try this tool for free and check its true potential before registering it. Kindly visit the official product page to know the full details.

---