Did you recently buy a brand-new iPhone X or iPhone 8? I am pretty sure you will be excited to explore all the new features of iPhone X and you couldn't be more happier. But, whenever we get a new device, the first thing that clicks in our mind is how to transfer valuable data from old iPhone to the new one so that you don't lost any important data during the transition. Out of all the data, text messages are one of the most crucial asset that no one wants to lose since it contains private information like bank records, data reports, credit card statement, conversation.
Transferring messages from one iPhone to another is not similar to copying files because messages are packed in local database that cann't be moved normally. So, we will share 3 different methods with you on how to transfer SMS from old iPhone to the new iPhone in this tutorial. All of them are safe but has its own pros and cons. Please keep reading and choose the one that fits you best.
Method 1: How to Transfer Text Messages from iPhone to iPhone with iTunes
iTunes is the official software to manage iOS devcies on a computer and it is exclusively developed for iOS users. Most iPhone users should be familiar with iTunes as it can backup and restore data on iPhone, including text messages, photos, apps and media files. It can also be used for fixing system issues. So it is a nice choice when you switch between iPhones. However, the process would fail if the iOS version was not the same on both iPhone. Kindly head to Method 2 if this doesn't work.
Step 1: Connect the old iPhone to computer and launch the iTunes program. Make sure have the latest version of the program.
Step 2: Go to Devices > Summary.
Step 3: Click on "Backup iPhone" and choose the location where you want to save the backup file.

Warning: Not only text messages but aslo contacts/photos/music will also be imported on the new iPhone. If you already set up the device, then the data on new iPhone would be messed up.
Method 2: The Fastest Way to Transfer SMS from iPhone to iPhone X/8/7
iTunes is great but it is not flexible. That is the reason why there are so many alternatives out there. One of the easiest way to transfer messages from iPhone to another is by using a third-party program. In this guide, we take the most famous software TunesBro PhoneTrans as an example. It is one of the most poweful and user-friendly content transfer tool to copy private data from one smartphone to another. You can easily transfer over 10+ data types with a single click. It even supports migrating data between different mobile platforms, like iPhone to Android, Android to Android, iPhone to iPhone and so on.

Poweful and flexible data transfer functions.
Support Android, iOS, Symbian, Blackberry and Windows Mobile device.
Easily transfer contacts, messages, photos, music, call log and WhatsApp.
Restore backup data to new device via iTunes, iCloud, Blackberry Desktop, OneDrive.
Support Devices: iPhone XR/XS/XS Max, iPhone X/8/8P, iPhone 7/7P, iPhone 6S/5S/5/4S and more than 3000+ mobile devices.
Step 1

Install TunesBro PhoneTrans and iTunes

Download TunesBro PhoneTrans on your Mac or Windows computer then install it by accepting the terms and conditions. Launch the program and select "Switch" from the main screen.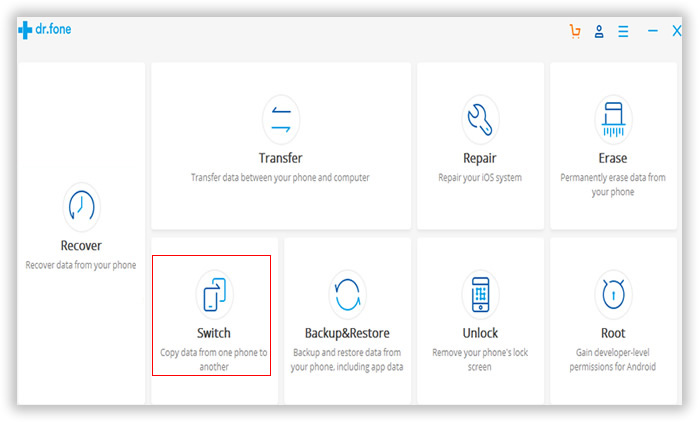 Step 2

Attach Old iPhone and New iPhone to Computer

Connect both iPhones to computer with 2 different USB cables or thunderbolts. The name of each phone should appear on the screen. The program will transfer data from the left side phone to the right side. So, make sure the left side is the old iPhone and the right side is the new iPhone. When it is wrong, click "Flip" tab on the central to switch positions.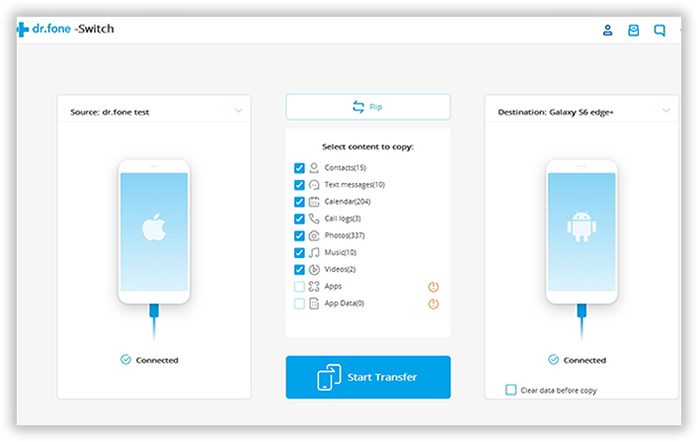 Step 3

Transfer SMS from Old iPhone to iPhone XR/XS/XS Max/X/8/7

Click on "Text messages" undert "Select content to copy" section and press the "Start Transfer" button. Typically wait 2-5 minutes later, your messages will be transferred to new iPhone flawlessly.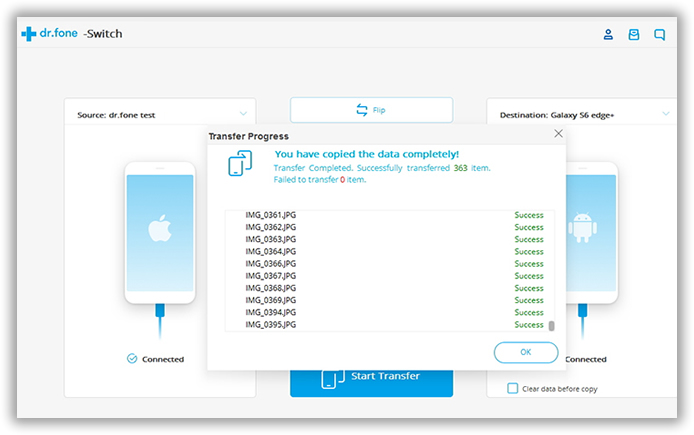 Method 3: Copy iPhone Messages to Another iPhone with iCloud
Similar to iTunes, iCloud is yet another Apple service that can be used to backup and restore data from all iOS devices. The difference is that iCloud stores iPhone data on a remote server. So if you enabled iCloud on old iPhone, then you can retrieve the same data on another iPhone when you got the new iPhone. Below is the required steps to do that.
Step 1 : From your old iPhone, go to Settings > iCloud. You will need to make a new iCloud account if you don't have already.
Step 2 : Turn on your iPhone X and it should welcome you with Hello screen. You must reset your phone if you don't see the Hello screen. If you already set up the iPhone, then you have to factory reset the device. Then this screen will apprea during next boot.
Step 3 : Next, choose "Restore from iCloud Backup". This will download iCloud backup data to new iPhone.
Step 4 : Type the iCloud account and password, then click "Next". Now iPhone starts to download files from iCloud. Finally, save all the data on the new iPhone. Please note, the whole process can be executed only if you have Wi-Fi connection.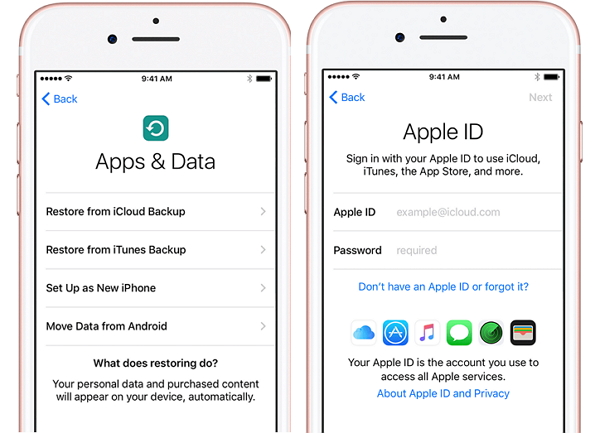 The Verdict:
Transferring messages from iPhone to iPhone is extremely easy if you have followed the instructions in this guide. According to the test result, Moreover, TunesBro PhoneTrans seems much better than iTunes and iCloud as it can be used to transfer any kind of data from one phone to another whether it is messages, contacts, videos, music, pictures, documents etc. The transfer speed is faster and the options are more convenient than the Apple way.

---