It's always an exciting experience to move from one smartphone to another. You have great expectations about new features, new capabilities and, obviously, the thrill of carrying around a brand spanking new device. But people rarely think about the challenges they need to face when moving from one device to another. What makes it even more frustrating is the fact that, when you move from Android to iOS, those challenges are complicated to no end. In this article, we specifically talk about how to transfer your WhatsApp chat messages from a Samsung smartphone running Android 8.0 Oreo to an iPhone running the latest version of iOS.
There are several ways in which you can accomplish a WhatsApp message transfer. However, a lot of the methods available out there are not entirely reliable. For example, it could corrupt your data or accidentally delete it. In the worst case scenario, you may lose some of your most important messages and never be able to retrieve them again. A reliable application is truly worth its weight in gold if your WhatsApp chats are precious to you.
Let's look at one free method and one premium method that are used worldwide by millions of users to transfer all their WhatsApp chat data from one platform to another; in this case, from a Samsung smartphone to an iPhone.
Method 1: How to Transfer WhatsApp Chat from Samsung to iPhone via Backup
If you been using WhatsApp for a while you probably know this method already. WhatsApp has a built-in backup feature that can save all of your conversations, which you can then access from another device when you load up WhatsApp on that second device. To do this, you simply go to Menu >> Settings >> Chat >> Chat Backup. Once you click on that option, all of your chat conversations are going to be backed up to a shared location. But don't worry: the location is secure, and there are authentication processes in place to make sure that only you can access that information.
Once you do the backup, make sure to uninstall WhatsApp from your Samsung device. Next, download WhatsApp on your iPhone and log into it; you should see a popup window message that asks you if you want to load all your backups on the new device. If you confirm on this step, all your data will be updated on the iPhone.
There are typically some risks associated with free methods, and this particular method is no exception. In some cases, certain chat messages may not sync properly or a thread may not be transferred in full. If you're worried about that happening, then you might want to try this second method, which is fail-safe.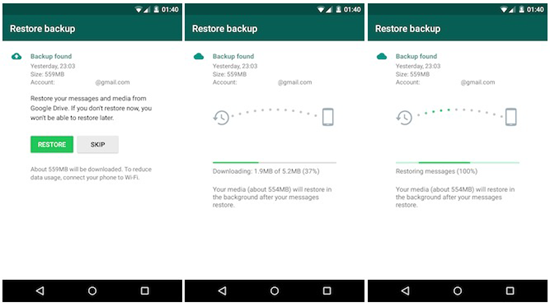 Method 2: Transfer WhatsApp Messages from Samsung to iPhone via Desktop Software
The first method is not always working so we have a backup plan here. In this part, we will use a desktop tool to directly transfer WhatsApp between two smartphones. It is called TunesBro WhatsApp Transfer. This premium utility is trusted by millions of people all over the world because of its reliability, and the fact that it maintains data integrity during transfers. It's a simple but powerful software that allows you to transfer all of your WhatsApp chats from Samsung to iPhone. For that matter, from any Android device to any iOS device, and vice versa.
To use this software, you will need a PC and two USB cables so both phones can be connected to your PC simultaneously. You will also need to ensure that the latest iTunes version has been downloaded to your PC. Once these preparatory steps have been completed, you can proceed to the actual transfer process.

Powerful features with simple user interface.
Backup WhatsApp data to computer in one click.
Extract WhatsApp attachments to computer.
Support Windows and Mac OS.
Step 1

Install TunesBro WhatsApp Transfer

Download and Install WhatsApp Transfer software on a Windows or Mac computer.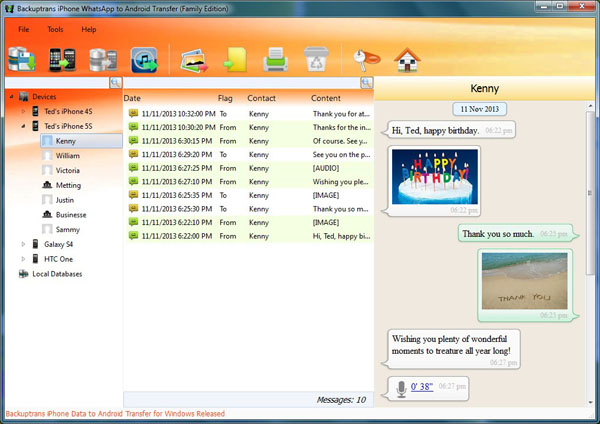 Step 2

Connect iPhone and Samsung Smartphone

Now, launch the software on your PC and connect both your devices to the PC using the cables mentioned before. On the software interface you should now be able to see Device 1 - which would be your Samsung smartphone - and Device 2 - which will be the iPhone that you want to transfer your WhatsApp data to. At this point, you may get a popup on your Android device asking you if you want to backup your data; click on OK, but do not enter a password.
Step 3

Transfer WhatsApp Messages and Attachment from Samsung to iPhone

Now back to your PC, you should now be able to see all of your chat messages categorised by your contacts on the left side. Clicking on a contact will allow you to preview all the chat messages that you had with that person. You can either select all of the chats or just specific ones, then proceed to the next step.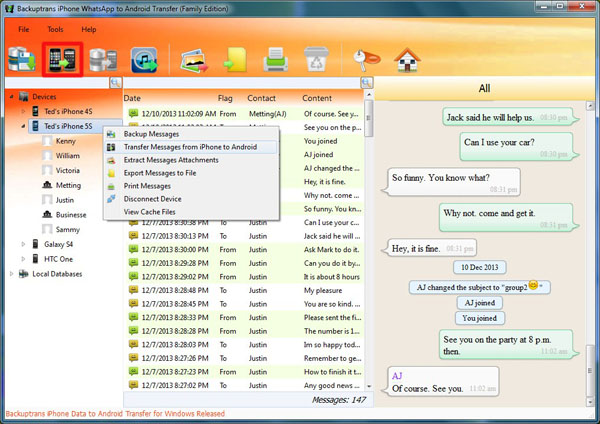 Now, if you look at the toolbar on the top, you will see a message to transfer from Android to iPhone. Once you click on that, you can choose your target iPhone. Now, click on "Confirm", and the process will be automatically completed in a little while.
You should now be able to see all of your chat messages transferred safely from your Samsung device into your iPhone. And that's really how simple it is to use this powerful software.
Conclusion:
A lot of people hesitate to buy premium software because they don't really know whether it's worth the money or if it will do the job right, but with TunesBro WhatsApp Transfer you need not worry at all. The transfer rate is always 100%, and none of your messages will ever be deleted or lost.

---