WhatsApp is one of the fastest growing messaging apps in the world. Purchased by Facebook nearly four years ago for a whopping $19 billion, the deal was sealed over a bottle of Johnnie Walker scotch whiskey! As of February 2018, WhatsApp had 1.5 billion users, making it the most popular messaging app in the world and possibly the only social app to rival Facebook's own user base of over 2 billion accounts.
But none of that is actually relevant to you as a WhatsApp user. What is relevant, though, is how on earth to transfer your WhatsApp data from one iPhone to another iPhone in the easiest, more reliable way possible. And that's what we're here to talk about today.
Here are three ways to transfer all your data from WhatsApp account when you're upgrading your iPhone and presumably moving everything to a newer model.
Method 1: Transfer WhatsApp Messages from iPhone to iPhone via iCloud
This is not the ideal method because you may end up with overwritten data, but it's simple and you don't need any additional tools.
Make sure you've enabled iCloud backup on your first device before you proceed. If you have Auto Backup turned on, make sure that a backup was done recently. Then go to Settings section on your WhatsApp and go to "Chat Settings" and "Backup". Once you tap on "Back Up Now". All your chats will be transferred to iCloud. On the new iPhone, when you put in your SIM, download WhatsApp and open it, it'll ask you to verify your phone number. With that done, you'll get the option to restore everything.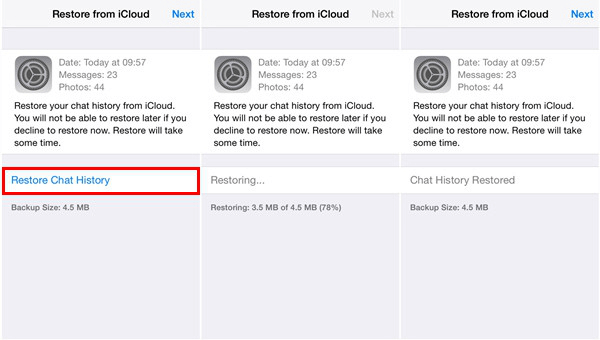 Method 2: How to Transfer WhatsApp from iPhone to iPhone without iCloud
A specialty app is not usually required for tasks that you can get done for free, but because of the problems that WhatsApp users regularly face with these free options, several utilities have cropped up over the years. One such premium utility is TunesBro WhatsApp Transfer.
The best part about this software is that it is versatile and reliable. Not only can you transfer all your WhatsApp messages from one iPhone to another, but you can transfer between Android and iOS devices, extract images, video, and audio to your PC - and even move conversations to your PC for taking printouts.
Step 1

Download and Install TunesBro WhatsApp Transfer

Before you start, make sure you have the latest iTunes version installed on your PC or Mac, or atleast iTunes 11 or above. Choose between the Mac or Windows versions, download and install the appropriate one.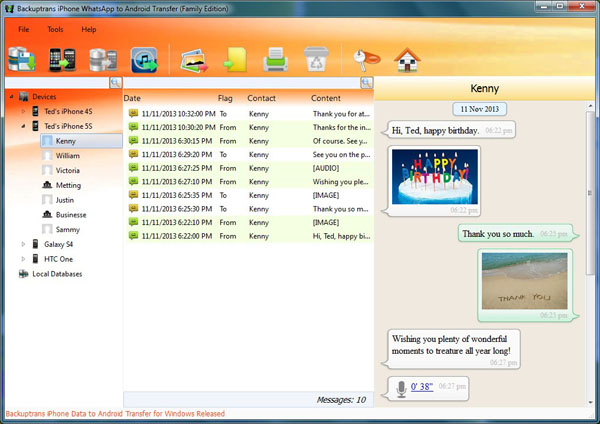 Step 2

Connect Two iPhones to Computer

Run the application with both the devices connected to your computer. The software will show you all your WhatsApp chat messages, with media attachments.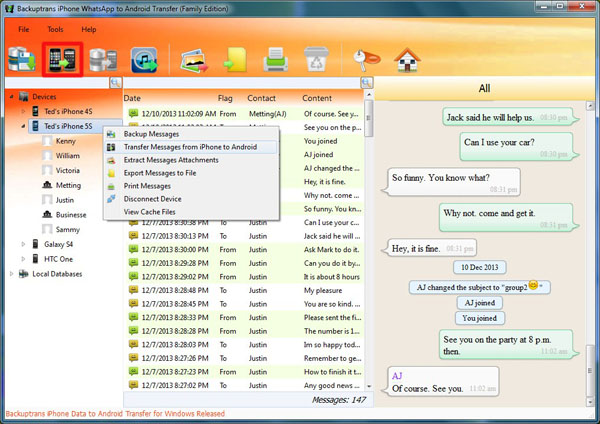 Step 3

Transfer WhatsApp Messages and Media from Android to iPhone X/8/7

Select the first device (source) from the devices list on the left, then on the toolbar click on "Transfer Messages from iPhone to iPhone" button. Alternatively, you can go to "File > Transfer Messages from iPhone to iPhone" or right-click on the source device on the left and choose "Transfer Messages from iPhone to iPhone."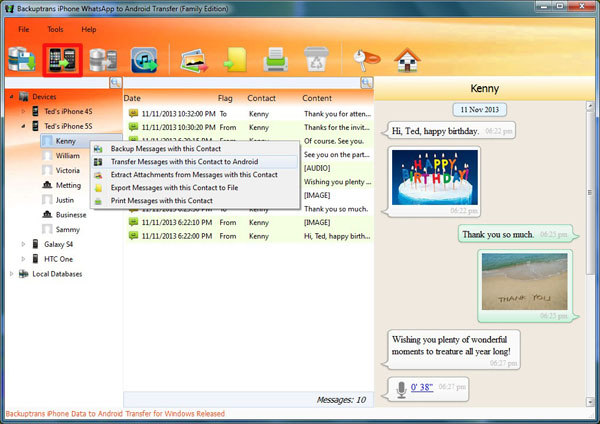 At this point, you can also choose to only transfer chats with a single person on your contact list. Now choose the target device, which is the other iPhone in this case, and confirm. Note: Before you do this, make sure that WhatsApp is closed on the target device.
Method 3: How to Transfer WhatsApp from iPhone to iPhone Using iTunes
iTunes is another useful utility for this purpose, but you'll need to hook up your iPhone to your PC or Mac to do a WhatsApp backup. On your old iPhone go to "File > Devices > Back Up" and complete the backup. Once you're done, connect the new iPhone, and on the prompt for setup, select "Restore from iTunes Backup".
Your WhatsApp conversations should already be there after you verify your phone number, but as with the previous method, WhatsApp's own restore function will kick in and some of your data might be overwritten.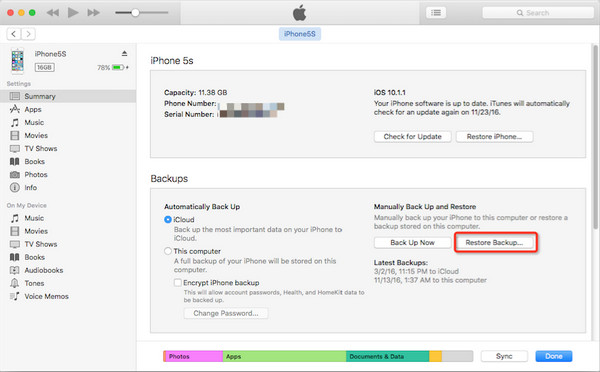 Conclusion:
I have tried all three suggestions about and honestly TunesBro WhatsApp Transfer is the fastest way to completely transfer WhatsApp chats and attachments. Also, the option is more flexible than iCloud. It is our first choice. However, if you don't like it, feel free to use iCloud or iTunes to move WhatsApp data from one iPhone to another. They are also reliable methods.

---