Finding the right app to backup all the data on your Android device is absolutely essential. Unfortunately, a lot of people ignore this important element and end up losing valuable photos and files that they can often never get back.
Why Backup is So Important?
Data is quickly becoming the most valuable commodity in the world, but on a personal level it defines the kind of person you are. Just like your social media trail tells the story of your life, your photos, the music you listen to and the videos you watch define your personality to the outside world.
As a matter of fact, even your messages and your personal device settings say volumes about who you are. So why take a risk on losing such a valuable thing when you can easily keep it safe with simple tools? Well, that's what we're here to do today: to show you some free and premium options for safeguarding all that valuable data from your Android mobile device.
#1 Best Android Backup App : Backup Your Mobile
This free Android app is great if you want to backup all your contacts, call logs, SMSes, settings, calendar events and other locally stored data. The backups can be made to the SD card or device memory, and also to external cloud locations like Dropbox, OneDrive and Google Drive.
There are a few downsides to using this free utility. For one, system and secure settings can only be restored to the same device, or it may not work properly. Also, APNs restored from one network might not be visible in settings if you're on a different one while restoring. The developer also says that WiFi passwords and secure system settings require root access and that they are still in the experimental stage so watch out for any problems there.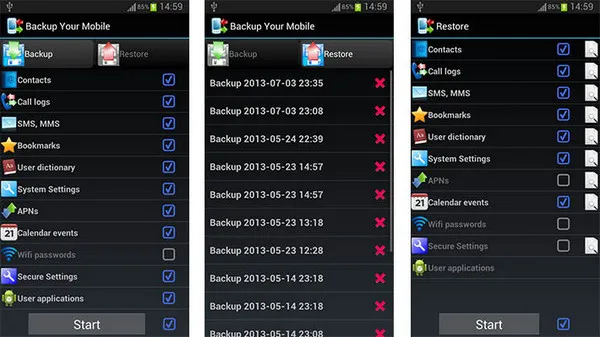 #2 Best Android Backup Software for PC : TunesBro Android Manager (Without Root)
Backing up data on the device is not that convenience because of the small screen. So many people prefer doing backup task on a computer with large screen. Most importantly, rooting is not required. In here, we will take TunesBro Android Manager as a live example. This is a premium desktop application that you can try for free. It's highly regarded in the marketplace, andTunesBro has several other top-of-the-line premium tools for Android as well as iOS platforms.
The biggest advantage is its 1-click backup function that moves all or selected data from your mobile to your PC. Here's an overview of how to use the application:

Well designed backup and restore feature.
Only backup the data you think it is important.
No need to root the device.
Support latest Android OS as well as 6000+ Android devices.
Step 1

Installation

Download and install TunesBro Android Manager to your Windows PC or Mac computer. Launch the application and then select "Backup & Restore" module on the home page.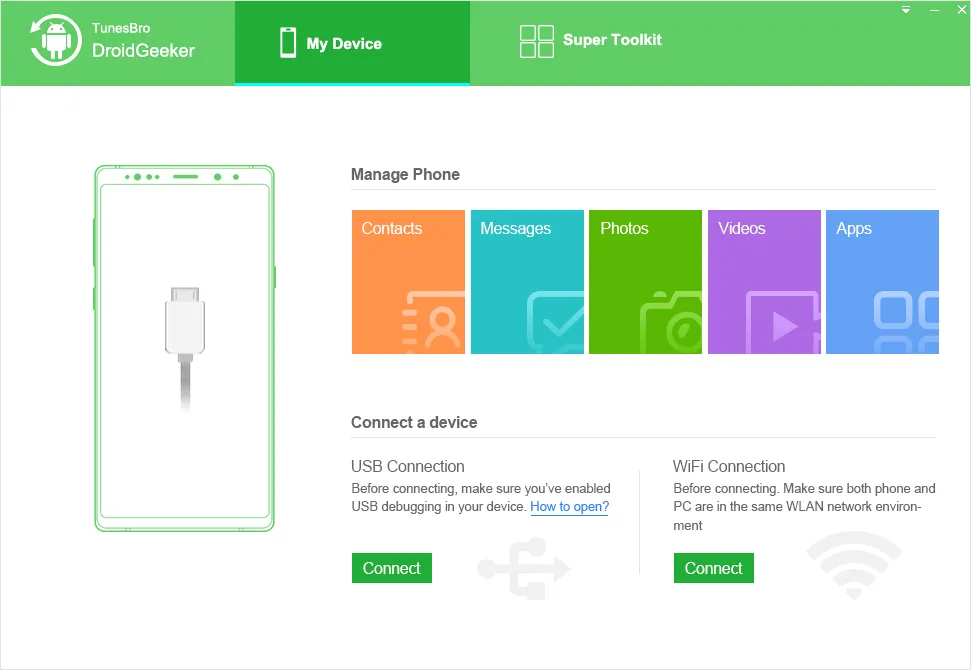 Step 2

Turn on USB Debugging on Android

Now enable debugging mode on your Android smartphone and connect the device to the PC. If you're running anything higher than Android 4.2.2 the software will automatically cause a popup to appear on your phone asking you to allow this. Tap on "OK" button to continue.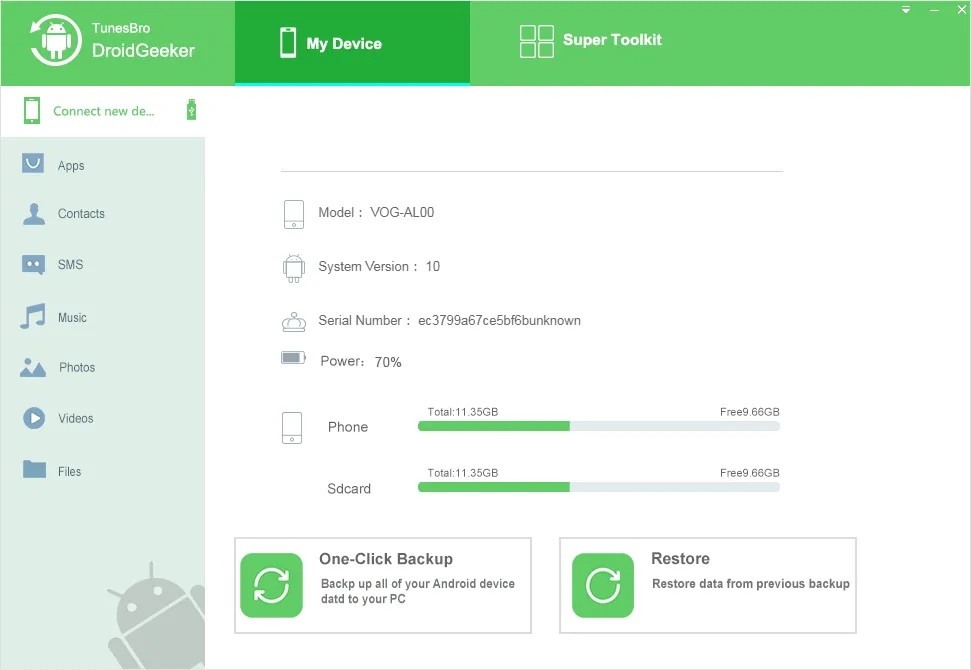 Step 3

Select the File Types for Data Backup

Select "Backup" and then on the next page deselect anything that you don't want backed up to the PC. Confirm, and you're good to go. Just remember not to use your phone or delete anything from it while the process is underway. It should only take a few minutes before your backup is ready and you can unplug the device.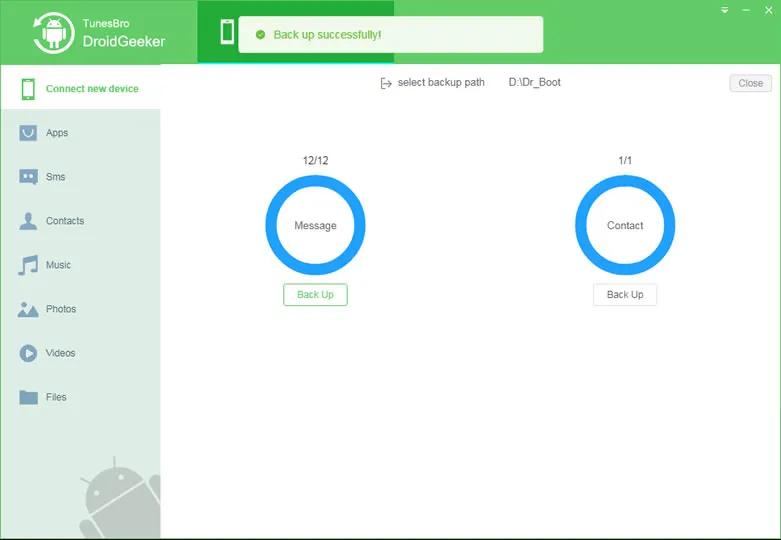 You can now view your backup files, and restore them to back to your Android phone whenever you need to. The next time you plug your device in and launch the software, you'll be able to see your previous backups and restore the one you want.
Best Android Backup App #3: G Cloud Backu
G Cloud Backup is another Android app that backs up everything from your Android device. As the name suggests, your backups are saved in a cloud location. The app offers 1GB of free cloud space, and the opportunity to earn upto 10GB.
It's a good app if you don't want to mess around with USB cables or be tethered to your PC to do backups. However, the user interface seems a bit complicated and you have to invest a lot of time to figure out how it really works for each function.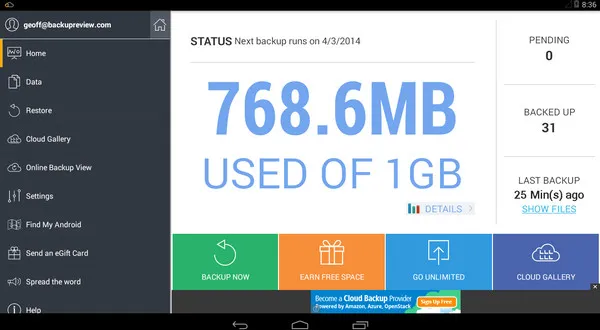 Best Android Backup App #4: Super Backup & Restore (App Data Available)
Self-claimed "the fastest data backup and restore tool on Android phones", Super Backup & Restore is certainly fast, but not without its own foibles. It offers several backup options for messages, call log, contacts and app data. However, the device should be rooted before using the full backup functions.
Some users have complained about partial restore issues for messages, notifications that can't be dismissed, not able to view SMS backups and so on. Overall, though, it has a decent 4.4 out of 5 rating from about 141,000 users.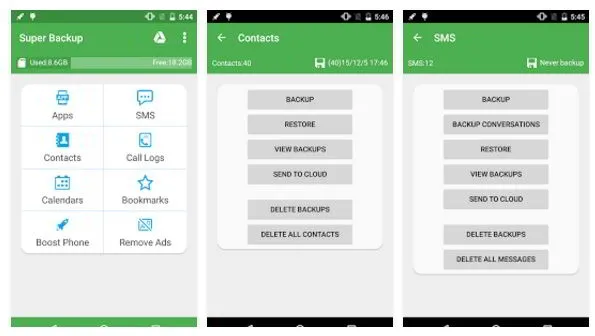 Best Android Backup App #5: SyncDroid
The Android Sync Manager is available for Windows as well as Android. It supports both USB and WiFi, and you can easily backup all your data to your PC in just a few clicks.
The mobile app from SyncDroid will let you do backups to your SD card or Dropbox, while the PC client allows you to put everything on your desktop for restoring whenever you need it.
Final Note
There's a huge body of Android backup software available on the market, but make sure you either read user reviews or go with a premium product that offers multiple guarantees, free support, lifetime upgrades and all that good stuff. That's the only way to make sure you don't have to deal with a negative experience. Your data is valuable, so don't take any chance.

---