Samsung Galaxy series is a set of flagship smartphone in Android field and they are really hitting the market with the new release of Galaxy S9 and Note 8. More and more Motorola smartphone users already switched to the Samsung flagship in 2017 or have a plan to do that in 2018. But most people worry about transferring data from one device to another. The fact is that all the data on their old device can be moved to new device seamlessly . With the right tricks and solutions, you can easily transfer all type of contents like contacts, messages, photos, music, videos, documents etc. from Moto to Samsung.
Please remember that a few data types of are easier for transfer from one phone to another like photo, music, videos etc. but few of them are extremely tough such as database related items like contacts, messages. But in this tutorial, we will show how to transfer all content rom Moto to Samsung in a short of time. Plus, you can also use these methods on other Android smartphones as well.
Part 1: Transfer Contacts from Motorola to Samsung Galaxy S9/S8/S7/Note 8 with Google
You may now know this but you can actually transfer all of your contacts from one Android to another using your Google account. Please note that an active Gmail account is needed to achieve this task.
Step 1: From your Moto phone, go to Settings -> Accounts.
Step 2: Tap on Google and sign in to your favorite Gmail account.
Step 3: Check Contacts field and sync your phone with your Gmail account.
Step 4 : From your Samsung phone, go to Settings > Personal > Accounts > Google. Login to the same Gmail account and sync your phone again. Your contacts should be imported now.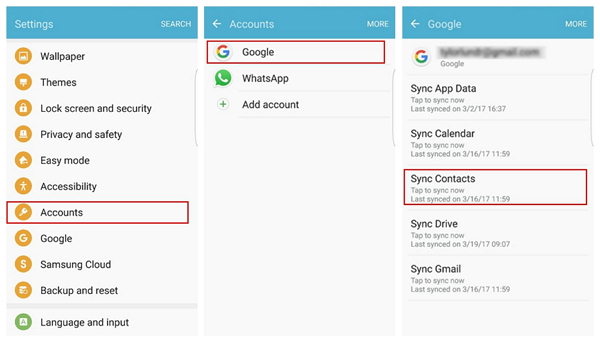 Cons:
1. Google account is required.
2. Mess up the existing accounts.
3. New accounts not synced.
Part 2: Transfer Text Messages/Contacts/Media File from Moto to Samsung in 1-Click
When you got a new smartphone, it would be better if there were an solution to transfer all kinds of information from one device to another. Fast and take less time, right? The answer was NO in the past and now it is totally possible with the help of Tunes PhoneTrans. It is the best choice to go with. PhoneTrans is a great computer desktop program that helps you easily copy private data from one phone to another by creating a bridge connection between them.
It is able to transfer 17+ data types including photos, contacts, music, videos, documents, messages, etc. It is perfectly compatible with over 2500+ Android smartphones and works on both Mac and Windows computer. There are even other miscellaneous tools that you could use to expand the specifications of your phone such as data backup, content erasing. First, let's see how to transfer data from Moto to Samsung with PhoneTrans.
Support Device: Moto G, Moto E, Moto X, Moto Z, Samsung Galaxy S7/S8/S8+/S9/S9+, Galaxy Note 8 and 2000+ more.
Step 1

Installation

Downloading the executing file from the official website and install the program on a computer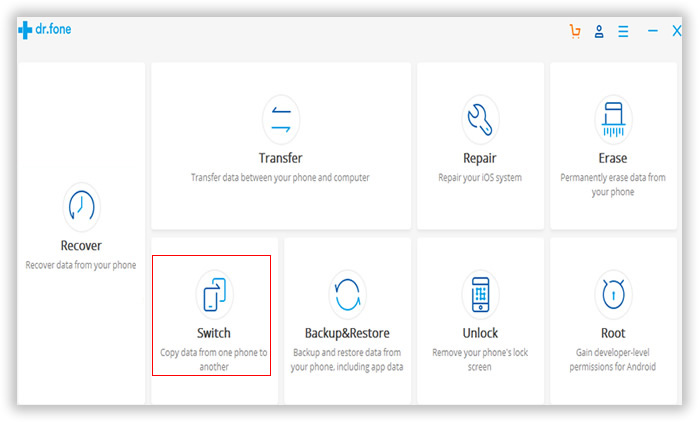 Step 2

Enable USB Debugging on Moto and Samsung Smartphone

Run the program and connect both phones to PC. Make sure to enable USB debugging mode on both phones first. Click on "Switch" from the home screen of the program.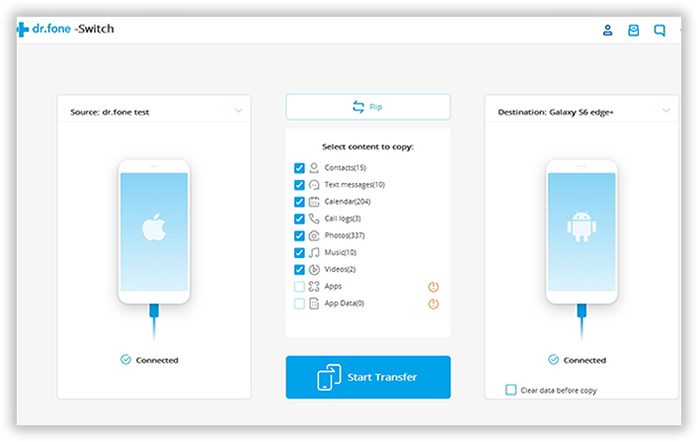 Step 3

Migrate Selected Data from Motorola Phone to Samsung

You should be able to see both phones side by side. Make sure that the left side shows LG phone and the right side shows Samsung. If not, simply click on the switch button. Choose the data types that you want to transfer then simply click on "Start Transfer" to copy all the data from LG to Samsung phones. This is one of the easiest way to transfer data from one to another.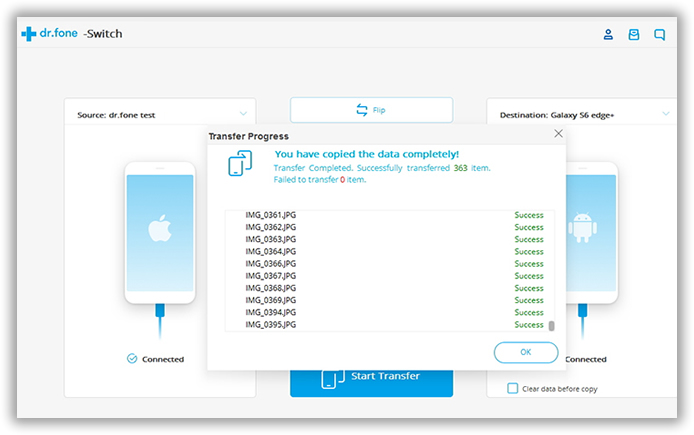 As far as I know, this is by far the fastest method to fully transfer all content from Moto phone to Samsung Galaxy. Usually, it only takes around 10 minutes to complete the transition. It would take hours if you chose other methods.
Method 3: How to Transfer Photos/Music/Videos via Google Drive
Cloud storage is a popular method in nowadays. People are more willing to backup their information on remote server so they can access it at any time on any device. If you were familiar with Google products then you must know that Google Drive is one of the most used cloud server on Android world. It allows you to store up to 2 GB of data on their server that you can use to transfer files from Motorola to Samsung. This is great for music, videos, photos and documents.
Step 1: Install Google Drive on both Moto and Samsung phone.
Step 2: Open the app on your LG phone and upload all the photos from your phone to your Google Drive account.
Step 3: Now, open the Google Drive on your Samsung phone and sync all the photos from your account.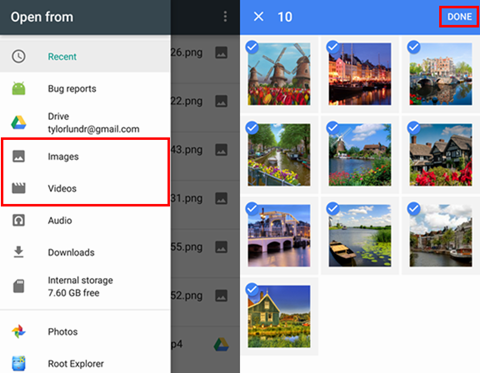 Cons:
1. Take a lot of time if the data was so big.
2. Fast internet connection is a must.
3. Can't sync contacts and text messages.
At The End :
In this short guide, we have shared how to transfer data from Moto to Samsung. However, PhoneTrans is recommeded in here as it can transfer any kind of data from one device to another at the minimal time. It is a must-have tool if you keep migrating phones and in addition, it can also backup your entire device as well as erase all old data from your previous device. Hopefully you guys found this article valuable and don't forget to share it.

---