Not many people taking phone backups seriously for their OnePlus device. In fact, most don't take phone backups at all! But the problem with this approach is that it only hurts once it's too late to do anything about it. That's why we recommend that you do regular backups of your OnePlus smartphone's data - because when you need it and you don't have it, you'll regret not doing it in the first place.
Why Take Regular Backups?
Most people think that they only need to do a backup of their device if there's danger of it being stolen or lost. A lot of users have the mentality that if they're careful with their phones, they won't need to backup anything. That's a big mistake. There's always the possibility of a virus infecting your device and wiping or corrupting everything, or it could be water-damaged by accident. It might also be damaged by someone dropping it, sitting on it, etc.
Although there are data recovery utilities that can retrieve your data even if your device is beyond repair, why take the chance? As a matter of fact, why pay for data recovery at all when you can save money by taking regular backups in the first place?
There are some great tools that can handle backup and restore for Android as well as iOS devices, and we've outlined two of the best. One is free with limited functionality, and the other is a premium utility that goes above and beyond what it's designed to do.
Method 1: How to Backup Samsung OnePlus 6/5T/5/3T/3 to PC or Mac without Root
Purpose-built for Android backup & restore functionality, TunesBro Android Manager utility is the one you're looking for if you want a hassle-free experience rather than just a free ride. It's built from the ground up and is capable of handling all your sync, backup and restore needs for your OnePlus device.
You'll also be pleased to know that none of your data is at risk, and this is 100% guaranteed. No data loss, and your information is untouched as it is moved from your OnePlus to your PC, and vice versa. Here's how to backup all the data from your OnePlus device to your computer using this program.

Backup entire Android phone in less than 3 clicks.
No need to root the device.
Restore lost data from existing backup.
Support 3000+ Android smartphone and tablets.
Step 1

Install TunesBro Android Manager and Connect OnePlus

Download, install and activate the software on your WIndows PC. Launch the application and connect your OnePlus device to the computer with a standard USB cable. If the device was not detected by the program, make sure Android USB debugging is enabled on the phone.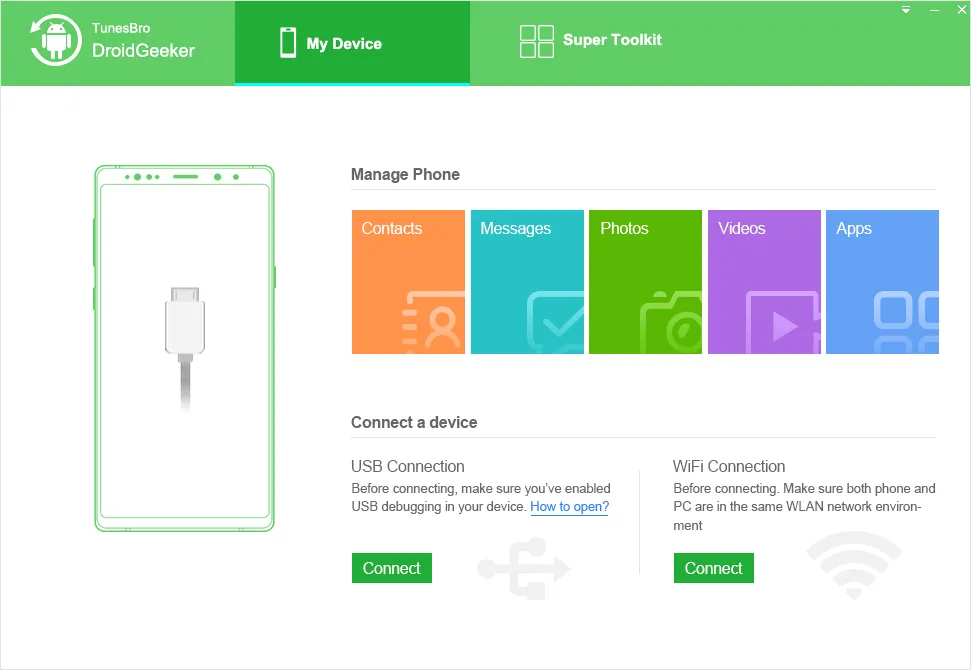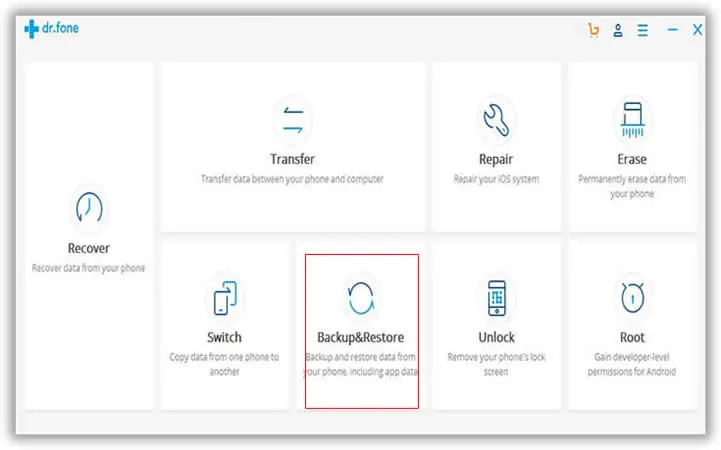 Step 2

Select Data Type for Backup

On the interface, you'll see several different options, which is what makes this software well worth the money. You can use it to wipe your phone (Erase), transfer data between devices, repair your device system, unlock it, switch devices and even root OnePlus smartphone. The one we're focusing on now is the Backup & Restore function. Click on that section.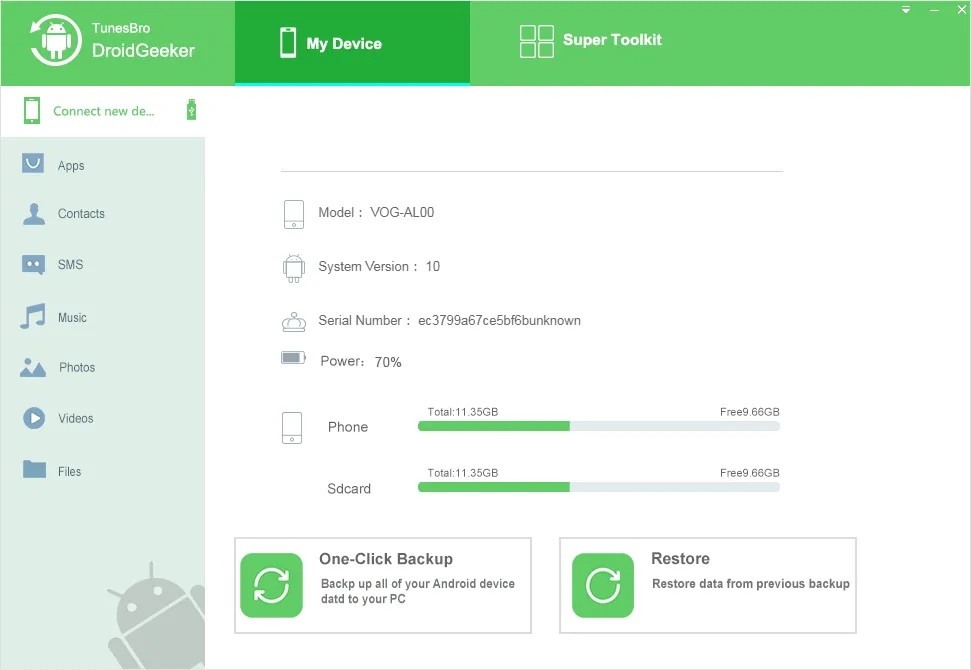 Step 3

Restore Samsung Galaxy S9/S8/S7/S6/S5 from Backup File

Your device is automatically detected, and you'll be able to see it on the next page. Now, all you need to do is click on "Backup" and all your data will be copied exactly as it is into a backup file that you can keep in a safe location on your computer's drive.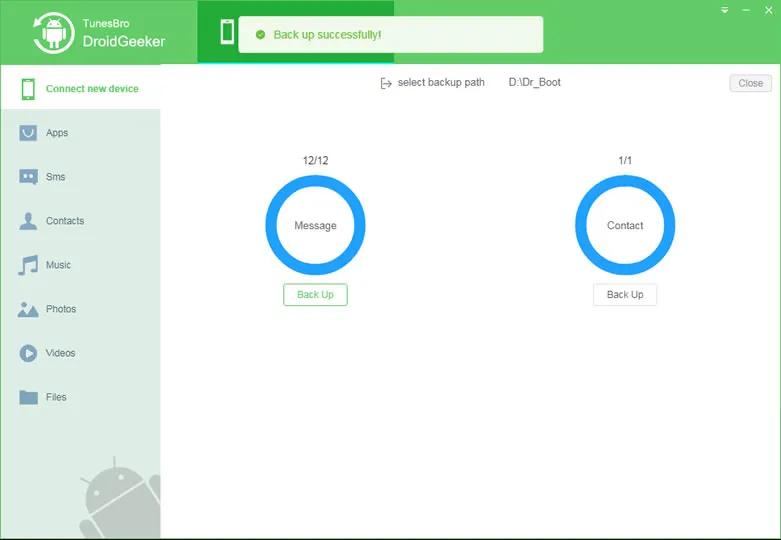 This one-click method is why the software is popular among millions of Android users around the world. No hassle. Just launch it, connect the device and hit "Backup". It's equally easy to restore the device to a former state. On the interface, you'll be able to see and even preview previous backup files so you can decide what you want to keep or discard even before you restore the data to the device.
You can also decide if you want to backup specific categories of information, such as just messages or just contacts, or if you need a full backup of your OnePlus device. You won't find that kind of versatility in all such software, even the premium ones.
Method 2: How to Backup OnePlus Phone with SyncDroid
This is one of the best free utilities available for Android backup & restore. It's got a ton of features, and you can easily backup your OnePlus device in batches. You can also easily transfer data back and forth between your smartphone and your PC without a hitch.
The only downside to using this software is that it isn't designed specifically for Android. It's a sort of blended software that supports both iOS and Android. You may have to sync or transfer different file types on multiple passes, so it's a little labor-intensive. But if you're keen on a free utility, then this one beats all other freeware hands down.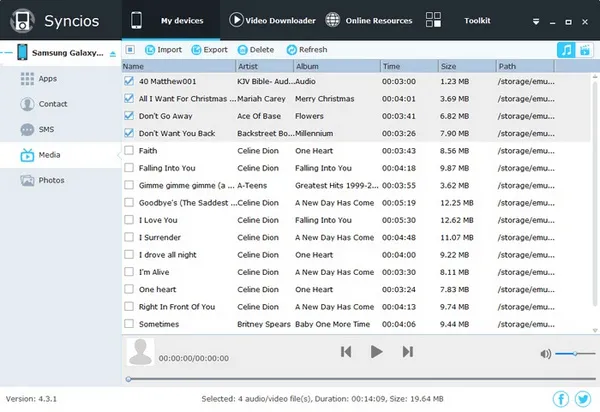 Conclusion:
Since you're going to be doing regular backups (we hope!) for your OnePlus smartphone, a premium utility will save you a lot of money and trouble down the road. You get the tech and customer support you need, and you know that there's a large team of developers working behind the scenes to make sure you get regular updates to perpetually keep your software as secure as the day you buy it.

---