Transferring WhatsApp messages and its media attachments from Android to PC is the most secure way to ensure that your data is in safe place. WhatsApp is one of the best instant messeging apps and has been downloaded by multi-billion users for conveniently sending and receiving text messages as well as meida files such as photos and audios. I am sure there will be important content stored in WhatsApp, so it is safer for everyone to keep a backup of your entire WhatsApp conversation on PC in case any kind of data loss occured unexpectedly.
Android phones has a bad tendency to crash or malfunction for no good reason that causes severe data damage. At the same time if your phone is lost or stolen then you can recover WhatsApp messages from its own cloud backup or from your Google account. But, for your own security, we will teach how to transfer WhatsApp Messages & Photos from Android to PC seamlessly.
Supported Android smartphone: Samsung Galaxy, HTC, Sony Xperia, Moto, OnePlus 5, Huawei, Xiaomi and 2000+ more .
Part 1: Backup WhatsApp Messages to PC with Default Settings
WhatsApp stores its data and attachments to a private folder on your Android that can be exposed directly on your PC if you connect it with a USB data cable. You can easily extract the photos but keep in mind, you won't be able to read the messages on your PC with this method.
Step 1: Connect your Android to PC via USB data cable wire and wait for your computer to recognize it.
Step 2: Open My Computer and double click on your Android phone. Open your internal memory storage because WhatsApp saves all its item on the internal memory.
Step 3: Find the WhatsApp folder and right-click on it followed by copy.
Step 4: Go to your computer and paste the folder in any desirable location.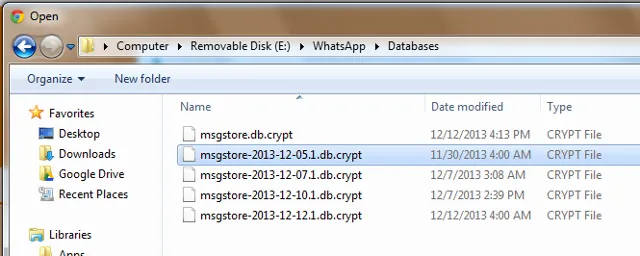 Step 5: Select messages and click "Export to PC" to initiate transferring process and within a short while, the messages will be transferred in a .sme format. 
That's all. It may take several minutes, so keep your phone connected until the progress is finished. However, there is no way to preview the content in that backup file, which is not user friendly. If you would love to preview or only want to backup part of the content, then the following method is much better.
Part 2: Transfer WhatsAPP Messages and Attachments from Android to PC in Easy Way
Over the advancement of mobile technology, software developers has designed many tools to help users backup WhatsApp chats from Android to PC. In this part, we will be using TunesBro WhatsApp Transfer to migrate your entire WhatsApp conversations and media attachment to PC effortlessly.
TunesBro WhatsApp Transfer is a remarkable desktop utility especially designed for Android and iPhone users to transfer WhatsApp data from their device to PC. Every communication created by you in WhatsApp will be migrated to PC easily including photos, music, voice notes and other multimedia files. It is extremely easy to use and requires few simple steps to transfer WhatsApp from any Android device to PC.

Backup and transfer WhatsApp messages from Android devices as well as iPhone.
Restore backed up WhatsApp conversations to any Android or iPhone.
Migrate WhatsApp chats between different Android devices directly.
Extract WhatsApp content from iTunes and iCloud.
No root or jailbreak needed.
Step 1

Download TunesBro WhatsApp Transfer

Download and install TunesBro WhatsApp Transfer on Mac or Windows computer. Launch the program and get your Android device connected to PC via USB data cable.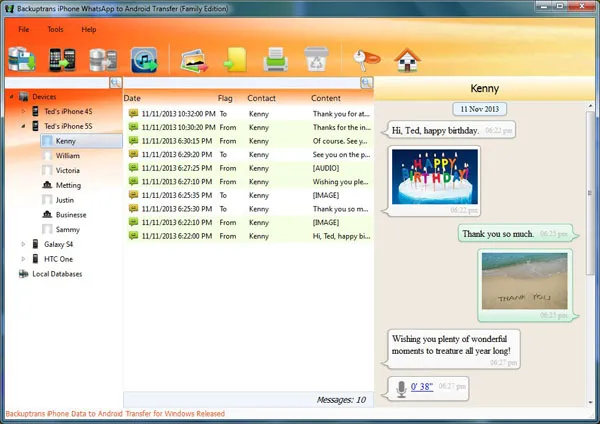 Step 2

Turn on USB Debugging on Android and Connect Android to PC

Before connecting the phone to computer, please turn on USB debugging function on the device. If it was already done, then skip this step. If not, then please follow the steps in this tutorial to enable the feature on Android.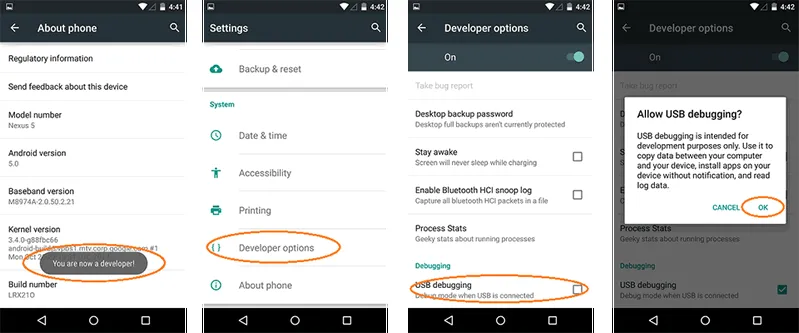 Step 3

Transfer WhatsApp Messages from Android to PC

Once the device being recognized, TunesBro WhatsApp Transfer will now show all conversations on that Android device. Plus, you can directly preview each conversation on PC. To backup the entire WhatsApp chat and attachment, right-click on your Android from the left sidebar panel. Select on "Backup Messages". Locate the folder on your PC where you want to keep the backup and enter the backup database name. Confirm and save everything.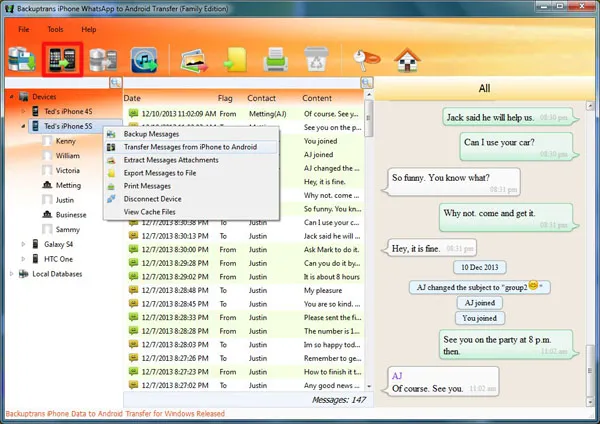 To backup only a chat from a specific contact name, click on your Android device name from the left sidebar panel to expand the list. Right click on the name of the contact. Click on "Backup messages from this contact". Select the path where you wish to keep the backup chat. Enter the name of your chat. Finally, confirm and backup the conversation on your PC.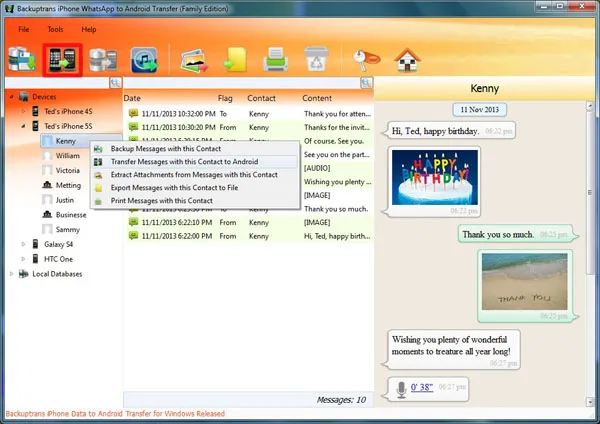 Please note, all media attachments will be backed up with the conversation as well that can be easily extracted.
Summary:
WhatsApp has become a crucial asset in our lives to exchange private and important information. It is recommended that you backup the device at least once a month to keep your chat history up to date. We won't recommend to backup WhatsApp on cloud servers because they are not safe but rather back them up directly on PC using TunesBro WhatsApp Transfer.

---