iPhone X and iPhone 8 were finally launched and it is way more exciting for iPhone users. The new device has tons of new features that iOS users are loving to their bones. However, whenever you upgrade the iPhone, the first thing that comes in our mind is how to transfer content from the old iPhone to the new one so that we don't lost any important information, especially for contacts list. Without contacts information, we won't be able to keep in touch with our friends, families and colleagues. This has been asked quite a lot of times.
Honestly speaking, transferring contacts between two devices is not really hard. Just a simple tweaks and tricks and you will be able to keep all the contacts from your old device. In this tutorial, we are about to show 3 amazing ways to copy contacts from iPhone to iPhone. The difficulties of these methods vary from person to person but we will try our best to keep them as simple as possible.
Option 1: How to Transfer Contacts from iPhone to iPhone by iTunes
iTunes is a life saving program that really helps when iPhone users want to keep their data and information in one single place. It has a great backup and restore feature for all iOS users. Once you backed up the device, you can easily restore old content to new iPhone in a few steps. However, the process would fail for sure if the two iPhones were with different iOS versions. Please keep in mind of that. If this doesn't work, please move to Option 2, which is much easier to follow.
Step 1: Connect iPhone to computer and backup the old iPhone with iTunes.
Step 2: Connect the new iPhone to computer and launch the iTunes program.
Step 3: Click on the device name and under the Summary section, click on "Restore Backup".
Step 4: Choose the latest backup file and hit the "Restore" button again.
Step 5: This will recover all the data and information from your old iPhone and write them on your new device. You may check your iPhone after the restoration is finished and all the information from your old device should be present now.

Cons:
1. Can't restore contacts to new iPhone if the old iPhone had a different iOS version.
2. New data would be overwritten by old data, such as photos, messages, music, etc.
3. Take a lot of time.

Method 2: How to Transfer Contacts from One iPhone to Another with PhoneTrans
iTunes is totally free and recommended by a lot of people. But honestly, as a 5-year iPhone users, I am not a fan of iTunes as it really slow and has many errors when dealing with it. So if you were looking for an easy and comfortable way, TunesBro PhoneTrans is the best option in 2018. PhoneTrans is a powerful desktop tool widely used for sending data from one phone to another with USB data cable. No internet is required and the transferring speed is amazing. You can send 8 GBs of data from one iPhone to another in just 15-20 minutes flawlessly without interruption.
Moreover, It works on other brands and platforms as well like Symbian, Android, Blackberry devices. Basically, if any mobile can be connected with your PC then it will work out with PhoneTrans as well. In addition, you can transfer 17+ types of data such as pictures, music, videos, messages, contacts, documents etc.

Fast and simple to use.
Support the latest iPhone X, iPhone 8 as well as iOS 11.2.
Restore data from backup file, including iTunes, iCloud, OneDrive, Smart Switch.
One-click backup iPhone.
Able to erase all content and settings on old iPhone.
Supported Smartphone : iPhone X, iPhone 8/8P, iPhone 7/7P, iPhone 6S/5S/5/4S and 3000+ smartphone and tablets.
Step 1

Download & Install

First, download Mac or Windows version of this program on your computer and install it as normal. When the installation is completed, there is a shortcut on desktop, please double click it to open the program and click "Switch" to start the task.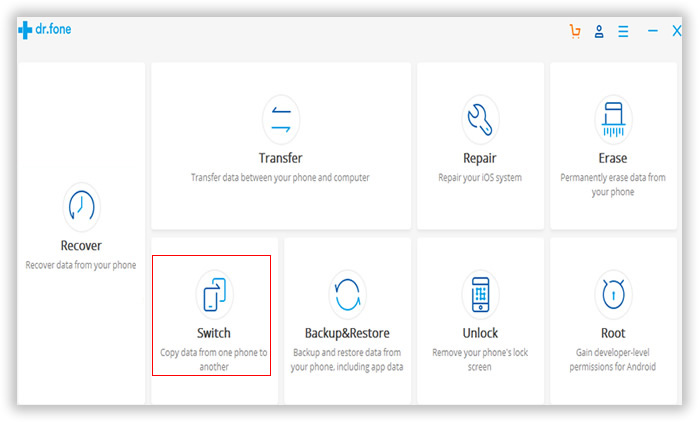 Step 2

Connect Old and iPhone to Computer

The transfer is done via USB cable so you should connect both iPhones to the same computer. If everything goes correctly, you should see the iPhone names on the left and right side. If not, then you should install the latest iTunes on the computer. In addition, if the position was wrong, then click "Flip" button to change it.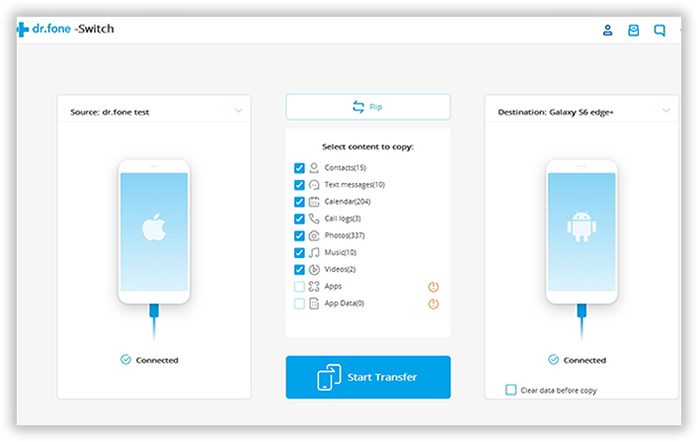 Step 3

Start Transferring Photos to New iPhone

On the next page, check the "Contacts" box and click on "Start Transfer" to send the contacts from your old iPhone to the new one. You will be able to track the transferring process in the real-time. Kindly have some patience and leave the computer alone until the progress is done.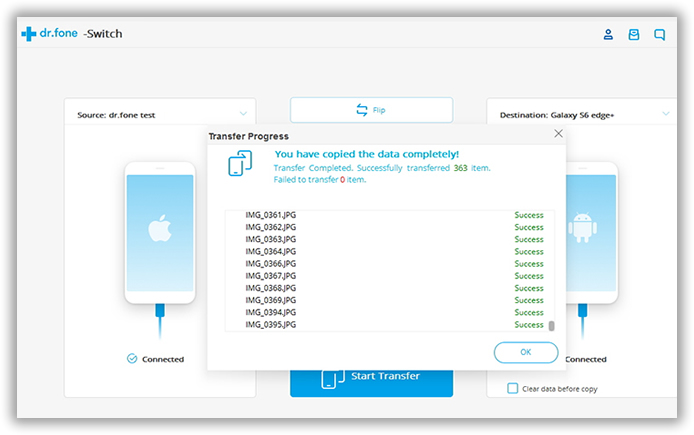 This method is by far the easiest one with high transfer speed. It only takes 3 minutes to import 500 contacts to new iPhone X. That is the reason why we recommend this program. Not believe it? Kindly download it and test it by yourself.
Method 3: How to Transfer Contacts from iPhone to iPhone with iCloud
iCloud is another service that you can use to back up all the data from your old iPhone and restore them on your new iPhone. One of the benefits of using iCloud is that you can complete the process wirelessly but still you will need a good internet connection.
Step 1 : From your old iPhone tap on "Settings" and followed by "iCloud".
Step 2 : Tap on "Backup Now" and wait for the progress to be finished. It would take hours to complete.
Step 3 : Turn off your device, remove the SIM card and put it back on your new iPhone.
Step 4 : Turn on your new iPhone until the "Slide to set up" screen appears. Choose the option that says "Restore from iCloud Backup" and enter your login details.
Step 5 : Select the most recent backup that you created and restore all the data from your previous iPhone.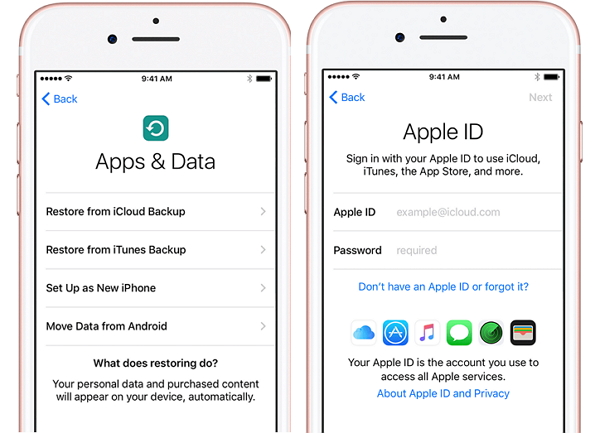 Cons:
1. You need to fatory reset new iPhone if it was already in use.
2. Wi-Fi connection is required.
3. It would take hours if the connection was slow.
Conclusion:
Transferring all data from one iPhone to another could be challenging if you don't have iTunes or iCloud. All thanks to PhoneTrans, the progress couldn't be easier without utilizing this amazing tool. Moreover, you can also back up old data using the same tool and erase them from your old device once the progress is finished. Always remember to keep a backup of your phone to avoid any types of data loss.

---